Last Updated on November 16, 2023 by thecapetownblog
Cape Town is easily one of the most beautiful cities on Earth. Its blend of vibrant culture and dramatic natural landscapes will have you falling in love from the second you arrive. There are so many incredible things to do in this city, from hiking to history, and plenty of wine farms.
I came to Cape Town in October 2021, with the intention of staying for three months. And yet, my flight home left well over a year ago, but I'm still here. There really is an amazing lifestyle on offer in this city.
Whether you come to visit Cape Town for ten days, two weeks, or two months, there's absolutely no risk of you ever getting bored here. But having said that, it's nice to know where to start. That's why I've put together a guide to what I think are the 30 best things to do in Cape Town.
This post may contain affiliate links. When you make purchases through these links, I earn a small commission at no extra cost to you, which helps to keep this blog up and running. Thank you so much!
1) Table Mountain Cableway
I must admit, starting off with Table Mountain does feel a bit cliché, but it's probably one of the most famous mountains in the world. It's certainly Cape Town's most iconic attraction.
Table Mountain is a huge, flat-topped mountain that overlooks the city of Cape Town. It's 1,086m above sea level at its tallest point, and its "Table Top" northern face is about 3 kilometres (1.86 miles) long. You can see it from all over the city, and it really adds to the beauty and character of Cape Town.
The famous Table Mountain Cableway (I still think they missed out by not calling it the "Table Car") takes you right to the top of the mountain in about 90 seconds. It's a pretty steep journey so you may well get a swooping feeling in your stomach, and the car revolves to ensure you get great views all the way up!
You can take the MyCiti bus to the Kloof Nek stop and walk the rest of the way to the lower cableway station. If you drive, there's free parking available. Meanwhile, if you're taking an Uber you can also get dropped off right outside.
During the festive season, it's a good idea buy your tickets before you arrive, so you won't need to queue for the ticket office. There are also ticket machines there that you can use if you're paying with a card.
Return ticket prices are more expensive in the morning. It's R395 for an adult and R195 for children from 8 am until 1 pm.
After that, it's R340 for adults and R170 for kids. Under 4s go for free. After you've purchased your ticket, you may need to queue for the cable car if you're visiting on a busy day, but I've never had to.
If you hike up, you can also get a one-way ticket down for R220 per adult, or R120 per child (but more on that below).
It's best to head up the mountain on a clear day, when the "tablecloth" isn't pouring over the top. The first day that I went up was pretty cloudy, so I missed out on some of the views.
At the top, you can walk around by yourself and learn all about the history and geology of the mountain from the information plaques. From 9 am – 3 pm, free walking tours depart from the Twelve Apostles Terrace beneath the cafe. On the walk, you can learn more about Table Mountain and how the cableway came to be.
You can also hike from the upper cableway station to Maclear's Beacon, which is the highest point on Table Mountain – but only on a clear day. It's about 5.4 kilometres (3.35 miles) there and back, so it should take you around 90 minutes in total. It's fairly easy, but you just need to be mindful of your footing on the rocky ground.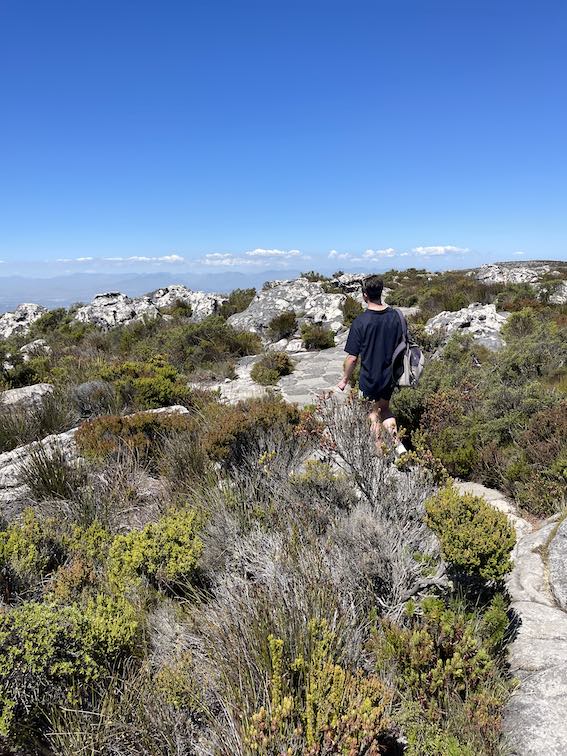 2. Hiking Table Mountain
Since Table Mountain is so iconic, lots of people are understandably keen to hike this famous flat peak! There are a couple of popular rounds that will take you around or up the mountain and I've listed my top three picks below.
These hikes can be tackled by anyone with a basic level of fitness. You don't need to be an experienced hiker to enjoy them – because goodness knows, I'm not!
The Pipe Track
If you want something easy, the Pipe Track will take you around Table Mountain rather than up it. It's more of a walk than a strenuous hike. The track is rocky for most of the way, but it's not steep, with a total of 338 metres of elevation gain.
The trailhead is in the Kloof Nek parking lot along Tafelberg Road. It's a 9.3 kilometre (5.8 mile) out and back trail that should take you around 3 hours to complete. If you do the whole thing, it will take you all the way to the Woody Ravine, but you can turn back at any point.
Platteklip Gorge
Platteklip Gorge is probably the most popular route up to Table Mountain. The trailhead is along Tafelberg Road, a little way past the cable car station. It's clearly marked and you basically follow the zigzagging path up a whole load of stairs for about 2 hours until you reach the top.
You can then carry on walking for 10-15 minutes until you reach the upper cable car station and grab a cool drink, a snack, or even a beer to reward yourself for your efforts. You can take the same route back down the mountain, or get the cable car back down to the bottom again for R220.
If you'd prefer to do a guided hike, you can join this one-way Platteklip Gorge hike. It costs R1,200, or roughly £52/$65 USD and your guide will point out lots of uniqe Cape flora and fauna along the way.
Kasteelspoort
The Kasteelspoort route starts in Camps Bay, and I'd say it's a similar level of difficulty to Platteklip Gorge. However, it's much quieter and has very pretty views of the Atlantic Seaboard. I did do it with someone who knew where he was going, though, which did help.
You can do a section of the Pipe Track before tackling Kasteelspoort, but we parked in Theresa Road and then walked from the trailhead along the Jeep Track. After about 20 minutes, you will reach the start of the Kasteelspoort trail, which takes you up the side of the mountain for breathtaking views of Camps Bay, the ocean, Lion's Head, and the 12 Apostles.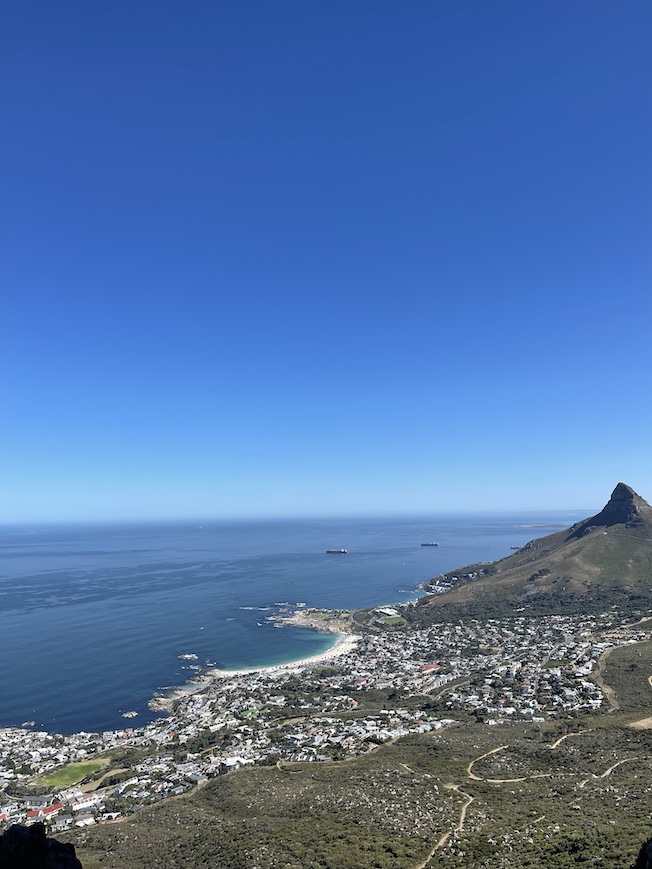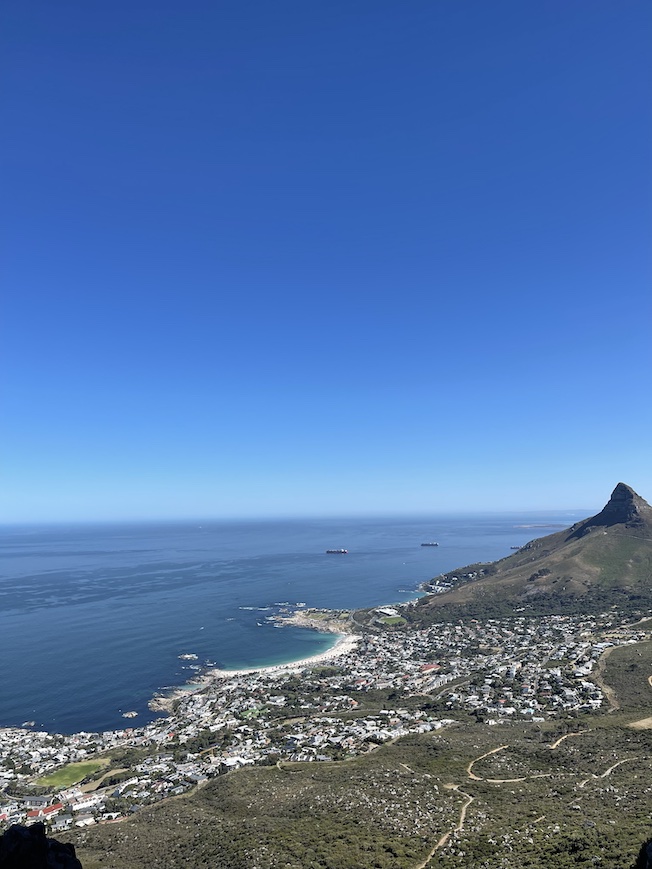 It took us around an hour and 15 minutes to get to the top. We could have kept walking to the Cableway to go down, but to be honest, it was a really hot day and I was done.
The side of the mountain is nice and shady, but once you get to the top it's about 1.5-2 hours of walking out in the open to get to the cable car station. If you do it on a cool day you'll be fine. I unwisely decided to do Kasteelspoort on one of the hottest days of the year, which was a mistake. I turned around and went back down the way we came up, and found the nearest place to buy a beer.
If you're nervous about hiking this route by yourself, you can join this guided hike for R950. It's a one way hike to the Table Mountain cable car, and then you can ride down afterwards.
3. Go wine tasting
South African wines are known for their excellent quality and reasonable prices. It would almost be rude not to go and sample some of the local blends while you're in the city.
Cape Town is home to many beautiful wine farms where you can enjoy a tasting and a cheese board with some amazing views. In the city itself, the Durbanville or Constantia wine routes are both excellent for getting acquainted with the art of wine tasting.
Durbanville Wine Valley is about 20 minutes north of the Cape Town city centre, in the Tygerberg Hills. There are a ton of gorgeous wineries here, but one of the most famous is De Grendel. It has incredible views of Table Mountain across its manicured lawns!
I also really liked D'Aria winery and Klein Roosboom Boutique Winery. The only thing about this route is that you will need someone to drive you around.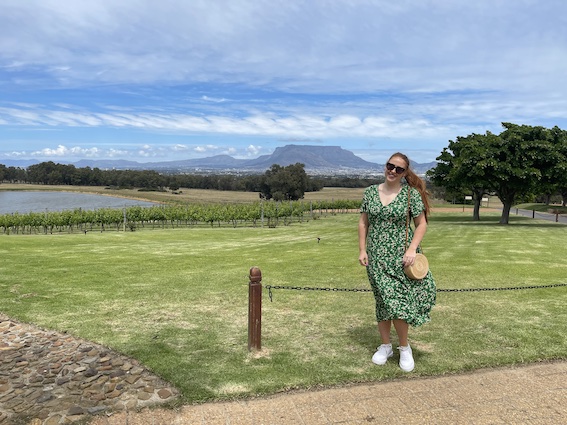 Meanwhile, the Constantia Valley is a lush green suburb about 25 minutes south of central Cape Town. Its rolling hills are a beautiful place to spend the day sipping wine.
You can take the Constantia wine bus which will take you from the V&A Waterfront to four of the area's best wineries, including the oldest one in South Africa! You can read all about the best wine farms in Constantia here.
To catch the wine bus, you need to book a regular hop-on hop-off sightseeing ticket and then take the Blue Route to Constantia. Once you get there, you can change to a smaller bus which will take you to the wine farms.
I really rate the wines at Groot Constantia (which is the country's aforementioned oldest wine farm) and the views at Beau Constantia are so beautiful. The latter gets really busy, though, so definitely make a booking if you're going on a weekend. 
You can read my full guide to the wine bus here!
4. Relax on the beach
Visiting the beautiful beaches is one of my favourite things to do in Cape Town. I mean, is there anything better than whiling away a Sunday on the sand?
The best beaches in Cape Town are in Clifton. I recommend heading to the 1st, 2nd, or 3rd beach. There are a lot of steps down, but it's definitely worth it. The 4th beach has far fewer steps, but for this reason it gets really busy.
Camps Bay also has a gorgeous beach, but it's a lot busier, with lots of hawkers around. And if you want to go surfing, head to Muizenberg, where the waves are better and the water is warmer.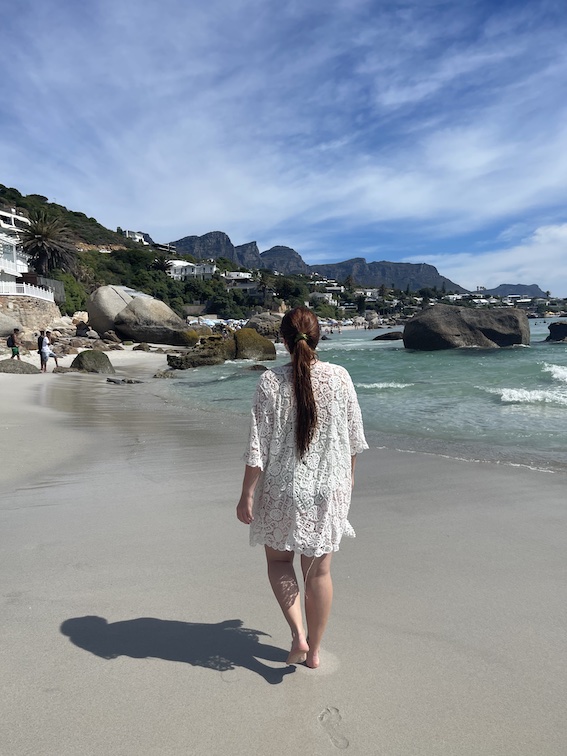 5. Check out the V&A Waterfront
The Victoria & Alfred Waterfront is Cape Town's entertainment district, and you should definitely check it out while you're in the city. You can go shopping at the Victoria Wharf Mall, do a harbour cruise, or just walk around and say hi to the seals.
In fact, many of the best things to do in Cape Town are located around the Waterfront. You'll probably see this area cropping up quite a lot throughout this blog post!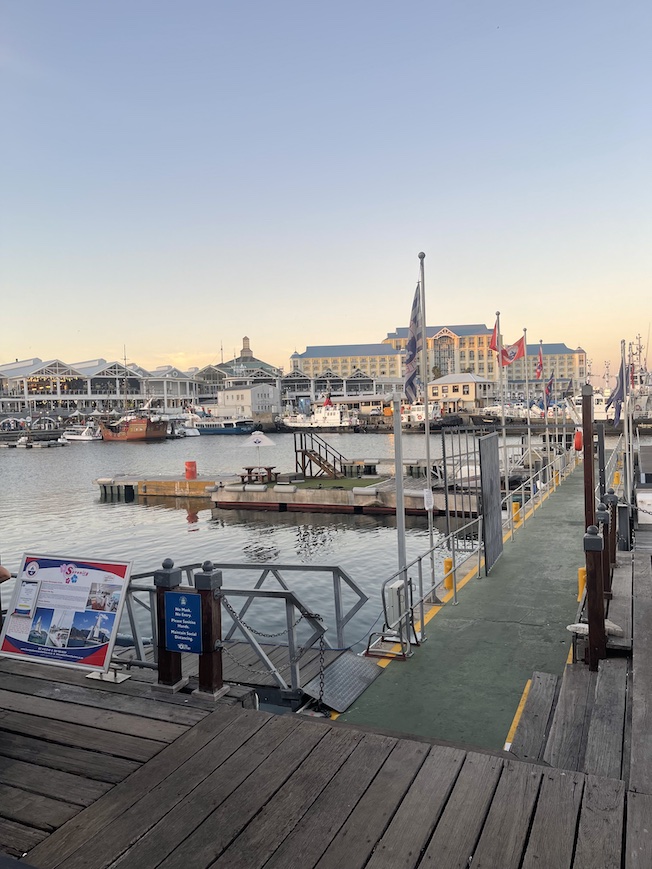 One of my favourite places to grab dinner and drinks is the Grand Café. It's easily one of the best affordable eateries in the area. They do AMAZING pasta and very reasonably priced wine. It's a classy spot located right on the water, and it's a lovely place to watch the sunset, or while away a sunny afternoon.
You can also take a ride on the Cape Wheel, which is now right outside the mall, visit the Zeitz Mocaa museum, go for drinks at the famous Silo Hotel, and – my favourite – go wine tasting in the Cellar Club tunnel.
For more on the Waterfront, check out my guide to the best things to do!
6. Hike Lion's Head
Lion's Head Mountain is an iconic South African peak, and hiking it is one of the most famous things to do in Cape Town. The route takes you around the mountain (twice!) for beautiful views of Table Mountain, Camps Bay, Sea Point, and the City Bowl.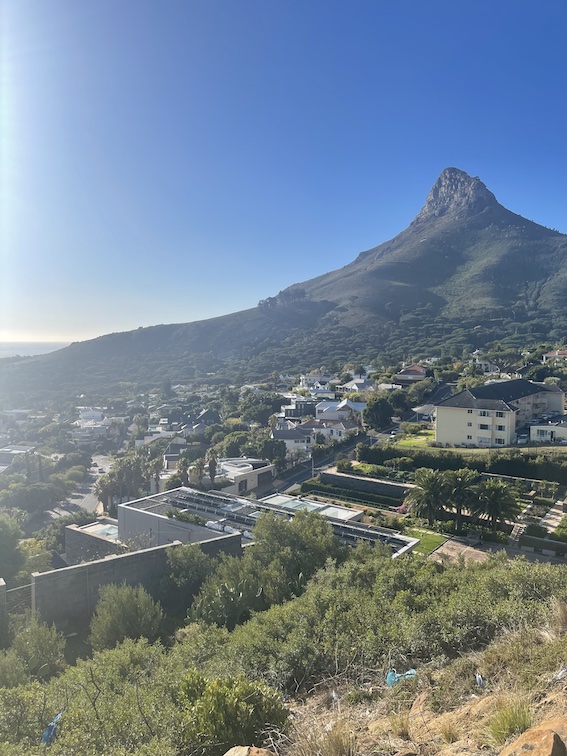 The trail is 4.3 kilometres (2.6 miles) out-and-back, with an elevation gain of 341 metres. Your smart watch won't say that you've actually done that many steps, but I can assure you that you will have had a good workout.
The impressive views start in the parking lot which serves as the trailhead, which overlooks the City Bowl. As you turn your back on the views and face the mountain, you'll see that there are two trailheads. Take the one on the left, and then it's a straightforward uphill path for about half of the hike.
The second half of the climb is rockier and requires some scrambling, and there are also two ladders you'll need to climb up. Don't worry, they're securely in place.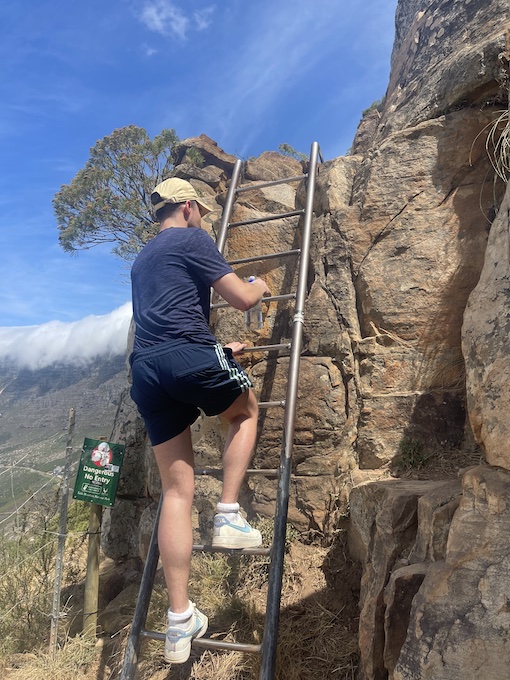 It takes about 2 hours to get to the top of Lion's Head, and once you reach the summit you'll be rewarded with incredible 360 views of Cape Town (and great photo opportunities to boot). It only takes around 45 minutes to get back down again, so I'd say budget 3-3.5 hours for this hike in total, because you'll want some time to stop and admire the scenery.
And if you want an easier walk, you can always take the right hand trailhead. This leads to the counterclockwise loop around Lion's Head that offers similar views, but at a lower elevation. It's about 5 kilometres (3 miles) in total and it takes about an hour from start to finish. My friend and I often used to do this on our lunch breaks!
Lion's Head is really safe to do during the day. You do need to be careful if you want to do it at sunrise or sunset as you'll be scrambling close to the summit. If you want to Lion's Head at sunrise or sunset but aren't a super confident hiker, you can join a guided hike so you don't miss out.
And for a more in depth guide to hiking Lion's Head, check out the 20 things you need to know!
7. Visit Stellenbosch
Stellenbosch – or "Stellies", as it's affectionately known – is a charming town in the Cape Winelands. It's also home to one of the most famous universities in South Africa!
Stellies students party hard, but the town itself looks like something out of a storybook, with lots of white-painted colonial-style buildings and tree-lined streets.
Stellenbosch is 50 kilometers (30 miles) from Cape Town. It takes just under an hour to drive between the two. You can do a day trip, or book a hotel and stay overnight, which is definitely a good option if you want to go wine tasting.
I loved doing the wine and chocolate pairing at Waterford Estate. I also had a really nice experience at Simonsig, which is especially popular for its MCC wines (which essentially means South African champagne). The Dornier Wine Estate is also really nice, but there are literally hundreds to choose from.
If you're in South Africa during the summer, do be aware that it's always a few degrees hotter in Stellenbosch than it is in Cape Town, since it's further inland.
8. Do the Franschhoek Wine Tram
Franschhoek always reminds me of the town Duloc out of Shrek. It's a perfect place!
It's meticulously maintained, with not a single blade of grass out of place. The town itself is very small, but the wine valley is big, and the best way to explore it is on the famous wine tram.
There are a bunch of different routes on the wine tram, which will take you to different farms throughout the day. It's essentially a hop on, hop off situation. You can try to fit in as many as eight wine farms in a single day, or take your time and just visit one or two.
When I went on the wine tram, I took the Green Route and visited Rickety Bridge, Franschhoek Cellar, Pigcasso (yes, a famous painting pig), and Holden Manz.
The wine farms were beautiful, but we were transferred onto a bus and spent almost an hour getting to the last farm. It did kill my buzz a bit.
However, there are a ton of other routes available. They pretty much all take you to Franschhoek Cellar. Some also go to Babylonstoren Estate, Leopard's Leap, and Le Lude, all of which are very well-known farms.
The first wine trams of the day generally leave between 9 and 9:30 am, and then end back in Franschhoek at around 5 pm. It does vary slightly from route to route, though.
Tickets cost R280 (£14) whichever line you choose, and you can decide by looking at this full map here.
To get to Franschhoek, you can either:
arrange a shuttle from Cape Town to Franschhoek
drive and stay overnight
do the hop-on, hop-off wine tram tour from the city centre for R665 (£29) which may well prove to be your cheapest option
You'll also have to pay for your own tastings and food along the way. You do get a complimentary glass of wine when you first board the tram, though.
Tastings cost between R50 and R250 (£2.15 to £10.70). For food, you can expect to pay between R100 – 300 (£4 to £13) per head.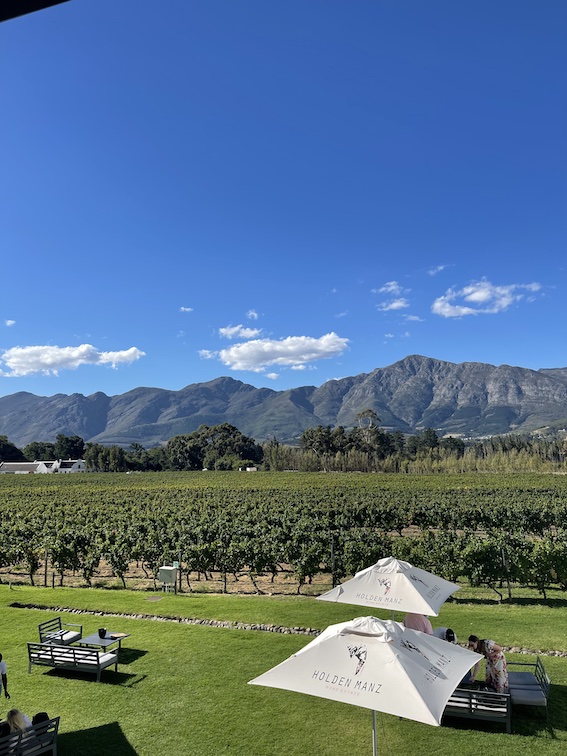 9. Explore Bo Kaap
Bo Kaap is a historically working class, Cape Malay neighbourhood that's now famed for its brightly coloured houses.
It was originally built for tradesmen and liberated slaves, and is one of the oldest residential areas in Cape Town. Most of the people who moved here were Muslim, and several Mosques were built in the area, which is part of the reason why it wasn't bulldozed like District 6 during the Apartheid era.
There are some cool spots to visit in Bo Kaap. I recommend checking out Faeeza's Home Kitchen, where you can even take a cookery class. We didn't get time to do that, but we did enjoy the 3-course lunch deal. We had samosas, a big bowl of chicken curry, and a koeksister for 200 rand (£10). It was more than enough to feed two people, and it was beyond delicious!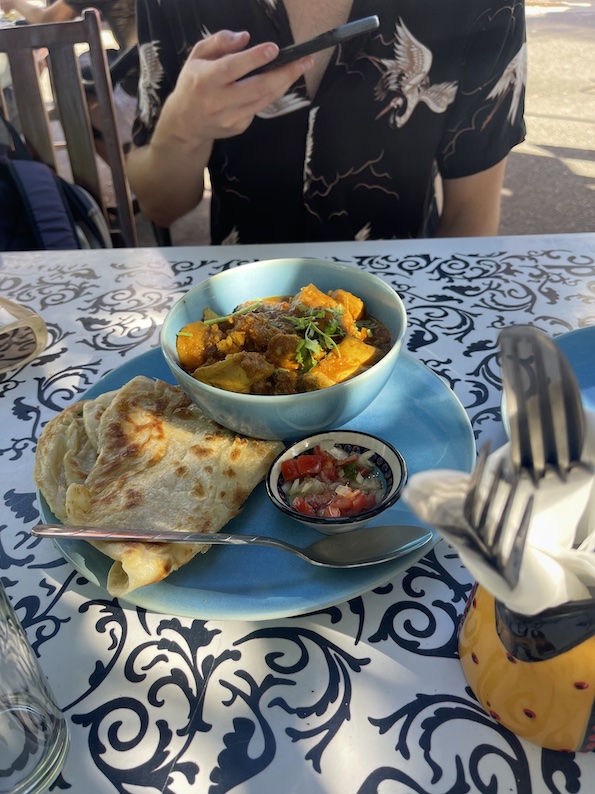 There's also the Kaap Diem thrift store, where you can find some great pieces or swap your clothes for cash. Any clothes that the store can't resell will be donated to a local women's charity.
You can take a free walking tour of Bo Kaap, which is a really good way of getting to know the neighbourhood and learn more about its history and character. Tours depart twice per day from Church Square on Parliament Street, at 2 pm and 4:20 pm.
You can hang around and continue exploring the neighbourhood afterwards. Of course, it's recommended that you tip your guide at the end of the tour. Between R50 – 100 is a good guideline to follow.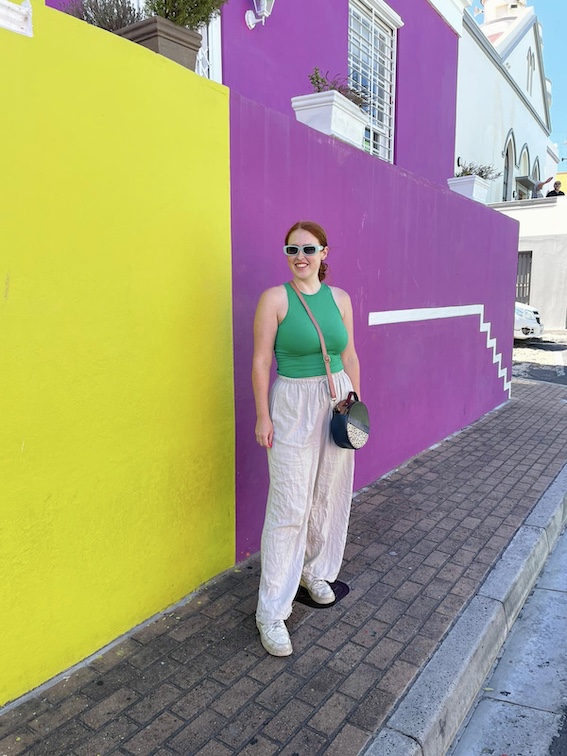 10. Have a drink at the secret Gin Bar
The Gin Bar is one of my favourite places to grab a drink in Cape Town. It's tucked away behind the Honest Chocolate Cafe on Wale Street, which runs adjacent to vibey Bree Street (another nightlife hotspot). You can get some amazing G&T combinations here, and they've got a huge range of artisan gins to choose from.
There's also the Bodega Ramen Bar upstairs from the Gin Bar, and you can even take your gin upstairs to enjoy with your food. There's also a small little bubbly bar on the ground floor if you feel like something a bit more celebratory!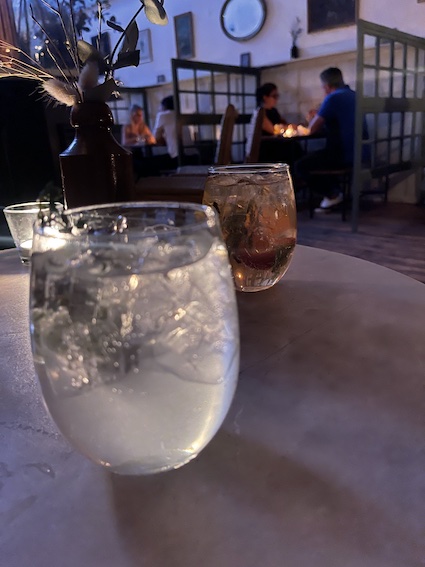 11. Watch the sunset at Saunders Rockpool
Swimming in the Saunders Rockpool is one of the best things to do in Cape Town for free, and it's also one of the top places to watch the sunset.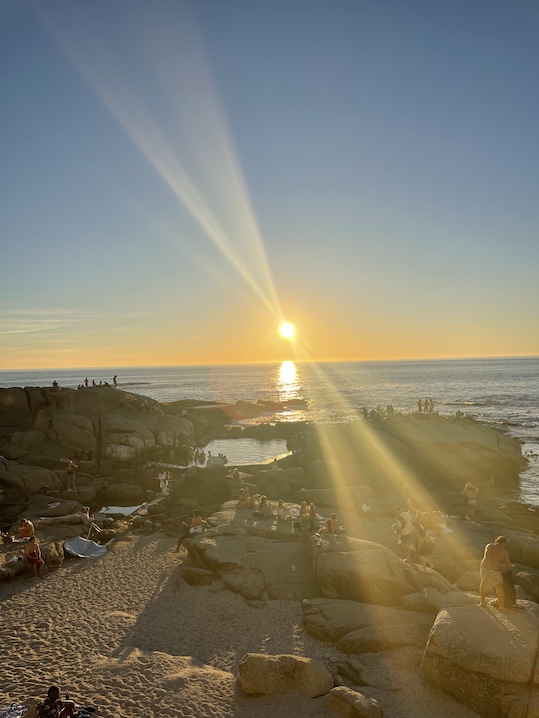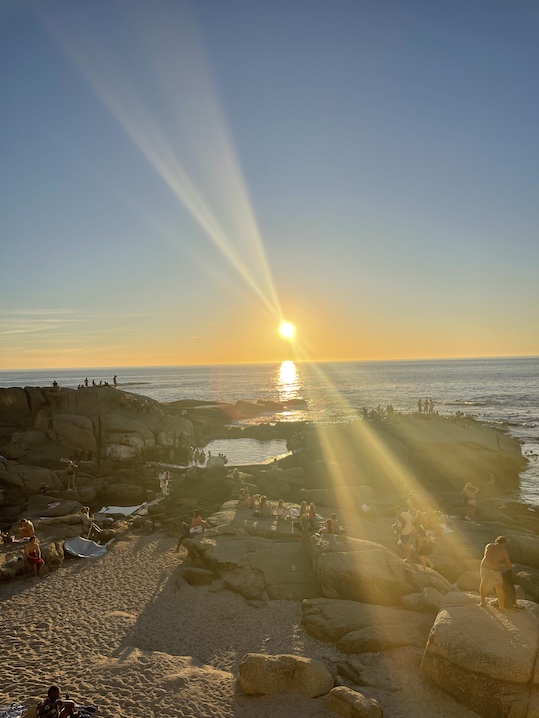 Saunders is a rocky beach with a man-made pool that you can swim in – although beware, the water gets very cold! People actually come here to do the Wim Hof breathing and try to stay in for 20+ minutes at a time, but this feels impossible to me most days.
Regardless of the cold water, Saunders is a lovely place to bring a picnic and watch the sun sink behind the horizon. It's located at the end of the promenade in Sea Point, as the neighbourhood changes into Bantry Bay.
You can usually find parking nearby, although you might struggle during late December and early January, because this is peak tourist season.
Check out my quick guide to Saunders Rock Beach here.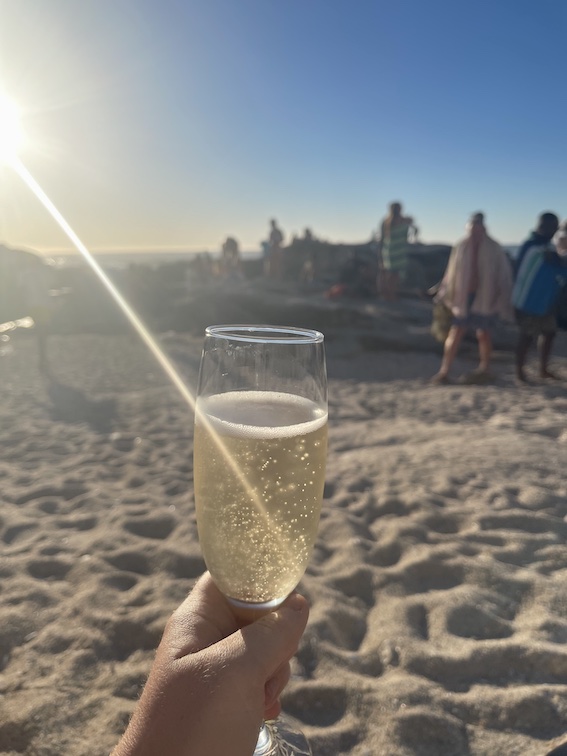 13. See the Penguins at Boulders Beach
Boulders Beach in Simon's Town is home to a colony of adorable African penguins, and the beach is covered in boardwalks that you can stroll along to get up close to these cute little birds. You can't actually touch them, but that wouldn't be advisable even if it were allowed.
You can see plenty of penguins at pretty much any time of year, and even go and swim alongside them at Foxy Beach next door!
I've actually written an entire guide to visiting the penguins at Boulders Beach, but basically it's a 45-minute drive outside of the City Bowl and you can most definitely make a day of it. Entry prices are as follows:
R176 (£7.50/$9.50) for international adults
R88 (£3.80/$4.80) for international kids
R44 (£1.90/$2.40) for South African adults
R22 (£0.95) for South African kids
R88 (£3.80/$4.80) for SADC adults
R44 (£1.90/$2.40) for SADC kids
You can drive yourself to Boulders Beach if you've got your own wheels, or book this tour.
Check out my full guide to visiting the penguins at Boulders Beach here.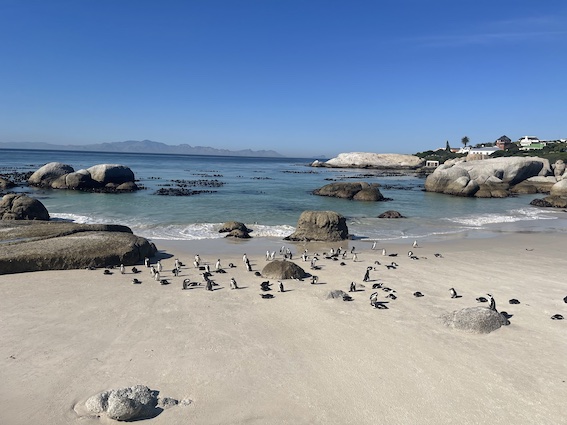 14. Enjoy a Sundowner at the 12 Apostles Hotel & Spa
There are few things better in life than watching the sunset with a cocktail in hand. Fortunately, the Leopard Bar at the 12 Apostles Hotel & Spa is perfect for this! The hotel is along Victoria Road and inside the Oudekraal Nature Reserve, just 10 minutes north of Camps Bay.
Cocktails cost between R100-R180 rand, which is quite pricey for Cape Town, but you've got to remember you're paying for the view. I've been here 3 times and never needed a reservation; this place is a bit of a hidden gem!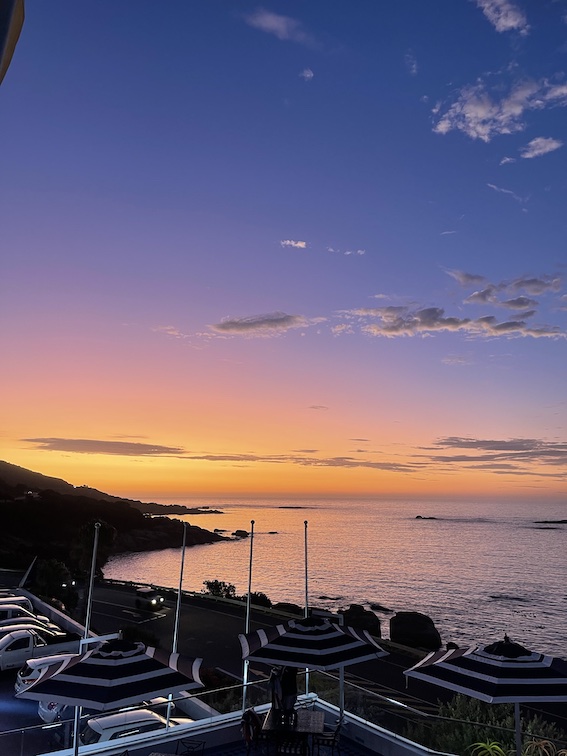 15. Hang out in hippie Kalk Bay
Kalk Bay is a super charming neighbourhood about 30 kilometres (18.6 miles) south of central Cape Town, along the coast of False Bay.
You won't find any chain stores or restaurants here. Kalk Bay is all about independent boutiques, cool cafes, and art galleries.
It's actually nicknamed "the Lentil Curtain" because it attracts creatives and bohemians who form a pretty close-knit community.
I love wandering around Kalk Bay, checking out the tidal pools, and eating fish and chips while looking out over the ocean at the Brass Bell. It's got a lovely, relaxed, seaside atmosphere and you can definitely spend a day here wandering around.
It's also close to the penguin colony at Boulders Beach, so you can definitely combine these two activities!
15. Drink wine at the Cellar Club Tunnel
The Cellar Club Tunnel is definitely one of the most unique places to go wine tasting in Cape Town. It's a wine bar located inside a tunnel that was used to move stone during the construction of the V&A Waterfront. It's open from 2 pm until 8 pm for tastings on Wednesday through Saturday, but they also often host special events.
The selection of tastings wines changes weekly so I can't tell you what you'll be sipping, but t costs R69 for three wines, and they're not stingy with their samples. There's no food on offer, but the waiters did say that we were welcome to order food from elsewhere and eat it there.
16. Stroll around Dewaterkant
Dewaterkant is one of the best neighbourhoods in Cape Town to explore. It's a small enclave on the slopes of Signal Hill and its cobbled streets are lined with picture-perfect pastel coloured cottages. There's also the Cape Quarter shopping centre here, a small mall which houses lots of unique shops, cafes, and boutiques (as well as a massive Spar supermarket).
I was lucky enough to live in Dewaterkant and I absolutely loved it. It's one of the safest neighbourhoods in Cape Town, thanks to the 24/7 security around, and also one of the prettiest! Definitely go for some french toast (or wine) at The Charles if you get the chance.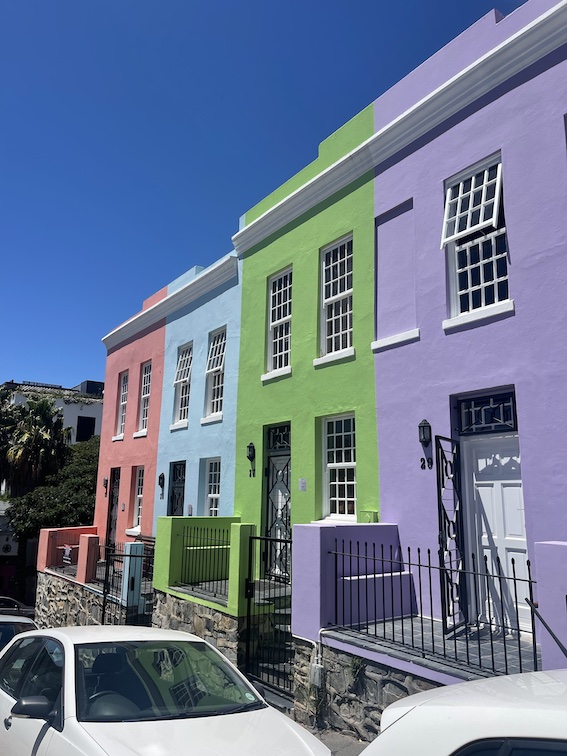 17. Take a free class at Yoga Life
Yoga Life is (surprise surprise) a yoga studio in Dewaterkant, and they offer free classes three times per week. You can download the MindBody app and use it to book a free beginner's class on either Monday, Wednesday, or Sunday.
They also offer other classes like Power Yoga and Hot 26, but you'll need to pay R180 to attend. They also sell unlimited monthly memberships for R1,100.
18. Walk on the prom
The Sea Point promenade (or "the prom") stretches from Mouille Point near the Waterfront all the way to Saunders Rockpool. It runs right along the seafront and it's a very safe place to walk, run, or cycle.
When I lived in Sea Point, I went for a sunset walk along the prom most days, and there are some food stalls along the way where you can stop for a cold drink, an ice cream, or some falafel.
19. Visit Elgin Valley
When you talk about wine tasting in Cape Town, the first places that generally spring to mind are Stellenbosch and Franschhoek, but I think that Elgin Valley is even better. Okay, so there's no wine tram here, but it's a beautiful valley that's known for its cool climate wines.
Elgin is about an hour outside of Cape Town, and it's super quiet and peaceful. We stayed for two nights at the Paul Wallace wine farm and checked out a bunch of wineries. One of our favourites was Almenkirk, which has stunning views and some of the best red wine that I've ever had. We also went to Oak Valley twice because we were obsessed with their riesling.
Since Elgin is a bit out of the way, it's best to drive there and stay overnight. Paul Wallace was a really nice place to stay and they had some very friendly dogs on site, especially Benji the cocker spaniel!
20. Go SUPping at the Waterfront
If you're looking to combine a great core workout with a little bit of sightseeing, then SUPping at the V&A Waterfront is a great way to go about it. You can head to SUP Cape Town in Battery Park and then head out on a 3-kilometre loop around the canals, which should take you about an hour. You'll pass some nice hotels, fancy apartments, and maybe even spot the local resident otter (who is a bit of a menace, just FYI).
It costs R250 to rent a board for an hour. The staff will give you a quick tutorial before you head out. SUP Cape Town operates all year round but it is weather dependent, so you won't be able to go when the Cape Doctor is acting up.
21. Paragliding
On any given day in Sea Point, you can hear paragliders whooping and hollering with delight as they fly over the neighbourhood from Signal Hill or Lion's Head towards the promenade. I haven't actually done it myself (yet) but it looks like SO much fun.
Depending on the wind conditions, your tandem flight can take between 5-20 minutes, and the views of the city will be INSANE. It costs R,1400 (£60) for this top-rated flight, which is one of the cheapest rates I've seen. You need to be over 14 and wear closed toe shoes to do this activity.
22. Visit Kirstenbosch Botanical Gardens
Kirstenbosch Gardens is an insanely beautiful botanical garden at the base of Table Mountain, close to the Constantia wine valley. There are lots of scenic walking trails through the gardens, including a treetop canopy walk which offers stunning views of the gardens and Table Mountain.
The gardens are open from 8 am – 7pm. It costs R210 (£5.05) for an adult admission ticket, or R90 (£4.50) for South African and Southern African Development Community (SADC) residents. And for kids, entry only costs R30 (£1.50), regardless of their nationality.
If you're in Cape Town during the summer, it's definitely worth trying to catch one of the sunset concerts in the gardens. They often take place on Sundays, so you can pack a picnic and spend the afternoon in the sun while you enjoy live music. Some really great names have played here, from local favourite Jeremy Loops, to Rainbow Kitten Surprise.
The Galileo Open Air Cinema also often plays movies in Kirstenbosch Gardens, which is a really cute idea for a date night. You can catch lots of classic rom coms, like Pretty Woman or Notting Hill, or action movies and musicals.
23. Visit the Cape Point Nature Reserve
The Cape Point is an incredibly dramatic (and windy) nature reserve on the southwestern tip of the Cape Pensinula. In fact, you can even see how the trees have grown almost horizontally along the hillside due to the sheer force of the wind.
There's also a lighthouse on top of the peak above the Cape Point, which you can either ride up to on the furnicular or just walk up. Since it was pouring with rain when we arrived in the Cape Point, we chose to take the furnicular up, but we couldn't get down the same way due to loadshedding. On the way back down, we realised that the walk to the top was super short, so unless you're a furnicular enthusiast I'd say save your money and head up on foot.
The views from the lighthouse are pretty amazing. Even though we went on a rainy day, we still thought that they were spectacular, although I'm sure they would have been even better in the sunshine (and if I weren't almost suffocated several times by my rain poncho).
Entry to the Cape Point Nature Reserve costs:
R94 for South African adults, or R47 for kids
R188 for SADC Nationals, or R94 for kids
R376 for International adults, or R188 for kids
You can drive yourself or take this Cape Point sightseeing tour, which is what I did. It costs R545, not including the Cape Point entry fee. You also get to visit Boulders Beach to see the penguins! For more info, you can also read my full review of the tour.
24. Hang out at the Oranjezicht Market
Pretty much all Capetonians love the Oranjezicht Market. It's an upscale farmer's market at the Waterfront with dozens stalls from local businesses.
For me, the main draw is definitely the food. Whether you're in the mood for flammekueche, Cape Malay curry, or just a good old bagel, you'll be able to find something delicious to eat here. In fact, I often feel overwhelmed by the sheer volume of choices on offer when I visit!
Whatever you end up eating, make sure that you go to the Vadas Bakery stall and get a pastel de nata for dessert. They are INSANELY good – literally everyone in Cape Town knows about them.
There are also two bars here, so you can wash your food down with a local craft beer, cocktail, or wine. (I actually made the mistake of asking for a Coke here once and was sternly told that they only stock local brands).
And as if that weren't enough, there's also a section of the market dedicated to local artisan goods, from leatherware to hand-knit cardigans and luxury body products. You could easily spend thousands of rand here in a single sitting.
25. Drink at Van Hunks
Oh, Van Hunks, where do I even start?
Van Hunks was the first bar I ever went to in Cape Town, and I've proceded to have some of the best nights of my life in this place. It's a typical bar slash pub (probably more of a pub, but I'm English and so I'm very specific in my definition of what a pub should be) that serves good food, very cheap drinks, and always plays great music that you can sing along to (techno and house music really isn't my vibe).
All of the staff here are super friendly and it's pretty much always busy. It just feels like home.
26. Party at the Athletic Club & Social
If you're looking for a more upscale place to drink, dance, and let loose, then head to the Athletic Club & Social. It's got a cool, antique-y feel to it, and I can easily imagine Daisy Buchanan coming here for a drink.
The Athletic is a classy joint, but make no mistake, the party really gets going here after about 10 pm. You can dance in one of the three different bars, each of which has their own music going on, or hang out on the balcony (which people occasionally try to climb up to skip the queue).
It does get very busy here, so it's best to get here early to avoid having to queue for ages, but I quite like arriving early and enjoying a chilled cocktail before things get too busy. There's no entry fee, but I do know certain people who have bribed the bouncers 100 rand (£5) each to get in faster.
27. Enjoy a meal at Scarpetta in Woodstock
Dinner at Scarpetta in Woodstock was hands down one of the best meals I've eaten in Cape Town. It's a family-owned restaurant with no written menu, and no liquor license, so you can bring your own booze. The food here is mind-blowingly good, and the space itself is unpretentious.
To be honest, I can't remember exactly what we had to eat, but the menu is seasonal so it's probably all changed by now anyway. But what I do remember is that we ordered a bunch of starters and mains and then shared them, and I recommend that you do the same so that you can try as much as possible!
Scarpetta is open every day except Sunday, and it's best to book a table because there's a big buzz around this place. There's no online booking system, so you'll need to do it the old-fashioned way and call +27832510730.
28. Try crazy cocktails at Cause & Effect
Cause & Effect are known for their crazy concoctions, which include a red bull cocktail that comes with a toy skateboard and ramp, and one shaped like Table Mountain. My personal favourite, though, is Larry the No Drama Llama, which is essentially a pornstar martini that comes in a llama-shaped mug with a tuft of candy floss on top.
Cause & Effect currently has two locations in Cape Town: one at the V&A Waterfront and another along the Camps Bay strip. The general consensus is that the one at the Waterfront is much better.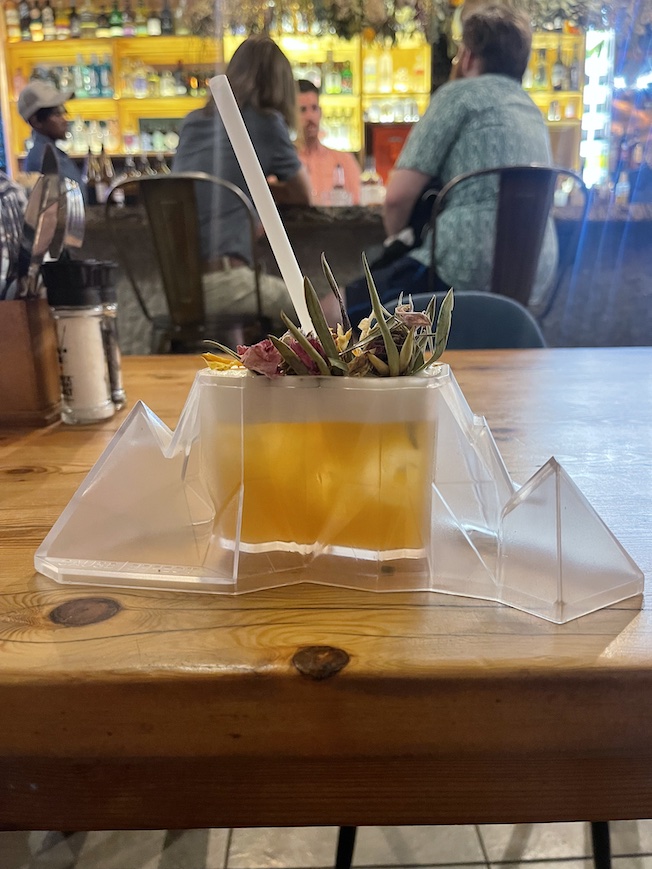 29. Have a braai
A braai is about more than cooking food. It's a way of life for South Africans.
A braai is basically a barbecue, but if you mention that to a local, they will probably strongly disagree with you. The main difference is that a braai uses firewood, while barbecues use gas or coal. It takes a while to get the wood at the right temperature to cook on, so you'll rarely eat before dark if you're braaing in the evening.
I must say, meat in South Africa is incredibly good, and the weather is much more conducive to frequent outdoor cooking. Plus, South Africans love to braai so if you make some local friends, you'll find yourself sitting by that fire in no time.
30. Hike Kloof Corner at Sunset
Watching the sunset at Kloof Corner is almost indescribably beautiful. As you sit on the rocks and look out at the city, you get an insane panorama of Cape Town that stretches from Table Mountain on the far right, over the City Bowl, past Lion's Head and Camps Bay, right to the Twelve Apostles on your left.
The views from Kloof Corner are amazing at any time of day, but they're extra special at sunset. You get to watch the City Bowl light up as the sun sinks over the horizon and the sky changes colour.
And best of all, you don't even have to hike very far to get up to Kloof Corner! It's a short but fairly steep hike up the steps to get to the rocky viewpoint. You might be a bit sweaty by the time you get there, but it should only take you about 20 minutes. And because it's such a short trail, you don't need to worry about a long hike back in the dark.
The hike starts on Tafelberg Road, close to the Table Mountain cable car station, and the steps are well-marked. There's a small car park next to the trailhead, or you can easily Uber here. For more detailed information, check out my complete guide to hiking Kloof Corner.
31. Do a day safari at the Aquila Game Reserve
For the best safari experience in South Africa, you should head to the Kruger National Park, but if you don't have the time or the cash to do that then there's a much quicker and cheaper option closer to Cape Town. Introducing: the Aquila Game Reserve!
I've done this day safari twice, and each time I got to see four out of the Big Five.
The Big Five are the most famous large game animals in Southern Africa – in fact, you can even find them on South African banknotes! The Big Five is made up of the lion, leopard, African elephant, black Rhino, and African buffalo.
The leopard is by far the hardest of these to find, and I didn't see one on either safari, but four out of five ain't bad.
You can take a day tour to the reserve from Cape Town. It's roughly a 2-hour drive to get there, and a shuttle will pick you up and then drive you out of the city.
You'll get welcome drinks on arrival and a buffet meal before heading out on your game drive, which lasts for about 2 hours. Then, you've got free time to swim in the outdoor infinity pool during the summer, visit the spa for a treatment, or chill out with a glass of wine in the lounge before you head back to the city. 
The safari costs R2,950 (£135 or $170) when you book online. My friend and I actually went to the tour office to book in person but found a much better price online, so I definitely recommend booking through Viator.
32. Make ceramics at Baikt
If you like mimosas and are in need of some new bowls or shot glasses, book yourself in for a workshop at Baikt Ceramics in Sea Point. It's a fun workshop during which you'll make ceramics by hand while you sip on mimosas and maybe even make some new friends. You can make pretty much whatever you like, and then it takes about 4-6 weeks for it to be fired and glazed after the class.
The workshop takes place in the owner's home, and he'll give you lots of tips and inspiration on how to get your ceramics looking good. It costs R500 (£25) for a two-hour session.
After you make a booking you'll receive a video with instructions on how to find the right apartment, as it's easy to get lost in the building!
I took my friend here for her birthday and, if I do say so myself, I think it made quite a good gift. Not only is it a cool experience, but you also get something that you can keep afterwards.
33. Enjoy a Champagne Sunset Cruise  
Cape Town's sunsets are absolutely beautiful, so make the most of them by doing a champagne sunset cruise.
This sunset champagne cruise will truly make you feel like a VIP, as you get a bottle of bubble to share between two people while you watch the sky do its thing. You'll also have beautiful views of Table Mountain, Robben Island, and the Atlantic Coast, and you've even got the chance to spot wildlife, including seals, whales, and even dolphins.
I think that this could be a really romantic experience, but I love bubbles and sunsets, so I'd just as happily do it with a friend!
The cruise costs R580 (£25/$32) and lasts for 1.5 hours. Watching the sunset over Table Mountain truly is an epic experience, and nothing gives you that holiday feeling like drinking champagne on a catamaran, am I right?
34. Paint pottery at Clay Cafe
I've already talked about Baikt Ceramics, where you handle the clay yourself, but at Clay Cafe, you paint ready-made items. You can choose from a huge range of items to paint. In fact, my former housemate pretty much decked out the entire kitchen with her hand-painted items.
I always find a painting session at Clay Cafe to be very soothing and mindful. The food here is also really good, and you can even have cocktails or wine as you paint!
Clay Cafe is located on Bree Street and it's usually best to book a table in advance, especially if you're going during the summer or over a weekend. It will take about 4-6 weeks to get your items back afterwards (although it can take longer during busy periods, or when load shedding is really bad).
35. Drive Chapman's Peak
Chapman's Peak Drive is probably one of the most beautiful roads in the world. It winds along the red cliffside of Chapman's Peak mountain, overlooking the dark blue waters of the Atlantic Ocean. There are also lots of places where you can pull over to snap photos. 
The drive starts in Hout Bay Harbour and ends in Noordhooek on the other side of the mountain. After you've completed the drive, head to the Aegir Project in Noordhooek for a beer tasting and a bloody good burger.
You'll need R57 with you to pay the toll fee for Chapman's Peak. It's best to bring cash because the card machine never seems to be working. Keep your receipt for the way back!
You should also check the status of the road before you head out because it closes during strong winds.
If you enjoyed this blog, you might also like…