Last Updated on July 15, 2023 by thecapetownblog
If you're considering moving to Cape Town as a digital nomad, then it's important to choose the right neighbourhood.
The city of Cape Town is beautiful and vibrant, but it's still important to do your research before you make a move.
Safety, amenities, natural beauty, and proximity to nightlife are all some important factors to consider when choosing a neighbourhood in Cape Town. It's also important to note the difference between the best areas for tourists and those who are staying a bit longer.
(Because, spoiler alert: the best place for digital nomads to stay ISN'T Camps Bay).
When I moved to Cape Town, I was seriously lucky that my best friend essentially chose a neighbourhood for me. She told me I'd love Sea Point, and lo and behold, I did.
Now that I've spent a long time living and working in the city, I thought that it was time to share some of the neighbourhoods I've come to know and love.
In this blog post, I'm going to focus exclusively on neighbourhoods within the City Bowl, which is the downtown area of Cape Town. It's a natural amphitheatre that's bordered by Table Bay and the city's most famous peaks.
Essentially, it's the "main" part of Cape Town that will appeal to most digital nomads. It's where all of the action happens!
So without further ado, let's dive into my top picks for digital nomads in Cape Town.
1. Sea Point
I'm starting off with Sea Point because it was the first neighbourhood I moved to in Cape Town.
Sea Point is located between Green Point and Bantry Bay, and it's best known for its promenade, which runs parallel to Beach Road and stretches along the seafront for several kilometres.
When the weather's good (which is often) there are basically always people out enjoying the prom. Being so close to it was a huge advantage of living in Sea Point for me. There's just something so refreshing walking right next to the ocean.
There are a few small beaches in Sea Point next to the prom, but they aren't common places to go and chill. Most people just admire them as they walk past.
However, the Saunders Rockpool that sits on the corner between Sea Point and Bantry Bay is very popular and you'll find people swimming here at all hours of the day, but especially at sunset.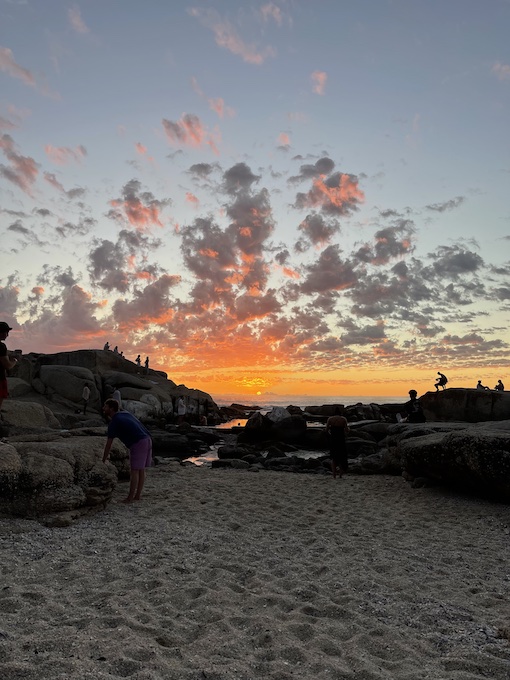 This post may contain affiliate links. When you make purchases through these links, I earn a small commission at no extra cost to you, which helps to keep this blog up and running. Thank you so much!
Although it's right along the coast, Sea Point definitely isn't as pretty as, say, Camps Bay.
The buildings tend to be much older and most homes are apartment blocks. Particularly on the end closer to Green Point, there are lots of businesses that I most definitely think are money laundering, and some of the buildings are a bit run down.
But I still loved living there!
The end closer to Fresnaye and Bantry Bay has most of the best places to eat and drink. Although it's not exactly a nightlife hotspot yet, lots of cool bars have moved into the area fairly recently, so it's a good place to start your evening.
One thing I really loved about Sea Point was how walkable it was. There are quite a lot of homeless people here, but I always felt safe and didn't have any trouble.
It's also just 15 minutes to get from Sea Point to most of the nightlife in town. It's conveniently located without being too close.
The best things to do in Sea Point
Walk on the prom
Watch the sunset at Saunders Rockpool
Enjoy food and live music at Mojo Market
Get a workout in at Sweat 1000
For more details, read my guide of the 13 best things to do in Sea Point!
The best places to eat in Sea Point
Mojo Market
The Falafel Guy (food truck)
Posticinos
Rockpool
Kleinsky's
Check out this list of the best restaurants in Sea Point for more!
2. Green Point
Green Point is right next to Sea Point and it shares many of the same benefits. It's residential, relatively safe, and there are some great little restaurants and bars along Main Road.
I personally find that Green Point feels a bit newer and more polished than Sea Point. It's a little further away from the ocean, but still close enough that you can enjoy a daily prom walk. Plus, Green Point park is also great for running, dog walking, and picnics with friends.
Green Point is only about a 10 minute Uber ride to most of the nightlife hotspots on Kloof Street and in the CBD.
There are plenty of cafes around to work from here, and a big Woolworths. It's also within walking distance of the V&A Waterfront.
Overall, Green Point is a super convenient place to live and there's a really nice vibe here – it's definitely one of my favourite neighbourhoods.
The best things to do in Green Point
Visit Green Point Park
Get an amazing iced coffee from Jason's Bakery
Watch a rugby game at the stadium
The best places to eat in Green Point
Jason's Bakery
El Burro
Bao Down
Hudson's
3. Dewaterkant
Dewaterkant is a small and trendy enclave that's situated between Green Point and the CBD. It's super safe because there's 24/7 security around, and several streets in this neighbourhood don't get loadshedding which is a HUGE bonus.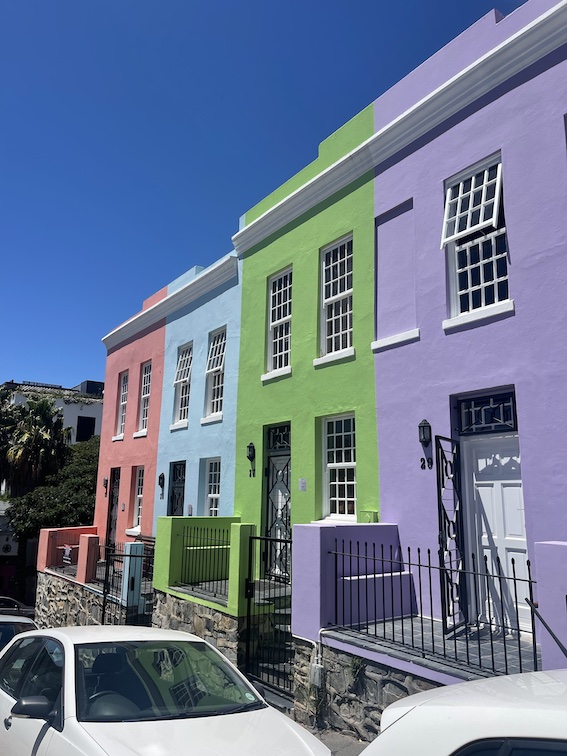 This neighbourhood is also known for its colorful houses and for being very LGBTQ+ friendly. It's filled with small townhouses and cottages that are basically every colour of the rainbow, and its cobbled streets feel very European.
You've got the Cape Quarter here, a small shopping mall that houses lots of independent boutiques, a handful of cafes, a gym, and probably the nicest Spar in the whole of South Africa.
The streets around the Cape Quarter are filled with excellent restaurants, wine bars, and coffee shops, as well as a yoga studio that offers free classes three times per week.
I lived in Dewaterkant for about 9 months, and I absolutely loved it. I felt incredibly safe here, and it's just so pretty! It was also great for me because I didn't have a car at the time, and I was able to walk to the Sea Point prom, Green Point, the Waterfront, and the CBD. Plus, I basically had everything I needed right on my doorstep. 
The best things to do in Dewaterkant
Take a free class at Yoga Life
Have a glass of wine at sunset on the rooftop at The Charles
Wander around and admire the colorful houses
The best places to eat in Dewaterkant
Yen's Vietnamese Street Food
The Charles (breakfast)
Yumcious in the Cape Quarter
4. Tamboerskloof
Tamboerskloof is a peaceful neighbourhood that sits on the slopes of Lion's Head and Signal Hill.
It's filled with Victorian style houses that I think give the area an antique-y feel, and lots of the homes here have beautiful views of the CBD and Table Bay.
This is a great neighbourhood to live in if you love hiking, because the trailheads for Lion's Head, the Table Mountain Pipe Track, and Kloof Corner are all in Tamboerskloof.
It's also great if you love nightlife, because there's an intersection with a handful of cafes and bars that are always buzzing, including the popular Power and the Glory, and the Moveable Feast. It's also super close to Kloof Street in Gardens, which is one of the best places to go out in Cape Town.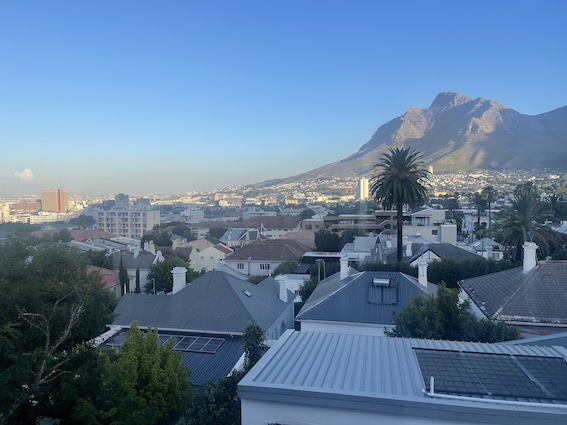 The best things to do in Tamboerskloof
Hike Lion's Head
Take the cable car up Table Mountain
Watch the sunset at Kloof Corner
The best places to eat in Tamboerskloof
The Blue Café
Publik Wine Bar
El Burro Taqueria
5. Gardens
Gardens is a very trendy neighbourhood that's centred around Kloof Street, where many of the city's best and buzziest bars are located. This includes Blondies, which is basically where all of the cool kids hang out, and my personal favourite, Van Hunks.
You also get nice views of Table Mountain from most places in Gardens, and you're also close to all of the great hikes in Tamboerskloof. Kloof Street is very walkable (even at night) but it's a pretty big neighbourhood and I wouldn't wander around more residential sections with my phone out or my headphones on.
I do like Gardens a lot and would even consider moving here, but it's definitely not as safe as De Waterkant, or even Sea Point and Green Point.
The best things to do in Gardens
Party on Kloof Street
Drink wine at the classy Kloof Street House
Enjoy cocktails at Asoka
The best places to eat in Gardens
Fat Cactus
Judd's Local
Rick's Café Américain
Where NOT to Stay as a Digital Nomad in Cape Town
Let me preface this by saying that I don't hate any of these neighbourhoods. I just don't personally think that they're as well suited to digital nomads as the options listed above. I've spent time (and had fun) in almost all of them, but they're not places I'd want to live.
Camps Bay
Camps Bay is the most famous neighbourhood in Cape Town.
It's absolutely beautiful, and very classy, which is why tourists tend to flock here in their droves. There's a stunning beach and great nightlife, but it's very expensive to live here and there's always a ton of traffic going in and out of Camps Bay during the summer time.
It's also a dry neighbourhood, which means that you can only buy alcohol at restaurants. Boooo!
Camps Bay is like its own little world. I personally prefer the hustle and bustle of the city bowl to the touristy buzz of Camps Bay.
Definitely go check it out, get yourself a granadilla cocktail at Café Caprice, and enjoy the beautiful beach, but I wouldn't recommend actually staying here if you're a digital nomad coming to Cape Town.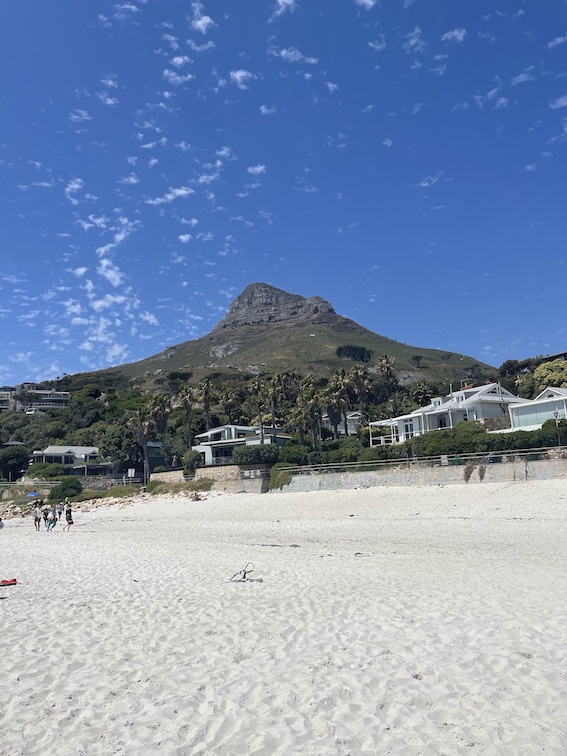 Clifton and Bantry Bay
I love spending my weekends lounging on the beautiful beaches of Clifton, but aside from that, there's not much here.
It might be a nice place to stay if you want somewhere super quiet, but personally I like being close to shops and amenities, and Clifton just feels a little too removed from the city.
The same goes for Bantry Bay!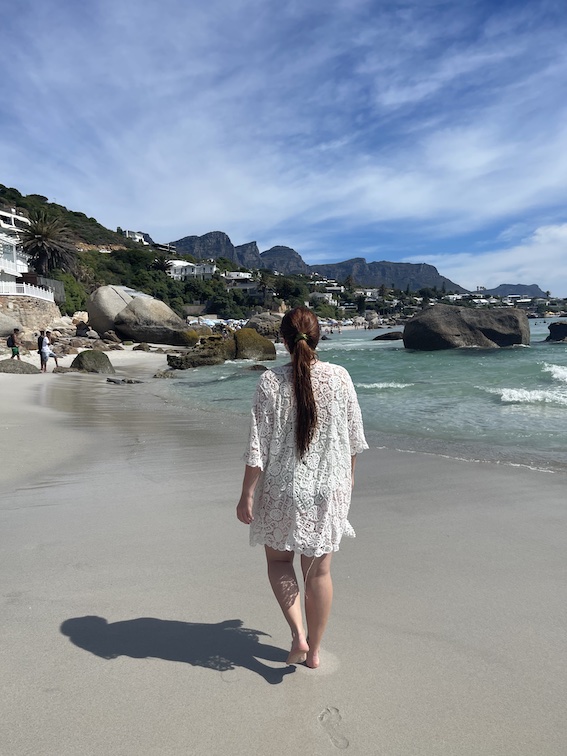 Observatory
Observatory is a student neighbourhood and although it's pretty cheap to live here, it's not very safe. I didn't even particularly enjoy driving through Obs, and although there's meant to be some good nightlife here, I haven't really explored it as it's a little far out from where I tend to go.
Woodstock
Woodstock is an undoubtedly cool neighbourhood that's home to a ton of art galleries, studio spaces, and the popular Biscuit Mill Market.
It's also bit controversial, since this area is rough around the edges but is most definitely in the process of being gentrified. However, crime around here is still pretty high and I just don't think it's worth it.
Plus, if you don't have a car, it's just a little too far out of the city, and you're better off going for one of the more walkable neighbourhoods.
If you enjoyed this blog, you might also like…