Last Updated on July 26, 2023 by thecapetownblog
One of the best things about Cape Town is that it's got natural beauty in spades, which means you don't need a ton of money to have a good time.
There are plenty of free things to do in Cape Town, from sunset hikes to lazy beach days. If you're on a tight budget (and let's be honest, who isn't these days?) then rest assured that you can still have a whale of a time in the Mother City.
I've tried to keep these activities as truly free as possible. I'm talking about activities that don't require any entrance fees or special equipment, or require you to spend money as you go (i.e. shopping).
Let's dive in!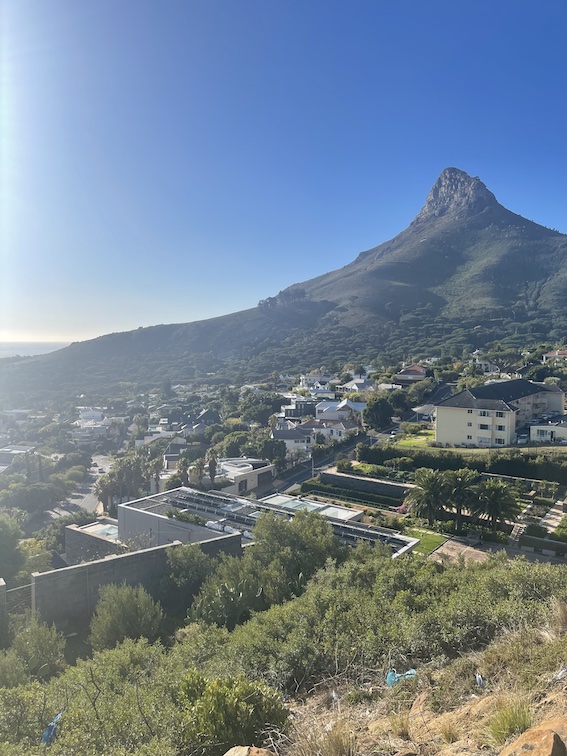 This post may contain affiliate links. When you make purchases through these links, I earn a small commission at no extra cost to you, which helps to keep this blog up and running. Thank you so much!
1) Go to the beach
Cape Town is renowned for its beautiful beaches, and you can enjoy the vast majority of them for free! With white sand, deep blue water, and mountain views, Cape Town's beaches really are exquisite.
Only Oudekraal Beach has an entry fee, so spending the day at the beach really is one of the best free things to do in Cape town.
The Clifton Beaches are some of the most popular in town, and with good reason. They're stunning, and beaches 1-3 rarely become unpleasantly busy.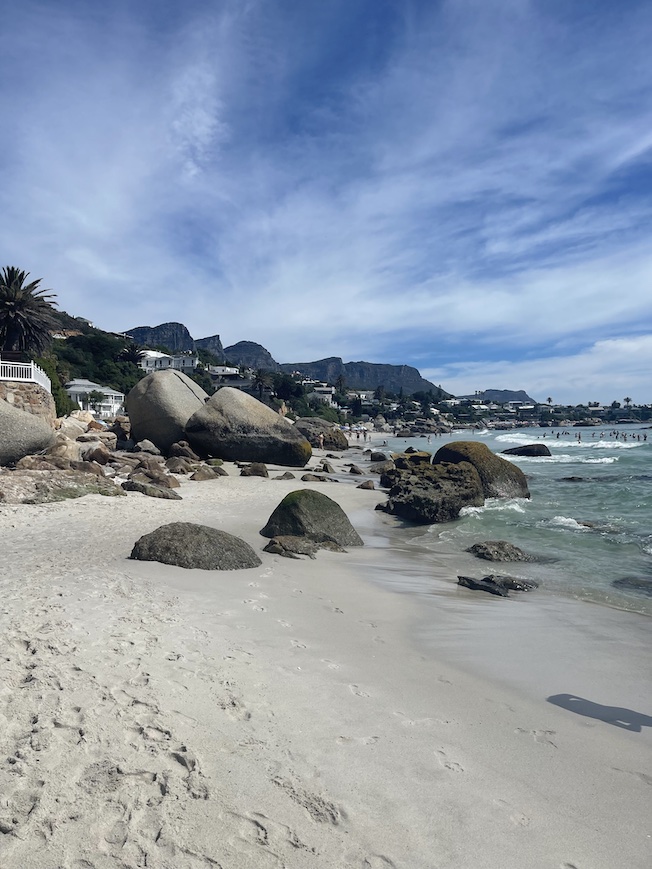 Camps Bay Beach is similarly beautiful, but it can get very busy. There are also a ton of hawkers around which gets a little annoying sometimes.
Some hawkers will strike up a conversation with you before diving into their sales pitch. If you tell them that you live in Cape Town, they'll usually move on. It really doesn't matter if it isn't true!
Glen Beach is much quieter, though!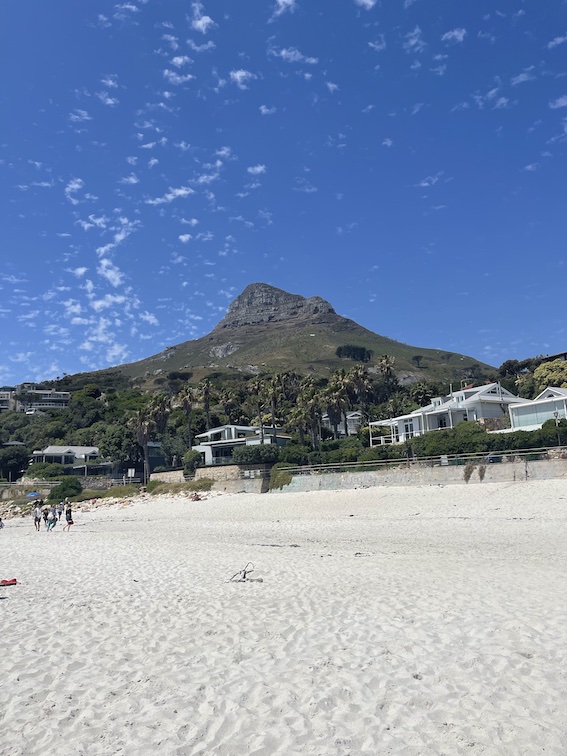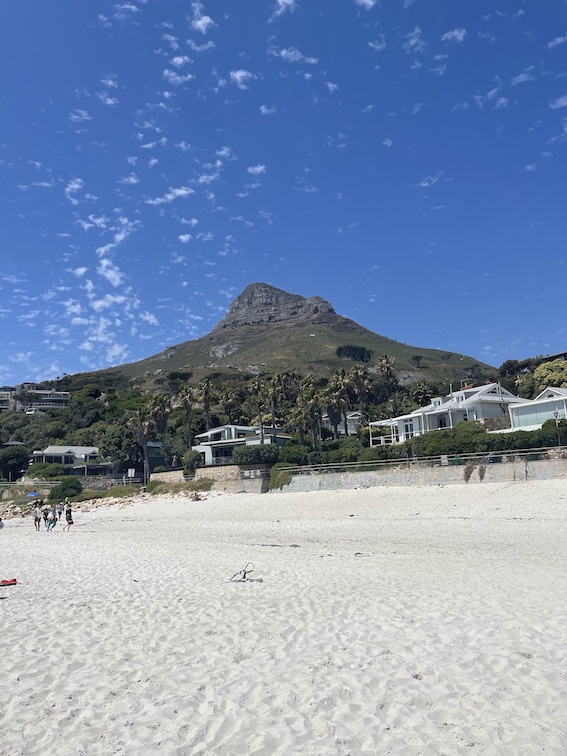 Beta Beach is a fantastic little hidden gem. It is a tidal beach, though, so make sure you check the tide forecast before you go. Otherwise, you might arrive and find that there's no sand to sit on!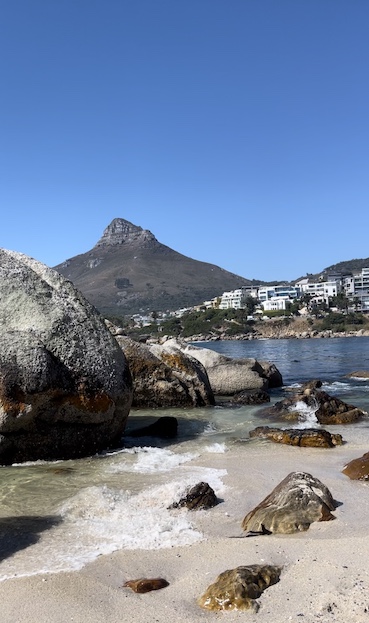 And if you're willing to go a little further out of the city, Blouberg Beach is also beautiful. It's  a 25 minute drive north of the city centre, but it has amazing views of Table Mountain across the water. Sunsets here are truly epic.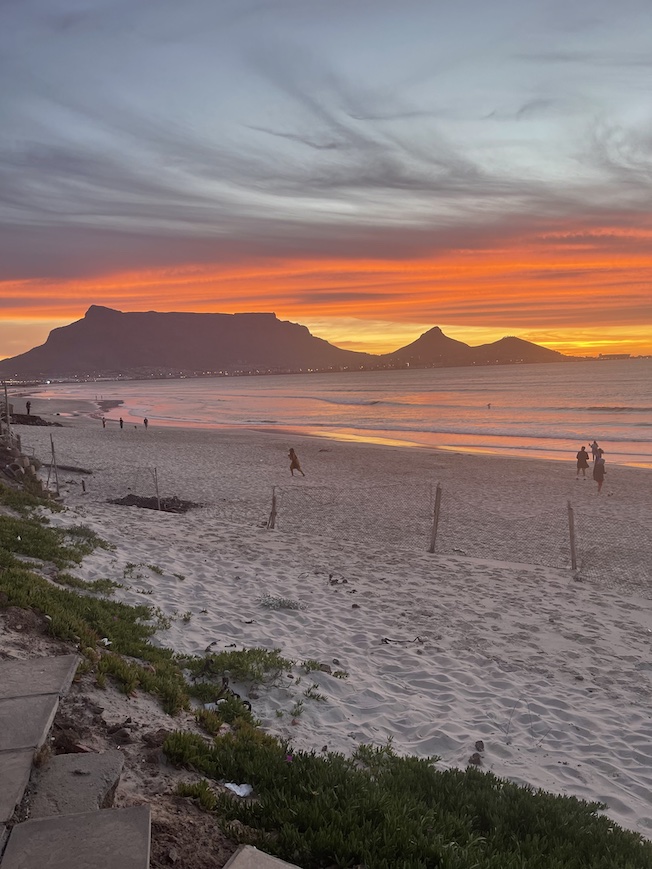 2) Hike Table Mountain
Table Mountain is probably Cape Town's most iconic tourist attraction, and the great news is that you don't need to spend anything to get to the top. You can hike up for free! 
Yup, that's right, Table Mountain is actually one of the best FREE things to do in Cape Town! Who knew?
There are three different routes up Table Mountain that you can take for free: Platteklip Gorge, Kasteelspoort, and India Venster.
Platteklip Gorge is the most popular trail, mostly because it ends right near the upper cable car station and so it's ideal for those who only want to hike one way. But of course, that's not free to do.
Therefore, in the context of this blog post I'm going to say that this is not the best route to take. I mean, you can still hike up and down, but there are other routes that offer way better views.
India Venster is famously difficult, but Kasteelspoort is ideal for anyone who has a decent level of fitness.
Don't get me wrong, it's still a decent workout, but I would say that this route is achievable for most people.
Kasteelspoort is way less crowded than Platteklip Gorge and the views are a lot better. You climb up the side of Table Mountain and get views of Camps Bay, Clifton, and Lion's Head as you go, which is just gorgeous.
Kasteelspoort is 6.3 kilometres (3.9 miles) return with an elevation gain of around 576 metres. I'd say you'll probably need about 2.5 hours to complete it, although it depends on your pace.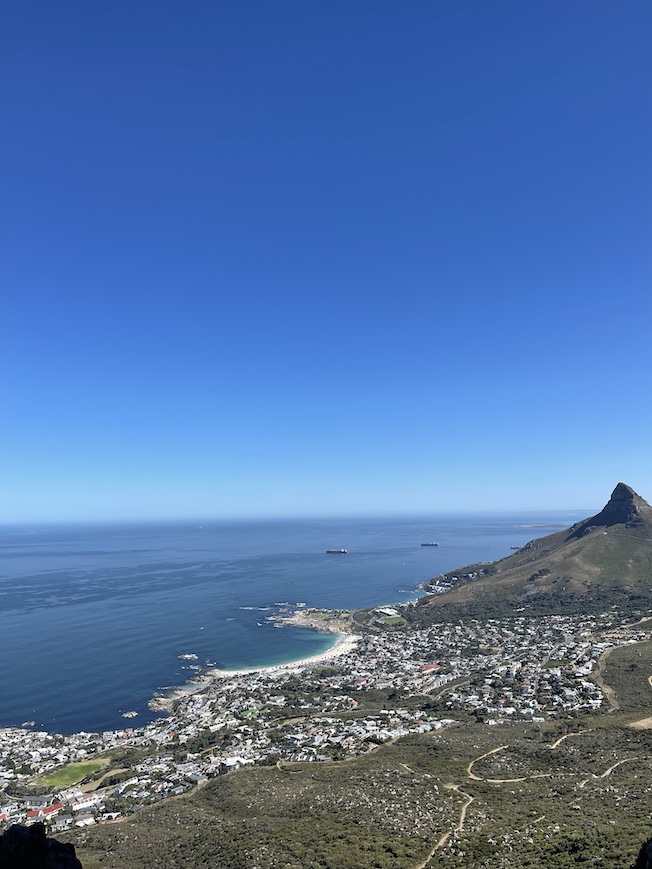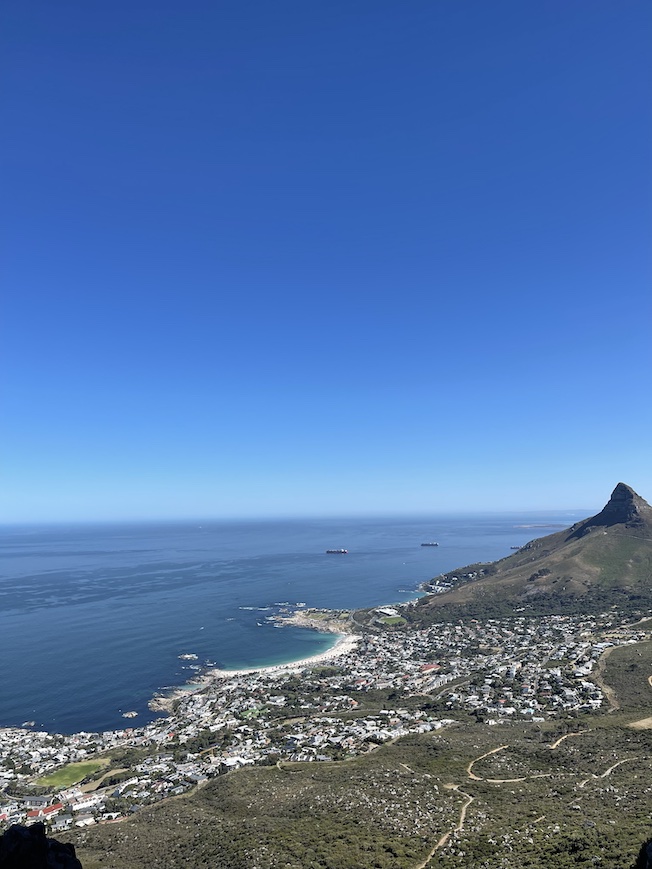 3) Wander around the V&A Waterfront
You can easily spend a ton of money at the V&A Waterfront, but there are also plenty of free things to do here. You don't need to spend any money to enjoy the area.
The Waterfront is a gorgeous area with great views and some adorable resident seals. You can often spot them swimming in the harbour, but you're pretty much guaranteed to see them chilling out on the pontoon next to the Aquarium Bootleggers café.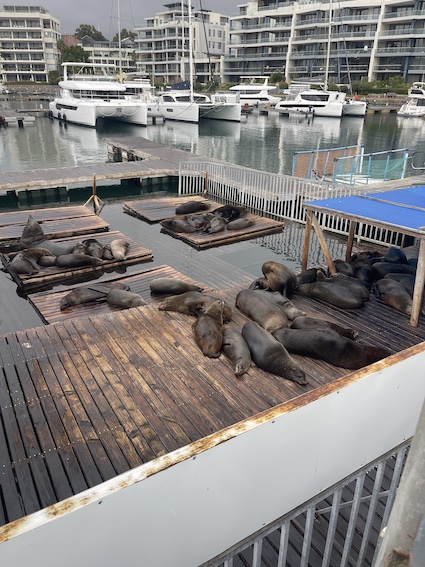 Around the harbour, you'll also see lots of buskers showing off their talents. It's nice to walk around, soak in the atmosphere, and watch the performers do their thing.
You can also go and snap a photo in the giant yellow frame outside the Den Anker restaurant, which gives you a perfect view of Table Mountain in the background. 
I also enjoy strolling along the canals in Battery Park, because it's so pretty around here. You can also sunbathe and watch skateboarders in action around here, or even join in yourself.
4) Hike Lion's Head
Lion's Head is another iconic part of Cape Town's beautiful natural skyline, and it's a nice, straightforward hike. It takes you looping around the mountain as you climb up, so you get 360 degree views of the city and its gorgeous landscape.
You'll find the trailhead in Tamboerskloof, along Signal Hill Road. There's a small parking lot right opposite the mountain, and trails leading left and right.
The right hand trail is the one that will take you to the summit, whereas the left will take you along the quicker and easier Lions' Head Loop instead.
You don't need to be a pro-hiker to complete this trail; I'm certainly not, but I loved it! It's not too strenuous but it is still a decent workout. As long as you're not a complete stranger to exercise, you'll be fine.
Climbing Lion's Head is definitely one of the best free things to do in Cape Town. The only thing you that's even available to buy around here is a cold drink at the bottom!
For a full guide to climbing Lion's Head, read this post!
5) Swim at Saunders Rockpool
Saunders Rocks Beach in Sea Point is home to an awesome, man-made rockpool. The water is really cold, so it's actually a bit of a hotspot for Wim Hof enthusiasts.
I don't think I've ever stayed in for anywhere close to 20 minutes, but it's a nice spot to come and swim or enjoy a beach picnic. Either way, this is a great free thing to do in Cape Town.
While Saunders doesn't quite have the stunning beauty of the Clifton Beaches, it's the place to be at sunset.
During the summer, the beach is busy pretty much every night with groups of friends enjoying picnics and even an illicit alcoholic beverage or two. The sunsets here are spectacular and its convenient location means that it's perfect for a spontaneous beach mission.
So if you're looking for something fun and free to do on a Friday night, get yourself down here!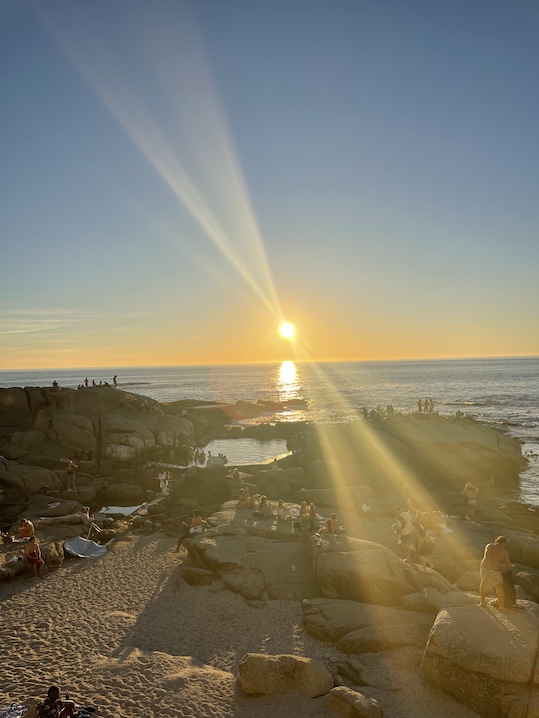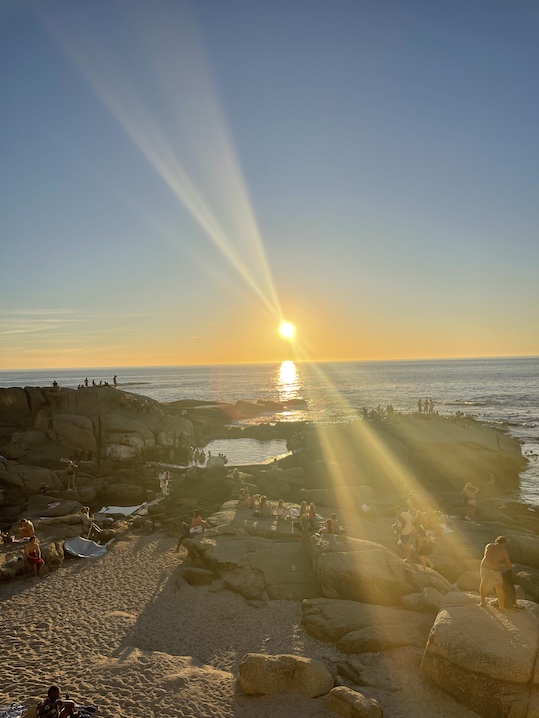 6) Hang out in Green Point Park
Green Point Park is a very pretty park with a dog park, kids play area, and golf course. It's located in – you guessed it – Green Point, and it's the perfect place for a picnic, run, or sunbathing session.
It's open from 7 am until 9 pm daily, and you can enter either along Helen Suzman Boulevard in Green Point or opposite the lighthouse on the promenade.
7) Take a free walking tour of Bo Kaap
Bo Kaap is an iconic and colourful working class neighbourhood in Cape Town.
It was originally built for tradesmen and liberated slaves and remains very much a working class neighbourhood, although gentrification is a big threat to the area nowadays.
The area is perhaps most famous for its brightly painted houses, and there are several theories as to why this came about.
The most likely is that it was originally to help customers identify local businesses. The story goes that the houses around here all pretty much looked the same until a butcher painted his house red to help his patrons find him, and the trend quickly caught on.
Probably the most popular theory, though, is that the owners painted their houses bright colours to celebrate the end of Apartheid. However, my tour guide said that this isn't likely to be true.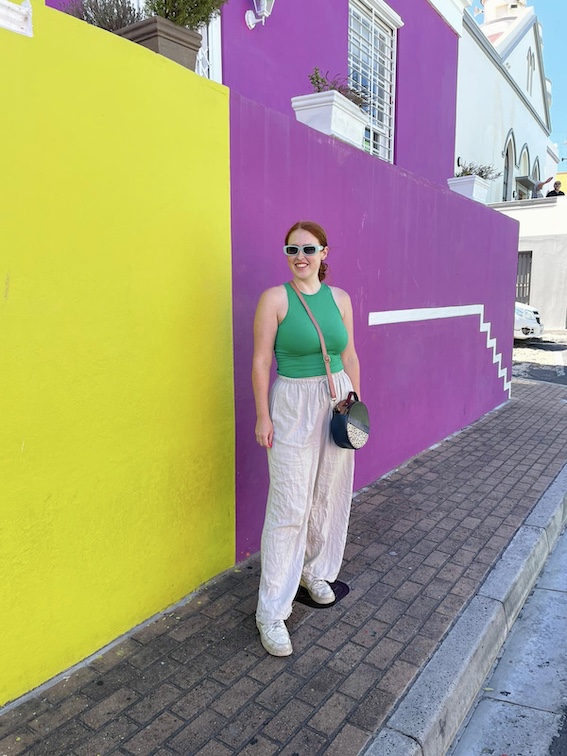 You can explore this neighbourhood by yourself, but I recommend that you take the opportunity to learn all about this neighbourhood's fascinating history and character through a free walking tour.
Free walking tours of Bo Kaap depart from Church Square on Parliament Street daily at 2 pm and 4:20 pm. We really enjoyed the tour that we did, and afterwards we hung around the area and continued to explore by ourselves.
As is always the case with free tours, it's customary to tip your guide at the end, but this is totally voluntary. The guideline is R50-R100, but I really didn't feel pressured into tipping. And I was happy to do it, because the tour was so great!
I think that these tours are one of the best things to do in Cape Town, so the fact that they're free is just a bonus!
8) Watch the sunset at Kloof Corner
Kloof Corner is my favourite vantage point over Cape Town, and you can enjoy the sunset here for free!
The Kloof Corner hike is a 1.9-kilometre (1.2-mile) out-and-back trail that gives you incredible panoramic views over Cape Town. It's one of the best places in the city to appreciate the beauty and variety of this place, and it's well worth the short but steep climb to the stop. 
The trailhead is a green gate marked "Kloof Corner" and there's a free car park just around the corner. It takes about 20 minutes to get to the top, and I recommend heading up an hour or so before sunset so that you get plenty of time to enjoy the beautiful views.
This is not just a fantastic free thing to do in Cape Town, it's one of my all time favourite things to do here. The views are just so beautiful, and it makes me feel so lucky to live here.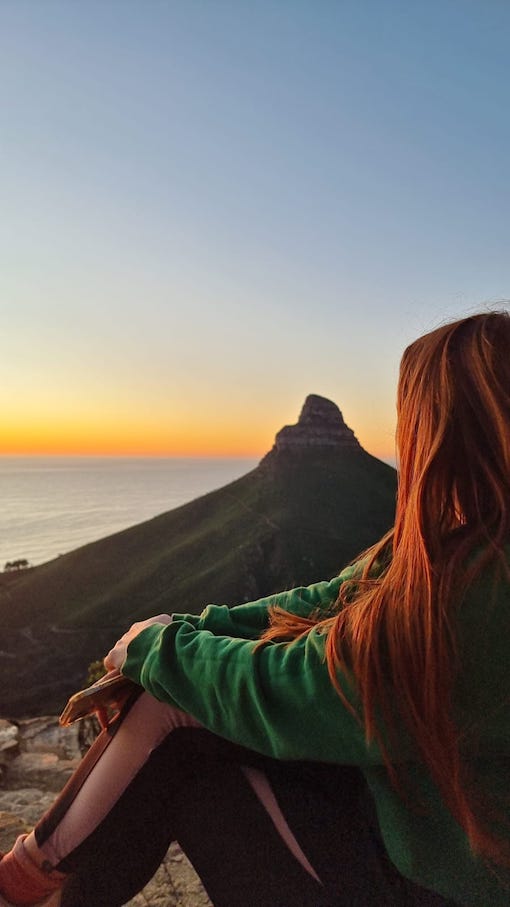 9) Walk on the prom
There's nothing like a walk on the Sea Point promenade to clear your head at the end of a long day. 
The prom starts in Mouille Point, near the Waterfront, and stretches all the way to Saunders Rockpool at the end of Sea Point. You get to walk right next to the ocean and feel the cool breeze on your face, and it's super safe to stroll around here.
10) Enjoy First Thursday
First Thursday in Cape Town has been a popular monthly event since its inception in 2012. It's a monthly event designed to celebrate art and culture. As its name suggests, it takes place on the First Thursday of every month.
On First Thursday, galleries stay open late and put on special exhibitions, many of which are free to go and check out. Some even offer a complimentary glass of wine!
Of course, the bars soon caught onto this and so now First Thursday also means there's a big party in town. You can expect every bar in the city centre to be pumping on First Thursday from the late afternoon to the wee hours of the morning.
Obviously, you'll have to pay for your own drinks if you head out to party, but checking out the galleries is totally free. Some of the best ones to check out include:
Youngblood
Youngblood is a really cool gallery that aims to give a platform to young African artists until they're able to support themselves with their art. It's an open, 3-storey gallery and there's a hanging sculpture of a diving man between the first two floors, which is pretty cool to check out.
It's located on Bree Street, so you're close to all of the action if you want to hit the bars afterwards. Plus, there's sometimes live music here on First Thursdays,
The Cape Gallery
This gallery dates back to 1971 and is housed in a gorgeous Victorian era building. It was founded by Stephan Welz, a famous South African art dealer, and it showcases some really amazing South African art.
The Cape Gallery is open from 4 – 7 pm on First Thursdays. This is a good one to visit if you're serious about art.
99 Loop Gallery
This contemporary art gallery in the CBD claims to be all about "lived intimate experiences." Basically, it's a cool place to learn more about life in South Africa through the lens of modern art.
And if you want to do that for free, go and check it out between 5 – 9 pm on a First Thursday!
11) Have a picnic on Signal Hill
Signal Hill is a very popular sunset spot, but it's an excellent place to have a picnic at any time of day. You get fantastic views of the city, which always makes your food taste ten times better.
In fact, Signal Hill picnics are so common that there's actually a cover on the ground to sit on.
You can drive or take an Uber up Signal Hill. There's free parking at the top, but do be aware that it gets VERY busy if you go at sunset. During the day, though, you should be fine.
12) Browse at the Oranjezicht Market
A trip to the Oranjezicht Market is an absolute must while you're in Cape Town. It's a lovely farmer's market where you can find delicious food from local restaurants and craft goods. Plus, there are two bars so you can also enjoy wine, cocktails, and craft beer.
All in all, it's a vibe.
Obviously, the goal of the market is to get you to spend money, but it costs nothing to go and look around!
It's located in Granger Bay at the V&A Waterfront, and it's open every Saturday from 8:15 am until 2 pm, or Sunday from 9 am until 2 pm. 
There's also a night market on Wednesdays during the summer, which is from 5 pm until 9 pm.
Check out my full guide to the Oranjezicht Market here.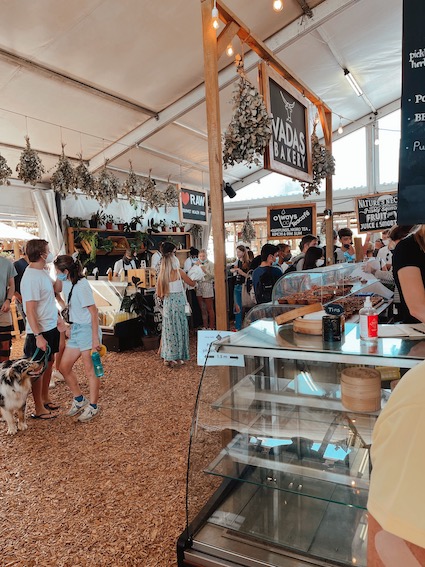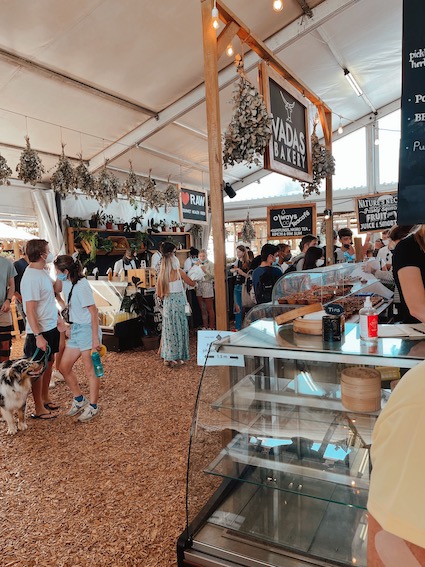 13) Enjoy live music at Mojo Market
Mojo Market in Sea Point is a permanent indoor food market that's open daily. There are some great food stalls here, like the House of Nasi Goreng and Rib Republic, and they also have live music every single night.
That's right – you'll find local live bands playing at Mojo Market 365 days a year! And it costs nothing to watch them, although it does take superhuman strength to resist all of the food and drink on offer here.
It's open until midnight, but the music normally starts around 9 pm. It's definitely one of the best free things to do at night!
14) Take Photos in Colourful De Waterkant
Bo Kaap is a really cool area to check out, thanks to its bright houses and history, but far fewer tourists make their way over to Dewaterkant, even though it's just a few minutes' walk away!
Like Bo Kaap, De Waterkant is home to colourful houses, although Bo Kaap houses tend to be single story while the cottages in De Waterkant usually have two floors. They're also painted pastel hues rather than bright colours, but the area is still really pretty.
De Waterkant is also a wealthy neighbourhood, and it's generally considered to be safer than Bo Kaap since there's a lot of security around. So if you want to flash your iPhone and take loads of pictures, I think it's better to do it here.
The blue, green, and white houses with bougainvillaea at the end of Loader Street are great for photos.
The brighter houses along Dixon Street also present a perfect photo op, but to be honest you can just wander around until you find your perfect aesthetic. It's a completely free thing to do in Cape Town and your Instagram feed will look amazing!
De Waterkant is within walking distance of Sea Point, Green Point, the CBD, and Bo Kaap, so you don't even need to spend any money getting here.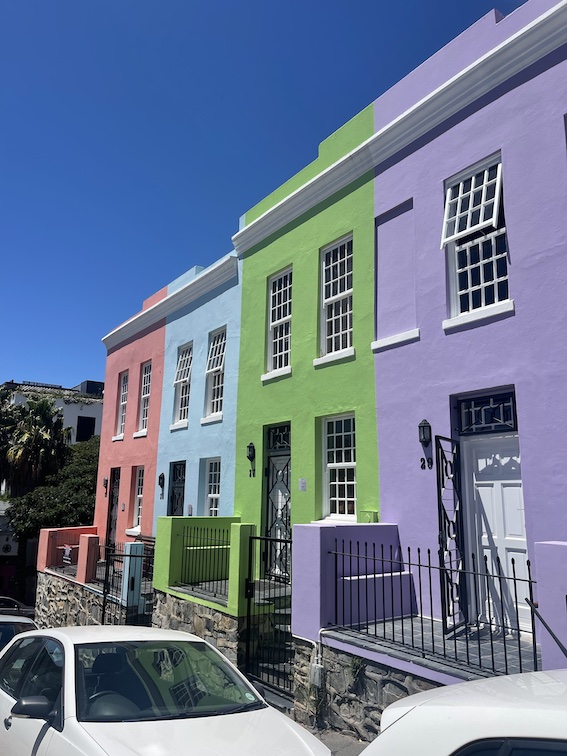 15) Swim at the Randy Warthog Rooftop
The Randy Warthog Bar and Grill is part of the never@home hostel in Green Point, but it's not just for guests! The bar is open to the public, which is great news because it has a rooftop pool.
It's not a lap pool, but it's perfect to cool off in on a hot day. Plus, you don't have to pay to use the pool, although you do need to get a drink at the bar – but you'd probably do that anyway, right?
I still count this as a free thing to do because lots of hotel bar pools in Cape Town are only for guest use, require a day pass, or have a minimum spend in place. At Randy Warthog, it's free as long as you buy one drink! It's one of my favourite things to do on a hot day.
16) Check out the Street Art in Woodstock
Woodstock was once a seaside town that became a pretty dangerous industrial area. Now, it has transformed into a cool and creative neighbourhood that's home to lots of galleries, artsy coffee shops and showrooms.
And naturally, street art has played a big role in creating Woodstock's reputation as one of the city's coolest and edgiest neighbourhoods.
The best way to appreciate Woodstock's street art is to take a tour, but if you're balling on a budget, you can definitely check it out by yourself; it's still one of the best free things to do in Cape Town.
Murals here are centred around endangered animals, community, and human rights. Each piece of artwork really does tell a story and make you think about serious issues. Although they're beautiful, these murals are about so much more than looking good on the 'Gram.
You can find a ton of street art in the area between Albert Road and Victoria Road, so I think that's a good place to start. 
If you enjoyed this post, make sure to check out…