Last Updated on September 7, 2023 by thecapetownblog
Lion's Head is an iconic Cape Town peak, second only to Table Mountain. It's an unmistakable part of the city's skyline, and hiking to the summit is one of the most popular things to do here.
The route to the summit takes you up in a spiral around the mountain, so you get 360° views of the city as you go. Given how diverse and beautiful Cape Town's landscape is, this is really something to behold.
Another reason that the Lion's Head hike is so popular is that it's a bit of a goldilocks hike in terms of difficulty. It's challenging enough to give you a good workout, but at the same time, it's very doable for anyone who exercises more than once a month.
So strap on your hiking boots (although honestly, trainers are fine for this trail) because I'm going to take you through absolutely everything you need to know about hiking Lion's Head mountain in Cape Town.
This post may contain affiliate links. When you make purchases through these links, I earn a small commission at no extra cost to you, which helps to keep this blog up and running. Thank you so much!
1) What's the big deal about Lion's Head?
Lion's Head is famous for its distinctive shape.
My friend who came to visit actually thought it looked more like a gorilla's head than a lion's, although personally I disagree.
Either way, it's a staple of the Capetonian skyline and it's a big part of what makes the Mother City so beautiful.
It's also a popular hiking route because it's smack dab in the middle of the city, so it's really easy to access.
Plus, you only need a couple of hours to get up and down, so lots of Capetonians will head out on a weekend morning to tackle it before going on to reward themselves with a leisurely brunch (perhaps at the Oranjezicht Market.)
2) How difficult is the Lion's Head hike?
I'd say it's moderate. The trail is really easy to follow and you can't really get lost – trust me, if you could, I would have found a way.
The first half is just walking uphill as the trail loops you around the side of the mountain, and then the second half is a bit more challenging, with some scrambling and a couple of iron ladders involved.
You'll probably sleep well after climbing Lion's Head, but most people shouldn't have any problems tackling it.
3) How long is the Lion's Head head?
The hike up Lion's head is 5.3 kilometres (3.2 miles) long, with 400 metres of elevation gain. Unlike Table Mountain, there's no cable car around here, so you have to climb up and down!
4) How long does it take to hike Lion's Head mountain?
It takes around 3 hours in total, or perhaps slightly less if you're a Speedy Gonzalez. I'd say it takes between 1.5 to 2 hours to get to the top, depending on how fast you go.
Then, you'll want 15 minutes or so at the top to take in the views and snap some photos of your achievement, and then it takes around 45 minutes to get back down again. So yeah, I'd say allocate about 3 hours to hike up and down Lion's Head.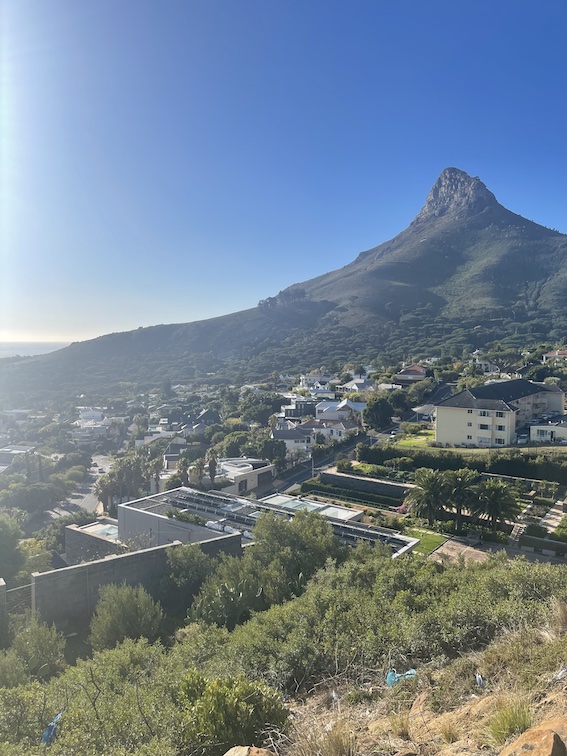 5) Where is the trailhead?
The trailhead for the Lion's Head hike is in Tamboerskloof, opposite the turnoff for Table Mountain. 
If you're driving, head up Signal Hill Road and park in the small lot on the right hand side. When you get out of the car and turn to face Lion's Head Mountain, take the trail on the left, which will lead you to the summit.
6) How to get to the trailhead
You've got 3 options to get to the trailhead.
Drive
If you've rented a car, you can drive to Lion's Head and park for free right opposite the trailhead. It's a small lot but I've never failed to get a space. It takes about 10 minutes to drive to the trailhead from Camps Bay, and 15 minutes from Sea Point, Green Point, or the CBD.
Uber
You can also take an Uber here and take one back to your accommodation after the hike. Uber in Cape Town is pretty affordable, and it doesn't usually take very long to get a ride. You shouldn't struggle to get one back from Lion's Head, either.
The MyCiti Bus
You can take either the 106 or 107 MyCiti bus to Kloof Nek. Buses leave about every 10 minutes and run between the city centre and Camps Bay. You can buy a MyCiti bus card for R35 and top it up at various shops all over the city.
A one way fare from the Civic Centre bus stop to Kloof Nek costs about R10, so this is a really cost effective way of getting around. The MyCiti buses are safe, reliable, and very regular. One stops at Kloof Nek roughly every 10 minutes.
From the Kloof Nek bus stop, it's a 10 minute walk to the trailhead.
7) When is the best time to climb Lion's Head?
Try to go on a weekday if you can, because this route can get super busy on weekends. Locals and tourists alike love climbing to the top, so if you go at the weekend you'll often find yourself waiting for quite a while by the ladders.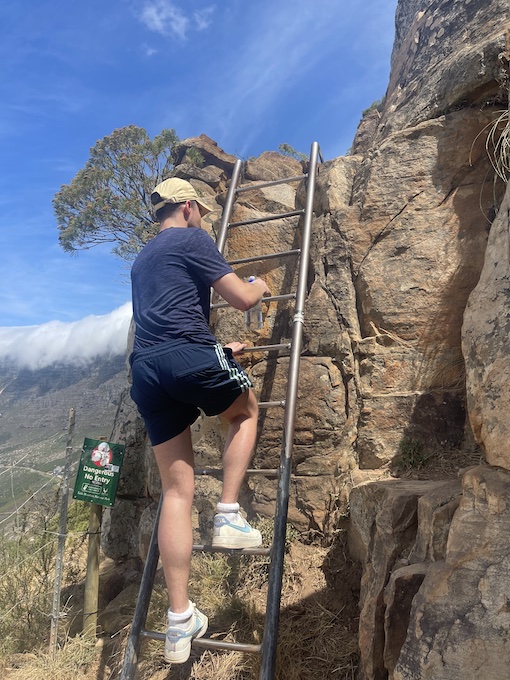 It's also best to go in the morning during the summer to avoid the heat. The light in the morning is also best for photography, so if you're hoping to catch some Insta-worthy photos of the view, then this is the best time to go.
In the summer, it gets light pretty early so you can go as early as 6 am and have the mountain all to yourself. Or mostly to yourself, anyway. Capetonians are a pretty active bunch.
And you should definitely go as early as you can on weekends, due to the aforementioned queues!
Saying that, I've climbed Lion's Head in the afternoon and it was still a fantastic experience, so don't stress too much about the best time to go.
When I did this hike during the peak summer season, I went on a Tuesday afternoon and while we met quite a few fellow hikers along the way, the trail definitely wasn't too busy.
You can also catch a stunning sunrise or sunset from Lion's Head. You do need to be careful and bring a torch when hiking in the dark, and if you're not an experienced hiker you can always join this tour.
On the tour, you'll be provided with headlamps and flashlights, as well as fruit snacks. There are only 8 travellers in a group, so it's nice and personal rather than super crowded and hard to keep up. Plus, it has amazing reviews!
The tour costs about R1,620 (£70/$89) without transport, and it's an extra R300 (£13/$16.50) on top of that if you want pickup. Pickup is a good idea if you're going alone and don't have a rental car, but if you're in a couple or group then taking an Uber will be cheaper.
Click here to check out the tour and book!
8) What can you see from the top of Lion's Head?
You'll enjoy changing aerial views of the City Bowl, Table Mountain, the Twelve Apostles, Camps Bay, and Sea Point as you wind your way around the mountain during your ascent. 
Then, when you get to the top you've got an unobstructed 360 view, baby! You can see the city's central business hub, beaches, mountains, and unique neighbourhoods. It really is beautiful up there. 
9) How fit do you need to be to do the Lion's Head hike?
Reasonably, but nothing extreme. You need to have a basic level of fitness to be able to enjoy this hike, but you really don't need to be a pro-hiker.
Personally, I'm a really slow hiker and very prone to tripping over. I do enjoy working out and head to the gym a few times per week, but I'm about the furthest thing from a pro athlete you could ever imagine.
Unless you're really out of shape or have mobility issues, you should be fine with this hike.
10) Do you have to pay to hike Lion's Head?
Nope, not a penny! It's free to climb Lion's Head, and the parking at the bottom is free too, so there really aren't any costs involved except for getting yourself to the base of the mountain.
11) Is it safe to hike by myself?
Yes, if you go during the day you should be fine hiking alone, although obviously it is always safer to hike with a companion.
If you want to go alone, I'd recommend going in the middle of the day when there will be other people on the trail. Some people like to hike the mountain at sunrise or sunset, but I don't think that this is a great idea if you're going by yourself. However, you can join a guided tour!
And whether you hike alone or with others, you should make sure to save the Table Mountain National Park emergency phone number, which is +27861106417.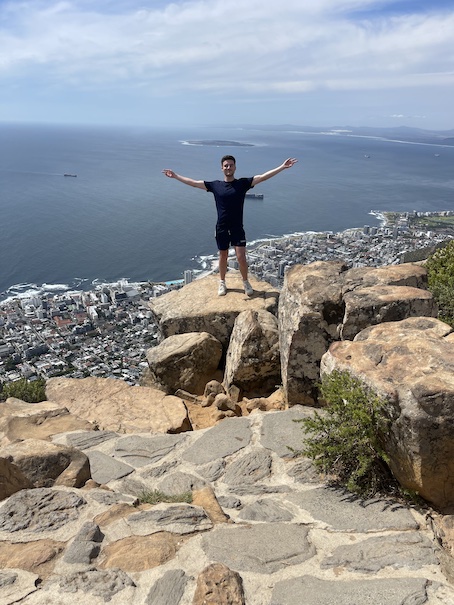 12) Are there any facilities at the bottom?
There are no toilets, so bear this in mind when you're chugging water on the way up. There is a small truck selling drinks so you can grab a smoothie or a cold Coke when you've finished your hike, but that's about it.
13) What should I wear for the Lion's Head hike?
Comfy clothes! I would recommend regular gym clothes for this hike. I wore my running trainers, leggings, a sports bra, and a moisture-wicking training top. You could wear hiking boots but they're not strictly necessary. Regular trainers will be fine.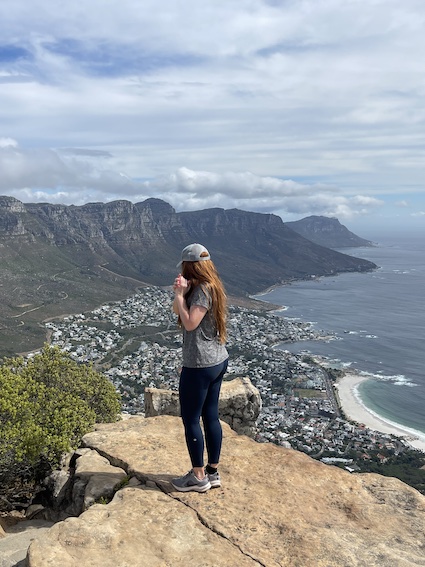 14) What should I bring with me?
Water: you'll get thirsty, especially during the summer!
Your phone: to snap lots of photos, and in case of emergency. If your phone camera isn't great, I recommend bringing a proper camera, too.
Snacks: I don't tend to bother with this but it can be nice to enjoy some fruit at the top as you enjoy the view. The hike doesn't take that long, though, so you're not going to starve!
Backpack: there are ladders on the way up and rocks to climb over, so you want to be hands-free. I took a small cross body bag but to be honest a backpack is probably better as it doesn't dangle.
Sunglasses: Cape Town is sunny, and there's not a lot of shade on the Lion's Head hike, so protect your eyes.
A hat: You don't want to burn your scalp!
Sunscreen: The Cape Town sun is STRONG. I recommend applying sunscreen before you begin the Lion's Head hike, and then again when you reach the summit. After all, you're going to sweat on the way up and so it's best to reapply.
Headlamp (for sunrise or sunset): if you're going to do the Lion's Head hike at sunrise or sunset, you'll be doing one half of the hike in the dark. It's best to take a head torch so that you can be hands-free for the scrambling.
An extra layer (for sunrise or sunset): the temperature really drops after dark in Cape Town, so if you want to hike at sunrise or sunset, it's best to bring an extra layer that you can get on and off easily. A light windbreaker jacket or a jumper will be fine.
15) Do I have to hike all the way to the top?
No, you don't have to. Lion's Head is an out-and-back hike, not a loop, so you can turn back whenever you want. You get great views the entire time, although the 360 ones from the top are the best.
At one point, towards the end of the hike you get to a flat plateau before the final scramble to the top. It's a great spot to stop and take photos, and you can always turn back here if you're too tired for the final climb.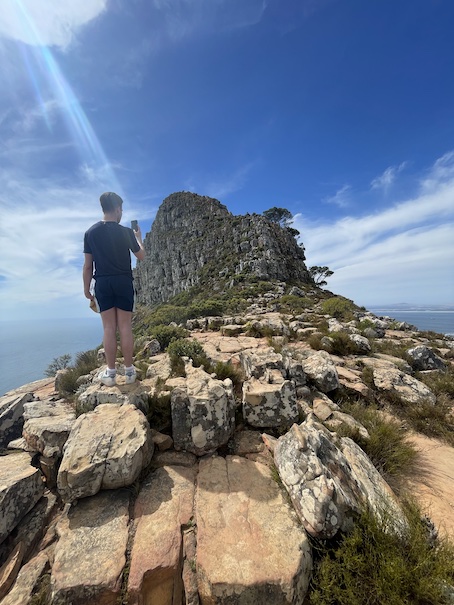 16) Is there an easier alternative to the Lion's Head hike?
Yes, there is!
The Lion's Head Loop takes you around the perimeter of the mountain rather than up to the top. You'll still have fantastic views of the city as you walk around, and it's pretty easy walking the whole way, although some sections can get muddy during the winter.
If you want to do the loop, take the trail on the right hand side at the base of the mountain. It's 5.3 kilometres (3.3 miles) long and it should take you just over an hour to complete. This is one of my favourite routes in the city, because it's so quick and easy but the views are still absolutely beautiful.
17) What's better, hiking Lion's Head or Table Mountain?
Both are amazing hikes with beautiful views. You can see even more from the top of Table Mountain because you've got views along the Cape Peninsula, but honestly, both will have you snapping photos like there's no tomorrow. However, if you've only got the energy or inclination for one hike, then I'd say hike Lion's Head and take the cable car up Table Mountain instead.
18) Is hiking Lion's Head worth the effort?
Yes! It's one of the best things to do in Cape Town. The views are amazing and the hike is beautiful the whole way up, so you don't have to put in lots of work before you get any kind of reward. It's also really easily accessible from town and easy to fit into a day of fun activities. Plus, it's free!
19) Facts about Lion's Head
It's a geological wonder
Table Mountain isn't the only natural wonder in Cape Town! Lil' old Lion's Head is considered to be a geological wonder because it boasts examples of Cape Granite. This is the same type of granite that makes up Table Mountain.
To be honest, I had no idea about this until I hiked Lion's Head with a geologist!
There are caves on Lion's Head
Lion's Head is home to two caves: Wally's Cave and Watchman's Cave.
Wally's Cave looks out onto Table Mountain and the Twelve Apostles, while Watchman's Cave gives amazing views in the opposite direction over Signal Hill and beyond. However, you're no longer allowed to visit these caves as it's too dangerous. But I still think it's cool to know that these caves exist!
There used to be lions here
Yup, lions did once used to live on Lion's Head – and so did hippos, elephants, hyaenas, and leopards!
However, the last lion living on the mountain was shot in 1802. Now, the most dangerous animal you're likely to see is a dassie. They're not particularly dangerous, but they may bite if you bother them!
(Don't worry though, dassies are very unlikely to let you get that close in the first place.)
20) How to plan the perfect Lion's Head hike
This is just an example of how you might fit a Lion's Head hike into a day at Cape Town.
Wake up early and head to the trailhead around 7 or 8 am. You'll be back down by 11 am latest, ready for a celebratory brunch at Jarryd's in Sea Point (which is one of the best restaurants in the city, just FYI).
After an active morning, you'll probably want a more chilled afternoon, so head to Clifton Beach for a lazy afternoon and an epic sunset.
For more ways to enjoy the great outdoors in Cape Town, check out these posts: