Last Updated on October 19, 2023 by thecapetownblog
Wherever you travel, it's always worth knowing how you're going to get from the airport to your accommodation, and Cape Town is no different.
In Cape Town, there are relatively few ways to get from the airport to the city – and even fewer that you should actually consider.
Fortunately, getting from the airport to the city isn't actually that complicated, but there are some important things to know to ensure that you get to your hotel or apartment safely and without being ripped off. Thanks to the taxi touts at the airport, it can be a little stressful if you don't have a plan of action.
That's why this article is here to help you create one! Let's get into it.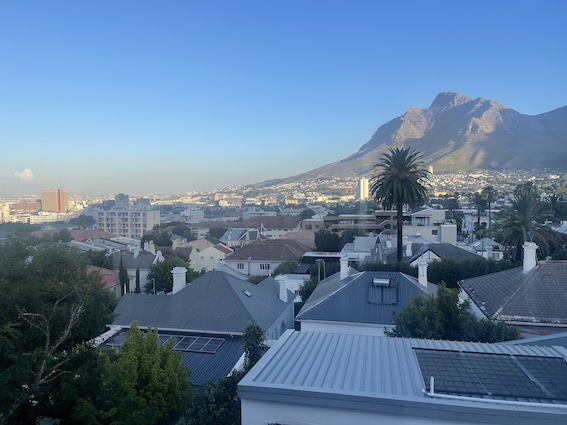 This post may contain affiliate links. When you make purchases through these links, I earn a small commission at no extra cost to you, which helps to keep this blog up and running. Thank you so much!
How far is Cape Town airport from the city?
Not very far!
Cape Town International Airport is 19.5 kilometres (12.1 miles) from the city centre. If there's not much traffic, it only takes about 20 minutes to get there.
However, if you leave the airport and head to town between 7:30 and 9 am, when lots of workers are heading into the city, you can expect the journey to take the best part of an hour.
The journey time also varies according to where you're staying. Here's are the distances between Cape Town airport and some of the best neighbourhoods to stay in, and the approximate journey time outside of the morning rush hour:
Sea Point: 25 kilometres (15.5 miles), 30 minute drive
Green Point: 22.6 kilometres (14 miles), 25 minute drive
Dewaterkant: 21.3 kilometres (13.2 miles), 20 minute drive
Camps Bay: 25 kilometres (15.5 miles), 30 minute drive
Tamboerskloof: 22 kilometers (13.7 miles), 25 minute drive
Gardens: 21 kilometres (13 miles), 25 minute drive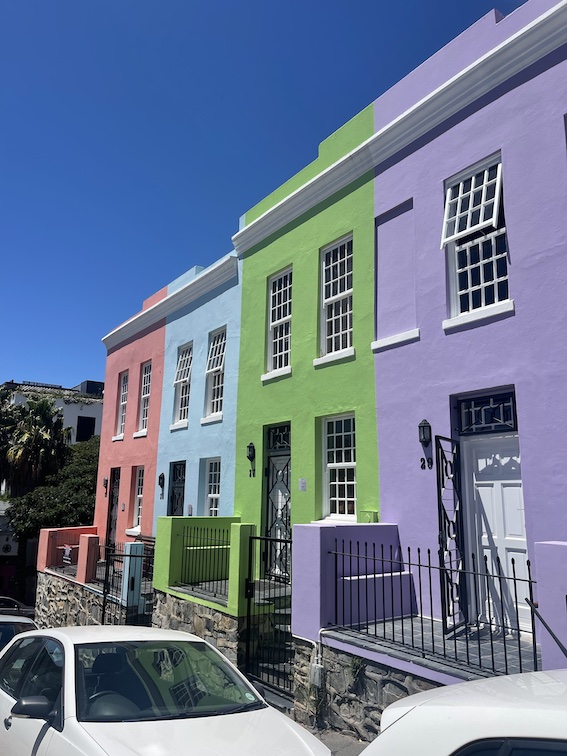 What's the best way of getting from Cape Town International Airport to the city?
The best way of getting from the airport to the city depends on whether or not you're planning on renting a car for the duration of your stay.
If you are going to rent a car, then you can pick it up from the airport and drive to your accommodation.
If not, it's best to use Uber or book a private transfer.
Ubers are cheaper if you don't have much luggage and can get your bags into a small car, but there's usually a longer wait. Private transfers are easier but a little more expensive.
Renting a car
Car rental prices are pretty reasonable in Cape Town. You can rent a small car for as little as R3000 per week, which is roughly £150 or $185, although exchange rates do fluctuate. If you need something bigger, you're looking at around R4000 (~ £200/$250) per week.
You can use Discover Cars, which is kind of like the MoneySupermarket of rental cars, to choose a highly rated supplier and compare prices. Then, you can pick your rental up at the airport and drive away! Just remember that we drive on the left here in Cape Town. 
Uber
If you're not going to rent a car in Cape Town, then you can get an Uber or book a private transfer.
"Normal" taxi cabs are all but extinct in Cape Town, so you can't just stroll out of the airport and find one waiting for you. Thankfully, Uber in Cape Town is cheap, safe, and reliable, and it's easy to get one from the airport.
Prices
Ubers from the airport to the city are really affordable. Depending on where you're heading, you can expect to pay between R150 – R350 (~ £6.50 – £15/ $8.20 – $19).
Prices are on the lower end when you travel outside of the morning rush hour and use an Uber Go.
If you have a lot of bags or people and need an UberXL, the price will be closer to R350. Prices also tend to go up during bad weather.
You can pay with cash or on card. In some countries, I have problems using my card with Uber, but in South Africa it has always been fine!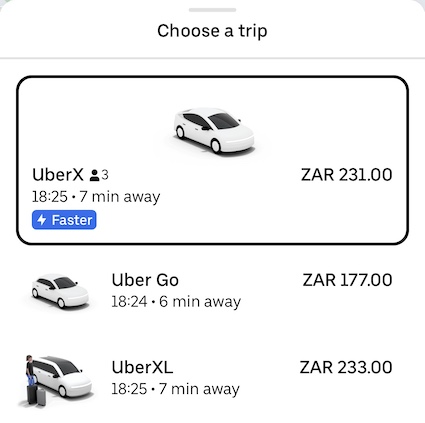 How to call an Uber from Cape Town airport
The free airport WiFi is decent most of the time, so you should be able to use it to call a ride. However, it doesn't work 100% of the time and can be patchy, so I recommend getting a SIM card, since they're really useful anyway.
You can get a SIM card from the Vodacom booth at the Cape Town airport arrivals for a mere R10. You'll see it on your left as you walk through the doors into the arrival hall. The prices for 30 days' worth of data are:
1GB = R85 (£4.25 / $5.30)
2GB = R149 (£7.50 / $9.30)
4GB = R249 (£12.50 / $15.50)
6GB = R349 (£17.50 / $21.80)
10GB = R449 (£22.50 / $28)
The staff will activate your SIM straight away and you'll be good to go!
Then, leave the airport and follow the signs to Parkade 1. Stay on the ground floor. Some blogs will tell you the ride hailing pickup area is in Parkade 2, but this changed in 2021.
Now, I warn you, as you wait for your ride you might get some unscrupulous taxi drivers trying to persuade you to come with them
(And by taxi, I mean a local shuttle, not a cab.)
One taxi driver even told me he was my Uber driver and that I should get in his vehicle. When I pointed out that my Uber was still two minutes away and the driver's photo looked nothing like him, he insisted that he was an "offline Uber."
So yeah, just move as far away from those guys as possible and wait until the car with the right registration plate pulls up!
Private transfer
If you don't have the energy to deal with the annoying taxi touts, or want the security of having a ride booked in advance, then a private transfer is a good option.
Your driver will be waiting for you at arrivals with a sign and you'll head straight to the car rather than having to buy a SIM card and wait for an Uber. It's a bit pricier, but it definitely saves time so I think it's worth the extra cost. It can also be difficult to get an Uber if you land late at night, whereas your private driver will be there waiting for you!
This private transfer is for up to 3 people and costs R400 (£17/$22). The driver will track your flight time so you don't need to worry if your flight is delayed and you can make changes or cancel for a full refund up to 24 hours before you're due to be picked up.
Meanwhile, if you've got 4 people, you can book a private transfer for your group for R500 (£21.50/$27.50). At the time of writing, this transfer only has 5 star reviews!
What other modes of transport are available?
The aforementioned unscrupulous taxis.
In South Africa, the word "taxi" doesn't refer to a cab. It refers to big shuttle vans that tear manically through the city and have no regard for the rules of the road.
Taxis aren't safe, and I don't recommend that you take one from Cape Town airport to the city. 
In fact, I don't really recommend that you take one at all while you're here!
They'll overcharge you and you may well arrive at your accommodation sans some of your possessions. An Uber or private transfer is faster, cheaper, safer, and more comfortable, since you're not crammed in a van with lots of other passengers.
Is there public transport between Cape Town airport and the city?
There used to be, but not anymore.
The MyCiti bus can be a good way of getting around Cape Town, but the airport service was discontinued in December 2022 due to lack of use. It's possible it may return in the future, but for now there's no public transport between the airport and the city centre.
Scams to avoid at Cape Town airport
The only real scam you need to avoid here is being taken in by the taxi drivers. They'll insist that they'll give you a good price, but they won't. They also won't drop you off right outside your accommodation like an Uber or private driver will, and it will take a while (despite the speed at which they drive) because you'll make a ton of stops along the way.
Like I said earlier, some taxi drivers will tell you that they're an Uber driver or that they'll give you a private ride. Don't listen. Just politely say "no, thank you" and move away from them.
Airport Parking
If a friend is coming to pick you up, they should park in either parkade 1 or parkade 2, both of which provide easy access to the main entrance of the airport. These are both short stay lots and I've never found either one of them to be full. It costs:
R22 for the first hour of parking
R50 for 1-2 hours
R72 for 2-3 hours
R100 for 3-4 hours
R150 for 4-12 hours
R200 for 12-24 hours
If you found this article helpful, you might also like…