Last Updated on October 26, 2023 by thecapetownblog
Cape Town is a driving city. Almost everyone drives here, and lots of travellers decide to rent a car because it's generally considered the best way to get around.
Pretty much every Capetonian I know drives. Having a car is really useful, whether you're in the city for a few days or a few months. Not only does it give you a lot of flexibility in terms of getting around, it's also great for exploring areas further out of the city centre. When you have a car, amazing areas like the wine lands and the Cape Point Nature Reserve are all within your reach.
You don't have to drive when you visit Cape Town, but if you prefer to explore independently rather than relying on Ubers and tours, then you should definitely think about hiring a car. There are some beautiful scenic drives here!
But of course, driving in every country is different and so there are some things you need to know before you get behind the wheel in Cape Town.
This post may contain affiliate links. When you make purchases through these links, I earn a small commission at no extra cost to you, which helps to keep this blog up and running. Thank you so much!
Is driving in Cape Town safe?
Driving in Cape Town is mostly safe, but there are definitely some things to be aware of.
Official statistics say that in South Africa, there are 25.1 road deaths per 100,000 people every year. That is admittedly a lot higher than my native UK, where the number stands at 2.9. In the USA, the figure stands at 12.9 per 100,000, so driving in South Africa is almost twice as dangerous.
However, you have to bear in mind that these statistics represent the whole of the country and not just Cape Town. And as any South African will tell you, Cape Town is vastly different from the rest of the country in many ways.
The roads in Cape Town are well maintained compared to the rest of the country and drivers here tend to be more sensible. Several of my friends have remarked how chaotic they find Johannesburg drivers to be.
The main thing you need to be aware of when driving in Cape Town is that drivers are pretty impatient. They'll often pull out in front of you and aren't great about giving way. People like to change lanes a lot and sometimes they don't give much warning – if any.
It can be irritating at first but you get used to it. It might not even be that different to where you're from!
The worst offenders in Cape Town, though, are the taxi drivers. Taxis in Cape Town aren't cabs, but big shuttle vans that drive like absolute maniacs. They don't indicate (or not until they're already in the middle of changing lanes, anyway). They don't wait, either, and they will never give way to you. Make sure you give these guys a wide berth – thankfully, they're easy to spot.
You should also be aware that there is a drunk driving problem in South Africa, and so you should be extra cautious when driving at night.
I don't say any of this to put you off! Most people I know drive and have zero issues. In fact, I do recommend hiring a car! You just need to know what kind of roads you'll be dealing with so that you can make smart decisions.
I've driven in Cape Town and had no problems. Aside from the slightly more aggressive style of driving, it was super easy and felt normal. Probably the worst thing about it was having to parallel park!
Is driving in Cape Town difficult?
Nope. The roads are well maintained and there's clear signage everywhere, so I don't think that this is a difficult place to drive. You'll often encounter a fair bit of traffic, but that's just cities for you! It's definitely not as bad as many other capital cities.
Why is Cape Town a driving city?
A big reason so many Capentonians drive is because there isn't a strong public transport system here. The MyCiti bus is cheap, reliable, and comfortable, but it mostly only serves the central areas – you can check the route map here.
Cape Town also doesn't have horrendous congestion charges or outrageous parking prices like lots of other cities do. There's no subway, trams, or trains, and while certain neighbourhoods are very walkable, you need a car for longer distances.
Do I need an international driver's licence for South Africa?
Nope, not if you have a full driver's licence printed in English from your country of residence. You will need to carry this with you whenever you drive, as you can be arrested for failing to present your licence if you get pulled over.
If you're coming to South Africa on a student, critical skills, or volunteer visa that lasts several years, you can use your home licence for up to a year before you need to get a local one.
However, if your licence isn't in English, then you will need to apply for an International Driving Permit before you can get behind the wheel in Cape Town.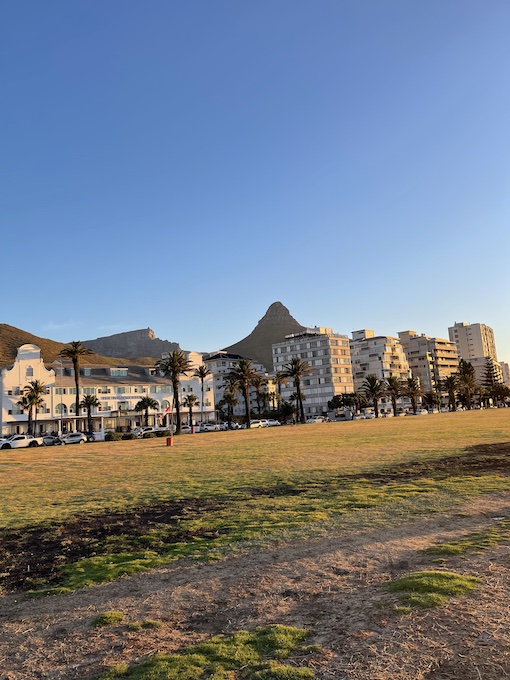 What is the speed limit in South Africa?
Speed limits in South Africa are always written in kilometres. In the city, the speed limit is usually set at 30-50 km/h (18.6-31 mph), depending on the area and type of road. Meanwhile, on the highway they range between 80 – 120 kilometres per hour (50-74.5 mph).
What side of the road do they drive on in South Africa?
The left. So if you're visiting from the UK, Australia or New Zealand, you'll feel right at home.
Also, just a quick note for Americans looking to rent a car in Cape Town: most of them are manual here!
Can you turn left at a red light in South Africa?
No, you can't. The only time you can do this is when there's a green arrow signal to specifically indicate you can go. Otherwise, you'll have to wait.
Where is the best place to rent a car in Cape Town?
I recommend using Discover Cars to find a rental car in Cape Town. It's a booking site that allows you to compare the top rental agencies so you can find the best price and choose a reputable provider (which is super important when renting a car).
Their prices are really good, too. For example, you can rent a Hyundai i10 for a week for just R2,000 (£85/$110). Often, you can just pay a small deposit when you book and then pay the rest when you pick up the car.
You can also add full coverage insurance by just ticking a box. This costs about R126 (£5.50/$7) per day, which is a better price than you're likely to find on the ground. Extras like additional drivers, child seats, and luggage racks are available, too.
Click here to check out prices and find a rental car in Cape Town
What is the price of petrol in Cape Town?
Like anywhere in the world, the petrol prices do fluctuate in Cape Town but it usually hovers between R20 – R25 per litre, which is £0.86 – £1.07 or $1.10 to $1.37 at the time of writing. Today (18 June 2023), the price of petrol is R22.27 in South Africa.
The price of petrol is standardised in South Africa, so one fuel station isn't going to be any cheaper than another. Just get fuel wherever is convenient, but do be mindful that petrol stations often have to close during load shedding.
Another good thing to know is that petrol stations have fuel attendants who will fill your car up for you. You can also ask them to clean your windscreen and check your tires if necessary.
It's customary to tip a petrol attendant a few rand for filling up your car, and a little more if they perform another service on top of that.
Top tips for driving in Cape Town
Don't drink and drive
Lots of Capetonians drink and drive. Even people who I would consider pretty sensible often get behind the wheel after a few glasses of wine. They're not smashed, but are definitely over the limit.
If you get caught drink driving in Cape Town, you will be arrested and probably fined. You really don't want to end up in this situation, so don't drink and drive. Just take an Uber instead!
Avoid taxis
Taxis are white shuttle vans that drive super aggressively and have absolutely no regard for road rules. You should never expect a taxi to give way to you and if you're driving close to one, always be prepared for them to cut you off or change lanes with literally no warning.
Give them a wide berth and just accept that they're going to do whatever they want to do, with no thought to any other driver on the road.
Unfortunately, dealing with taxis and their unpredictable manoeuvres is just part and parcel of driving in Cape Town! The best thing you can do is let them do their thing and stay out of the way.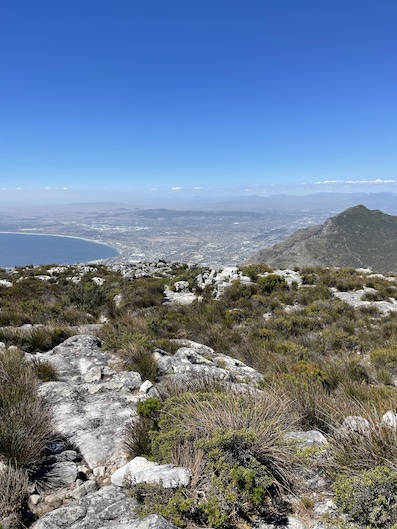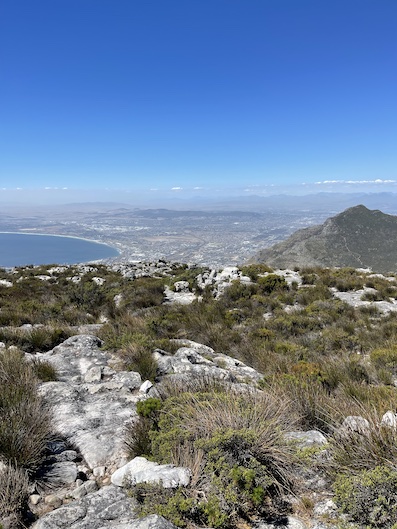 Don't use your phone while driving
You shouldn't use your phone while driving anywhere, but given that there's often a lot of traffic in Cape Town and drivers like to overtake and change lanes frequently (often without warning), and the taxis really are a menace. Basically, you need to keep your eyes on the road at all times, so leave your phone alone!
Learn the local road terms
It's helpful to become au fait with South African road slang before you arrive. There are a couple of key terms that you should know:
Robots = traffic lights. Don't ask me why.
Circle = roundabout
Taxi = much-hated white shuttle van that drives erratically and aggressively
Always wear a seatbelt
This one is just common sense, but if you get pulled over and are not wearing a seatbelt, you can get in a lot of trouble. If you're a passenger, both you and the driver can get into trouble, particular if you get into an accident. Strap in!
No parking on yellow lines or facing oncoming traffic
A yellow line in Cape Town means that you can't park here at any time. You're also not allowed to park facing oncoming traffic.
You'll almost definitely get fined if you do either of these things because traffic wardens are everywhere!
Be prepared for car guards
Car guards are usually homeless men who watch your car for you while you're parked, in the hopes that you'll give them a small amount of money when you return.
Car guards are not employed by the City of Cape Town and you do not have to give them money. They don't have any power to fine you and you're not obligated to them. Just because they're in a high vis vest doesn't make them official!
(I stress this point because some car guards tried to intimidate me and a friend at Beta Beach once. However, they were the exception, not the rule).
Car guards can be helpful and they are often good at regulating the traffic within car parks and making sure someone doesn't try to steal the spot you had your eye on. They're also usually pretty friendly and can help you reverse out of tight spots.
It's a good idea to carry some change to give the car guards, especially if you're parking somewhere busy like Clifton Beach. R5 to R10 will suffice (£0.21 – £0.42 / $0.27-$0.54 USD at the time of writing).
Do just bear in mind that car guards will sometimes tell you to park somewhere you shouldn't, so don't listen if they tell you it's fine to park on a yellow line, across someone's driveway, or somewhere else that just seems wrong.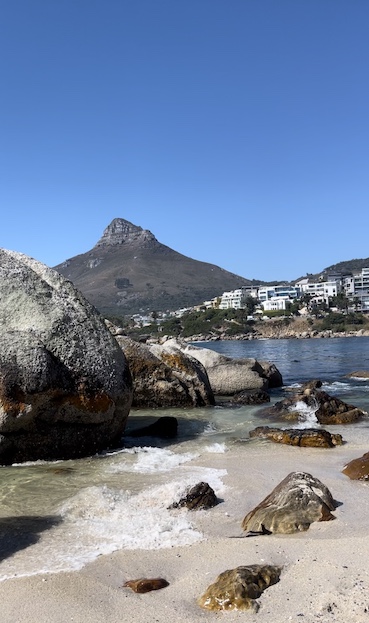 Know the difference between car guards and parking attendants
In some areas, such as the CBD and main road in Sea Point, there are parking attendants who you have to pay to park. These guys aren't car guards, they're legit, and paying is not optional.
The parking attendants will have card machines with them and sometimes have walkie talkies too. They will be wearing a high vis jacket and should also be wearing an ID. You need to tell them how long you want to park for and then pay with a card.
Don't worry about them not being around when you park. They are always there and will come up to you as soon as you exit your car. They don't miss a trick! And if you need to come back and add more time to your parking ticket, it will be easy to find them.
Drive defensively
Drivers in Cape Town can be impatient and don't like to wait for others, so drive defensively. This means being aware of your surroundings, anticipating potential hazards (like taxis!), and adopting a cautious approach. If you drive like this, you should be absolutely fine.
Get used to parallel parking
No-one likes parallel parking, but in Cape Town it's what you have to do a lot of the time! Just take your time, be patient, and know that no-one cares if you have to do it a few times to get it right.
Be careful in the rain
Capetonians really don't know how to drive in the rain. They all freak out. My friends all hate driving in the rain because Cape Town just doesn't get a lot of it!
Meanwhile, in the UK if you avoided driving in the rain you'd never go anywhere.
You should reduce your speed, put your headlights on, and be extra careful in the rain anyway, but this is definitely true in Cape Town. Take extra care and expect other drivers to be a little more erratic than usual.
Don't leave anything in your car
Unfortunately, car break ins are pretty common in Cape Town which is why you should never leave any valuables in your car – or anything, really. Don't make your car attractive to thieves!
You'd be surprised at what people steal. My housemate had a water filter stolen from her car, and when it's cold people will even break in to steal jumpers or jackets. If you do want to keep a few spare warm clothes in your car for those chilly evenings, lock them in the boot, out of sight.
And of course, always lock your car. My housemate forgot once and in the morning she found a man sleeping in her car!
Be careful of potholes
To be honest, potholes aren't that bad in the city centre but if you drive out to the winelands or go further afield, you do need to be mindful of them. They can be pretty bad in more rural areas. You don't want to risk damaging your car!
Passengers should be careful with their phones
Cape Town enjoys some amazing weather and so you might want to drive with the windows down. Passengers should not use their phones when the window is down, though, because that's how snatch-and-grab situations happen. I've had so many Uber drivers warn me about this, so do be careful with your valuables even when you're inside the car.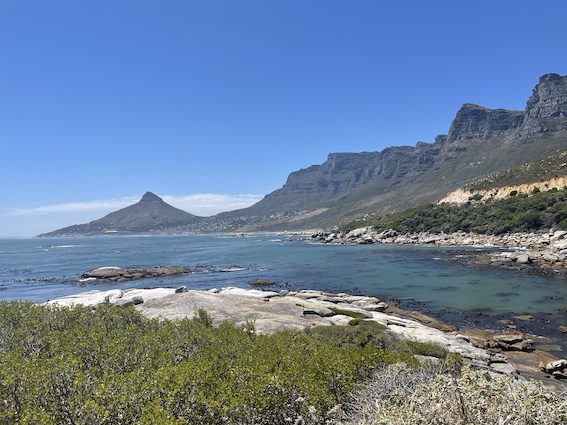 Get full coverage insurance
If you're renting a car in Cape Town then it's best to get full coverage insurance. Third party insurance is included with the rental price but full coverage insurance protects you in case you damage the car, lock your keys out, or the car is broken into.
Full coverage insurance costs around R126 per day via Discover Cars, which is £5.50 or $7 USD at the time of writing. For me, it's a no-brainer because I'm an anxious driver and I need that peace of mind!
Beware of speed cameras – they're everywhere!
Speed cameras are everywhere in Cape Town, and their locations are not always clearly disclosed. There are also lots of distance over speed cameras along the highway. It's best to just stick to the speed limit at all times to avoid a fine. Most Capetonians just don't pay theirs, but when you're renting a car you can't really get away with that…
Be cautious at night
It's okay to drive at night in Cape Town but you do need to be extra cautious. Make sure that you lock your doors!
You shouldn't run red lights at night, even though you might have heard that people do this in South Africa. There's no need to do that here.
You should keep an eye out for drunk drivers though as sadly, drunk driving is pretty common in Cape Town. If you see someone who is driving recklessly, let them pass you and stay out of their way.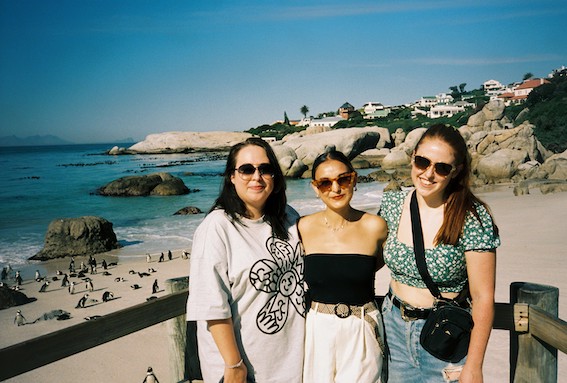 For more need-to-know info about Cape Town, check out these guides: