Last Updated on September 20, 2023 by thecapetownblog
When you come to South Africa, you usually get a 90 day visa on arrival, but sometimes 3 months just isn't enough.
Cape Town is an amazing city and there are lots of reasons to stay. However, I won't lie to you: extending my South African tourist visa has caused me headache after headache since I've lived in the country.
But since having to go through the process time does mean that I now know it inside out, I can guide you through the same steps. There's quite a lot that the official website doesn't tell you which makes the process extra stressful.
While I was figuring the process out, I found blogs to be way more helpful than any government resource, so I wanted to throw my voice into the mix and give you as much information as possible about how to stay in Cape Town for an extra 90 days.
I'm obsessed with this place and I'm pretty sure that no-one wants to stay here more than me. I even got a "South Africa" tattoo after my first visa extension was approved!
I'm going to start with all of the basic info, and then dive into detail about the rather long-winded process of actually applying. Good luck!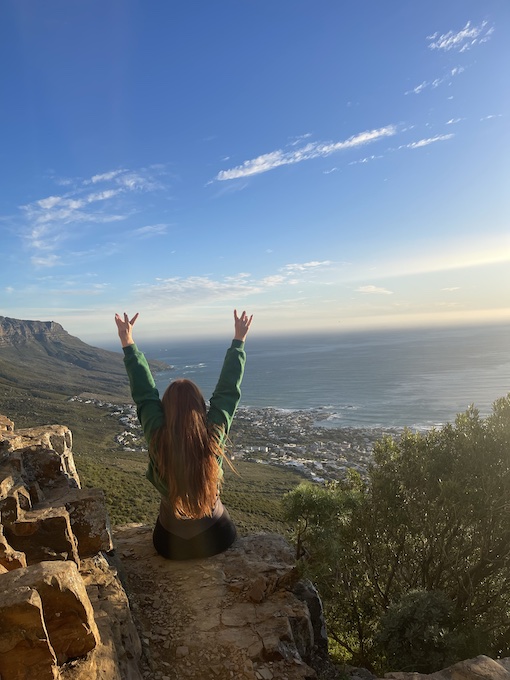 This post may contain affiliate links. When you make purchases through these links, I earn a small commission at no extra cost to you, which helps to keep this blog up and running. Thank you so much!
How long can you extend a South African tourist visa for?
You can extend your tourist visa for three months at a time. Since you get 90 days to begin with, this equates to a total stay of 180 days if all goes well. Sadly, you can only extend a tourist visa once.
Is there a deadline to apply for the extension?
Yes. You have to apply for your tourist visa extension within your first 30 days in South Africa. Well, technically it's 60 days before your visa expires, but it's the same thing since your initial visitor's visa should be valid for 90 days.
I recommend booking your appointment as soon as possible after you enter the country to make sure dates are available. This is especially true between October and March, which are the summer months!
It's fine to make your appointment for your 29th day in the country, but just book it ASAP.
How do you apply for a South Africa visa extension?
You make an account with the Visa Facilitation Service online, pay for an appointment, turn up on the day and submit your documents in person, and then wait for an indeterminate amount of time for the outcome (which you also have to collect in person).
I'll go over the process step by step below and explain it thoroughly, but that's the long and short of it.
How long do I have to wait to know whether or not my application was approved?
The official party line is that you'll need to wait 8-10 weeks. In my experience, it can be anywhere between 1 and 3 months. It tends to take much longer to receive an outcome in the summer than the winter because there are so many more tourists in South Africa at that time.
The problem with a long wait is that your initial visa may run out before your extension is approved. This has happened to me twice.
Ok, so what do I do if my visa expires before I receive an outcome?
You have two choices here.
Option A: Leave the country
But that's no fun! Still, depending on your travel schedule, an abrupt departure might be your best bet.
Option B: Overstay
You can overstay your visa while you wait for the outcome. Legally, you are allowed to do this, and I have done so twice. However, you can't leave the country until you receive an outcome either way, so bear this in mind. Being trapped in South Africa forever is pretty much my dream, but it may not be yours.
As long as you follow every step I've outlined in this blog, you should get a yes. But it's never guaranteed and VFS is rather prone to messing up, so it is a risk.
What can I say? The system sucks.
What if I overstay and my visa is denied?
The problem with option A is that if you overstay and the answer is no, you could find yourself in a difficult position. Officially, you get 10 days to leave if the answer is no, but in reality, you might be banned on your way out of the country. Basically, different government departments don't appear to talk to one another all that often, and so the de facto rules get a bit blurry sometimes.
However, I've always found the agents at border control to be really friendly. One even commended me for following the proper process and extending my visa rather than overstaying. So if you do find yourself in the situation where you've overstayed and then your application is denied, I'd say your best bet is to turn up at the airport with all of the documents from the process and be extra nice to the border agent.
If my extension is approved, am I guaranteed to get 3 months?
Nope. In my experience, VFS grants you 90 extra days from the date your application is processed, rather than the date your original visa expires.
Twice, this has led to me getting extra weeks in South Africa. Once, it meant I had to leave two months earlier than planned.
Again, the system sucks.
Can you extend your South African tourist visa more than once?
No. You can only extend your visa once. After your 180 days are up, you will have to leave the country.
Can I do a visa run?
Technically, yes you can, but there are a few caveats.
Travel within Africa is pretty expensive, so a visa run will probably cost you way more than a visa extension. Of course, if you want to stay for longer than 180 days, you will need to leave the country and renter.
If you have a passport that grants you a 90 day tourist visa on arrival, then there's no need to return home, but if this isn't the case then you may need to apply for another visa from your home country.
You can't really do visa runs overland, so you will need to fly in and out of the country. Land border agents don't like it when you're clearly doing a visa run, but they don't seem to care when you fly into an international airport.
I've also heard that visa runs only work when you visit a neighbouring country, but I have friends who have successfully done this. They went to Mozambique for a holiday, but they stayed for a few weeks and, crucially, they flew in and out of South Africa. It may have been a different story had they gone overland.
Personally, I did a visa run to Zanzibar after my first six months in South Africa were up. I only went for a week, I had a blast, and I had no problems on the way back into the country. After that, I left for longer periods and went to entirely different continents, so I knew that there wouldn't be a problem.
If you do a visa run, make sure that your previous tourist visa has expired before you try to reenter the country. Otherwise, they'll just let you back in on the same visa as before and you won't get any extra time.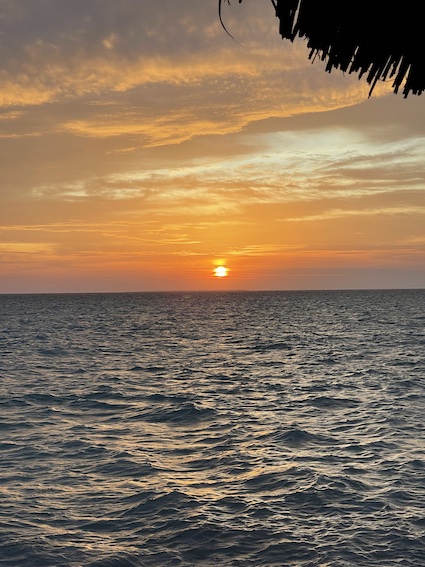 The step-by-step process to extend your South African tourist visa?
Step 1: Go to the VFS application page and fill out the form
When you Google "South African visa extension" a bunch of different government pages come up, but this is the one you need to create an account and get the ball rolling.
A good tip is also to use Microsoft Edge browser. Yup, really.
I mean, we all know that Microsoft Edge is just a rebranded Internet Explorer, just shows this website hasn't been updated in a good few decades.
This part can be a bit confusing, so here are the right option to select:
Application type: Temporary Residence Visa
Application sub-type: TRV – Renewal Visa
Application sub-type category: Visitors Visa Section 11(1)
You can ignore the corporate visa number, as that doesn't apply for this type of visa.
Step 2: Create an account
You'll need to create an account to get started. You'll need to confirm your email and create a password. Annoyingly, these accounts expire so you need to make a new one every time you do this. But at least it only takes five seconds.
Step 3: Fill out the "Particulars of Applicant" page
This is super easy. It's just your name, date of birth, marital status – the usual!
Step 4: Complete Citizenship Details
I'm including this as a step because it says "If acquired other than by birth, date and conditions under which acquired" but then requires you to put something. Just put N/A or "birth" – it won't affect your application.
Fill out the passport, citizen, and other pages
The first time I filled in this page I did get a bit confused about the "Visa No." section, but you just need to find your entry stamp in your passport and find the number underneath.
The new "maintenance" section is also super confusing. I'm really not sure what the expiry and "lodged at" sections are about, I just know that VFS love to make things more complicated.
The good news is that it doesn't actually matter that much, because they only really look at your particulars at the appointment and you'll have to submit financial information on the day.
All of the info below is just for example!
There are also lots of sections that only apply if you choose a certain answer, but still require you to put something. Just put "n/a".
Basically, just work your way through these incredibly tedious forms until there are no more.
Step 5: Review and submit
After you've entered all of the important information, you'll be taken to an overview page where you can check all of the information before you submit. It's important to double check this as your application could be rejected if you've gotten your personal details wrong. Don't worry too much about the nonsensical ones.
If you do click submit and then realise you've made a mistake afterwards, fear not. Just log out, log back in again, and at the homepage select the option to create a new application rather than to continue with an existing one.
Step 6: Add any additional applicants by repeating steps 3-5
I'm forever alone and have never applied for an extension with a partner or companion. However, if you are, you can create two (or more) applications with the same account, and then pay for and attend the appointments at the same time.
Step 6) Pay for your appointment
Next up, you have to pay R1,975 for your visa appointment. You can't make an appointment until you've done this.
The R1,975 is made up of two charges. I'm not exactly sure what they're for, but you can choose to pay R1,550 online and additional R425 at the appointment if you prefer, but to be honest I think it's just easier to pay them together now.
After you pay for your appointment, you'll get an email receipt which you will need to print and take on the day as proof of payment.
Personally, I think it's ridiculous that you have to pay before you even know if they've got an appointment available for you (although to be fair, they usually do). However, those are the rules. If you've made it this far in the article, you already know what I think about this system.
Step 7) Schedule your appointment
Now, you'll be taken back to the main screen and where you can select the option to book an appointment. You'll be taken to a calendar page that looks like it hasn't been updated since the 1990s (quite possibly because it hasn't) where you can choose your location and see which appointments are available.
I've found this page to be very glitchy. It can take a while to load so be patient. Often, it will say that there's no availability at first, but don't get frustrated (easier said than done, I know). Sometimes, the calendar will update itself a minute or so later to reveal that there actually are appointments after all.
Sometimes, the calendar just won't work and you'll need to come back later. This is annoying but don't worry, your progress won't be lost. You won't have to enter your details or pay again, and you can just go straight back to trying to schedule an appointment.
When choosing an appointment, make sure it's at least 60 days before your appointment expires, and try to choose one that's early in the day. Backlogs pile up throughout the day so the later you go, the longer you're likely to wait.
And one more thing: if you need to reschedule your appointment, you can, but you have to do it at least 48 hours beforehand and you can only reschedule twice.
Step 8) Download your appointment letter
You'll need to take a printed copy of your appointment letter with you to VFS, so make sure to download and save this now. It's one of a small mountain of documents that you're going to need.
Step 9) Download your application form and checklist
These documents download together as part of a zip file. As I've mentioned before, the checklist does not actually mention every single document you're going to need, because that would just make things too easy for you. But don't worry, I'll provide you with a de facto checklist below.
Step 10) Compile all of the documents you need
Okay, here's the real checklist of documents you're going to need for your VFS appointment.
Your appointment letter
Your completed application form
Proof of payment for your appointment (VFS will email this to you)
3 months of bank statements (You should be able to prove you have at least €5000 in savings. If you don't, you can also provide wage slips, credit card limits, invoices, or pledges of support from South African hosts)
A brief letter outlining why you want to stay in the country
An onward flight ticket. I always use onewayfly.com to provide "proof" of this.
A photocopy of the personal details page of your passport. It can be black and white.
A photocopy of the passport stamp you received when you came into South Africa.
Proof of accommodation. This can be a sublease agreement or a copy of a friend's lease. Last time I extended, I took a friend's lease and the clerk told me that I should have included a letter from her, a copy of her ID, and an affidavit. Obviously it was too late at that point so I went ahead and submitted anyway, and my application was successful.
Step 11) Print all of these documents
As a digital nomad, you probably don't own a printer, but there are a ton of print shops around Cape Town. Here are two that I've found to be really good:
Jetline Green Point – Shop 2, Sovereign Quay, 40 Somerset Road, Greenpoint
City Print – St. John's Road, Sea Point (right around the corner from St. John's Piazza)
And if you leave things until the last minute, there's also a PostNet right next to the VFS building where you can print. However, I prefer not to go here because the staff will shout at you for using your phone in the queue (don't ask me why).
If you do forget to print any documents, the staff will usually let you leave to go to PostNet during your appointment. However, this does mean that you'll end up waiting even longer than usual. Forgetting to print out my proof of payment for my appointment tacked an extra hour on to the whole experience.
Step 12) Attend your appointment
If you're applying for a visa extension in Cape Town, you can head to 2 Long Street to submit your documents. This is between a Vida e Cafe and a Clicks.
Bring a book and a lot of patience. If you get told "no" for some reason, politely but firmly question it.
I've turned up and been told by a security guard that there were no appointments that day. Some people actually left, but I asked if I could just go and talk to the people at the desk on the ground floor… who smiled and told me to head on up to the 7th floor.
You're not allowed to take coffee or any kind of hot drink into your appointment with you, nor are you allowed to wear headphones or receive phone calls.
Usually, your appointment will take between 1 – 2 hours. There are three main steps.
First, an agent checks that all of your documents are present and accounted for. This is when you'll be sent to PostNet if anything is missing and probably be shuffled to the back of the line.
Then, once agent numero uno decides everything is in order, you'll officially submit your documents to agent number two. If you didn't pay the extra R425 fee when you paid for your appointment, this is also when you will do that. You'll also get a receipt that you need to keep, but more on that below.
Finally, you'll queue up one more time for biometrics, and then you're free to go. I highly recommend heading to a bar for a stiff drink after this frustrating ordeal.
Step 13) Keep your receipt
After you submit your documents but before you enter your biometrics (the final stage of your appointment), you will be given a signed receipt. KEEP HOLD OF THIS.
I learned this the hard way.
I didn't know I had to keep my receipt and I lost it when I moved apartments. Consequently, I had to go to the police station and get an affidavit to promise that it was, in fact, me who had submitted the application.
Never mind that it was my passport, my bank account, and my biometric details. Oh no, that receipt is really important.
Hang onto it.
To be fair, getting an affidavit from the police station was pretty quick and easy, and it was free, but it's just easier to keep hold of your receipt and skip this unnecessary step.
Step 14) Wait for your outcome
If you apply for a visa extension during the summer, you might end up waiting more than 3 months for your application and end up overstaying your visa, which I've discussed above. The good news is that if, for whatever reason, your presence in South Africa falls into question during that time, your extension application receipt functions as a sort of temporary visa.
Usually, VFS will email you to say that your outcome has been decided. They won't put you out of your misery and tell you what it is in the email, because that would take all of the fun out of nervously waiting in line one more time!
You can also track your application online, which is a good idea because although VFS say they'll email you, that's not always true. The first time I applied, I never got any email alerts, but luckily I kept checking on the website. You just need your surname and your tracking number, which will be in your appointment confirmation email and start with TRR.
Step 15) Collect the verdict
At long last, the time has come for you to go back to those beautiful VFS offices and collect your verdict.
You used to have to schedule another appointment to do this, but now you can simply turn up between 10 am and 3 pm. Again, I strongly recommend going as early as possible to avoid a long wait.
Make sure to bring your receipt and your passport. You'll head to the 7th floor once more, receive a number, and then wait until you're called. The agent will inform you whether or not your extension has been approved, and if it has you'll lose an entire passport page to the unnecessarily large visa sticker. But hey, at least you'll be able to stay in the best city in the world for a while longer.
(I hate VFS, but I REALLY love Cape Town).
What should I do if my South African tourist visa extension application is denied?
If you follow all of the steps I outlined above, you really should be fine.
But if VFS does deny your tourist visa extension, then you can either leave the country within the time you have left. If you have already overstayed your initial visa while waiting for the outcome, you can leave within 10 days, bring a ton of proof that you did everything legally to the airport, and hope for the best.
Or you can appeal the decision, which takes 2-3 months. You can't leave the country when your appeal is underway, though.
You can appeal in person at VFS via walk-in within 14 days of receiving your outcome. You will need an appeal letter and you'll have to pay for another visa, which is grossly unfair, but that's VFS for ya.
If your extension is denied, you should get a refusal form that explain why. There will be an accompanying list of documents you will need to bring to appeal the decision, but heaven knows if once again there are more secret documents on there that VFS don't tell you you need (they're fun like that).
UGH! What a nightmare. But I promise, Cape Town is worth it. If you don't believe me, check out these blogs…