Last Updated on October 26, 2023 by thecapetownblog
Cape Town, South Africa is quickly becoming a popular hub for digital nomads, and it's easy to see why.
It boasts bustling city life, incredible nature spots, vibrant culture, world-class food and wine, as well as stunning beaches.
So really, it's no surprise that digital nomads are packing their suitcases and making the move to Cape town.
I didn't even mean to move to Cape Town permanently. I initially came here in October 2021, with the intention of staying for three months, but after spending just two weeks I was like "nah, I'm not leaving this place."
And so, well over a year later, here I still am.
The city just instantly felt like home to me. I've also lived in Vietnam, but the chaos, smog, and cultural differences mean that I knew it would never be my forever place.
Cape Town, however, was different.
It's fairly culturally similar to the UK, so I never feel like an outsider here and finding a solid group of friends just happened naturally; I had to try a lot harder in 'Nam.
Cape Town is an easy city to get to know and digital nomads can enjoy a fantastic quality of life here without breaking the bank. The city of Cape Town really does have it all (well, except for electricity for a couple of hours each day.)
So anyway, without further ado, allow me to give you 21 reasons why Cape Town is an amazing city for digital nomads.
This post may contain affiliate links. When you make purchases through these links, I earn a small commission at no extra cost to you, which helps to keep this blog up and running. Thank you so much!
1) Beaches
I'm starting with the beaches because, well, they're a pretty big attraction.
I mean, LOOK:
I didn't grow up anywhere near the coast, so living close to gorgeous beaches is a huge reason to move to Cape Town in my opinion.
It's so easy to get to the beaches that you don't even need to go for a whole day. Sometimes, I go for a swim in my lunch break with friends, or just pop down for sunset after work. And of course, there's nothing like treating your hangover at the beach on the weekends.
You're also pretty spoiled for choice when it comes to the beaches of Cape Town.
There's Camps Bay beach which is beautiful, but also very busy and touristy, so I've never actually been there.
Then, there are the Clifton beaches (four of them, to be precise), which I think are the most beautiful ones on offer. They're long stretches of white sand with views of the Twelve Apostles and Lion's Head in the distance.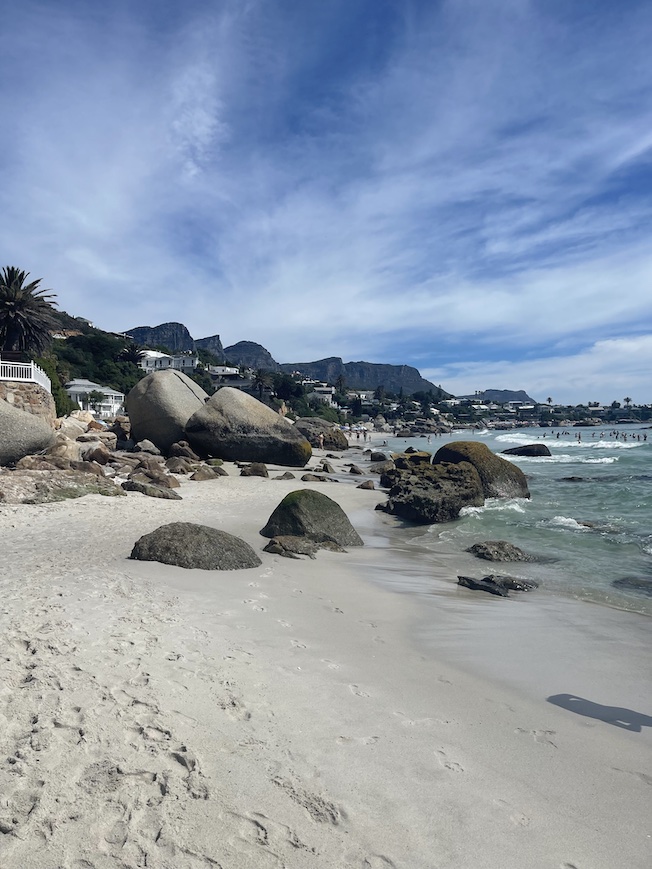 The only downside is that the waves can be quite choppy here which makes swimming a bit of a mission, unless you're in the mood to dive head first into the waves. (I've also lost an expensive pair of sunglasses to these waves – RIP).
There are also lesser known beaches like Bali Beach and Beta Beach, which are better for swimming because they're more protected by rocks.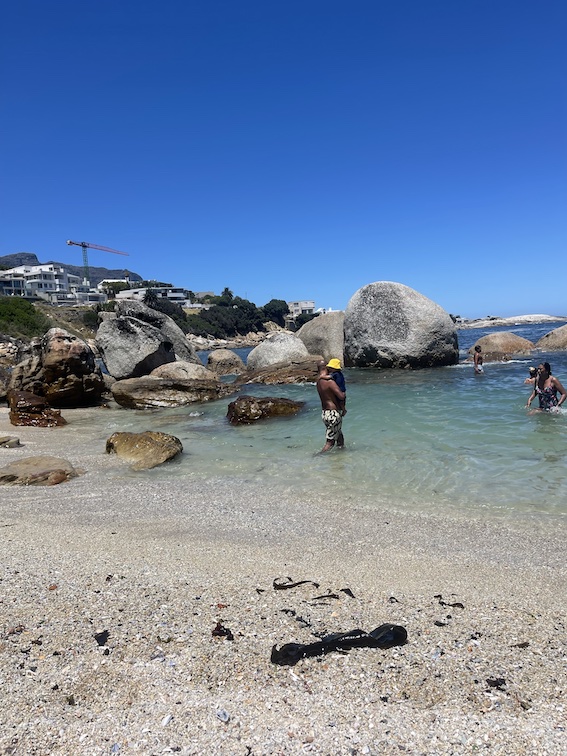 I'm also a big fan of the Saunders Rockpool in Sea Point/Bantry Bay, and you'll often find Wim Hof dedicants here immersing themselves in the cold water. 
For more on the best beaches in Cape Town, check out this guide!
2) Mountains
One of the (many) reasons to move to Cape Town is that you can see a mountain pretty much anywhere you go.
Table Mountain is the most famous of the lot, and its flat top makes for an amazing backdrop to the city.
Meanwhile, the Twelve Apostles form the back of the Table Mountain range, and you get great views of those from Bantry Bay, Clifton, and Camps Bay.
Lion's Head is another iconic mountain, although a friend who visited me recently insists that she can't see its resemblance to a lion.
There's also Signal Hill, which is a really popular spot for sunset picnics.
Of course, you can hike up any of these peaks but you'll also get great views of them all around town. And I also love that even when you take a road trip out of the city, you've got mountain views all around you as you drive down the highway.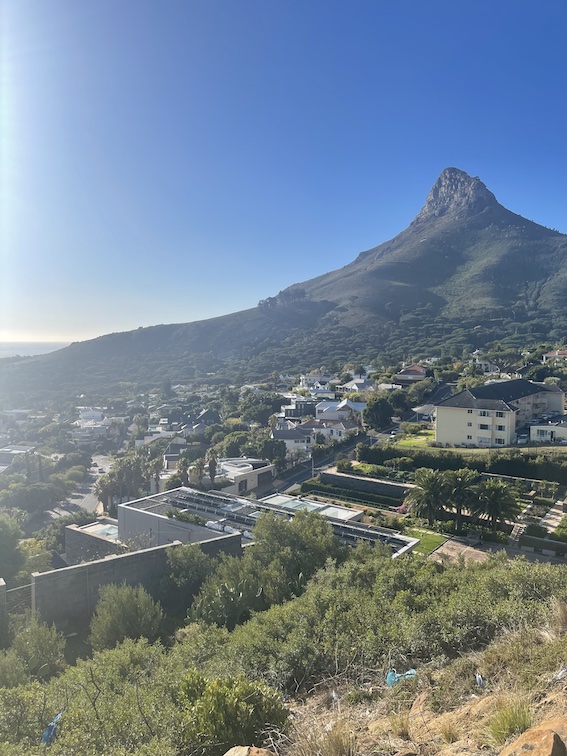 3) Hikes
Cape Town is a hiking enthusiast's dream, which is not surprising given all of the mountains around.
I'm not a hiking enthusiast, but I've definitely enjoyed some great hikes here, from Lion's Head loop to the Newlands Ravine (I needed a long nap after that one, let me tell you!)
There are lots of beautiful hiking routes up Table Mountain, too. Just don't tackle them in 30 degree heat, like I did!
If you love to hike, you could probably try out a new route every weekend and never get bored here. The Platteklip Gorge route up Table Mountain and Lion's Head are both a must, but you can also do Chapman's Peak, Devil's Peak, the Pipe Track, and so many more!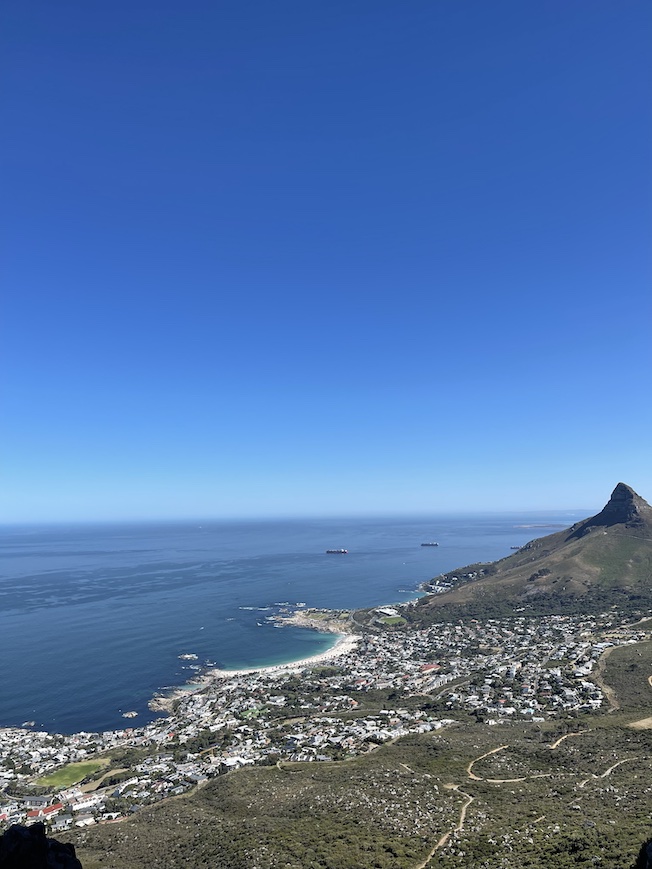 4) Great Weather
I often think of Cape Town as South Africa's answer to Los Angeles.
Just like California, Cape Town is super sunny and offers great weather all year round.
During the summer, it's pretty much blue skies from dawn 'til dusk. Temperatures usually hover around the late 20s (in Celscius, that is). It can get hotter though – in 2022, we had some days where the temperature hit 40 degrees, which was definitely too hot if you ask me.
The temperature tends to drop at night, so even in the summer you might need to take a jacket out in the evening.
Personally, I think that this is a good thing. It means it's rarely too hot to sleep at night – and there's nothing worse than that, am I right?
It can get pretty windy in Cape Town sometimes, though. Locals actually call the wind "the Cape Doctor" because it supposedly blows all of the pollution away and is why the air feels so clean and fresh here.
The windiest month is January, but a lot of the beaches tend to be pretty sheltered from the wind so you don't usually need to worry about your sunbathing time being ruined.
The winters do get chilly, but as a Brit, I wouldn't exactly describe them as cold.
July is the coldest month, with an average high of 16.7°C (62.1°F) and low of 10.2°C (50.4°F). So yes, you'll need jumpers and probably a light coat, but you're not going to freeze.
The winters also tend to be wetter, while the summers are dry, but again this is all relative. June is the wettest month and receives an average of 2.9 inches of rainfall which isn't that bad. So yes, you can expect some rainy days in the winter, but nothing too crazy.
5) Sunsets
Cape Town really does have spectacular sunsets.
What's more is that it's home to plenty of amazing spots to watch said sunsets!
Hiking up to Kloof Corner is a great way to enjoy the sunset, or you can just soak it in as you stroll along the Sea Point promenade.
Whenever I have friends come to visit, I usually take them to the 12 Apostles Hotel for a sundowner at the Leopard Bar. It has great views of the sunset of the ocean and Lion's Head.
Obviously, the beaches are also beautiful for sunsets. Clifton is always a treat, but we often head to Saunders as it's closer to where most of my friends and I live. It's convenient as well as pretty.
Check out this guide to the top sunset spots in Cape Town!
6) It's Affordable
Obviously, affordable is a relative term, but if you earn in pounds, dollars or euros, then Cape Town is probably going to be easy on your wallet.
The cost of rent here is a lot lower, for one. I pay 8,000R for a house in a central neighbourhood, right next to a mall, with a huge bedroom, my own bathroom, and all bills included. That's roughly £400, €430, or $460 USD. Not bad, huh?
I don't have a car, but it usually costs me between 30-90R to Uber to most places around town, depending on the time of day.
Obviously, filling up with petrol isn't something I worry about right now, but at the moment a litre costs roughly 21R, which is about £0.90 or $1.10 at the time of writing.
You pay about 40R for a beer here, which is about £1.70 or $2.10. A large cappuccino with almond milk usually sets me back a similar amount.
I find that groceries here almost always cost less than they would at home and in Europe or the US. I think the only things that are more expensive here are mobile data and books.
For money saving tips, check out this list of the best free things to do in Cape Town.
7) Friendly People
South Africans are super friendly and welcoming! They're generally very social and are always up for a good time.
I was pretty lucky because I came here already knowing a couple of people in the city from my time in Vietnam.
Even so, I was surprised at how easy it was to make friends.
Locals often say that Capetonians are cliquey when compared to people from, say, Johannesburg or Pretoria, but I've found it super easy to make friends here. I met so many great people within my very first month here which was a big part of why I decided to move to Cape Town more permanently.
8) Wine Tasting
South Africa is celebrated for its excellent wine, and you don't have to spend a lot to get your hands on a great bottle.
Better still, the Western Cape is home to the majority of the country's wine industry, which means that you can go wine tasting at lots of beautiful wine farms just outside of the city.
I think one of the best ways to go wine tasting in Cape Town, especially if you're new to the area, is to take the hop-on, hop-off bus to Constantia.
Constantia is a suburb of Cape Town that's home to some of the oldest and most established vineyards in South Africa, as well as some stunning scenery.
The hop-on, hop-off bus takes you to Constantia and you get some commentary along the way, and then you change onto the "wine bus". It stops at some of the area's top wine farms, including Groot Constantia and Beau Constantia.
Just make sure to get your timings right, because we got carried away and had to Uber home after missing the bus.
You can also drive to Stellenbosch, which is a university town in the winelands that's home to some excellent wineries.
Or for a really fun day out, head to Franschhoek to hop aboard the wine tram. I mean, where else can you be chauffeured around a wine region in a tram?
Both of these towns are farther out from the city, though, so you'll need to either find a designated driver or stay overnight.
9) Lots of Amazing Places Nearby
Travel is a great reason to move to Cape Town, as there are a ton of beautiful destinations to explore in the Western Cape.
Travel in Africa is generally very expensive, but that's not the only reason that a lot of South Africans take domestic vacations. They've got so much to explore in their own backyards!
You can take a road trip along the Garden Route, which is a 300-mile stretch of coastline between the cities of Mossel Bay and Plettenberg Bay. It takes you past lush forests, stunning beaches and lagoons, wildlife reserves, mountain passes, and quaint little towns.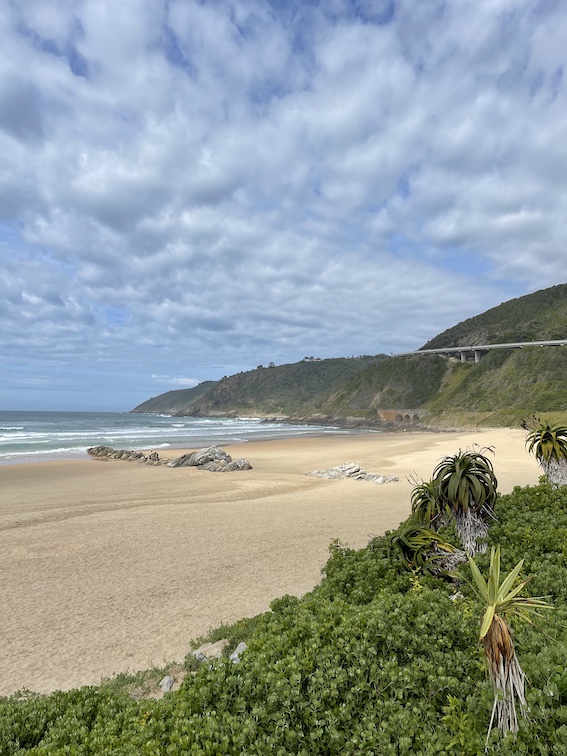 Meanwhile, Hermanus, Arniston, and the Cederberg Wilderness Area are just a couple of hours' drive away.
And obviously, a week-long safari in the Kruger National Park is on my South Africa bucket list.
10) Bustling Nightlife
I really enjoy Cape Town's nightlife, because there's something for everyone here. 
You can get dressed up and head down to the more upmarket bars on the Camps Bay strip, have a chilled glass of wine at a swanky bar, or dance until your feet hurt at one of the city's many nightclubs.
Plus, every first Thursday of the month is (the creatively named) First Thursday. This is when galleries, bars, clubs, and restaurants put on events and everyone and their mama hits the town.
Bree Street in the city centre is even closed off for a huge street party with market vendors and DJs.
Personally, I like pubs and dive bars, which is probably why good old Van Hunks is my local. Some of my other frequented spots include P&G, the Athletic Club and Social (just get there early-ish to avoid the line), Dark Horse, and The Shack (which is every bit as glamorous as it sounds).
11) It's Easy to Get Around
Cape Town is a fairly compact city, which makes it pretty easy to get around.
Understandably, you might have some concerns about walking around the city by yourself given Cape Town's reputation. However, it's perfectly safe to walk in certain parts of the city during the daytime. Just keep your phone in your bag and be aware of what's going on around you. In over a year, I've never had any issues. (Touch wood – I'm afraid I may have just jinxed myself there!)
Basically, if you're walking around Sea Point, Green Point, Dewaterkant, or Camps Bay, I'd say you'll be fine. I walk around these areas with headphones in and I feel safe.
I do still walk around places like the CBD and Gardens by myself from time to time (although I usually visit them on nights out with friends) but I don't wear headphones when I do this.
And obviously, I don't walk alone at night.
Uber is also really affordable in Cape Town. Most of my friends drive around Cape Town but since I work from home, it actually works out cheaper for me to just take an Uber when I need to.
There's also the MyCiti bus, which I've never taken the time to navigate but is also a cheap and convenient way of getting around. You get a preloaded card and can even track where the next bus is on Google Maps.
And if you're wondering how to get from the airport to the city, I've got you covered with this guide.
12) It's Easy to Pay for Stuff
You can pay with contactless payment pretty much everywhere in Cape Town and cash is hardly ever necessary. You can even just use Apple or Google Pay and leave your wallet at home. I honestly wasn't expecting it to be so easy when I first arrived.
ATMs are fine to use inside banks and shopping malls. However, you rarely need cash.
If you have a Monzo or another kind of foreign fee free card, then you're golden. You'll hardly ever need cash and can happily tap away pretty much anywhere and everywhere in Cape Town – yay!
13) Food, Glorious Food
South Africans are pretty proud of their food. And once I arrived, I realised that it's for a good reason.
For one thing, there's a big mix of cultures here which means there's an array of amazing cuisines to try. From Cape Malay and Mozam dishes to excellent seafood, steak, and Italian, you're pretty spoilt for choice.
So yeah, food here definitely a good reason to move to Cape Town. I think I've only had one bad meal (at the Tiger's Milk in Green Point, in case you were wondering).
For more, check out this list of the best restaurants in Cape Town.
14) The Prom
The prom is a paved walkway that stretches along the water's edge from the Waterfront through to the end of Sea Point.
It's a lovely place for a stroll and Capetonians really do make the most of it. You'll see people walking their dogs, cycling, skating and jogging along here at all times of the day, but it's especially popular at sunset. 
There's an outdoor gym, a playground, a miniature golf course, and food carts to be found along the prom. It takes you right up to Saunders Rockpool beach, which is a favourite sunset spot of mine.
15) Good Shopping
There's some pretty good shopping in Cape Town. You can find pretty much anything you need in the V&A Waterfront Mall, including H&M,  Zara, Cotton On, Foschini and more. 
There's also a big selection of cheaper stores in Canal Walk, which is the city's largest shopping mall, and you can also find plenty of good boutiques around the city.
There's no Amazon here but you can use Takealot instead. It's not as good, but you don't usually encounter any problems.
I can't lie, though, I do miss ASOS as South Africa doesn't really have an equivalent. But all in all, I can get basically everything I want or need here.
If you're keen to do some shopping in Cape Town, check out this guide to the city's top malls.
16) Coffee Coffee Coffee
I'm not even sure why this is exactly, but Cape Town is home to some seriously amazing coffee. It just hits different here.
There are lots of independent roasters here and you can find a big range of specialty coffee. Plus, there are tons of great coffee shops around.
One of my friends who visited recently even cited the coffee as one of the top reasons she wanted to come back to Cape Town!
You'll find Bootleggers coffee shops pretty much everywhere you go. A lot of locals love to hate Bootleggers, but it's a really good place to work, especially during load shedding as most branches will still have WiFi when the power is out.
17) Festivals
There are a ton of music festivals that happen in and around Cape Town all year round, but especially during the summer.
Rocking The Daisies is one the most popular events, although some people say that it's gone downhill since it's started. It usually takes place in Darling, which is about an hour outside of Cape Town during the first or second weekend of October.
Other popular ones include Bazique, Rumours by the Lake, With You, and Up The Creek. And of course, there's the famous Afrikaburn which takes place in the Tankwa Karoo desert, between the Western and Northern Cape, every April.
Personally, I'm not a huge festival goer, but I went to a day music festival this year where I saw some cool local bands and Casey Lowry – yep, the blonde Mancunian guy from TikTok!
I also went to Wolfkopp Weekender in January 2022, which is a boutique EDM festival that happens three times a year. EDM isn't my thing at all, but I had a blast floating down the river on my lilo, camping out, and meeting loads of great new people. There was such a nice atmosphere – it felt way safer and friendlier than any other music festival I've been to.
18) Woolworths
So as it turns out, Woolies is alive and well.
If you're from the UK, South African Woolworths isn't the same one that you'll remember from your childhood. That version was a place to buy toys, CDs and Pick n Mix sweets, whereas this Woolies is owned by the Marks & Spencer group and has a similar vibe going on.
We're talking lots of delicious, own-brand food that for some reason just tastes way better than anything on offer in other supermarkets. Some stores also have clothing and homeware sections too.
Anyway, I'm not saying that a nice supermarket is a good reason to move to Cape Town. But still I honestly do get a kick out of going to Woolies (and the fact that I can actually afford to shop somewhere so nice).
19) Braais
A braai (pronounced 'bry') is South Africa's version of a barbecue.
However, as any proud Saffer will tell you, it's not the same thing.
A braai means cooking meat over a firewood. For some reason the meat really does taste better when it's cooked this way.
The weather here means that South Africans braai often, even in winter. A braai usually involves friends, beer, music and lots of food. It is just like a barbecue, basically, but don't let a Saffer hear you say that. 
20) It's a Convenient Time Zone (for most)
If you work remotely, then South Africa is generally considered to be in a pretty convenient time zone.
It's GMT+2 and there's no daylight savings time change.
That means that it's 1-2 hours ahead of the UK, and 0-1 hours ahead of most of Europe. So if you're a remote worker looking to move to Cape Town, this might work out very nicely for you!
21) Outdoor Activities
Cape Town is a great destination for outdoor enthusiasts.
Whether you're into surfing, trail running, mountain biking or just going on hikes with friends, people tend to live a very outdoorsy lifestyle here.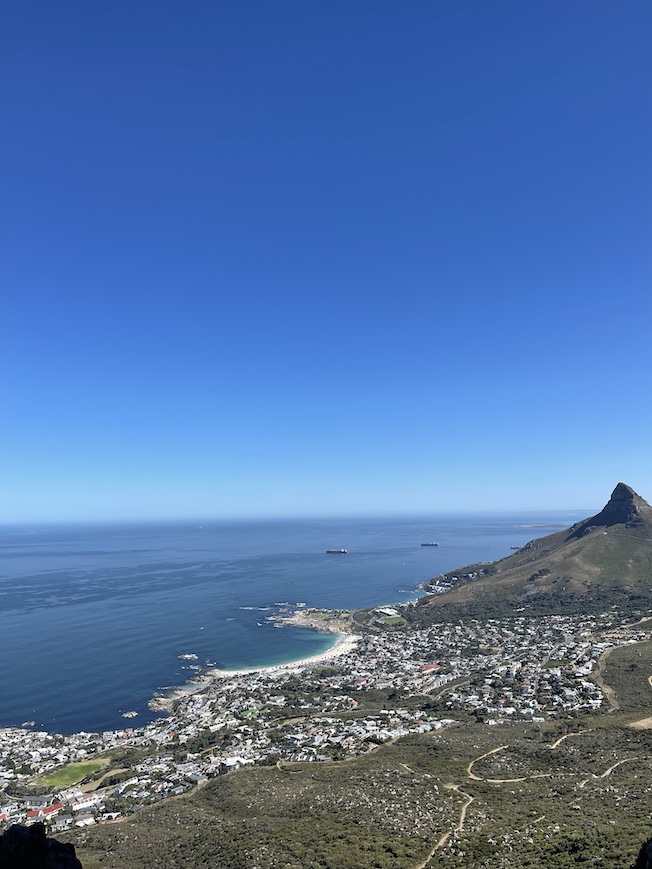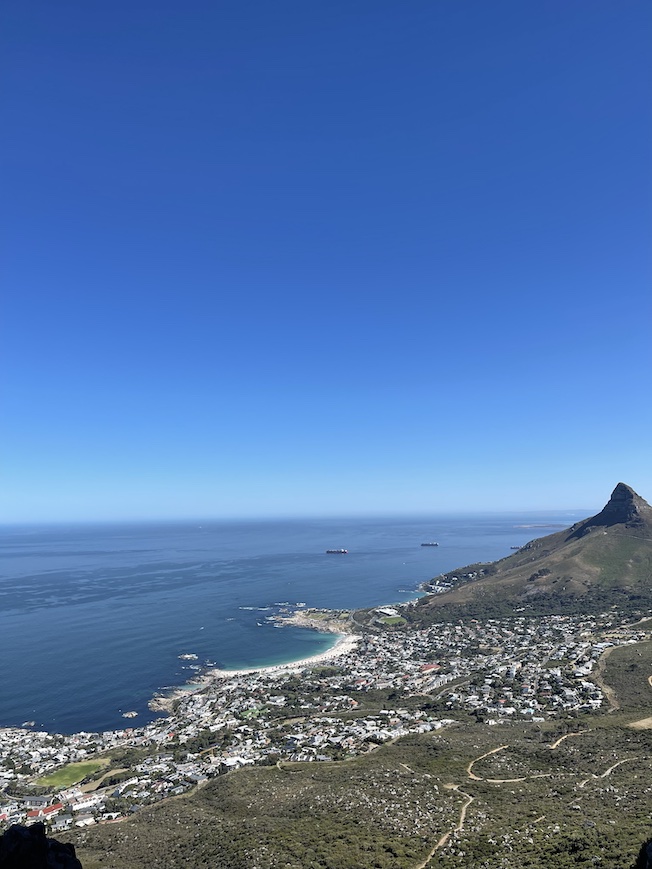 The windy conditions in the city also make it a great launch pad for paragliding and hang gliding. In fact, when I lived in Sea Point, I'd hear ecstatic whooping overhead almost every day from paragliders.
As you can probably tell, I'm totally, 100%, head-over-heels in love with this city and all that it has to offer. If you're thinking of moving to Cape Town, all I can really say it "DO IT!"
And if want to read more of me waxing lyrical about this amazing city, check out some of my other blog posts, such as: