Last Updated on July 15, 2023 by thecapetownblog
The hike from Tafelberg Road to Kloof Corner is a firm favourite amongst Capetonians, and when you make it up those steps and see the view from the Kloof Corner Ridge, you'll understand why.
The route takes you up the Kloof Corner steps to an incredible vantage point where you can sit and enjoy views of the 12 Apostles, Lion's Head and Signal Hill, and the city bowl. It really is an incredible place to take in the amazing beauty and variety of Cape Town's landscape.
One of the things I love about this city is its incredible blend of urban life and breathtaking nature, and this is perfectly summed up in the view from Kloof Corner.
Kloof Corner is also hands down one of the best places to watch the sunset in Cape Town. It's a short but steep journey up the stairs to get there, and once you arrive you can chill on the ridge for as long as you like. I've written this guide on hiking Kloof Corner so that you can go and experience all of this natural beauty for yourself!
This post may contain affiliate links. When you make purchases through these links, I earn a small commission at no extra cost to you, which helps to keep this blog up and running. Thank you so much!
An Overview of the Kloof Corner Hike
The trailhead for the Kloof Corner hike is along Tafelberg Road in Tamboerskloof, which is home to the famous Table Mountain Cableway. However, you'll arrive at the parking lot for the Kloof Corner hike before you reach the cable car.
The parking lot is just around the corner from the trailhead, which is a green gate marked "Kloof Corner", so you really can't miss it. You can park for free here – happy days!
You can drive yourself to the Kloof Corner hike or take an Uber. If you type in the Kloof Corner Trail, your driver will drop you right next to the starting point.
So now that you know how to get to Kloof Corner, let's take a quick look at some stats:
Length: 1.9 kilometres out and back (1.2 miles)
Difficulty: Moderate – it's short, but you'll probably be out of puff by the time you reach the top
Time: 20 minutes each way
The trail is basically some fairly easy stairs, a winding dirt path interspersed with some more stairs, and a final, steeper set of stairs. It's easy to follow and you really can't go wrong here.
What will I see at the summit?
Once you get to the top, you'll have panoramic views of Cape Town. You can see the city bowl, which encompasses most of the city's most popular and well-known neighbourhoods, like the Waterfront, Green Point, the CBD, Vredehoek, and Tamboerskloof. 
You'll also have a bird's eye view of Lion's Head, which is one of Cape Town's most famous peaks, and the ocean in front of Clifton and Camps Bay. Finally, you'll have a first-class view of the 12 Apostles, a dramatic mountain ridge that overlooks the city. 
What is the best time of day to hike Kloof Corner?
In my opinion, the best time of day to hike Kloof Corner is at sunset. You'll watch the sun sinking over the ocean on the left, and see the city lighting up on the right, with Lion's Head sat smack dab in the middle of it all. Plus, it's a little cooler to hike in the evening. The final set of steps will have you sweating even in the middle of winter, so a cooler time of day is preferable for this hike.
For more amazing sunset spots, check out this guide!
When is the best time of year to hike Kloof Corner?
Kloof Corner is a year round hike! You just want to make sure that you go on a clear, sunny day – of which there are plenty in Cape Town. In the summer, you will be able to go later as the sun sets between 7-8 pm during the summer months, and you'll get to see the "tablecloth" cloud cascading over the mountain. But in winter, it's still just as pretty!
What should I wear to hike Kloof Corner?
Whatever you feel comfortable in. Since it's only about 20 minutes each way, you don't need to wear active wear, although many people choose to. The second time, I wore loose trousers and sneaks and it was totally fine. You could even probably do it in jeans. I do recommend closed toe shoes with a decent grip, though, like running shoes or even fashion trainers.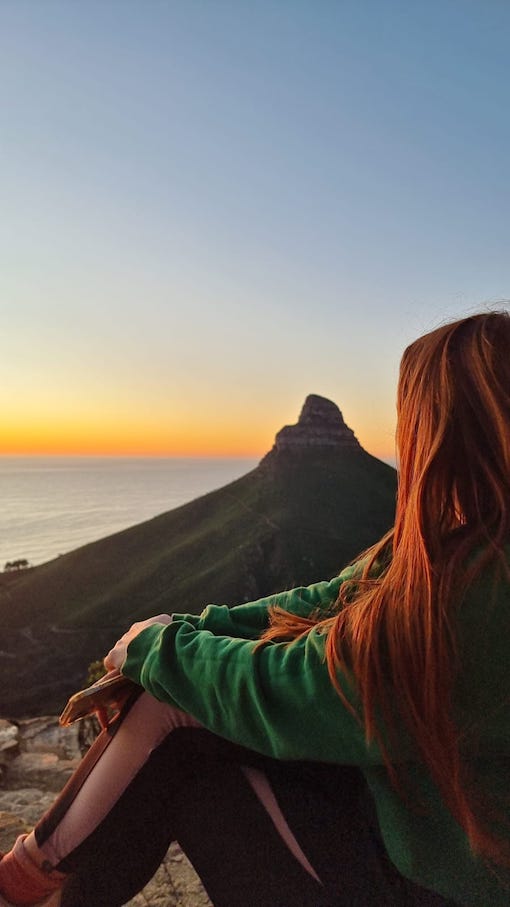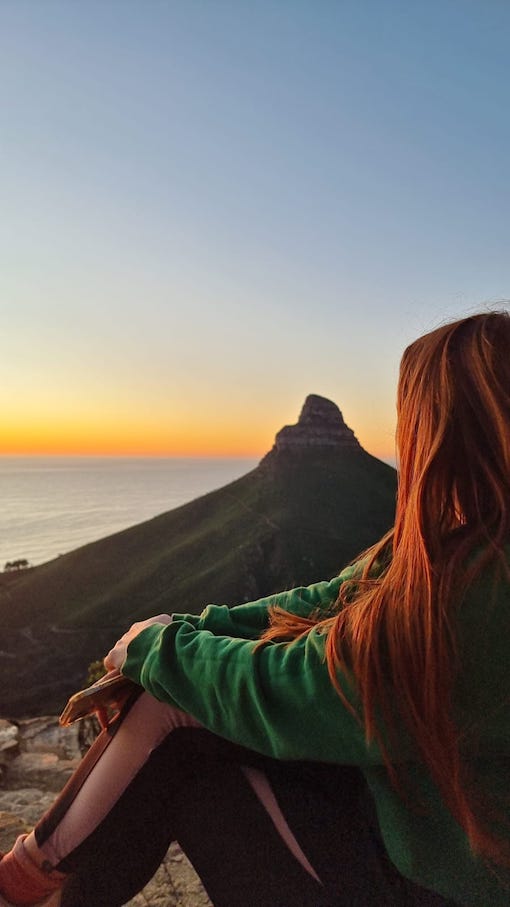 What should I bring?
Definitely bring a bottle of water, as the final section is quite hard work.
You might also want to bring some snacks to enjoy while the sun sets, and while I'm not condoning illegally drinking in public, it's pretty rare to find cops at Kloof Corner (wink wink).
You'll definitely need your camera to capture these amazing views. If you're going at sunset it is also a good idea to bring a torch for the way back down… Or just bring your phone, because it probably has both of these features anyway.
Sunset hikers should also probably bring a sweatshirt or jacket along as the temperature really drops after the sun disappears. It can get windy up there, too!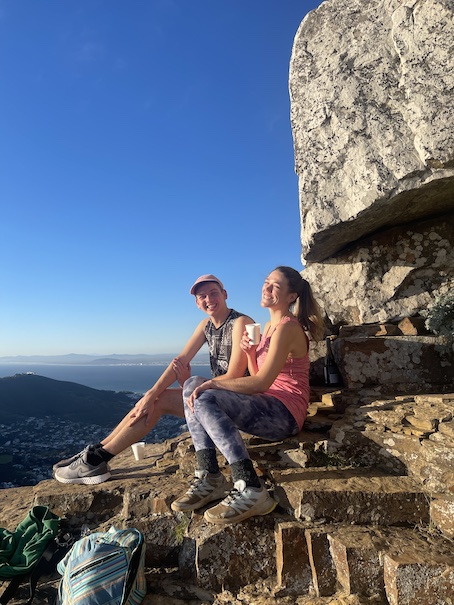 Who is the Kloof Corner hike suitable for?
Pretty much everyone! You most commonly see couples and groups of friends hiking up together, but families make the hike, too.
The final section is pretty steep so it's not suitable for super young kids, but kids aged 10 and above should be okay with it. You also wouldn't really want a toddler crawling around up on the ridge, to be honest.
Is it safe to hike Kloof Corner by myself?
Yes, this is a pretty popular route so you'll see others around, and incidents here are rare. I would feel fine about going by myself, but if I was going for the sunset I would probably just head back down a little early to catch my Uber before it gets completely dark.
What else is close to the Kloof Corner trail?
The Kloof Corner trail is close to the Table Mountain cableway, so you can always combine a Kloof Corner hike with a trip up South Africa's most iconic peak! It's also close to Kloof Street, which is home to many of the city's most popular bars, so you can go and reward yourself with a beer or two there afterwards.
Kloof Corner is also just a 10-minute drive from Camps Bay, so you can reward yourself with a cocktail along the strip afterwards, or if you're hiking during the day, you can go and cool off in the refreshing (read: freezing) Atlantic Ocean.
Is Kloof Corner the same as Kloof Corner Ridge Trail?
No, these are two totally different hikes!
When you hike Kloof Corner, you just hike to the viewpoint. The Kloof Corner Ridge Trail is a much trickier hike that starts at the viewpoint and takes you along the ridge up the side of the mountain.
The Ridge Trail is super dangerous and requires chains and a ton of hiking experience. I have never attempted it, and I probably never will! So unless you're a true hiking enthusiast, just stick to Kloof Corner. I mean, the views are definitely pretty enough to keep you satisfied.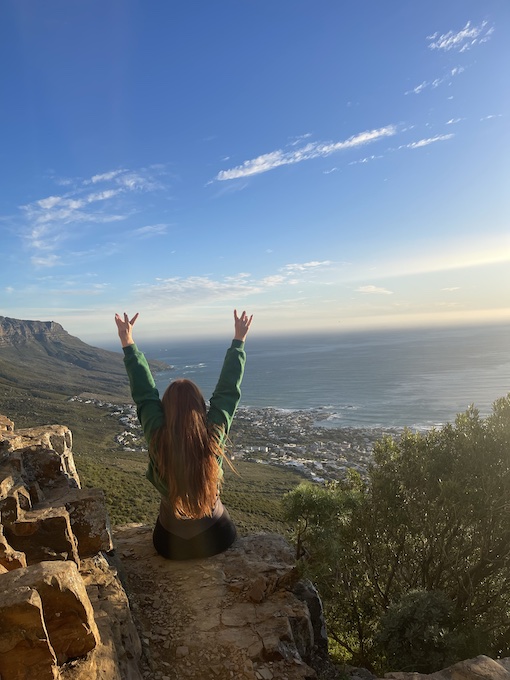 For more fun activities in Cape Town, check out these posts: