Last Updated on July 15, 2023 by thecapetownblog
One of the best things about living in a coastal city is watching the sunset, and Cape Town makes the end of every day special with its famously vibrant sunsets. There are so many fantastic places to watch the sun go down in the Mother City, from beaches and natural viewpoints to boats and bougie bars. Honestly, it feels like this city has me snapping hundreds of photos every single evening.
So with that in mind, I've put together this list of the very best places to catch the sunset in Cape Town so that you can appreciate its spectacular sunsets in style.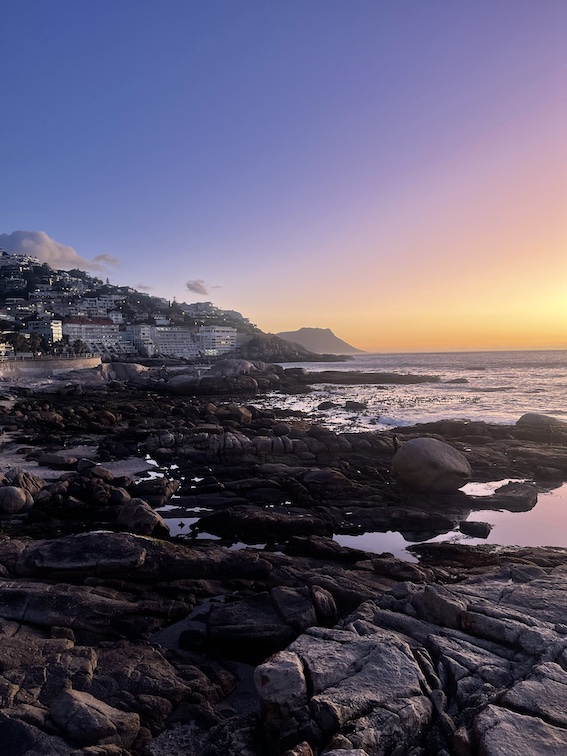 This post may contain affiliate links. When you make purchases through these links, I earn a small commission at no extra cost to you, which helps to keep this blog up and running. Thank you so much!
What time is sunset in Cape Town?
Sunset times change throughout the year in Cape Town, as it's pretty far south of the equator. On the longest day of the year (21 December), the sun sets around 8 pm, while in the winter it sets just before 6 pm. So there's not a huge variety in terms of sunset times, but it does still make a difference to your day.
You can check the sunset time today on this website.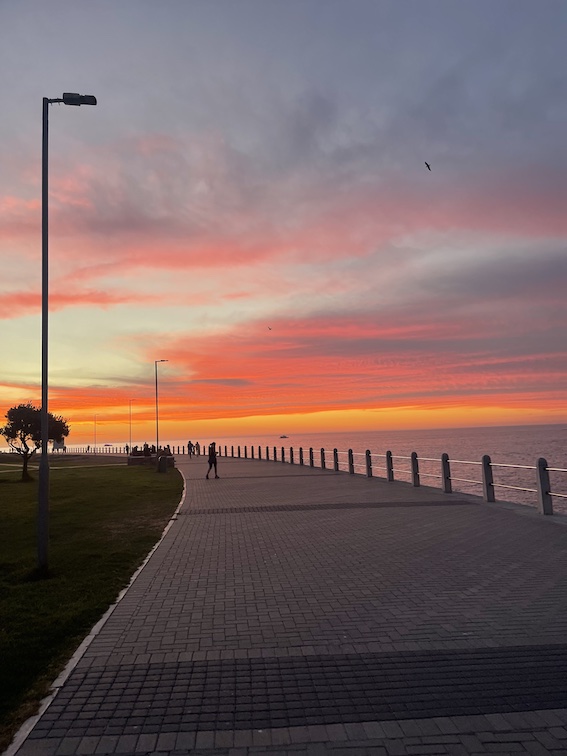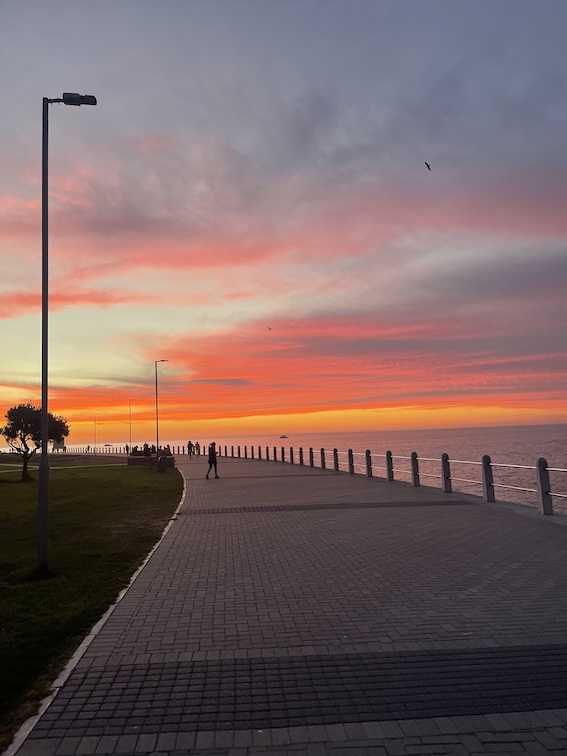 Best places to watch the sunset in Cape Town
1) Kloof Corner
I personally think that Kloof Corner is the ultimate sunset spot in Cape Town. You get panoramic views that stretch from the city bowl, past Signal Hill and Lion's Head, all the way to Camps Bay and the 12 Apostles. It's a gorgeous sight at any time of day, but it's extra special at sunset.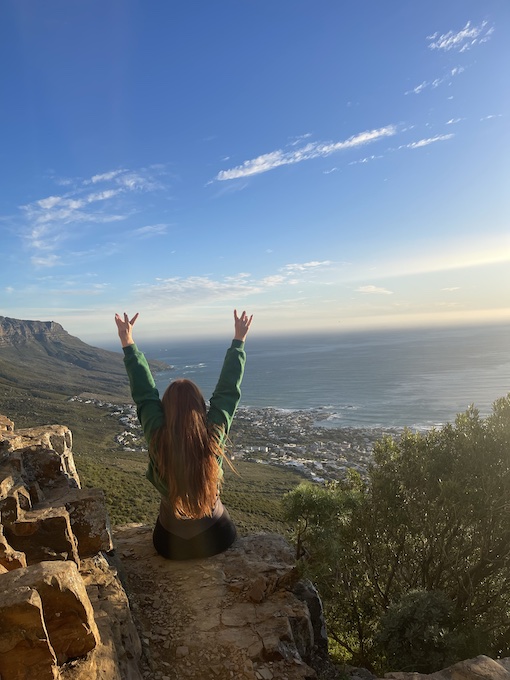 There's also just something quite satisfying about the fact that Kloof Corner is a natural viewpoint and you have to hike up there. I don't know – maybe I just like to feel like I've earned my sunset?
The trailhead is well signposted and easy to find. If you have your own car, you can park just around the corner for free, or you can take an Uber to the bottom of the Kloof Corner steps.
Once you're there, go through the green gate and walk up the stairs, which will take about 15-20 minutes in total.
What's nice about this hike is that it doesn't take you too long to come back down after dark, so as long as you have a torch and are with a friend, it's very safe.
If you want to watch the sunset from here, make sure to read my complete guide to hiking Kloof Corner.
2) Saunders Rockpool
Saunders is the perfect spot for a sunset picnic, and during the summer my friends and I come here at least once a week to watch the sunset.
Since it's right on the edge of Sea Point and Bantry Bay, the rock pool is really easy to access. For most of the year, it's not too much of a struggle to find parking, either.
You can go for a swim in the sea or in the rock pool itself if you fancy it, although the water is famously freezing. People actually come here to practice their Wim Hof breathing. Lots of people like to bring alcohol to the beach (myself included) but it's illegal and the police may confiscate your booze, and possibly fine you at the same time.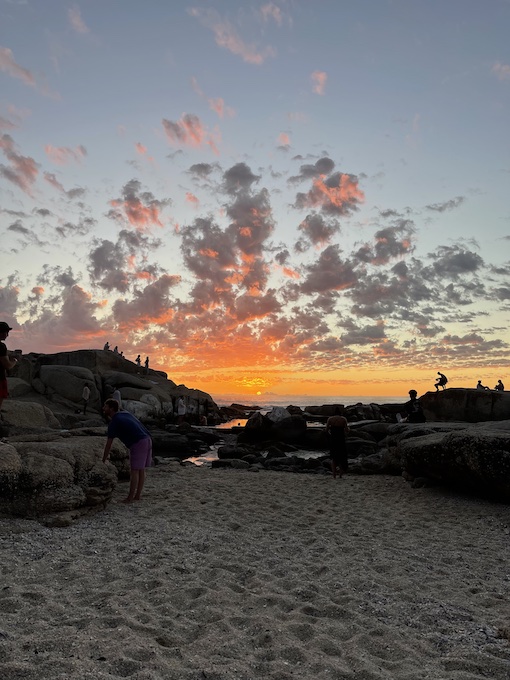 3) The Leopard Bar at the 12 Apostles Hotel
The Leopard Bar is on the 3rd floor of the 12 Apostles Hotel and Spa, which is located in the north of Camps Bay – aka Cape Town's bougiest suburb. It's a bit of a hidden gem!
As the name suggests, there's a leopard theme going on inside, but the real draw here is the outdoor balcony where you can sit and enjoy a cocktail as the sun sinks over the ocean. You've got beautiful sea and mountain views here, and I really rate the Bloody Marys.
I've been here quite a few times at sunset and I've never needed a reservation to get a spot out on the balcony.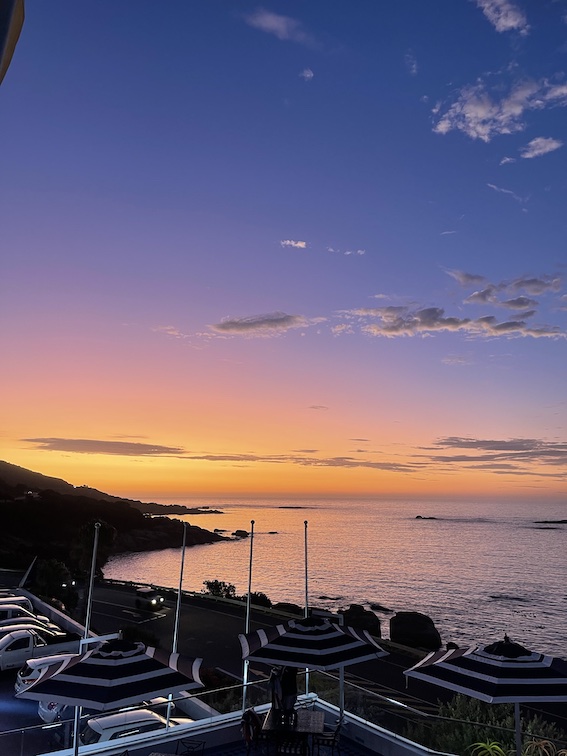 4) Clifton Beach
Okay, technically there are four Clifton Beaches, but they're basically all excellent for watching the sunset. The Cliftons are the most beautiful beaches in Cape Town, with white sand, blue water, and mountain views behind you.
I will warn you, though, that all of these beaches have a fair amount of stairs involved, except 4th beach, which is why it's usually much more crowded than the others.
5) The Sea Point Promenade
The Sea Point Promenade – aka "the prom" – stretches right along the ocean and Capetonians flock here in their droves for sunset walks, runs, and bike rides.
I used to live just off of the prom and would walk along here at sunset pretty much every night that I wasn't otherwise occupied. But no matter how many times I did it, I never got tired of seeing the sky and sea change colour every night, because it was just so beautiful.
6) Signal Hill
Signal Hill is one of Cape Town's most famous sunset spots. In fact, there's even a cover on the ground so you don't need to bring your own picnic blanket. That's how popular this place is!
Since it's so popular, I'd recommend getting here an hour before the sun actually sets to secure your spot, otherwise you might find yourself standing for the duration of the sunset. You should also leave pretty much as soon as the sun dips behind the horizon to avoid the huge traffic jams that often occur as the crowd leaves. You can park here or use Uber, but it might take your driver a while to reach you on the way back into town.
If you haven't got your own wheels, you can also do a hop on hop off sunset tour to Signal Hill through City Sightseeing, so that all of the transport is taken care of for you.
7) Table Mountain
It wouldn't be a complete sunset guide without a mention of Cape Town's most famous peak!
The views from the top of the iconic Table Mountain are insane, so where better to watch the sunset from than here?
There are only certain dates of the year when you can watch the sunset from Table Mountain. This is because the cable car's open times change, as do the sunset times. Sometimes it's possible to stay for sunset, sometimes it's not!
Of course, you could hike back down the mountain after sunset but I don't recommend this unless you're some sort of night hiking pro. It's way too dangerous for most people.
You can watch the sunset from the top of Table Mountain from:
1 September – 10 October (6:30 – 7 pm)
15 December – 31 January (8 pm)
1 March – 30 April (7:20 pm on 1 March, 6 pm on April 30)
A return cable car ticket after 1 pm costs R340 (£17) per adult, or you can hike up the mountain, watch the sunset, and take the cable car down for R220 (£11).
For more on the best hikes up Table Mountain, check out my ultimate guide to visiting.
There's a cafe and bar at the top of the mountain, so you can grab a beer up here and sit back while you watch the sky change and the city light up. You really will feel like the king of the world.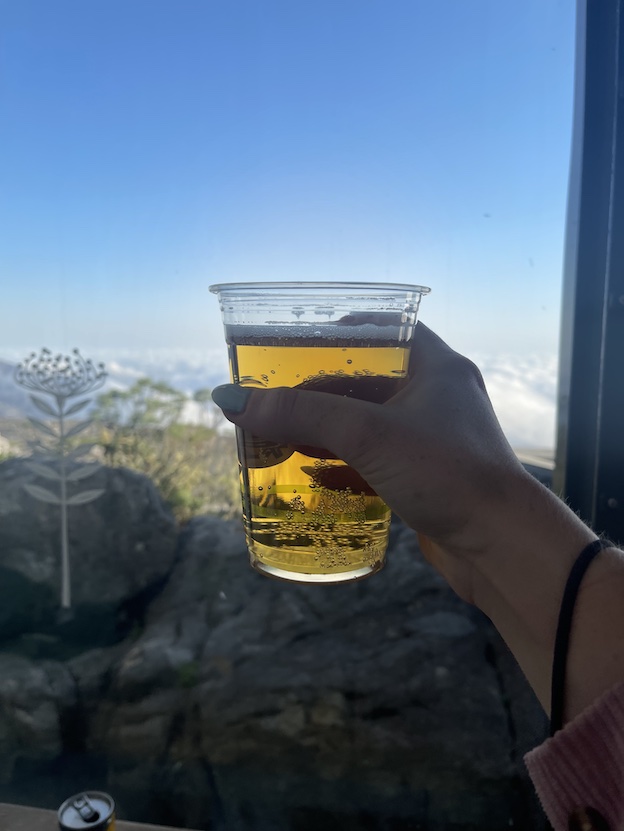 8) Bloubergstrand Beach
Bloubergstrand Beach is a long, white sand beach in, well, Bloubergstrand, of course. It's a suburb about 15 kilometres north of Cape Town city centre, and it takes about 20 minutes to drive there in good traffic conditions.
The reason that Bloubergstrand Beach is so great for watching the sunset is because it gives you an amazing view of Table Mountain across the water, which is something you don't get at the Clifton beaches, because the mountain is behind you. Watching a dramatic sunset over Table Mountain is an almost ethereal experience, so I definitely recommend getting yourself to this beach one day to see it for yourself.
There are even a couple of restaurants along the beach where you can watch the sunset while you enjoy a meal and maybe a nice crisp glass of South African wine. Blue Peter is one of the best known, or I saw one of the most insane sunsets of my entire life from Bossa Woodbridge Island. The service left a little to be desired, but with a view like that, I really didn't care.
Check out this post for a guide to the best beaches in Cape Town!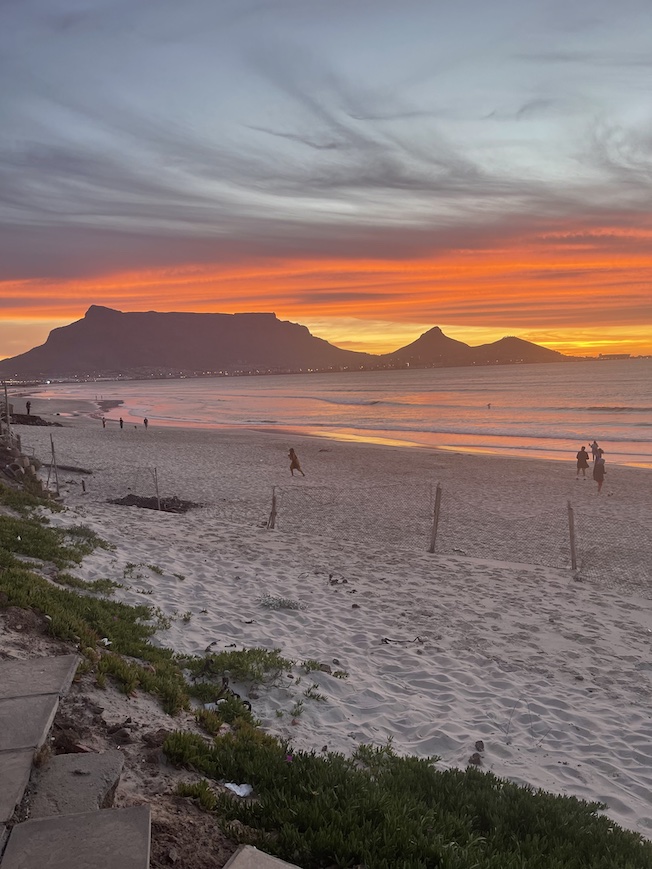 9) The Camps Bay Strip
The Camps Bay Strip – aka Victoria Road – is the epicentre of upscale nightlife in Cape Town. And since it runs parallel to one of Cape Town's most beautiful beaches, you've really got your pick of places to watch the sunset here.
You could head to Cafe Caprice, everyone's favourite Sunday night spot (except mine, apparently) or enjoy a delicious meal at Zenzero. Tiger's Milk also has good food and nice cocktails for a reasonable price. Meanwhile, for a bougie beach club vibe, check out Chinchilla.
10) The Grand Cafe, V&A Waterfront
To be fair, there are quite a few nice places to watch the sunset at the Waterfront, but the Grand Cafe is my favourite. I think it's one of the best restaurants in Cape Town!
For one thing, you can sit under fairy lights right on the edge of the water, and for another, the wine here is really reasonably priced, especially given its prime location (we're talking R50 for a large glass, people!) I also can't get enough of the seafood linguine.
Anyway, you can watch party boats setting sail and soak in the buzzing atmosphere around the waterfront while you watch the sun go down eating some amazing food and drinks. I always love coming here and I even make sure to bring friends who come and visit me, because it's such a nice spot!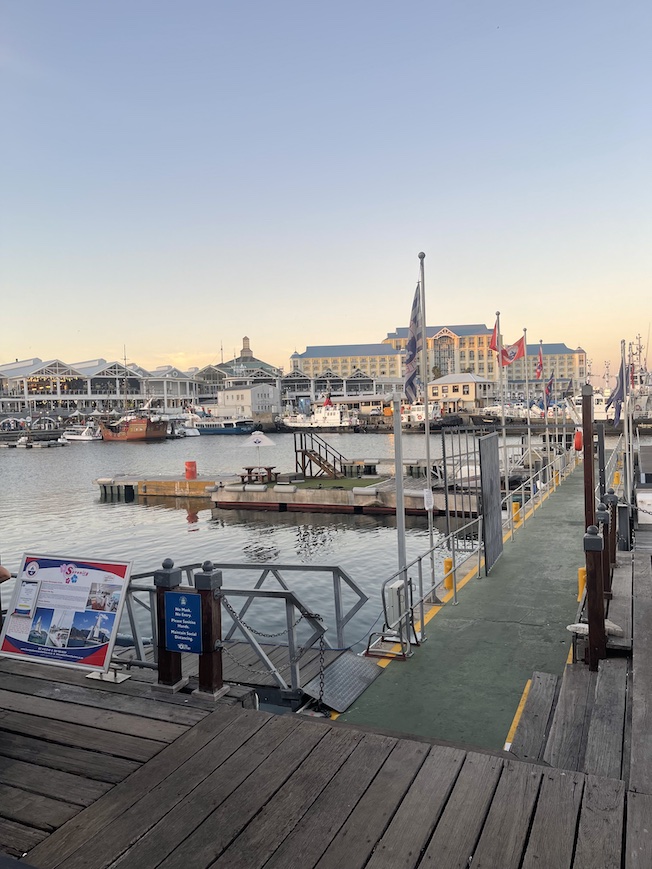 11) A Rooftop Bar
I know, I know, this one's a bit vague, but I'm going to give you some suggestions.
Cape Town doesn't have a super tall skyline, but there are plenty of great rooftop bars where you can watch the sun go down while you get your buzz on for a night out.
For something pretty chilled, Sky Bar at The Grey hotel in De Waterkant is nice and it positions you close to some really great restaurants and town, so you're ready for anything afterwards. Plus, with its pastel coloured buildings and cobbled streets, De Waterkant is a great (and very safe) neighbourhood to wander around in.
Tjing Tjing is also very highly rated, and the Silo rooftop bar is very upscale with killer views (but you will need to make a booking for this one, because it's very in demand.)
12) A Sunset Cruise
Watching the sunset from the water is always a great experience that manages to make you feel like a millionaire, and in Cape Town, it's really not too expensive to do. There are a ton of sunset cruises on offer, from the pirate-themed Jolly Roger boat to more upscale champagne cruises. 
Prices generally start from R450 (£22.50) per person and then you get a free glass of bubbly when you board, and there's usually a bar where you can buy more drinks if you want to. The departure time depends on the time of year, but the ride usually lasts for about 90 minutes although of course, it varies from boat to boat.
Cape Town Sunset Cruises have a ton of options for sunset cruises, or you can book this one through City Sightseeing for R459 per adult.
13) The Cape Wheel
Yup, the Cape Wheel has finally reopened after it was dismantled at the end of 2021 to be moved… Well, just a few hundred metres away, actually.
Anyway, it's now right out the front of the Victoria Wharf Mall at the Waterfront, but I haven't had a chance to ride it yet (a fact I'm very annoyed about, by the way – they reopened it A WEEK after I left South Africa for an indeterminate amount of time. A WEEK!)
My personal issues aside, the Cape Wheel has got to be one of the best places in the city to watch the sunset. With views of Granger Bay, Table Mountain, the Green Point Stadium, and Signal Hill, you can soak in a bunch of iconic Cape Town sights from here.
It's open from Monday to Sunday from 10 am until 10 pm during the summer, although it closes a little early at 9 pm every day except Friday and Saturday during the winter. Still, this means that you can catch the sunset from the wheel at any time of year! The rides only last for 15 minutes, though, so you'll have to be fairly precise with your timing for this one.
Tickets cost R175 for South African resident adults or R250 for adults from other countries. A kids' ticket costs R95 regardless of residency, and you can even rent an entire pod for up to 4 people for R2,875.
If you liked this post, check out: