Last Updated on August 31, 2023 by thecapetownblog
The Clifton beaches are the best beaches in Cape Town. With their white sands and deep blue waters, these four beaches in the wealthy suburb of Clifton are the place to be on a summer's day in the Mother City.
The Clifton beaches are less touristy and crowded than Camps Bay beach, but every bit as beautiful. These gorgeous beaches are also pretty well protected from the wind, which is a huge bonus because it gets very windy in Cape Town sometimes.
There are four Clifton beaches to choose from and a couple of things that you should know before you go, which is why I've written this guide to visiting Cape Town's beautiful Clifton beaches!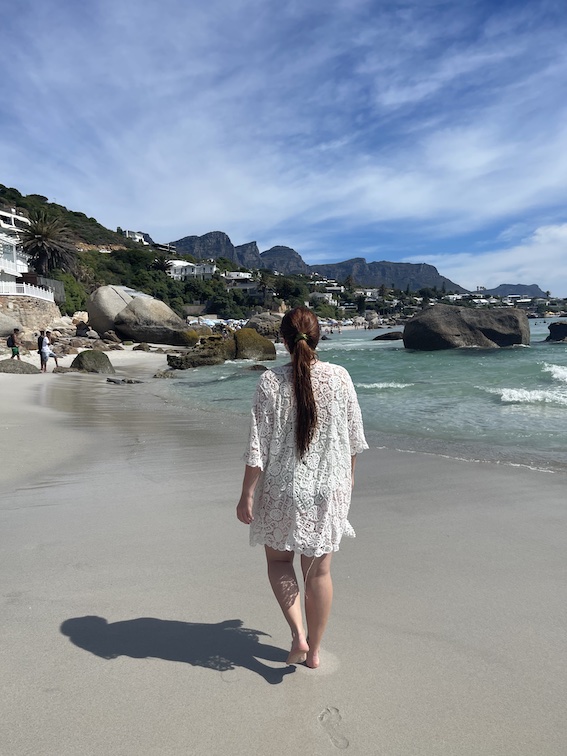 This post may contain affiliate links. When you make purchases through these links, I earn a small commission at no extra cost to you, which helps to keep this blog up and running. Thank you so much!
Where are the Clifton beaches?
The Clifton beaches are in Clifton, which is one of Cape Town's most affluent neighbourhoods. There aren't really any shops, bars, or restaurants here, just beautiful houses and stunning beaches.
Clifton is sandwiched between Bantry Bay and Camps Bay. It's about a 5-minute drive from Camps Bay and a 15-minute drive from the city centre, so it's pretty easy to access wherever you're staying! Do bear in mind, though, that there's often a lot of traffic around here on hot summer's days, especially during the festive period.
Why are the Clifton beaches so popular?
The Clifton beaches are popular with both locals and tourists alike. They're beautiful, free to access, and easy to get to from all over the city.
My friends and I always go to the Clifton beaches instead of Camps Bay beach because they're not overrun with hawkers and huge tour groups.
Is there parking at the Clifton beaches?
Yes, but it's limited.
Clifton 4th beach has its own car park, and there's a small lot opposite Clifton 3rd. You can also find some parking spaces along Victoria Road. However, on weekends during the summer and during the festive season, you'll need to get to the beach pretty early to snag a space, otherwise you might be waiting for quite a long time.
I usually Uber to the beach as it's just easier!
Clifton 1st Beach
Clifton 1st beach is a dog- and family-friendly beach. It's often the quietest of the four beaches, so it's perfect for a chilled beach day. There also tends to be fewer hawkers around here, which is good if you like peace and quiet but bad if you want to buy an ice cream.
There are quite a lot of steps down to Clifton 1st beach, so do bear this in mind when packing your beach bag for the day!
There are also toilets between 1st and 2nd beach, but they're only open on weekends during the summer.
1st beach is the closest to Bantry Bay and Sea Point, while 4th beach is closer to Camps Bay.
Clifton 2nd Beach
Clifton 2nd beach is a bit livelier than 1st beach. It's also the longest of the four Clifton beaches. You'll often find people playing beach volleyball here and maybe playing music. You get a great view of Lion's Head behind you, too!
I like Clifton 2nd beach partly because you're close to the toilets, although they are only open on weekends. Sometimes, the Capetonian sea is just too cold to wee in. (Don't judge me, we all do it.)
Like Clifton 1st beach, there are lots of steps leading down to Clifton 2nd, so prepare yourself for a trek.
Clifton 3rd Beach
Clifton 3rd beach is known as the "gay beach" because it's especially popular with members of the LGBTQ+ community. Again, it's really pretty and there's always a fun vibe here, and there are tons of steps! (Are you sensing a theme?)
There's a small car park right opposite Clifton 3rd beach, but it does fill up pretty quickly.
Clifton 4th Beach
Clifton 4th beach is the busiest of the four Clifton beaches. It has its own parking lot and there are only a couple of steps, so it's the easiest beach to access, and it's close to Camps Bay where many tourists stay in Cape Town.
Clifton 4th is also a blue flag beach, which means that it meets high environmental and sustainability standards. It's always very clean despite the high numbers of visitors it receives.
I don't tend to go to Clifton 4th beach that often because it is much busier than the other Clifton beaches. However, I still think it's gorgeous!
Which is the best Clifton beach?
Personally, I like the 2nd and 3rd Clifton beaches the most. They've both got a fun, lively atmosphere but aren't too busy! However, I'll happily spend a day at any of the four beaches because they're all pretty fantastic. They're definitely the best beaches in Cape Town!
When is the best time to visit the Clifton beaches?
Naturally, the summer time is the best time to visit the Clifton beaches. Summer in Cape Town lasts from October to March. However, you can still get nice beach weather in September or April, and sometimes you get days that feel very summery during the winter.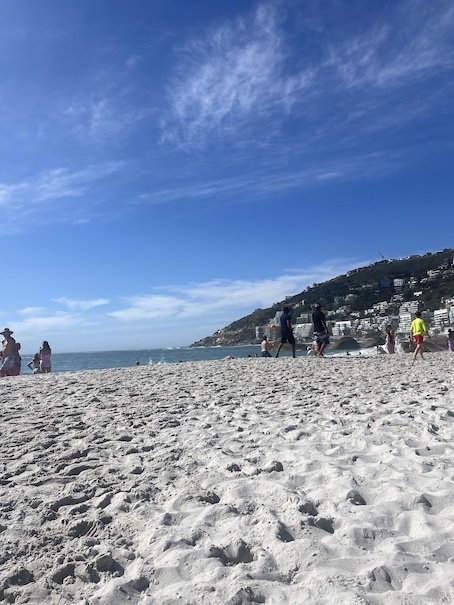 What amenities are there at the Clifton beaches?
There are umbrellas and sunbeds for hire at the Clifton beaches during the summer. It costs R60 for an umbrella and about R120 for a sun bed. This is slightly cheaper than the prices at Camps Bay beach! The umbrella guys will help you get set up and then they come and collect their equipment at 5 or 6 pm.
There are also public toilets and showers between Clifton 1st and 2nd beaches. These are only open during the day on weekends. They're pretty nice and clean as far as beach toilets go!
There are also lifeguards at the Clifton beaches during the summer. You'll often see them training and practising, too. If the water gets too choppy (which does happen from time to time) lifeguards will ban people from swimming.
Unfortunately, there aren't any shops or restaurants near the Clifton beaches. The closest ones are along the Camps Bay strip.
What's the water temperature at the Clifton beaches?
During the summer, the water at the Clifton beaches ranges between 14 – 18 degrees Celsius (57.2 to 64.4 Fahrenheit). It's pretty cold, but it can be really refreshing on a hot summer's day.
Are the Clifton beaches good for swimming?
You can swim at the Clifton beaches but to be honest, they're not the best for swimming. As well as the aforementioned cold water, the sea can also be pretty choppy. You do get calmer days but sometimes the only way to get in is to dive headfirst into the waves, which isn't always something I'm keen to do when the water is as cold as it is!
If you want to swim, you can always head to one of Cape Town's public pools instead!
Are the Clifton beaches safe?
Yes, the Clifton beaches are totally safe to visit during the day. It's a good idea to take turns to swim or ask a trustworthy-looking stranger to watch your stuff as there aren't any lockers around, but that's about it.
You can certainly enjoy the sunset safely on any of the Clifton beaches, too, but it's a good idea to leave once it gets dark.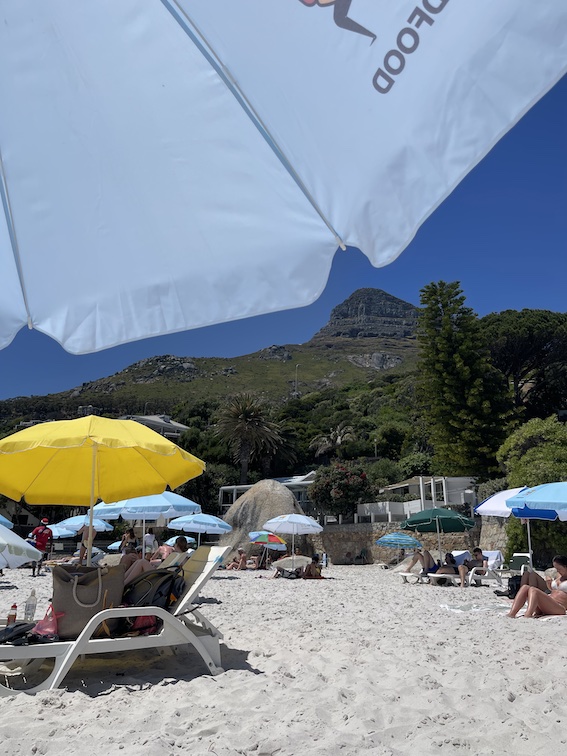 How do you get to the Clifton beaches?
You can drive to the Clifton beaches and park at the car parks at 3rd and 4th beach, or along Victoria Road. However, parking is limited so on weekends and during the festive season do try to get there early to snag a space.
You can also Uber to any of the beaches. They'll drop you off along Victoria Road, next to the steps down to your chosen beach.
The MyCiti bus also stops next to each beach. You can take either the 108 or the 109 bus, both of which run every few minutes.
Can you drink alcohol on the Clifton beaches?
No. Public consumption of alcohol is banned in South Africa, and this includes the beach! Police often patrol the beaches during the summer. They check inside people's cooler boxes, confiscate their booze, and sometimes fine them as well.