Last Updated on July 15, 2023 by thecapetownblog
Cape Town is home to more beautiful beaches than you can shake a stick at, and great weather to enjoy them.
Whether you want to relax on the picturesque Clifton beaches, swim in Muizenberg, or visit hidden spots like Bali and Beta, there really is a stretch of sand for everyone in Cape Town.
And you won't find the shores littered with rubbish, either! There are a ton of Blue Flag beaches in the city, which means that they're very clean and meet strict environmental standards.
However, you should know that the water in Cape Town is very cold, particularly in the beaches along the Atlantic Seaboard, because the current comes up from Antartica. Brr!
There really is nothing better than grabbing your sun cream and heading down to the beach on a hot day in Cape Town, which is why I've compiled this guide to what I think are the best beaches in the city and all of the need-to-know details about each one.
This post may contain affiliate links. When you make purchases through these links, I earn a small commission at no extra cost to you, which helps to keep this blog up and running. Thank you so much!
1. Clifton
I think that Clifton has hands down the best beaches in Cape Town.
There are four Clifton beaches, all of which are absolutely beautiful, with white sand, clear water, and views of mountains and luxury homes behind you.
Clifton 4th beach is always the busiest stretch of sand. Some people say it's a place to "be seen" but to be honest, I think that's actually a load of crap. All of the Clifton beaches are stunning.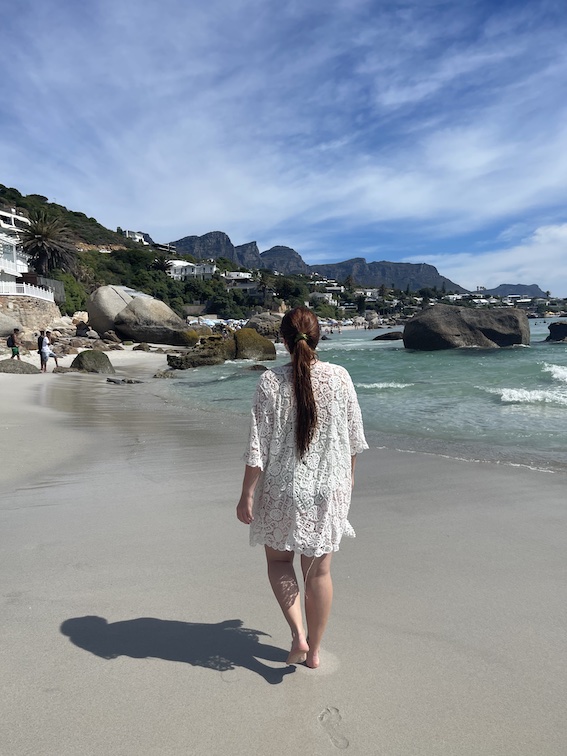 The difference is that the other three can only be accessed via long, winding staircases, whereas Clifton 4th has hardly any steps. I think a lot of people just flock there because it's the easiest beach to access.
Clifton 1st beach is dog friendly, and lots of families tend to go to this one. It's very chilled out and there's a nice, relaxed vibe here. It's also in a handy location because there are toilets between Clifton 1st and 2nd, although they're only open on weekends.
Clifton 2nd beach is my personal favourite, mainly because it has a really nice view of Lion's Head mountain behind. I actually think that this is the best beach in Cape Town.
Meanwhile, Clifton 3rd beach is also very pretty, and is known as the "gay beach" because it's popular among the LGBTQ+ community.
At Clifton, there are always guys walking around selling ice creams, water, and sometimes beer, although drinking isn't allowed on public beaches in South Africa. Their self-promotion does sometimes interrupt your beach nap, but they're not pushy.
You will, however, hear "water for your daughter" and "don't be shy, I'm the ice cream guy" more times than you can count throughout the day.
There are also guys who rent out umbrellas and sunbeds, usually next to the beach steps, so you'll see them as soon as you arrive. It's about R60 for an umbrella and you can usually keep it until 5 or 6 pm, depending on how busy the beach is that day. I've never actually rented a sun bed but I think they cost around R120.
There are a couple of parking lots along Victoria Road, which runs past the Clifton beaches, but they fill up fast during the summer and trying to find a space can be stressful. It's best to either arrive before 10 am, or take an Uber to the beach instead.
2. Saunders Rocks Beach
I'm putting Saunders at number two because it's my go to beach for a quick dip or a cheeky sundowner.
It's a small beach and rock pool at the corner where Sea Point meets Bantry Bay, so I also lived really close to it for quite a while – and I sometimes still walk there from my current place in De Waterkant!
The water in the rock pool is usually freezing, and you'll often find lots of (crazy) people here practising their Wim Hof breathing in the cold water. It tends to be pretty calm though, and it's a very refreshing place for a dip when you're hungover or just not quite feeling yourself.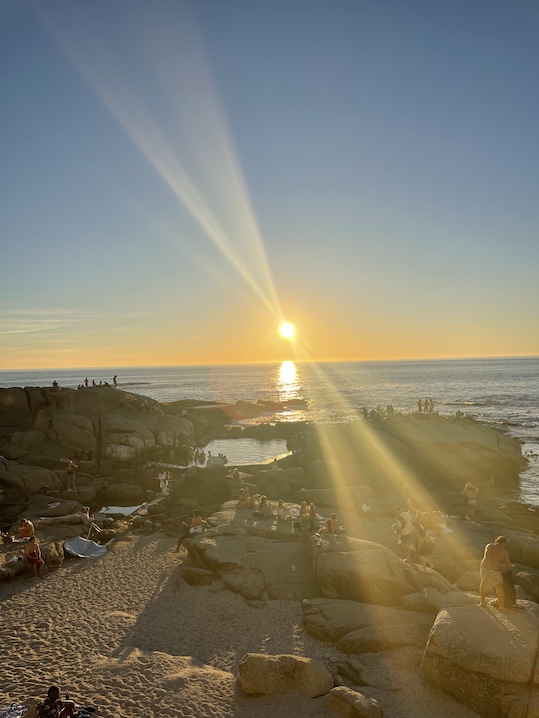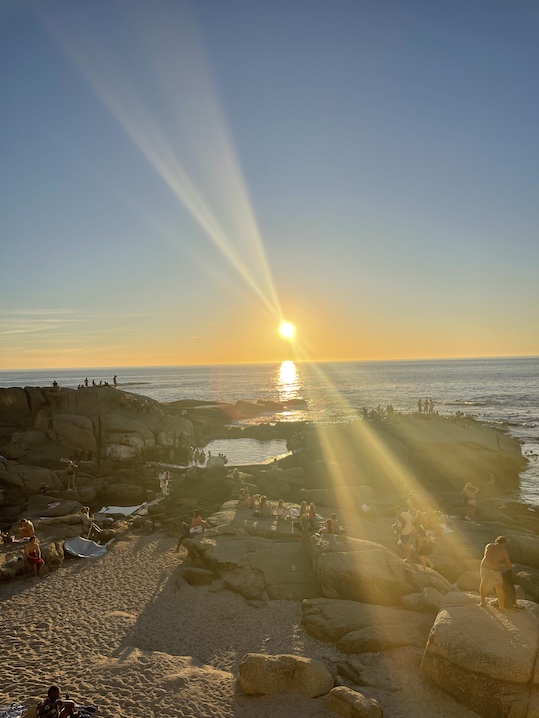 There are no hawkers here, which is nice, but there's no-one around renting out umbrellas, either, so you'll need to bring your own if you want some shade. There aren't any toilets or showers, but let's be honest, everyone just pees in the rock pool.
You can climb up on the rocks to watch the sunset, or there's a decent stretch of sand to chill on, too – but the sea tends to be very full of seaweed, so I usually stick to the pool. There's also a ton of parking nearby so it's rare that you'll struggle to find a space.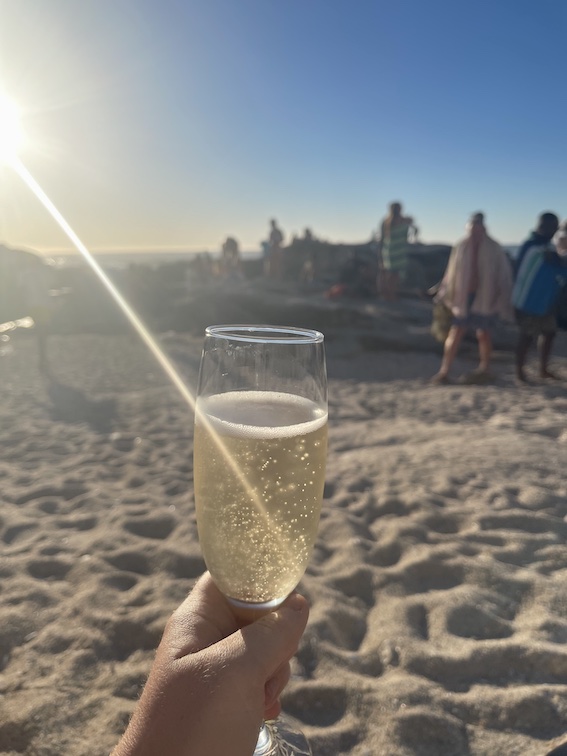 3. Bali Beach
Bali Beach is a 5-minute drive north of Camps Bay, and it's a bit of a local secret. You should be able to find a parking spot along this stretch of Victoria Road, since you're out of the overcrowded part of Camps Bay, and you should see a sign along the fence for Bali Beach. Head down the steps, swish through some long grass, and voila, you've just discovered one of Cape Town's hidden gems.
I really like Bali Beach because the rocks create a protective cove, so the water is calm and great for swimming.
Don't get me wrong, I love the Clifton beaches, but the water there can get super choppy at times, which I don't really enjoy. The sand here is mostly made up of small stones and shells, and the beach area is really small, so it's probably one of the quietest beaches in Cape Town!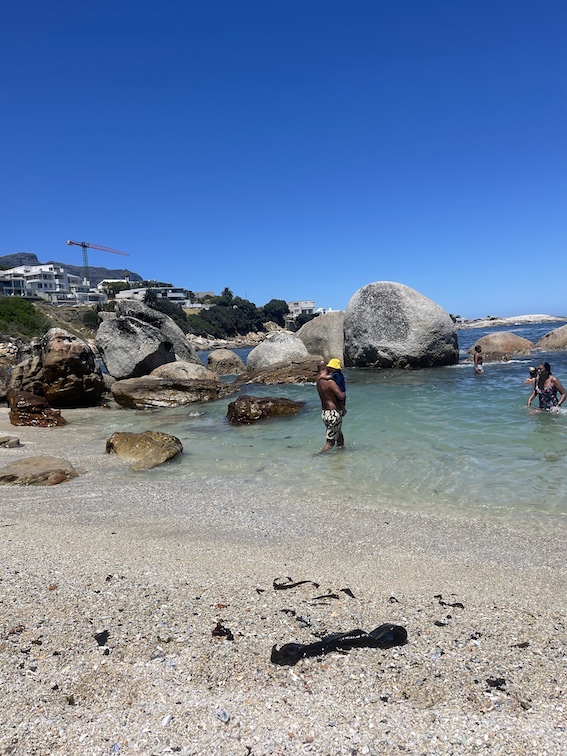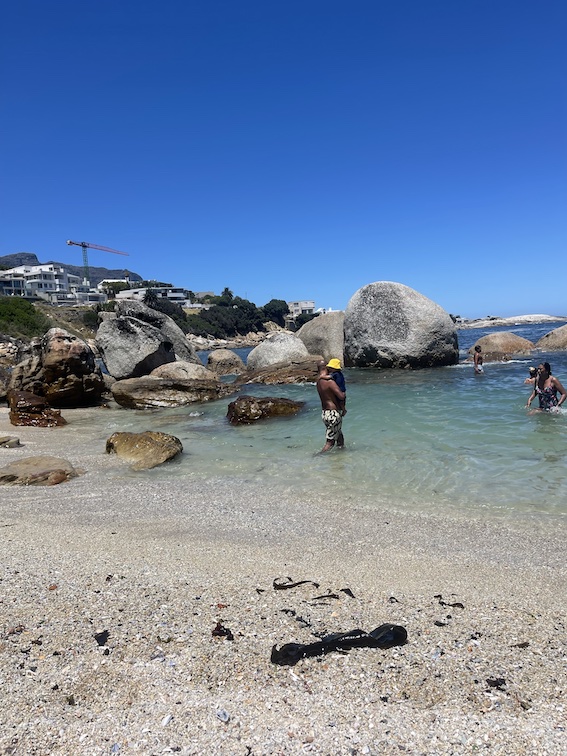 4. Camps Bay Beach
Camps Bay Beach is the most popular beach in Cape Town. It's a gorgeous stretch of white sand, and it's conveniently across the road from all of the cafes, restaurants, and clubs along the Camps Bay strip.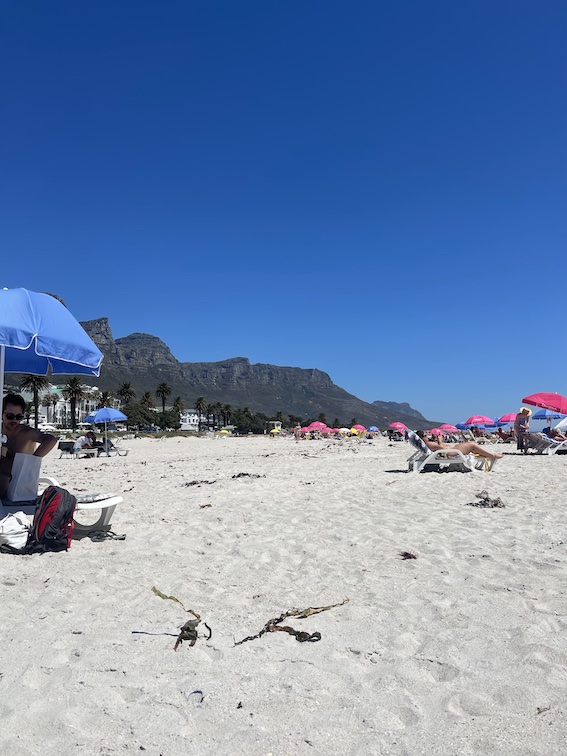 It's an undeniably beautiful beach, with first-class views of the Twelve Apostles and Lion's Head. The only thing is that it gets pretty crowded.
Since I usually hit the beach on the weekends, I don't tend to go to Camps Bay Beach very often. Busloads of tourists are dropped off every Saturday and Sunday, and the place just gets insanely busy. During the festive season, you can barely see the sand for all of the umbrellas!
Plus, umbrellas and sunbeds are usually more expensive to rent here, and you get approached by hawkers a lot more here than on other beaches in Cape Town, which I find annoying.
With that being said, it's a beautiful beach and I find that the water here tends to be a bit calmer and easier to get into than it is at Clifton.
There are also lots of showers to rinse off when you leave, which is convenient. If you want to visit Camps Bay beach, I recommend going during the week when it's quieter.
The parking along the Camps Bay strip is almost always full during summer, but there are some nearby residential roads where you can park and then walk down to the beach.
5. Beta Beach
Beta Beach is beautiful, but check the tide times before you go. At low tide, it's beautiful, but the beach disappears completely during high tide. Sometimes, I've had to get up on the rocks because there wasn't enough sand left!
With that being said, Beta Beach is absolutely beautiful. It's also private, so some people sunbathe topless here. It's relaxed, dog friendly, and just a nice place to get away from the busier beaches.
The rocks around here also mean that it's a good swimming beach, although there is often quite a lot of seaweed in the water.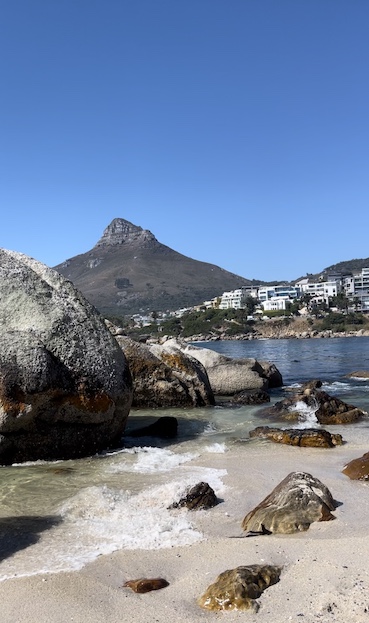 Parking can be tricky here. If you drive, it's best to park near the playground or a side street and walk from there. However, last time I went, my friend and I had a really unpleasant experience with the car guards.
We didn't have any change to give them and so they threatened to damage her car. Fortunately, they didn't, but it was intimidating. Remember that you don't actually have to give car guards any money, especially if they are rude to you. They're not officially appointed by anyone.
To be honest though, you're probably best off taking an Uber here.
6. Oudekraal
Oudekraal Beach is a secluded beach in a nature reserve, nestled between Llandudno and Bakoven. The beach area itself is small, but the water is great to swim in (albeit full of seaweed).
There's also a grassy picnic area to relax in, and a braai area where you can cook up a storm with friends. I mean, does it really get more South African than braaing on a beach?
Oudekraal is part of Table Mountain National Park, so you'll have to pay an entry fee. For South Africans, it's R40, while it costs R70 for people from SADC countries, and R140 rand for other international visitors.
I actually managed to get away without paying the international fee, as I went in with a South African friend who warned me to keep my mouth shut at the ticket booth. She did the talking and, upon hearing her accent, the staff assumed that we were both South Africans.
Oudekraal is open from 8 am – 6 pm from 1 October until 31 March, and then closes for the winter months.
It's easy to park here, and it's such a nice place to set up shop for the day and have a full beach adventure, replete with a braai and maybe some booze (alcohol isn't allowed, but the cops rarely come down here, so…)
7. Glen Beach
Glen Beach is right next to Camps Bay beach, but it's way less busy. In fact, it's kind of a hidden gem since most tourists don't come here! Plus, unlike the Cliftons, there aren't millions of steps.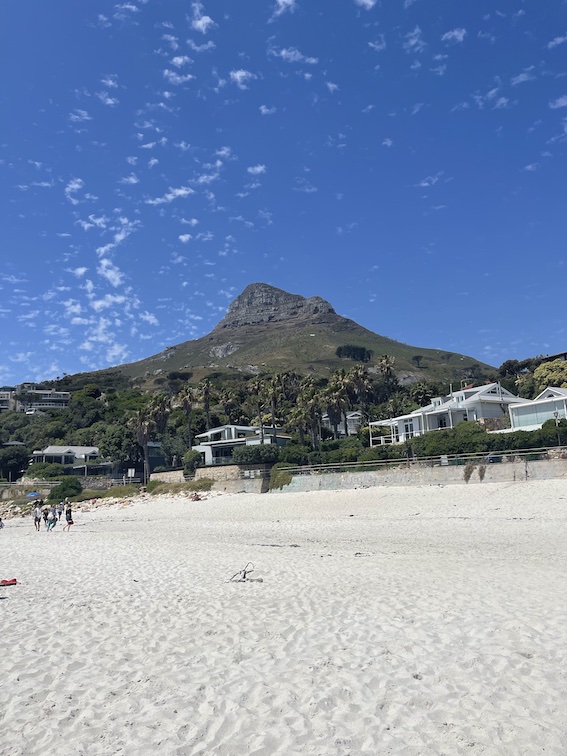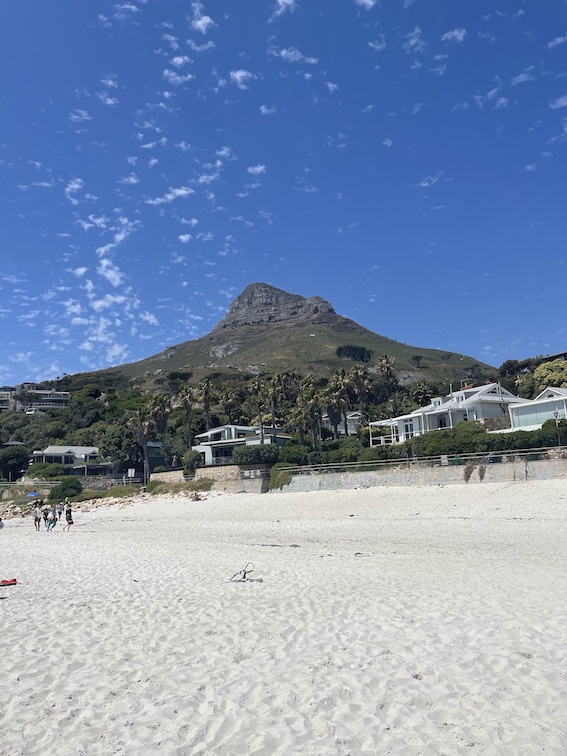 Glen Beach is known as a surfing beach, but I like it because it has beautiful views of Lion's Head and the Twelve Apostles. Plus, you don't have to fight for a spot on the sand, but you're still super close to all of the amenities in Camps Bay. In fact, Glen Beach is just a 5-minute walk from the Camps Bay strip.
The only thing is that Glen Beach isn't the best for swimming because the waves tend to be pretty high. There are lifeguards around though, who will actually ban swimming if it gets too dangerous.
8. Muizenberg
Muizenberg Beach is about 28 kilometres (17.4 miles) from central Cape Town. It's along the False Bay coast, towards the south of the Cape Peninsula.
The best thing about Muizenberg Beach is that the water is warm!
Well, warmer.
The water here ranges between 19 to 20°C (66.2 to 69.8°F) during the summer, because you're swimming in the Indian Ocean. That's a lot warmer than the beaches on the Atlantic Seaboard, where the water hovers around 14 to 16°C (57.2 to 60.8°F).
It's also a good surfing beach but it's more suited to beginners than Glen Beach, as the waves tend to be calmer. There are a ton of surfing schools around if you want to take lessons, such as Gary's Surf School.
And if you already know how to surf, you can rent equipment from somewhere like Lifestyle Surf Shop.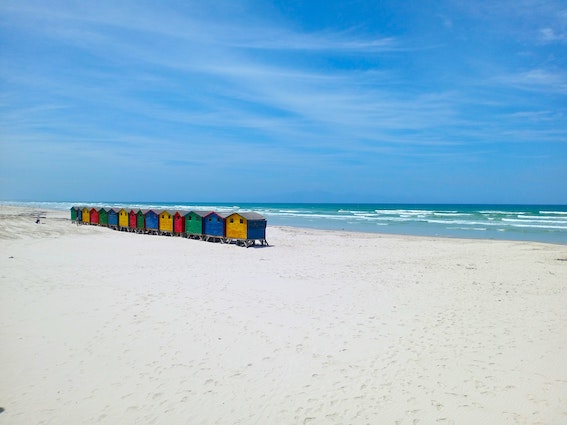 9. Boulders Beach
Boulders Beach is definitely one of the best beaches in Cape Town because it's home to a colony of African penguins!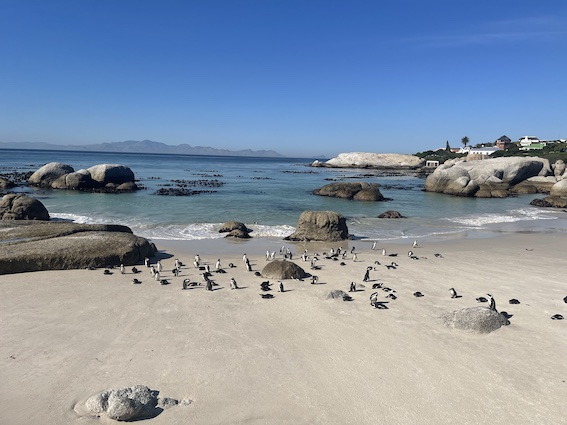 Visiting the penguins at Boulders is a must-do activity in Cape Town. The beach itself is really pretty and the penguins are adorable. Plus, you might see some cute dassies here, too.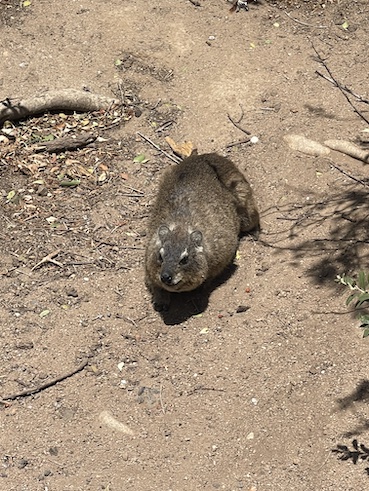 Boulders Beach is 42 kilometres (13 miles) south of Central Cape Town, but it's only 15 kilometres from Muizenberg, so you can combine a visit to the two if you're driving yourself.
If you haven't got your own wheels, you can also visit the penguins as part of a tour like this one.
The City Sightseeing Cape Point Explorer Tour also takes you to the penguin beach, as well as the Cape Point and Cape of Good Hope. I did this when a friend came to visit me and it was a really good day out.
There's an entry fee for Boulders Beach. The proceeds go towards maintaining the beach for visitors and protecting the penguins, of course. The prices are:
R40 for South African + SADC adults
R20 for South African + SADC kids
R160 for international adult visitors
R80 for international kids
If you want to visit the penguins at Boulders Beach, check out this guide!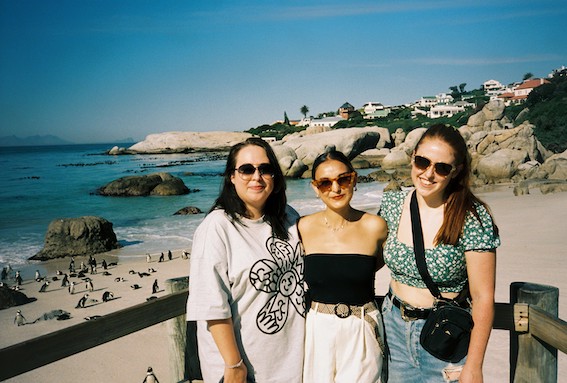 10. Bloubergstrand Beach
Bloubergstrand Beach, or Blouberg Beach for short, is a beautiful white-sand beach in the suburb of Bloubergstrand.
Bloubergstrand is about 20 minutes north of Cape Town city centre, and its eponymous beach faces Table Mountain so you get amazing views. I definitely recommend staying here to catch the sunset!
You can't rent deck chairs or umbrellas here, so you'll need to bring your own beach gear. There's a public car park 450 metres from the beach or you can try to find a side street.
There's an outdoor gym on Blouberg and it can get windy here, so it's popular for kitesurfing. You also often see people flying kites here!
And if you get hungry (or thirsty) there are some nice restaurants nearby where you can enjoy a meal and a drink with a view. I like Bossa Woodbridge Island, although the service can be slow.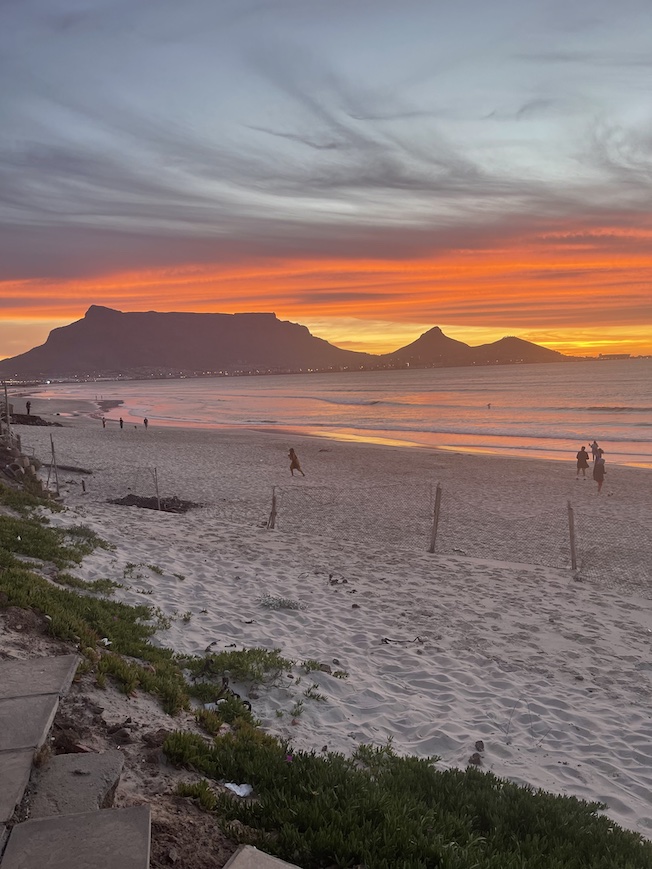 11. Llandudno Beach
The beautiful Llandudno Beach is a Blue Flag Beach. It's a little bit out of town, but it's worth the drive. It looks pretty similar to the Clifton Beaches but there are fewer crowds here.
This is a great family beach and there are lifeguards here to keep everyone safe. There's not much here in terms of facilities, so bring a picnic and plenty of water!
Llandudno is a west facing beach so it's a great place to see the sunset. However, since it's 10 kilometres (6 miles) south of Camps Bay, you head past the Twelve Apostles Hotel on your way back into town. It just so happens that the hotel's Leopard Bar is the ideal place to enjoy a beautiful sunset with a cocktail in hand!
12. Hout Bay
Hout Bay Beach is a wide, white-sand beach with calm, clear waters that are ideal for swimming! Plus, you've got a beautiful view of Chapman's Peak. Really, you couldn't ask for a more beautiful beach than this one.
Hout Bay is a little out of town. It's around 19 kilometres (11.8 miles) from the city centre. It takes about half an hour to get there from Sea Point, or 20 minutes from Camps Bay. It's a pretty drive, though!
One of my favourite things about Hout Bay is that it's home to some great fish and chips. (What?! I'm a Brit, after all.)
Mariner's Wharf does really nice fish and chips, and you can wash it down with a pint of their house craft beer. Plus, the location itself is worth a visit as it's an old-timey emporium where you can also find a fishmonger, a deli, an antique store, and a liquor cove.
Tips for visiting the beaches in Cape Town
Take sunscreen
The sun is strong in Cape Town. Sometimes you don't feel it as much due to the wind, which can lead to a nasty sunburn. Pack your factor 50!
Leave early – especially on weekends
During the peak of summer, the beaches get super busy in Cape Town. You definitely need to get there before 10 am if you want to get parking in Clifton or Camps Bay.
It's easier during the week, unless we're talking about the festive season. From 15 December to 15 January, the beaches are rammed!
The traffic going towards the beach can also be really bad during the festive season, so be wary of this. Go early, and be patient!
Take some cash
If you want to rent sunbeds and umbrellas or buy cold drinks and ice cream on the Clifton and Camps Bay beaches, you'll need cash. Umbrellas cost R60-R70 and sunbeds are around R200 each for the day. If you're driving, it's also a good idea to have cash or small bills for the car guards.
Be careful with alcohol
Public consumption of alcohol is illegal in South Africa, and the police often come round to inspect people's cooler boxes. It's your decision whether or not you want to risk it, but if you do want to bring alcohol it's best to disguise it carefully. I'll leave you to get creative with that…
For more on what to get up to in Cape Town, check out these guides: