Last Updated on December 7, 2023 by thecapetownblog
You haven't really been to Cape Town until you've paid a visit to the Oranjezicht City Farmer's Market.
(Or just the Oranjezicht Market for short.)
Every weekend, you'll find local sellers here offering up fresh, organic produce, as well as restaurant stalls showcasing some of the city's best global cuisines.
The Oranjezicht Market really is the place to be on Saturday and Sunday mornings in Cape Town. From the activewear-clad runners looking for a post-jog treat to visibly hungover groups of friends gossiping about the night before over bagels, you'll find pretty much everyone and their mama here enjoying the wholesome vibes and artisanal goods. 
If you're ready to make like a Capetonian and head down to the Oranjezicht Market this weekend, keep on reading to find out everything you need to know about the city's top foodie destination.
This post may contain affiliate links. When you make purchases through these links, I earn a small commission at no extra cost to you, which helps to keep this blog up and running. Thank you so much!
What is the Oranjezicht Market?
The Oranjezicht Market is a weekend farmer's market at Granger Bay in the V&A Waterfront. Locals and tourists alike flock here to buy artisanal goods and organic produce, as well as chow down on some seriously tasty food.
One thing that I initially found confusing about the Oranjezicht Market is that it's not actually in Oranjezicht.
Oranjezicht which is a neighbourhood in Cape Town that's about 6 kilometres (3.75 miles) away from where the market is actually held.
As it turns out, the market was originally held in Oranjezicht, though.
There was once a huge farm in Oranjezicht that was owned by the same family for 7 generations until it was purchased by the city council.
A portion of the original farm was turned into a bowling green, but it was eventually abandoned and became a bit of a blight on the local community. Instead of being used for leisurely games of bowls, it became covered in rubbish and was a common site for drug deals to go down.
In 2009, the local community said "enough is enough" and the local neighbourhood watch began organising clean ups and better maintenance for the green.
Then, in 2012, Sheryl Ozinksy established the Oranjezicht City Farm on the site of the disused bowling green. The idea was to support local farmers and educate people of all ages about farming, as well as to encourage more sustainable food consumption.
The farmers' market originally took place in the gardens at the farm every Saturday, but it proved popular and so it grew… and grew… and grew.
But there was another problem: during the winter, the wet weather made the market a very muddy place to visit, and so it was moved to Granger Bay at the V&A Waterfront. 
This was only intended to be a temporary measure. However, the move proved to be such a success that Granger Bay became the Oranjezicht Market's permanent home.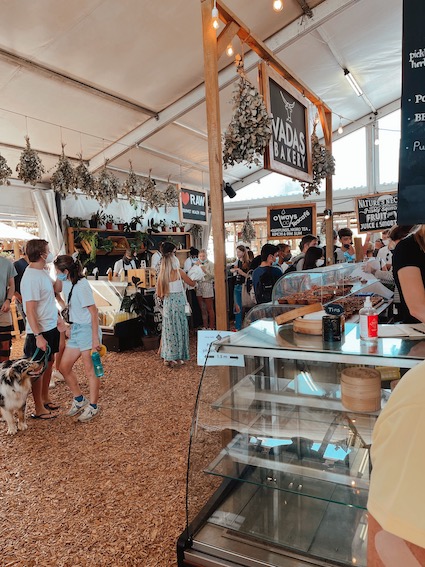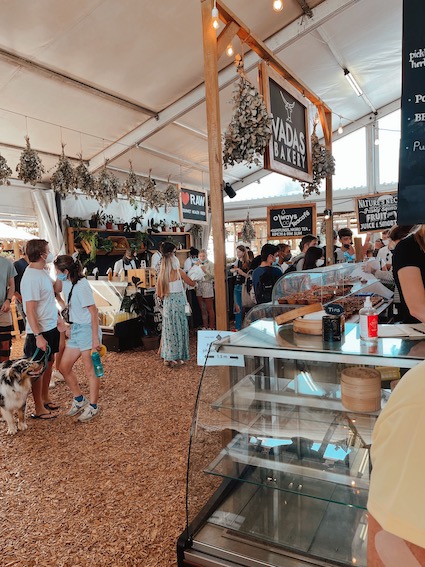 When is the Oranjezicht Market open?
The Oranjezicht Market is open every Saturday and Sunday morning throughout the year. There's also a night market Wednesday from October to March.
The hours are as follows:
Saturday – 8:15 am until 2 pm
Sunday – 9 am until 2 pm
Wednesday – 5 pm until 9 pm (summertime only)
Where is the Oranjezicht Market?
As I mentioned earlier, the Oranjezicht Market is no longer in Oranjezicht.
Instead, it's at Granger Bay at the V&A Waterfront, so you can gaze out at the deep blue ocean as you enjoy your food.
It's just 500 metres away from the Victoria Wharf Mall, and just under a kilometre away from the Two Oceans Aquarium.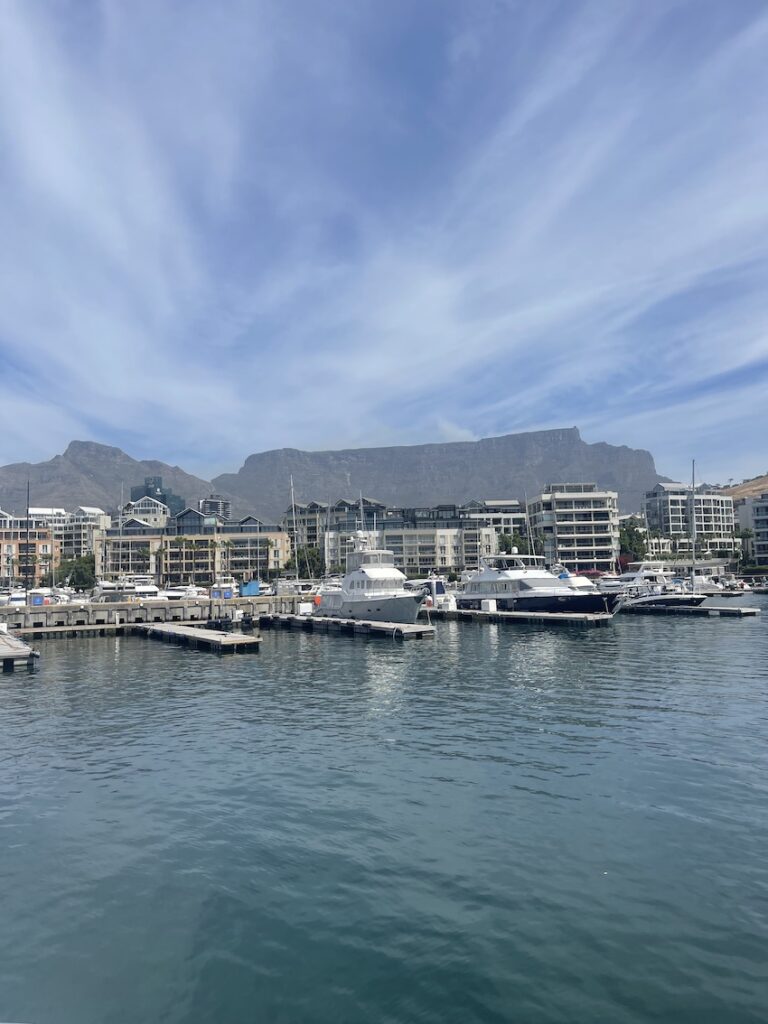 How to get to the Oranjezicht Market
It's pretty easy to get to the Oranjezicht Market.
You can easily drive or take an Uber there, or there's also a MyCiti bus stop close by.
Bus
If you want to take the bus, catch the T01, D05, or T01X to the Granger Bay bus stop.
From there, it's just a 300-metre walk to the market.
You continue walking to the roundabout (or "circle", as South Africans call it). Turn left once you reach it and voila, the market will come into view!
Walk
If you're staying in Sea Point, Green Point, or De Waterkant, it's also pretty easy to walk to the market. 
From Sea Point, you can follow the promenade towards the Waterfront towards Mouille Point. Head past the Radisson Blu and keep walking until you reach the market. There will probably be lots of other people following this route, too!
From Green Point or Dewaterkant, head towards the stadium (which you really can't miss, just FYI) along Granger Bay Boulevard. Turn left on Beach Road and you'll find the market.
Is there parking at the Oranjezicht Market?
Yes!
If you're lucky, you might be able to snag a free parking spot right along the Beach Road entrance to the market.
Otherwise, you can park inside the Granger Bay parking structure. This is right next to another of the market's entrances.
Parking here is pretty cheap at R10 (£0.50) for up to 4 hours. There's always plenty of parking here, although when the market is super busy you might have to drive right up to the top floor!
Is the Wednesday night Oranjezicht Market different from the weekend one?
Yes.
The Wednesday night farmers' market that takes place during the summer is only about prepared food and drink. You'll find restaurant stalls here but not much in the way of local produce or craft goods.
So it's pretty much the same if you're going to eat and drink (which is what I do) and it still gets super busy!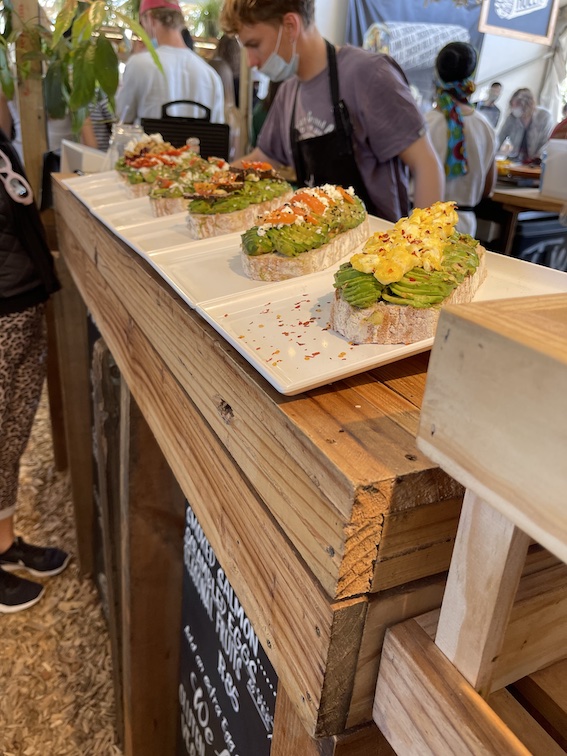 What are the best food stalls at the Oranjezicht Market?
Vadas Bakery
Honestly, eating one of the pastéis de nata from Vadas Bakery is pretty much a rite of passage when you're in Cape Town. They're really that good.
Seriously – read any review of the Oranjezicht Market and I guarantee that these babies will be mentioned.
You can choose between the classic pastéis and the specialty flavours, which change every couple of weeks.
If you're in Cape Town around Easter, the hot cross bun version is really good, but to be honest, you just can't beat the original!
Honestly, I usually just get both… plus one of their maple and pecan tarts. They keep well in the fridge, so you don't have to eat all of them at once (although that's very easy to do.)
Yen's Vietnamese Street Food
When I first arrived in Cape Town, I was disappointed that I couldn't find any authentic Vietnamese food anywhere.
(I mean, sure, there's a restaurant called Saigon, but it actually serves Asian fusion.)
That was until I discovered Yen's, anyway!
I lived in Vietnam for almost 3 years, and I really miss dishes like pho, bun thit nuong, and Vietnamese iced coffee.
You can find all of this goodness at Yen's, and it tastes every bit as good as it did in Vietnam.
There are some slightly more westernised options, like a chicken version of bun thit nuong (which is usually only made with pork), but that's to be expected. The flavours really do take me right back to Vietnam.
In fact, Yen's proved so popular that she was able to open a restaurant in Dewaterkant at the end of 2021. It has been a big success and I highly recommend a visit there, but you can also still find her delicious food at the Oranjezicht market every weekend!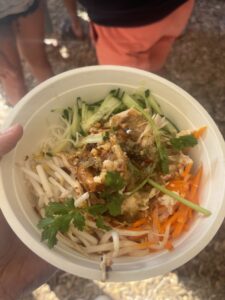 Bacon on Brie
If you went too hard last night, head to Bacon on Brie for a decadent toasty that will cure your hangover. It's exactly the carby, greasy, salty goodness that you need to soak up the alcohol and get ready for round two.
Jason's Bakery
Jason's Bakery is a local favourite. You can only enjoy their legendary iced coffee at their shop along Main Road in Green Point, but at the weekends they also pitch up at the Oranjezicht Market to sell their delicious pies, cruffins, and doughssants.
Kleinsky's
Kleinsky's serves some of the best bagels in Cape Town and you can find them every weekend at the Oranjezicht Market. I'm very partial to a smoked salmon bagel but if you're looking for something a bit more unique, the Bada-Bing one is also really tasty. And for vegetarians, they've got smashed avocado and pizza bagels, too.
What are the best goods stalls at the Oranjezicht Market?
Flowers – Sisters on Adderly
Sisters on Adderly sell absolutely beautiful flower bouquets. Their stall is actually one of the first things you'll notice if you enter the market from the entrance next to the Granger Bay parking structure.
I think that an arrangement from Sisters is a great way to show appreciation for a loved one! Or, you know, make like Miley and buy yourself the damn flowers.
Gin – Karoo Prick
Karoo Prick is a local gin brand and honestly, it's probably the only gin I can say I've enjoyed sampling neat.
It's a sweet, yet crisp, pear gin, and of course you're free to sample it for yourself before you buy a bottle. It's R420 for a 750ml bottle and in my humble opinion, it's totally worth the investment.
It also makes a great gift – I got my best friend a bottle last Christmas, since it's her favourite.
Is the Oranjezicht Market dog friendly?
Yes!
You'll see a ton of pups around the farmers' market.
Although if you're visiting in the company of a cute puppy, be aware that it WILL take you twice as long to make your way around the market. Pretty much everyone you pass will stop, ask to pet your pup, and offer to dogsit.
One guy even asked my friend if he could borrow her dog to help him pick up women.
Yes, really.
Do they serve alcohol?
Yes, there are two bars at the Oranjezicht Farmers' Market, plus a G&T stall. I've definitely enjoyed a few boozy brunches here!
The bar inside the local produce tent serves spirits and beer, while the one at the back of the market also serves wine and cocktails.
The queue for the bar does tend to be pretty long, though, so maybe put one person on alcohol duty while others queue up for food and coffee.
When is the best time to visit the Oranjezicht Market?
Whether you're going on Saturday, Sunday, or Wednesday night, I recommend getting there early. The market is busy all year round, although during the winter months it is much easier to get a table.
You DEFINITELY should go early if you're heading to the market in December or early January, which is peak tourist season in Cape Town.
We actually went there one Wednesday evening just after New Year's, but turned around when we saw hundreds of people queuing up to get in. I will say that this is pretty unusual, but if you're going over the Christmas holidays, it really is best to get to the Oranjezicht Market soon after it opens.
What else is there to do near the Oranjezicht Market?
The Oranjezicht Market is at the V&A Waterfront, so after you've had your fill of yummy food, local produce, and craft gin, you can definitely stay in the area and explore some more.
You could head to the Victoria Wharf Mall to do some shopping, head out on a harbour cruise, or head to Cause & Effect for some crazy cocktails.
You can also go wine tasting in the Cellar Club Tunnel or go and explore the famous Zeitz Museum!
For more of the best things to do at the Waterfront, check out this article.