Last Updated on October 10, 2023 by thecapetownblog
The Victoria and Alfred Waterfront is one of the best parts of Cape Town to hang out in. It's home to beautiful views, excellent shopping, great restaurants, and resident seals! There's a ton to do around here and I always really enjoy the laid back but convivial atmosphere at the Waterfront.
The Waterfront is actually a pretty big area. It covers over 300 acres and is divided into nine different districts. There are shops, covered markets, and even luxury apartments around here, so there's no shortage of things to do. Perhaps for this reason, it's also one of the most visited tourist attractions in the whole of Africa.
Yup, not just the country of South Africa – I'm talking about the entire continent.
Since this area is so big and so popular, I felt that it was only right to create a guide containing all of the best things to do at the V&A Waterfront. You don't want to miss out on this part of Cape Town!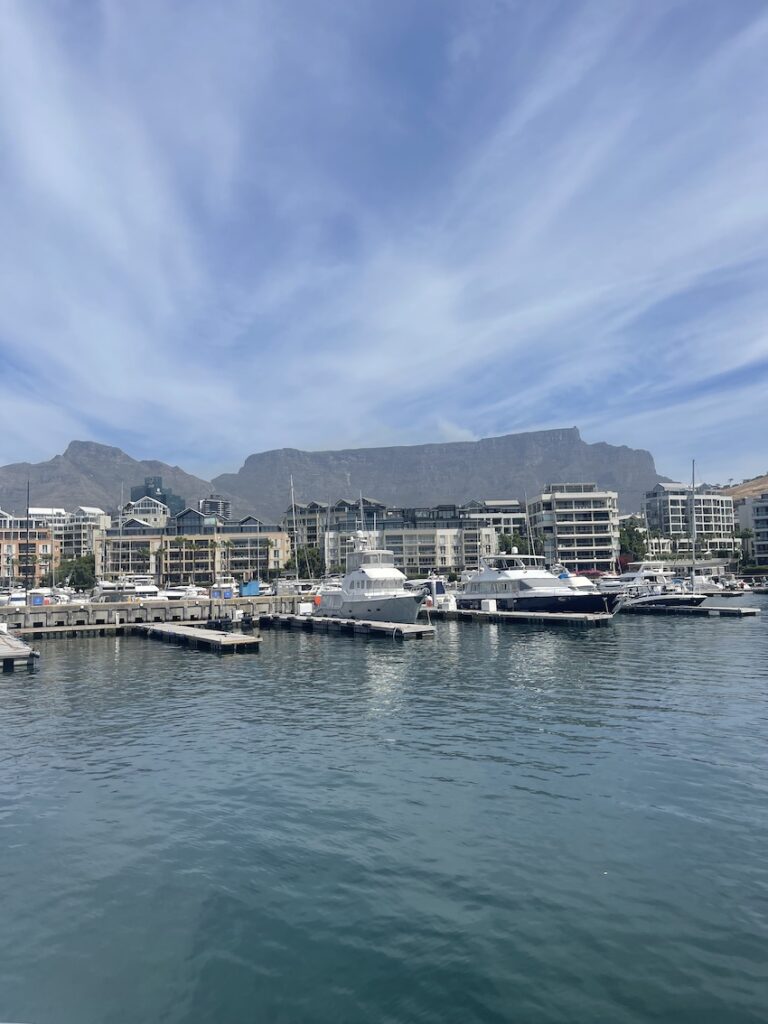 This post may contain affiliate links. When you make purchases through these links, I earn a small commission at no extra cost to you, which helps to keep this blog up and running. Thank you so much!
1. Ride the Cape Wheel
The Cape Wheel is back in action, and it didn't go far.
It used to be on the harbour side of the Victoria Wharf Mall, but now it's right outside the entrance. You really can't miss it. It would also make a great date!
The Cape Wheel offers beautiful views of the entire waterfront area, which is why I decided to list it as my #1 must-do activity. But beyond the waterfront, you'll also get to see Granger Bay, Table Mountain, Green Point Stadium, and Signal Hill.
You can ride the wheel any day of the week between 10 am and 10 pm during summer. In winter, it closes a tad earlier at 9 pm, except on Fridays and Saturdays when it stays open till 10 pm.
Each ride lasts for 15 minutes and costs R175 for South African residents, or R250 for non-residents. Kids can ride for R95, no matter where they're from.
2) Shopping at the Victoria Wharf Mall
The Victoria Wharf is a huge shopping mall where you can find a huge range of international stores. You can find pretty much anything here, from H&M to Chanel and everything in between.
There are also some nice restaurants in Victoria Wharf. Tasha's is a popular local chain that's a great lunch stop, and Willoughby & Co is a seriously popular sushi spot. I've never been, but it's always really busy. And I mean always. I've seen queues here at 3 pm on weekday afternoons.
Given that it doesn't look like much and a lot of the seating is right in the middle of the mall corridor, I can only take this to mean that the sushi is really something special.
3) Go gin tasting
Gin tasting is always fun! There are a couple of nice spots to go try some local gins at the waterfront.
One is the Gin Emporium, where you can do a gin tasting for about R60. You get to try four different varieties of Cape Town Gin, and you can also purchase a bottle for R250. If you buy a bottle, your tasting fee will often be waived. It's best to book online before you go, otherwise you won't get a guided tasting.
I've also been gin tasting at Pienaar & Son, which costs R80 per person. I think I preferred the Cape Town gin, but the tasting experience itself was excellent at Pienaar.
We got to taste 5 different spirits and the tasting room was really cool, with lots of decorative alcohol plant machinery. The staff were super friendly and really knew their spirits.
I especially liked the concept of their "Ugly Gin" which is a great gin that's super affordable at R200 per bottle. That's not because it's bad, but because there's no fancy branding or marketing involved. Again, we booked online!
4) Spot Seals
One of my favourite things about the V&A Waterfront is that you can see the resident seals swimming around the harbour! On pretty much any given day, you can catch them sunning themselves on the pontoon right outside the Aquarium Bootleggers.
5) Go SUPping
Stand up paddleboarding (aka SUPping) is a really fun way to explore the waterfront. Start at SUP Cape Town in Battery Park, where you can rent boards for an hour. After a quick briefing, you can paddle the 3-kilometre loop through the waterfront canals. You'll go past luxury hotels and swanky apartments, and probably spot the mischievous otter who may or may not try to climb on your board.
The loop takes about an hour to complete. Board rentals cost R250 per hour, so that works out nicely.
When we went, the staff were super friendly and patient with us, even though we were all novices. This experience is a ton of fun, but you do need to go on a day that's not super windy. It's best to go in the morning as the wind tends to pick up during the afternoon.
6) Grab Cocktails at Cause & Effect
Cause & Effect is definitely one of the best bars in Cape Town and it's known for its novelty concoctions. It's really more about the production value than the drink itself here!
Some of the best cocktails on the menu include the Table Mountain cocktail, which comes in a glass shaped like the famous peak, with a Cape Fynbos flower on top for that extra touch of authenticity.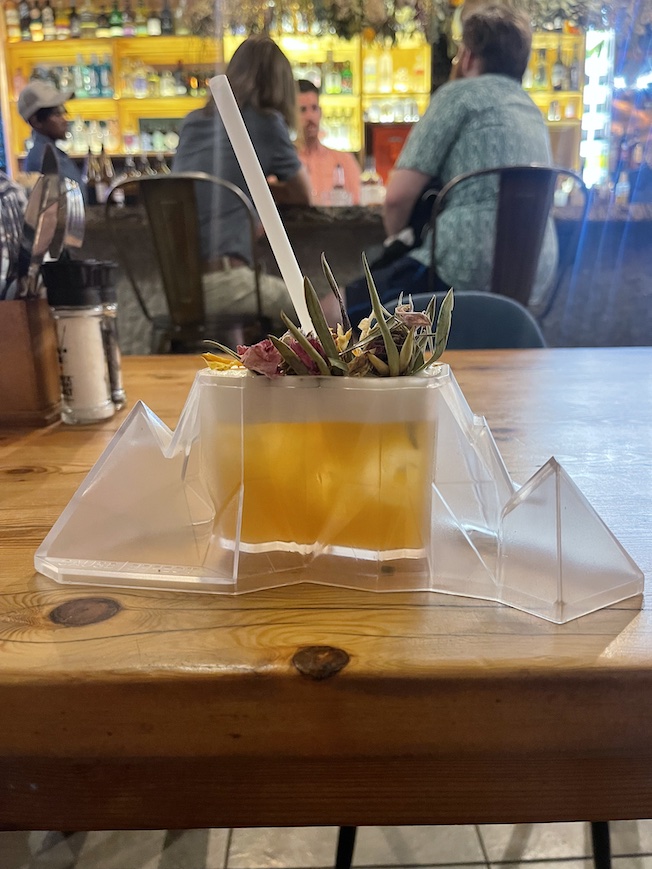 Meanwhile, the Rock to Fakie (which I'm given to understand is some sort of skateboard trick) actually comes with a mini ramp and a toy skateboard, so you can indulge your inner child while you drink.
I could keep going, but you get the point. Pretty much every cocktail on the menu at Cause & Effect is an elaborate affair.
You'll find Cause & Effect near the harbour, next to the big Scottish and Irish taverns. It's open from until 1 pm every night, and they do bottomless mimosas from 10 am until 11:30 am daily.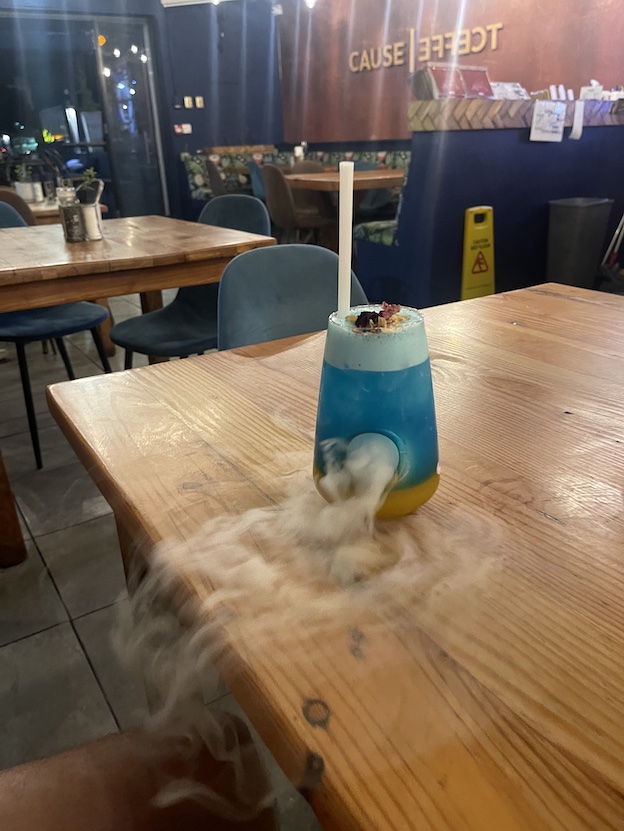 7) Visit the Oranjezicht Market
Often referred to simply as "the market", going to the Oranjezicht Market is probably one of the most popular things to do at the Waterfront for both tourists and locals alike.
It's located in the Granger Bay district of the Waterfront, and it's perched right on the water's edge. You'll find a ton of tasty food stalls from local restaurants here, but the star of the show is Vadas Bakery and their pastéis de nata – it's famous around here.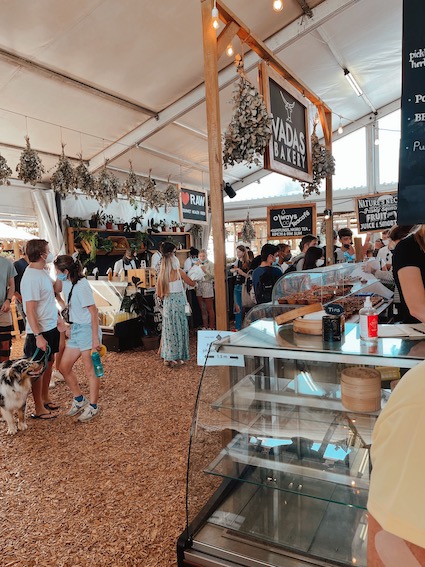 There are also lots of artisan goods on offer, from locally made gins and jams to fresh produce, clothing, and leather goods. And, best of all, there's a bar that serves cocktails, wine, and MCC.
The market is open from 8:15 am until 2 pm on Saturday and 9 am until 2 pm on Sunday, but lots of stalls sell out of food by the end so if you're hungry I recommend getting there before midday.
There's also a Wednesday night market from 5 pm until 9 pm during the summer months. It's usually just a food market on Wednesdays, though – you need to come on a weekend to catch the other vendors.
8) Watch street performers
There are usually quite a few buskers around the waterfront, especially around the harbour. It's fun to walk around and soak in the atmosphere as you watch performers sing, dance, and perform tricks. You'll find performers from all over the world showcasing their talent here, and it creates a really fun, vibrant atmosphere that you can't help but enjoy.
9) Go Wine Tasting Inside a Historic Tunnel
The Cellar Club Tunnel was once a tunnel that was used to move stone during the construction of the waterfront in the 1860s. It was sealed for many years and has now been converted into a wine cellar where you can enjoy some fine South Africa wine.
It's a pretty unique place to drink, and I definitely recommend coming here for a tasting, which is R69 for 3 wines (and the waiters are pretty heavy handed with their pours). Or you can just order wine by the glass if you prefer. The selection changes regularly, so there's always something new to sample.
10) Visit the Two Oceans Aquarium
The Two Oceans Aquarium is home to over 8,000 different types of marine creatures, and there are lots of display galleries designed to educate visitors of all ages (although of course, kids particularly love aquariums). The Jelly Hall is especially amazing!
The aquarium is open every day of the year from 9:30 am until 6 pm, or from 9 am on Saturday and Sunday. Tickets cost R235 for adults, R175 for 14-17 year olds and students, or R110 for kids aged 3-13.
11) Visit the Zeitz MOCAA
The Zeitz Museum of Contemporary Art Africa (aka the Zeitz Mocaa) is a true cultural gem. It's housed inside an old grain silo complex, only now it stores masterpieces instead.
It's a truly huge museum – in fact, it's the largest of its kind in the whole of Africa. You'll find art here that spans a whole range of mediums, from painting and sculpture to insane video installations. The art here is all about celebrating the diversity of contemporary African art because, spoiler alert, Africa is NOT a country.
The Zeitz MOCAA has played a big role in putting African art and culture on the global map, so I definitely recommend going to check it out while you explore the Waterfront. It's open from 10 am until 6 pm every day except Sunday, and if you're an African citizen you can visit for free until 1 pm on Fridays. Otherwise, it costs R230 per adult, or nothing for under 18s!
12) Do a Sunset Cruise
A sunset cruise is a beautiful way to end a day in Cape Town, and they depart right here at the V&A Waterfront! You can opt for a corny, pirate-themed boat (which is a ton of fun, don't get me wrong) or go for a more luxurious and romantic champagne cruise. The choice is yours! 
Prices for these dreamy voyages generally start at around R500 (£21.50) per person, and to kick off your high-seas adventure, they'll usually toss in a complimentary glass of bubbly when you step aboard.
And if one glass isn't enough to quench your thirst (I mean, who has just one glass of champers?!) there's usually a well-stocked bar onboard where you can treat yourself to a few more drinks.
Obviously, the departure time changes throughout the year as the days get longer and shorter, but the cruises usually last for about 90 minutes. This cruise is well-rated and reasonably priced at R510 per person, or if you're on a budget you can save money by going before sunset for R290 (£12.30/$15.70) per person.
13) Watershed Market
The Watershed Market is a covered market where you'll find crafts, fashion, and jewellery from talented local designers. It's all about supporting small scale local businesses and independent artists, and there's always a good atmosphere around here. Plus, it's a fantastic place to pick up thoughtful gifts or simply discover your new favourite artist.
14) Playdate Superpark
If you're a parent and want to take your kids somewhere they'll really love, head to Playdate Superpark. It's like an extreme adventure park, but it's adapted and made super safe for kids.
There's a highline course, a 3D maze, and a zipline, so if you want to tire your kids out, this is the place to do it.
It costs R95 for one hour, R140 for 90 minutes, R170 for 2 hours, or R220 for an all day pass.
Adults need to accompany super young kids, but they pay just R30 per hour. Meanwhile, the first hour is free for kids under 1, or costs just R35 for under 2s.
If your kids are older than 5, there's also a Drop & Go system, so you can leave them to run riot while you go and check out some of the other fabulous things to do at the Waterfront.
Playdate Superpark is open from 10 am until 5 pm daily.
FAQs about the Waterfront
Is there parking at the V&A Waterfront?
Yes, there are over a dozen different paid parking lots in the area. Parking usually costs around R15 an hour although the hourly rate can vary slightly depending on how long you're there for. I usually park in Victoria Wharf or the Granger Bay lot if I'm heading to the market, but they're all within walking distance of one another.
Can you walk to the V&A Waterfront?
Yes, you can easily walk to the Waterfront from Green Point, Sea Point, or De Waterkant. It's perfectly safe to do this during the day, but I recommend taking an Uber after dark.