Last Updated on July 15, 2023 by thecapetownblog
Cape Town may be famous for its fabulous wine, but the Mother City is also home to some excellent gin. 
The Cape Floral Kingdom is home to lots of interesting botanicals that make their way into much of Cape Town's best gin, including fynbos and rooibos (which is pronounced roy-boss, just FYI).
There are some excellent places to go gin tasting in Cape Town and you tend to get quite a lot of bang for your buck with tastings here. South Africans aren't stingy pourers, that's for sure!
As you read through this list, you might notice that quite a few of the tastings are in Woodstock, which is definitely one of the very hipster neighbourhoods. You could make a day of it by getting breakfast at one of the neighbourhood cafes, doing a street art tour, and then doing a few tastings… but that's just an idea, of course!
Okay, with the preamble out of the way, let's dive into the 8 best places to go gin tasting in Cape Town.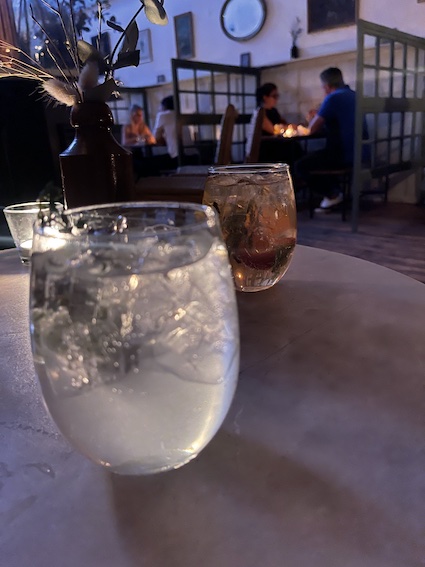 This post may contain affiliate links. When you make purchases through these links, I earn a small commission at no extra cost to you, which helps to keep this blog up and running. Thank you so much!
1) The Gin Emporium
The Gin Emporium is my favourite place to go gin tasting in Cape Town!
It's the tasting room for The Cape Town Gin Company, which is an excellent (and affordable) gin brand with four signature varieties: classic dry gin, Pink Lady gin, Rooibos gin, and Black Rhino fynbos gin.
You get to try all four of these gins when you do a tasting, and you get a pretty generous amount of each. The tasting glasses and garnishes are nicely presented in front of you, and of course you get tonic to go with your spirits.
Tastings here cost just R60 per person, and if you want to do a guided tasting it's best to book online. You need to book at least two days in advance. You can turn up ad-hoc, but then you'll only get a self-guided tasting which isn't as good.
The guided tastings here are fantastic as you get to learn all about the distilling process and the inspiration behind these gins. If you buy a bottle of gin, your tasting fee will often be waived, so that's worth taking into account.
The guided sessions last for about half an hour but there's no rush to leave afterwards. You can always stick around and order some gin-based cocktails!
Address: West Quay Road, V&A Waterfront (next to the Bascule Bridge)
Tastings from: 11 am – 6 pm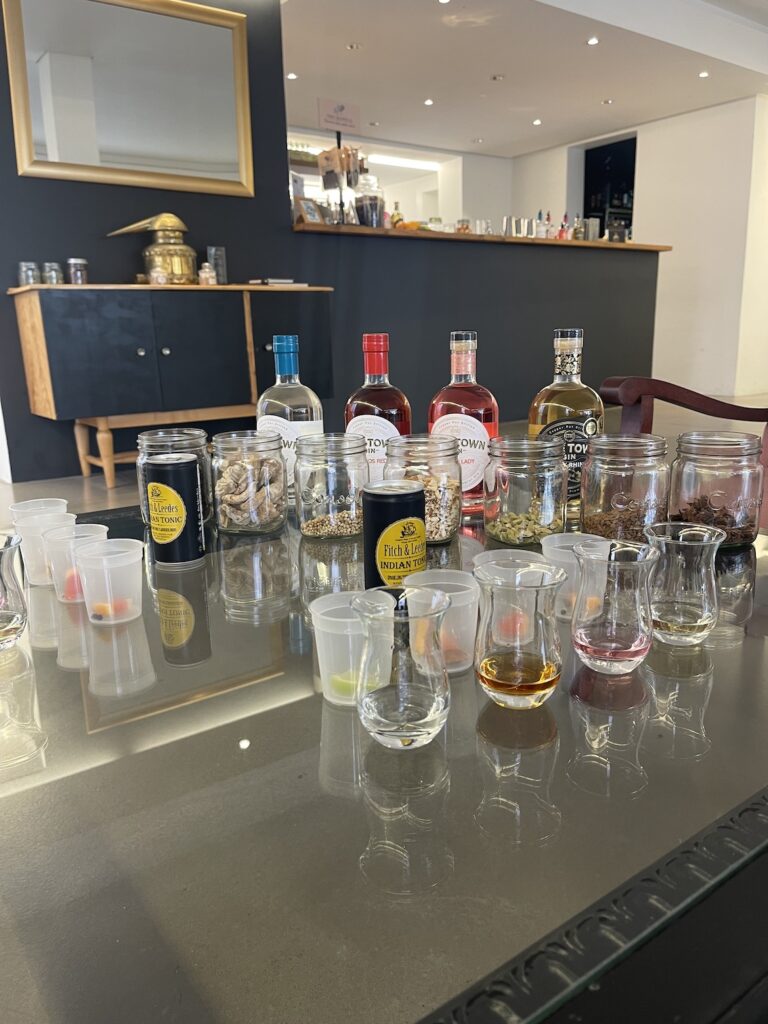 2) Pienaar & Son
Pienaar & Son are also located in the Waterfront, inside Makers' Landing indoor market. It's roughly a 10-minute walk from the Gin Emporium, so you could do both in an afternoon. This is actually a nice way to spend a rainy day in Cape Town!
I like the tasting room here as it feels very industrial chic, and the staff were really friendly and clearly passionate about alcohol (so we had that in common…)
We got 5 different spirits, including a vodka and a whiskey, so I felt pretty tipsy by the time we left, especially as we had done a tasting at the Gin Emporium beforehand!
I think that the Cape Town Gin Company's gin tastes nicer but Pienaar & Son have got some great concept gins. I like the fact that they make a "Dad Gin".
Tastings here are only available from Friday to Sunday, and it's best to book in advance via their website. The sessions cost R80 per person, which I think is amazing value for money given how much alcohol you get! This is definitely one of the best things to do at the Waterfront.
Address: G12, Makers Landing, Cruise Terminal, V&A Waterfront
Tastings from: 11 am – 7 pm, Friday – Sunday
3) Hope Distillery
Hope Distillery (also sometimes known as Hope on Hopkins) is in the uber-edgy Salt River area. Woodstock is seen as Cape Town's hipster neighbourhood, but Salt River is starting to come for its crown. Woodstock is being gentrified and is slowly losing its appeal to the true hipsters, while Salt River still feels pretty raw.
(I say this like I am some sort of hipster. I assure you, I'm about the furthest thing from that that you can get. I think even saying the word hipster automatically disqualifies you from being one?)
Anyway, craft breweries and cool distilleries are popping up all over Salt River. It was once an industrial hub, so it's the perfect place for these types of establishments to take hold, and Hope on Hopkins was actually the first (legal) small batch distillery to open in Cape Town.
They have lots of different gins, from Pink Pepper (my favourite) to the creatively named Navy Strength Gin.
Tastings here are available on Wednesday, Thursday, and Friday afternoons until 5 pm, and you don't need to book. You can just rock up and the staff will take good care of you!
Address: 7 Hopkins Street, Salt River
Tastings from: 12 pm – 5 pm, Wednesday – Friday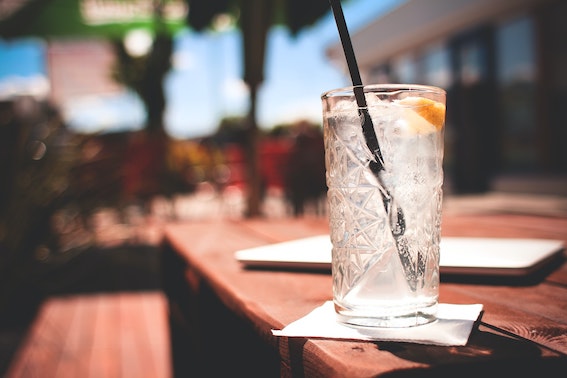 4) Woodstock Gin Co
The Woodstock Gin Co is a stylish distillery that mixes elegance with edge. You can sample their three signature varieties when you go gin tasting here and as usual, if you buy a bottle, your tasting fee is waived.
Tasting costs R125 per person and includes some nibbles, which is a nice touch. There's no need to book unless you're in a big group, unless you're in a big group, in which case you can do it online – I love it when companies don't make you pick up the phone!
Address: 399 Albert Road, Woodstock
Tastings from: 11 pm – 5 pm, Tuesday – Saturday
5) The Gin Lab at the 12 Apostles Hotel
Not only is the 12 Apostles Hotel one of the best sunset spots in Cape Town, it's also one of the best places to go gin tasting!
With their Foraging in Fynbos experience, you not only get to taste gin, but you also get to create your own bottle with the help of an expert mixologist. If you're looking for a luxurious gin tasting in Cape Town, then this is the perfect choice.
The experience requires a minimum of 4 guests and costs R725 per person. It's available at 4 pm daily, and you need to book it at least 24 hours in advance. You can do this at the hotel if you're a guest, or via their website.
Then, afterwards you can sit out on the terrace with a cocktail and enjoy an epic sunset!
Address: 12 Apostles Hotel, Victoria Road, Camps Bay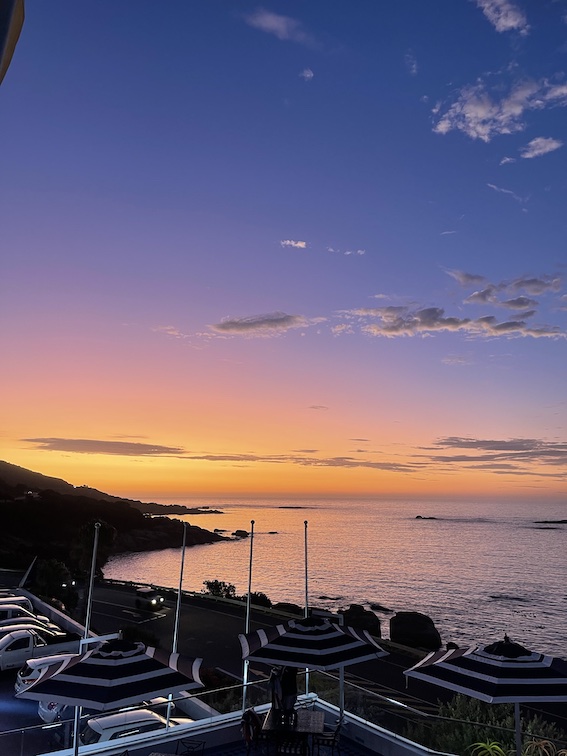 6) Hout Bay Harbour Distillery
Hout Bay Harbour Distillery is a family-run Distillery that boasts a multitude of awards. Plus, it's in a gorgeous part of the city so you could couple a tasting here with a drive along Chapman's Peak scenic road or a trip to Hout Bay Beach.
But I digress. The Distillery itself offers hour-long tasting sessions for R100, and you get a signature G&T at the end, which is a nice touch. You also get a distillery tour so you get to see the plant machinery in action rather than just hearing about how the gin is made.
You can book tastings on Friday, Saturday, or Sunday online, or if you want to go on a Wednesday or Thursday you can give them a call.
Address: 31 Harbour Road, Hout Bay
Tastings from: 12 – 4 pm, Friday – Sunday
7) Distillers Union
Another of Woodstock's finest, Distillers Union might just offer the most fun gin tasting in Cape Town! They also own the Dragon Brewing Co, which makes delicious alcoholic ginger beer – I highly recommend trying some while you're in Cape Town.
What I like about this distillery is that you can do a tasting (replete with a snack plate) for R130 per person, but you can also make your own gin for R595 each. OR you can go the whole hog and do an entire gin course for R750, which I think is such a fun idea for a birthday or hen/stag party.
These tastings are popular and tend to book out, so make sure to book online a few days beforehand.
Address: 165 Victoria Road, Woodstock
Tastings from: 11 am – 4 pm (or 3 pm on Sunday)
8) Deep South Distillery
The Deep South Distillery is so-called because it's way down the Cape Peninsula in Kommetjie (pronounced core-mickey). It is a bit out of town, but it's worth the trip for gin enthusiasts because this place has quite the reputation!
Deep South specialises in small-batch, hand-crafted spirits and have won tons of awards from people who presumably know what they're talking about. If you like pink gin, you'll LOVE their ruby gin. They also have a chilli vodka, if you're brave enough…
Tastings here include a mini tour of the Distillery, although more in-depth ones are available. Then, you get to try 3 gins and learn how to balance them properly in the perfect gin cocktail. The staff are super friendly and clearly love what they do, so this tasting will make any gin lover smile.
It costs R150 per person so it's one of the pricier ones on this list, but it's the most in-depth and so I think it's worth it. They do state on the website that they prefer people to book online.
The drive from the centre of Cape Town to Kommetjie can take anywhere between 40-75 minutes depending on traffic. It's best to leave in the late morning or early afternoon when there's less traffic around.
And of course, you can combine your drive to Kommetjie with plenty of other fun activities on the southern Cape Peninsula, like visiting the penguins at Boulders Beach!
If you enjoyed this blog post, check out these articles: