Last Updated on November 21, 2023 by thecapetownblog
The leafy green suburb of Constantia is one of the best places to go wine tasting Cape Town, and better yet, there's even a hop-on, hop-off wine bus that you can take to explore some of the prettiest wine farms around. 
If you're staying in central Cape Town, then it's super easy to get to Constantia and back in a day, and the bus means that you don't need to worry about appointing a designated driver. This is a great tourist activity, but it's also just a really fun day out if you live in the city.
Constantia is known for its cool climate wines and its even home to South Africa's oldest winery, which you can visit on the wine bus. You just can't help but be wowed by the beautiful buildings, rolling hills, and gorgeous vineyards. 
Plus, it's a year round activity, so you can enjoy this no matter when you happen to be in Cape Town. 
The wine bus route keeps on changing. It used to include Eagles' Nest, but they have closed their tasting room, so this summer, Silvermist has been added to the route instead. Rest assured, I will keep this post updated as the wine bus route changes!
This post may contain affiliate links. When you make purchases through these links, I earn a small commission at no extra cost to you, which helps to keep this blog up and running. Thank you so much!
Where is Constantia?
Constantia is a wealthy suburb of Cape Town that's about 15 kilometres away from the city centre.
It's very leafy and green, and many affluent families live out here because it's a lot more peaceful than the heart of the city, but still close enough to all of the fun stuff.
To be honest, as a single childfree woman, I've only ever gone to Constantia to drink wine. It's what draws most tourists over this side of the mountain.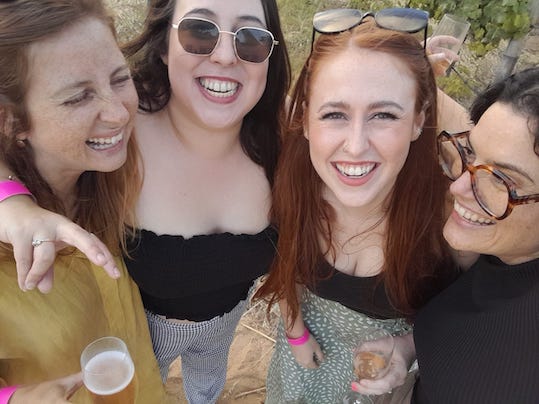 Who operates the wine bus?
The wine bus is run by Cape Town City Sightseeing, who operate hop-on hop-off tours all around the city. 
You've probably seen the same kind of red buses in lots of other cities before. You get some commentary along the way and there will be a QR code on your ticket that will allow you to see live bus times. 
What kind of ticket do I need to buy?
City Sightseeing runs a ton of different tours in Cape Town, so it's important to make sure you buy the right ticket. To get the Constantia wine bus, you can buy a classic single day ticket.
This ticket grants you access to three different routes: red, blue, and purple. The ticket is the same price regardless of the route you take. 
Confusingly, all of the buses are actually red in colour, but the neon sign at the front of the bus will tell you which route each vehicle is following – and if in doubt, you can always ask your driver. 
For the Constantia wine valley bus, you will use the blue and purple routes.
You'll need to take the blue route and stay on until you get to Constantia Nek. You can walk to some wine farms from there but for one of them, you'll need to take the purple route bus.
Click here to buy your ticket!
Where do you get the wine bus from?
You can get on the blue route wine bus to Constantia from a few different stops around the city, and they leave every 20 minutes.
The route starts at the City Sightseeing office at the V&A Waterfront, which is right in front of the Aquarium. There's also a Bootleggers' coffee inside the Aquarium where we usually grab breakfast or coffee before heading out on the bus.
You can also catch the bus from outside Hotel Sky at the foreshore, the City Sightseeing office on Long Street, or the famous pink Mount Nelson hotel in Gardens.
What time does the wine bus leave?
The first bus leaves from out the front of the Aquarium at 9 am each day. It's the first stop on the blue bus route. You change to the purple bus when you arrive in Constantia itself.
They depart every 20 minutes until 5:15 pm, but this is way too late if you want to visit the wine farms.
I recommend trying to catch the first bus of the day if you want to go to a few different wineries. It's nice to spend an hour or so at each one and not have to rush, and you can get lunch at one of the wine farms.
The first time that I did the Constantia wine bus, we didn't leave until 10 am and actually missed the last bus back.
On that note, the last wine bus back to the city leaves from Constantia Nek at 5:25 pm, so you'll have to leave the wine farms just before that. It's best to finish the day at Beau Constantia. The bus can pick you up right outside this wine farm, or it's just a minute's walk from Constantia Nek.
Plus, it's the prettiest wine farm in Constantia, so it's nice to save the best views for last.
I should also add that the Constantia wine valley bus offers extended hours from 16 December – 8 January, which is the busiest time of year in Cape Town. The first bus leaves from the Aquarium at 8 am, so that you can get started earlier!
How long does it take to get to Constantia?
If you leave from the Aquarium, it will take you about 50 minutes to get to Constantia Nek. You can get off here and head straight to a wine farm, or change to the purple bus and travel for another 10 minutes.
Basically, you'll be sipping wine 60-75 minutes after you leave central Cape Town!
Which wine farms does the bus take you to?
The wine bus stops at three wine farms:
Groot Constantia
Beau Constantia
Silvermist
You can reach both Beau Constantia and Silvermist on foot from the Constantia Nek bus stop. However, to get to and from Groot Constantia, you'll need to change to the single decker "purple route" bus. It takes about 10 minutes each way.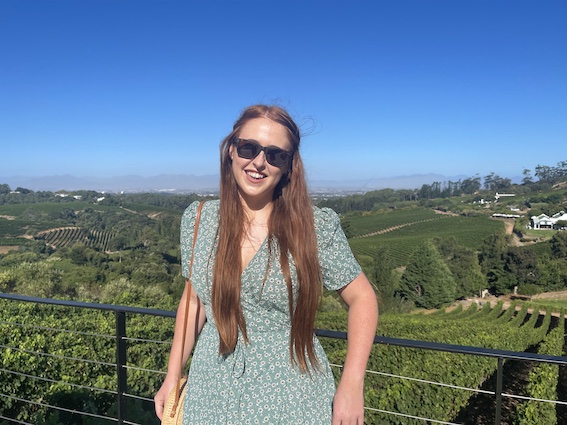 Groot Constantia
Groot Constantia is the oldest winery in South Africa. It's housed in a beautiful colonial building, and I really like the wines here.
It was founded by Simon van der Stel, the Governor of the Dutch Cape Colony, who is considered to be one of the founding fathers of South African wine – in fact, he even has two towns and a mountain named after him!
A tasting at Groot Constantia costs R130 (£5.60/$7) and you get to keep your wine glass afterwards. You get to try five different wines rather than following a set tasting menu, which is quite unusual, and there's a pretty big selection to choose from. I really like this because you can tailor the tasting to your preferences. 
Silvermist
Silvermist is the only certified organic wine farm in Constantia. It's only open during the summer for tastings, so take advantage!
As well as offering wine tastings, during the summer months, Silvermist also hosts the Drumstruck show at 11 am from Wednesday to Sunday. This is an awesome African drumming show and you can enjoy it alongside a wine tasting for R450 per person, or R350 if you're South African.
The Drumstruck show lasts for 2 hours, ending at 1 pm, so it's possible to enjoy the show and still have time to visit Groot Constantia and Beau Constantia. However, you won't have a ton of time to dawdle, so you can also just skip Groot Constantia and enjoy more time enjoying the views at Beau Constantia.
Also bear in mind that Silvermist is closed on Mondays and Tuesdays!
Beau Constantia
Beau Constantia will wow you with its insane views of Constantia's rolling hills and lush vineyards. In fact, there's even a "loo with a view" that has mirrored glass, so you can enjoy the amazing scenery as you relieve yourself.
There are a couple of different tasting options available here, and it ranges between R130 – R160, depending on how fancy you decide to go. This place is super beautiful and very popular, so it's best to book in advance.
Normally, I would recommend booking Beau Constantia for around 3 pm if you want to visit all three wine farms. However, if you're going to book the Drumstruck show and skip Groot Constantia, book your tasting for 1:30 pm.
In which order should I visit the wine farms?
I recommend getting off at Constantia Nek first to visit Silvermist.
Then, after your tasting at Silvermist, walk back to the Constantia Nek bus and take the purple route bus to Groot Constantia.
Afterwards, catch the purple route bus back from Groot Constantia to Beau Constantia for your final tasting of the day.
Or, if you're watching the Drumstruck show and are worried about timing, skip Groot Constantia and go straight from Silvermist to Beau. It's a 5-10 minute walk (depending on how hard that wine is hitting you!)
Then, when you're ready to head back to the city, the bus can pick you up from right outside Beau Constantia. The last one of the day leaves at 5:23 pm. It's best to book your Beau Constantia tasting. If you plan on catching the bus to Constantia around 9 am – 10 am, I recommend booking Beau Constantia for around 3 pm.
You can also track the live bus times online, which makes everything really easy.
Do you need to go to all of the wine farms?
Nope, if you'd rather not consume too much wine or want to do something else with your day besides drinking, you can choose to just visit one or two of the wineries.
It's totally up to you – that's what I like about hop-on hop-off tours. But we usually do them all because, well, when in Constantia…
Do I need to book the wine bus in advance?
You don't usually need to book your bus tickets far in advance, but I would recommend doing so if you're going in late December or early January, which is when Cape Town gets insanely busy because everyone is on holiday. You can either buy tickets in person outside the Aquarium or book them online here.
If you buy them online, you can redeem them at either:
You do need to book the Drumstruck show in advance as it's popular. However, if you only want to do a tasting at Silvermist, then there's no need to book.
It's also wise to make a reservation at Beau Constantia at any time of year, especially if you're going on a weekend, because that place is super popular. You can book via their website.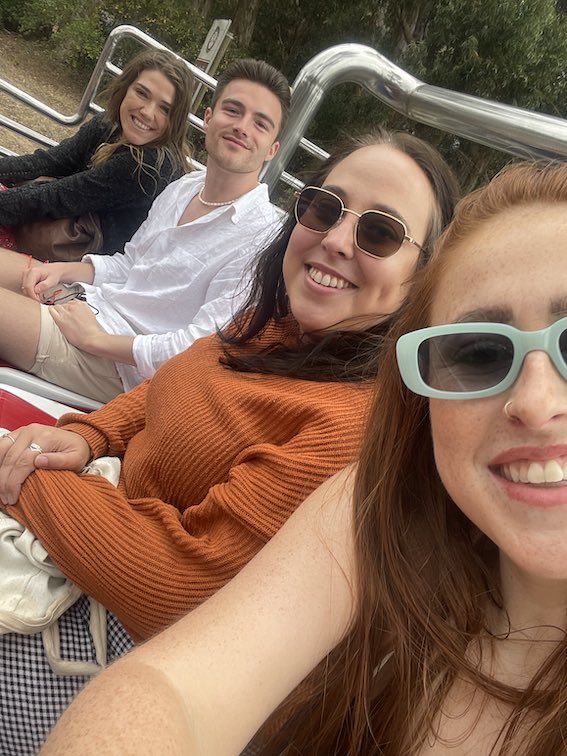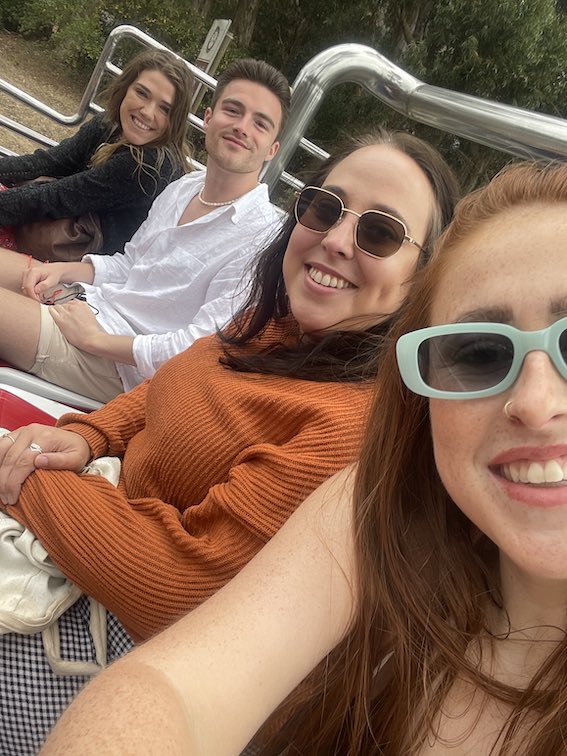 How much does the wine bus cost in total?
A bus ticket costs 295 rand (£11/$14) per person, which I think is pretty good for transport all the way to Constantia and back. Your tastings aren't included in your ticket and you will need to pay for these once you arrive at the wine farm. Prices are as follows:
Groot Constantia: R130  for 5 wines
Silvermist: R150, or R450 for the Drumstruck show
Beau Constantia: R130 – R160 for 3-4 wines
So in total, we're looking at between R705 – R1,035.
You will also probably want to buy lunch somewhere along the way.  You can get cheese and charcuterie boards at all of the wine warms, so no worries there. You also might want to buy an extra glass of wine or two, or go home with a case. 
Personally, I actually enjoy riding the Constantia wine bus more than the Franschhoek wine tram (you often end up on a bus for ages in Franschhoek anyway). 
I think the wines in Constantia are nicer, and it tends to be a bit cooler in summer than Franschhoek, which gets uncomfortably warm. But obviously do both if you can! 
Click here to book your tickets now!
If you enjoyed this post, you might also like…