Last Updated on July 25, 2023 by thecapetownblog
Ah, the humble burger.
(Or in some cases, the not-so-humble burger.)
It's the ultimate satisfying treat when you're dining out, and rest assured that there are plenty of fantastic burgers to be found in the city of Cape Town.
Whether you're a burger purist or prefer a more gourmet burger, there are plenty of great places to choose from in Cape Town. You're never far away from a good burger around here!
So without further ado, let's dive into the best burgers in Cape Town. Bon appetit.
1. The Aegir Project
Located in Noordhoek, The Aegir Project is admittedly a little bit out of the way but the journey to get there is something special. You can drive to Noordhoek via Chapman's Peak scenic road, which is an insanely beautiful drive.
This post may contain affiliate links. When you make purchases through these links, I earn a small commission at no extra cost to you, which helps to keep this blog up and running. Thank you so much!
Once you arrive, The Aegir Project is a spacious and lively taproom, and it's great for families and groups of friends. I definitely recommend getting a tasting flight to try some of their best beers, but don't worry, I haven't forgotten that this blog post is supposed to be about burgers!
Because not only is the Aegir Project a great place to hang out at the end of a stunning drive, it also offers what I personally think are the best burgers in Cape Town. They've got juicy patties and brioche buns, but what really sets the burger apart here is the amazing secret sauce.
The last time I was here I actually asked if I could buy a bottle of the sauce, but alas they don't sell it (yet!)
Address: 65 Beach Road, Noordhoek
Open times: 9 am – 10 pm
Order: the smash burger
Price range: R140 – R175 for a burger with chips
2. Clarke's Bar and Dining Room
Clarke's Bar and Dining Room is a very cool, young place to hang out. (Writing that makes me feel about a million years old, but I digress…)
It's located on Bree Street, which is one of Cape Town's liveliest streets in terms of nightlife, so it's a fun place to go for food or drinks. And with its minimalistic, white tiled interior and bench tables, there's something refreshingly take-it-or-leave-it about this place.
The burgers at Clarke's are absolutely delicious, and don't bank on having room for dessert after ordering one of these. Everything at Clarkes is made fresh and the signature burger has a grass-fed beef patty.
As well as the beef burger (which is topped with Klein River Havarti cheese), they've got a buttermilk chicken burger and a veggie burger on offer. I actually think the veggie burger sounds pretty good – it's a zucchini and beet burger with smoked mozzarella. I haven't tried it but I might have to order that next time I go.
They also have 2 for 1 on a Tuesday, so bear that in mind!
Address: 133 Bree Street, Cape Town City Centre
Open times: 7 am – 4 pm on Monday, 7 am – 10 pm Tuesday to Friday, 8 am – 10 pm Saturday, 8 am – 3 pm Sunday
Order: the Greenfields grass fed beef burger
Price range: R92 – R168 for a standalone burger; chips cost R21 extra
3. Hudsons
Hudsons is a good old-fashioned burger joint. If you're looking to indulge with a classic American style burger, I'd recommend heading here.
For me, I think the best thing on the menu has to be the Wagyu Burger, which is topped with cheese, garlic mayo, caramelised onions, and Jameson's BBQ sauce.
The burgers at Hudsons are also pretty well-priced, and they've got four locations in the city: Green Point, Gardens, Claremont, and Muizenberg. The one in Green Point is situated along Main Road and always seems to be full of groups of friends eating and drinking, while the one in Gardens is temporarily closed while they relocate further along Kloof Street.
You'll also find five vegan burgers on the menu, which is a pretty generous selection, generally speaking.
Address: 1A, Portside mall, Main Rd, Green Point
Open times: 12 pm – 11:30 pm
Order: the Wagyu
Price range: R80 – R165 for a burger and chips; some have the option to double up the patty for R45
4. Judd's Local
Tucked away on Kloof Street, Judd's Local is a small, casual spot that serves what they call "elevated comfort food." Or as I like to call it, burgers.
There are a lot of tempting treats on the menu, but I think the burgers here are some of the best burgers in Cape Town, so I recommend making a beeline for that section. Their brioche buns are almost more like pancakes, and I love that the signature burger has Guinness glaze and Guinness mayo.
Judd's is perhaps not the best place for purists who are on a quest for the best burger in Cape Town, but if you like to shake things up a bit, you'll love this place. Plus, it's right next door to the Dark Horse, which is one of my favourite bars in Cape Town.
Address: 141 Kloof Street, Gardens
Open times: 4 – 11:30 pm on Monday, 10 am – 11:30 pm from Tuesday to Saturday
Order: Judd's Local Burger or the sriracha chilli burger
Price range: R150 – R170 for a burger and chips or salad (but come on, no-one chooses salad)
5. Only Fools
Only Fools is similar to Clarke's in that it's young, casual, and fun. I mean, does it get much better than a bathroom plastered with Britney Spears' face?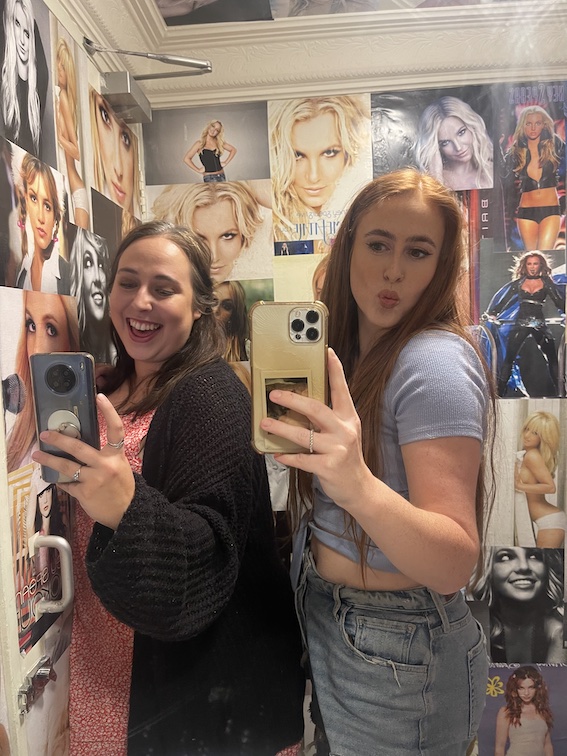 But we're talking about burgers, not bathrooms, here.
In keeping with its laid back and unpretentious vibe, Only Fools gives you two choices: a beef burger, a chicken burger, or a vegan burger. The buns are also potato buns, which mean that they're even softer and more moist, and slightly sweeter, too.
The beef burger is topped with truffle mayo, aged cheddar, and pickles, so it's a winner in my eyes. Meanwhile, the chicken burger is topped with feta, tomato relish, pickles, and lettuce. If you want a vegan burger, then you can choose the plant-based version of either one.
Address: 82 Regent Road, Sea Point
Open times: 12 pm – 12 am (closes at 10 pm on Sunday)
Order: the beef burger
Price range: R85 per burger, R50 for fries
6. Burger & Lobster
Right in the centre of town in Heritage Square, Burger & Lobster is probably just as well known for its lively atmosphere as it is for its juicy burgers. It's definitely a fun place to go for burgers with friends and then hit the town afterwards.
Personally, I'm not a huge fan of seafood (including lobster), but they do have lobster burgers if that's your thing!
The chef's specials change regularly, but I went for the house B&L burger, which was topped with maple bacon and cheese. It was insanely good! The meat was perfectly cooked and I'm actually getting hungry remembering it…
The burgers here are huge and they even have a "burger cocktail" menu so that you can find the perfect accompaniment to your burger of choice. Personally, I think that the Bacon and Maple Old Fashioned sounds pretty good.
Address: 105 Bree Street, Cape Town City Centre
Open times: 12 – 10:30 pm
Order: the B&L burger
Price range: around R200 per burger, including fries or salad
7. Café Caprice
Ah, Café Caprice. This bar-slash-restaurant is where young, image-conscious Capetonians go to see and be seen on a Sunday night, but as it turns out they also offer some pretty good burgers.
Plus, if you go on a Tuesday they run a 2-for-1 special, so if you go with a friend you could get a burger and chips for as little as R70 each.
I had the Royal Burger, which is a beef burger with barbecue sauce, bacon, cheese, and chilli oil, and it was really good, but the Mother Clucker burger with sriracha mayo is also nice. To be honest, all of the options here are pretty good; they're just yummy, unpretentious classics.
Address: 37 Victoria Road, Camps Bay
Open times: 12 pm – 12 am on Monday, 9 am – 12 am from Tuesday to Thursday, 9 am – 1 am from Friday to Sunday
Order: the Royal Burger
Price range: R125 – R155 including chips, but don't forget the 2-for-1 Tuesday special!
If you enjoyed this post, you might also like: