Last Updated on December 7, 2023 by thecapetownblog
Cape Town has an incredible restaurant scene, and you don't have to spend an arm and a leg to have a great meal here. But we all love saving money, and during the week some local restaurants have some great specials to encourage patrons through the door. So if you're in the mood to dine out this Tuesday, make sure to check out this list of the top 5 Tuesday specials in Cape Town!
Ok, so I know there are a lot of blog posts out there that list dozens of deals, but I'm going to do things a little differently here because:
I think these super long lists can get overwhelming
They're hard to maintain and most of them are now outdated
In this article, I'm going to list just 5 Tuesday specials, but I'm going to update it regularly so that you can be sure that the offers are still available.
So without further ado, allow me to introduce you to the best Tuesday specials that Cape Town restaurants have to offer in December 2023!
This post may contain affiliate links. When you make purchases through these links, I earn a small commission at no extra cost to you, which helps to keep this blog up and running. Thank you so much!
1) Hussar Grill Date Night Special
The Hussar Grill Date Night special is, without a doubt, my favourite Tuesday special in Cape Town. I will be devastated if they ever discontinue it, but it's so popular that I doubt that will happen any time soon.
The Hussar Grill is a local steakhouse with branches in Camps Bay and Mouille Point. I've been to both and they're pretty much the same, so just go to whichever one is closest to you.
Tuesday night is date night at the Hussar Grill, and you can enjoy a 2-course meal for R425 per couple, or 3 courses for R525 per couple.
Yup, that's right: per couple. So you pay R212.50 each for 2 courses or R262.50 each for 3 courses.
In addition to the food courses, you get a bottle of house red per couple and a mini chocolate vodka martini each. These taste like brownie batter and are absolutely delicious!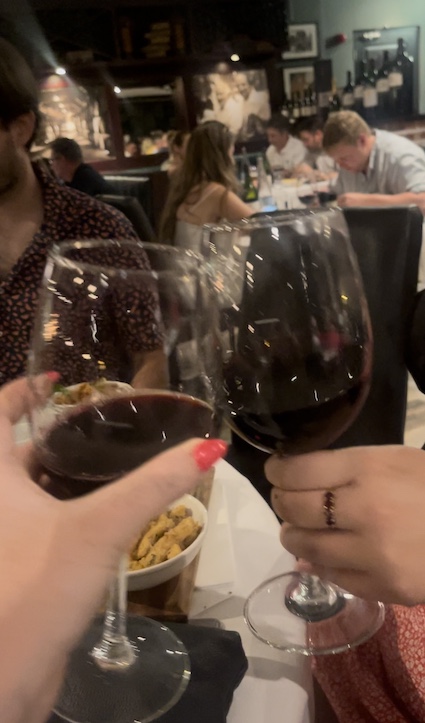 For the 2 course menu, you can choose whether you want a starter or a dessert – and you don't have to make the same choice. So one person per couple can get a starter, and the other can order dessert.
You can check out the full date night menu here, but choices include calamari strips to start, rump or sirloin steak for the main course, and malva pudding for dessert.
I should also add that while Hussar Grill does sell booze, they also allow you to bring your own and don't charge a corkage fee, so you can also bring some wine from home for no extra cost! This applies every day of the week, not just on Tuesdays.
I've done the Hussar Grill date a bunch of times and it's always so much fun. I've never actually been on a date, we usually just get a group of friends together and make sure that we've got an even number. It's a good time and such a great way to enjoy an evening out during the week without spending a ton of money!
Address: 163 Beach Road, New Cumberland Building, Mouille Point OR Shop 2, 108 Camps Bay Drive, Camps Bay
Booking required? Yes – date night is busy! You can book here
2) Furley's 2 for 1 pizza
Furley's Bar and Grill is a fun, family-friendly pub out in Newlands. It's got a great atmosphere, especially when sports games are on, and they offer 2-4-1 pizza every Tuesday.
The Tuesday special is only available on selected pizzas and for sit down only, not takeaway, but honestly: 2 pizzas for R150? You can't go wrong!
They have quite a few other offers throughout the week, so it's worth keeping an eye on their Instagram page to see what's on.
Address: 1 Dean Street, Newlands
Booking required? No
3) Clarkes' 2 4 1 Burgers Tuesdays
I think that Clarkes' has one of the best burgers in Cape Town, and you can get two for the price of one as part of their Tuesday special! Their burgers are so delicious and they use the yummiest brioche bread for their buns, which I think makes a huge difference.
With the Tuesday burger special, you can order two cheeseburgers, veggie burgers, or baby burgers for the price of one. You need to get your timing right though, as this offer is only available from 7 pm – 8 pm. Don't be late! Admittedly, it's not the most generous of the Tuesday specials on this list, but the burgers are so good that it's still 100% worth cashing in on.
Address: 133 Bree Street, Cape Town City Centre
Booking required? No
4) Taproom Cheeseburger and Beer Special
I've previously talked about the Taproom in Salt River as one of the best places to go beer tasting in Cape Town, but it also has a great Tuesday special on cheeseburgers and beer – and I think we can all agree that that's a pretty great combo!
All day on Tuesday, you can get a cheeseburger and a 340 ml glass of Devil's Peak or Hero larger for R95. You could also combine this with their R60 beer tasting tray if you wanted!
Address: 150 Cecil Road, Salt River
Booking required? No
5) Cafe Caprice Burgers
Cafe Caprice is known as the place to be on a Sunday in Cape Town, but not that many people seem to know about their Tuesday burger special!
Located along the Camps Bay strip, Cafe Caprice is a restaurant-slash-bar that's right opposite the gorgeous Camps Bay beach. They offer amazing cocktails – especially the Granadilla Lolly – and the place is pink and tropical themed.
But down to business: the burger special applies to any of their delicious burgers (which come with fries). You pay for the more expensive one and then the cheaper one is free. I always go for the Royal Burger, which comes with BBQ sauce, bacon, cheese, and chilli oil. It's huge and so delicious!
You can check out the burger options on the menu here.
Address: 37 Victoria Road, Camps Bay
Booking required? No
For more on dining out in Cape Town, check out: