Last Updated on September 20, 2023 by thecapetownblog
Cape Town can be a super romantic city.
With its stunning scenery and myriad of fun things to do, I'd argue that it's got even more romantic potential than somewhere like Paris or Rome.
Whether you want a whole day out with your partner or a quick activity for a first date, there are so many fun, date-worthy activities in Cape Town.
On this list, you'll find Cape Town date ideas for every budget. Whether you want to splash out on a grand gesture or just to grab a quick drink for a couple of bucks, there are plenty of great ways to enjoy a romantic date in the Mother City. 
This post may contain affiliate links. When you make purchases through these links, I earn a small commission at no extra cost to you, which helps to keep this blog up and running. Thank you so much!
My top 3 Cape Town Date Ideas
Okay, this list is pretty long so if you want to find a date idea in Cape Town ASAP then I've selected my top 3. 
For the first date
If you're meeting someone new for the first time, then I recommend heading to Rockpool along the Sea Point promenade. It's inexpensive and laid back, but you still get nice sea views and they have good food and nice wine. 
Plus, if you want to continue the date afterwards, you can head out for a walk along the prom. And if not, you can just have a quick drink!
Romantic and free
Hiking Kloof Corner at sunset can be super romantic. You get absolutely stunning panoramic views of Cape Town's dramatic landscape, and it's free! 
It's a steep but short hike up the steps from the parking lot to the Kloof Corner viewpoint. It takes 15-20 minutes to get from the trailhead to the top, and the views are so worth it. You don't even really need to wear activewear because you're basically just walking up some stairs.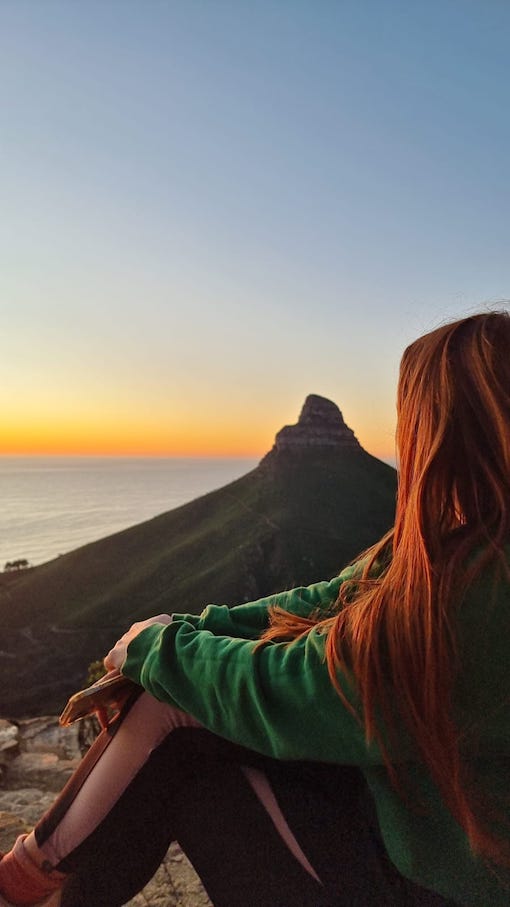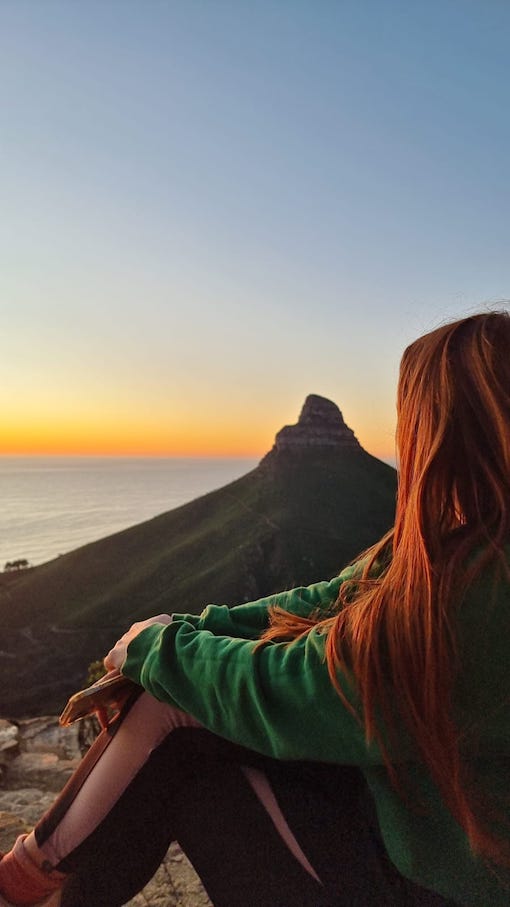 Pulling out all the stops
If you want a really romantic experience that will have you awestruck at just how beautiful Cape Town is, then a helicopter ride is a sure way to wow your date.
You can take a 20 minute helicopter tour along the Atlantic coast and soar over Lion's Head, the City Bowl, Signal Hill, and the Twelve Apostles. You can admire beautiful Camps Bay and see the gorgeous beaches, as well as Robben Island and Table Mountain. 
The 20 minute tour costs R3,757 per person, which at the time of writing is £160 or $197 USD. It's not a cheap date but it's certainly a spectacular one, and a pretty once in a lifetime experience!
Click here to find out more and book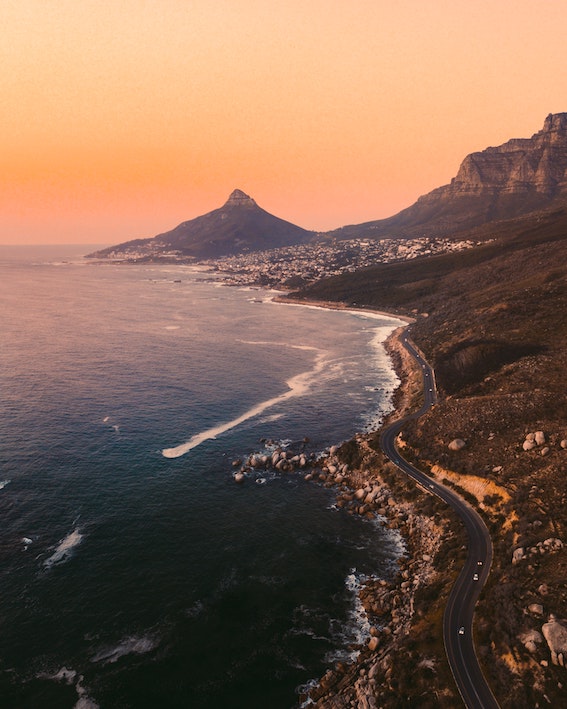 And if you want an even longer ride, you can book a helicopter tour of the entire Cape Peninsula. As well as the central Capetonian highlights like Lion's Head and the Atlantic Seaboard, you'll also see the False Bay Coast, the gorgeous Cape of Good Hope and the Cape Point. 
You'll also fly over Muizenberg, the vineyards of Constantia, and Boulders Beach where a colony of African penguins famously lives! 
The 45-minute helicopter tour costs R9,525 (£403 or $500 USD) per person. It's incredibly well rated and a super romantic way to see the Cape Peninsula.
Click here to find out more and book
Top 25 Cape Town Date Ideas
1. Watch the sunset at Kloof Corner
Kloof Corner is where you'll find the best views in Cape Town. It's a viewpoint up the side of Table Mountain which is accessed by some steps, and you get panoramic views stretching from the City Bowl to the Twelve Apostles from up here. 
You can easily bring a small picnic or a bottle of wine with you, and it's a good idea to bring a torch to walk down after dark.
There's a small car park near the Kloof Corner steps, so you can drive there, or you can just put "Kloof Corner" into Uber and it will drop you off right next to the trailhead. Just look for a green gate with a sign that says "Kloof Corner" and you're good to go. 
It takes 15-20 minutes to walk to the top of the Kloof Corner steps. Since it's all uphill you might be a little out of puff when you get to the top but it's not too tiring, and your effort will make the sunset all the sweeter.
This is one of my favourite things to do in Cape Town. No matter how many times I hike up to Kloof Corner, I'm always blown away by the beautiful views. 
2. Champagne Cruise at the Waterfront
Does it get much more romantic than a sunset champagne cruise? This is easily one of my favourite Cape Town date ideas!
This luxury catamaran cruise offers stunning views of Cape Town's skyline as you cruise along the Atlantic coast at sunset. 
As well as the amazing views, you get a bottle of bubbles to share as you gaze at the sunset, which is usually a pretty spectacular affair in Cape Town.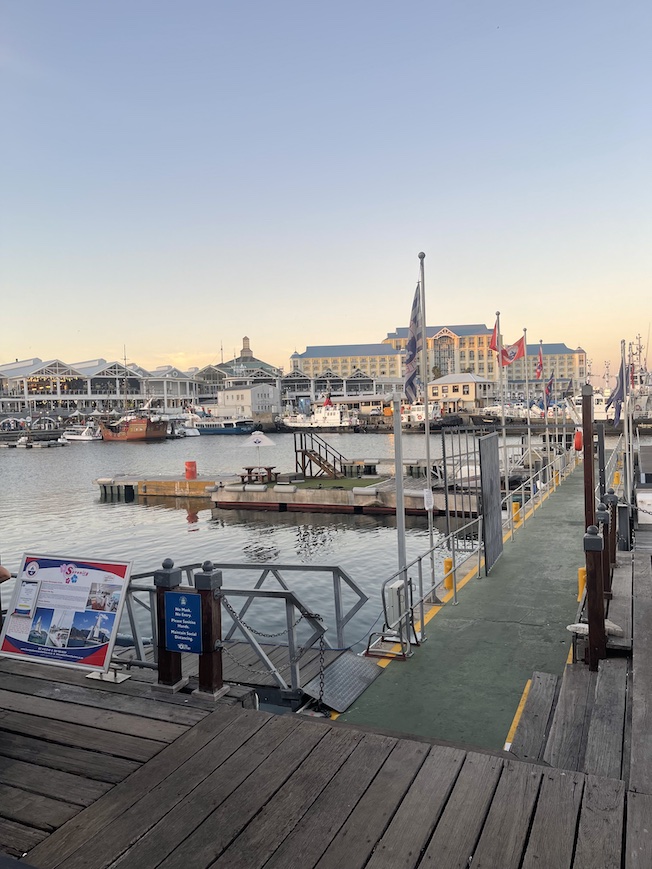 The cruise lasts for 1.5 hours, so it's not too long if you're going on a date with someone you've met recently! Plus, the champagne will certainly help ease any nerves…
And of course, for established couples it's pretty much guaranteed to be a wonderfully romantic evening!
The cruise costs R580 (£25/$30) per person. Bring a jacket with you as it can get chilly out on the water.
Click here to find out more and book your champagne cruise 
3. Dinner at the Grand Life Cafe
I make no secret of the fact that I love the Grand Life Cafe. It's chilled out, not too expensive, and it's right on the edge of the harbour so it's super scenic, too. I love sitting here with a glass of wine on a sunny day, or chowing down on their amazing seafood pasta. 
Having dinner at the Grand Life Cafe at sunset can be a super romantic experience. They've got twinkly fairy lights outside and blankets in case you get cold, or you can sit inside in the plush dining room.
Wine comes in generous portions and there's a nice, relaxed ambience here. I think it's the perfect date spot!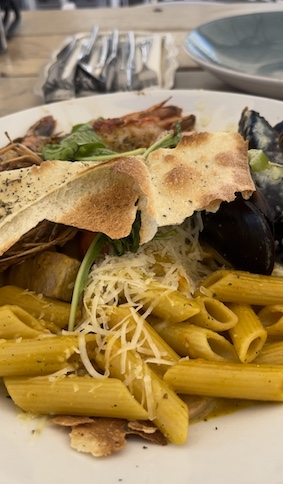 4. Helicopter ride
If you're looking to wow that special someone, then a helicopter flight over Cape Town is sure to make for a memorable date night.
For R3,757 (£160/$197) per person, you can take a 20-minute helicopter tour along the Atlantic Coast. You'll see the City Bowl, Lion's Head and Signal Hill, the Twelve Apostles, and of course Table Mountain. It's insane! 
You can book your flight here!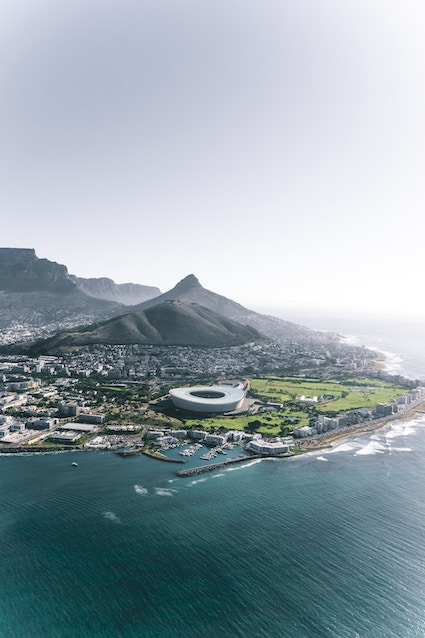 Or, you can take a 45-minute ride for R9,525 (£403 or $500 USD), which will take you along the entire Cape Peninsula. As well as the sights I just mentioned, you'll get to see the False Bay Coast and fly all the way down to the Cape Point and the Cape of Good Hope.
You can book your Cape Peninsula heli tour here!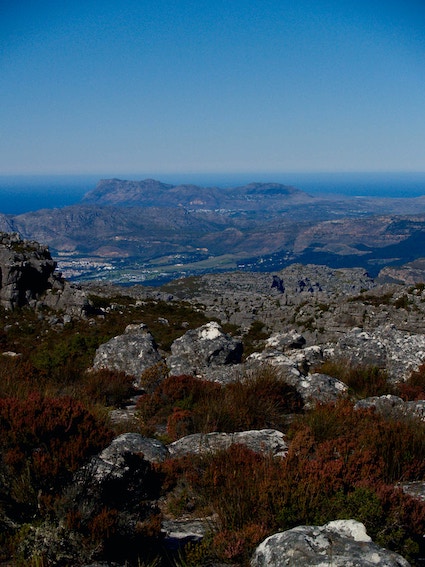 5. Clay Cafe
Painting pottery at Clay Café is such a lovely thing to do in Cape Town's city centre, and I think it's such a sweet date idea. It's relaxing, mindful, and fun – and if the conversation dries up, at least you've got your painting to focus on!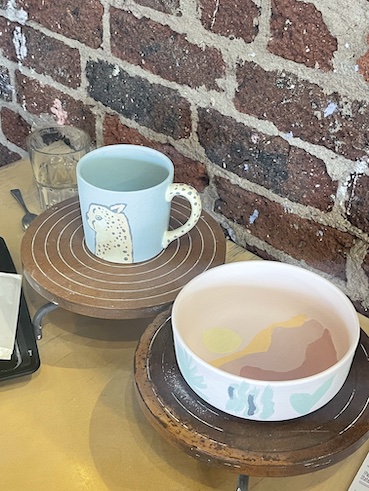 There's a range of items to choose from, including mugs, plates, butter dishes, and big fruit bowls. You pay R45 per person to paint, and then you pay for each item individually. You can also order food and drinks to consume while you paint, and they even serve beer and wine here. The salads and pizzas are also really good!
It's best to book in advance as Clay Cafe is really popular. You can spend up to 2.5 hours there painting and then it takes 3-5 weeks to get your items back, as they get sent off to be fired and finished. 
6. A prom walk
The Sea Point promenade hugs the Atlantic Coast from Mouille Point to Bantry Bay, and it's a popular first date idea among Capetonians. There's no cost involved and no commitment, because you can end your walk at any time. It's a nice, casual, get-to-know-you activity. 
The views along the prom are really nice and you can see some amazing sunsets as you walk along here in the evening. You can also stop at the food trucks next to the Sea Point pavilion for some food if you like, or head to Saunders Rock Beach, which is another fantastic sunset spot.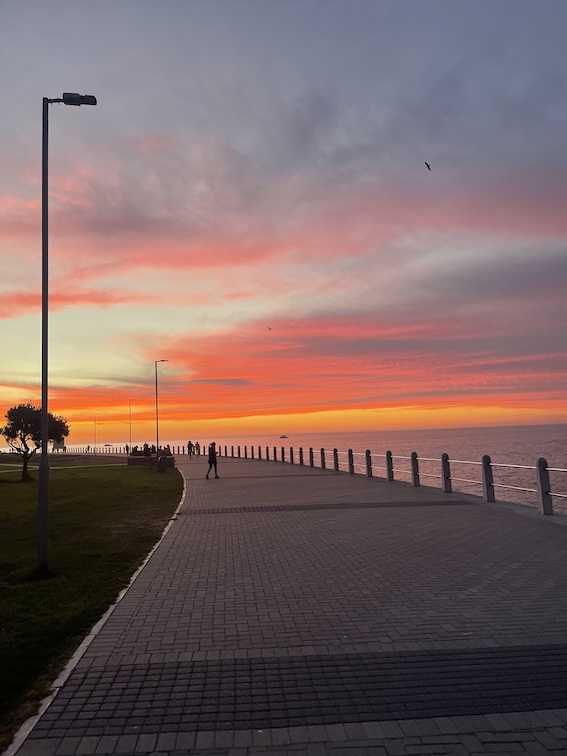 7. Cocktails at Cause & Effect
Cause & Effect is well known amongst Capetonians for its quirky cocktails. It's a great place to grab some drinks with your date because at the very least, the off-the-wall concoctions will give you something to talk about!
I've personally tried a cotton candy topped llama cocktail, a Table Mountain cocktail, and one that came with a toy skateboard ramp. The llama one ('Larry the No Drama Llama') is my favourite, but they were all pretty good.
There are two branches of Cause & Effect in Cape Town, but you're better off going to the one at the V&A Waterfront. I've heard the service at the Camps Bay branch is lacking.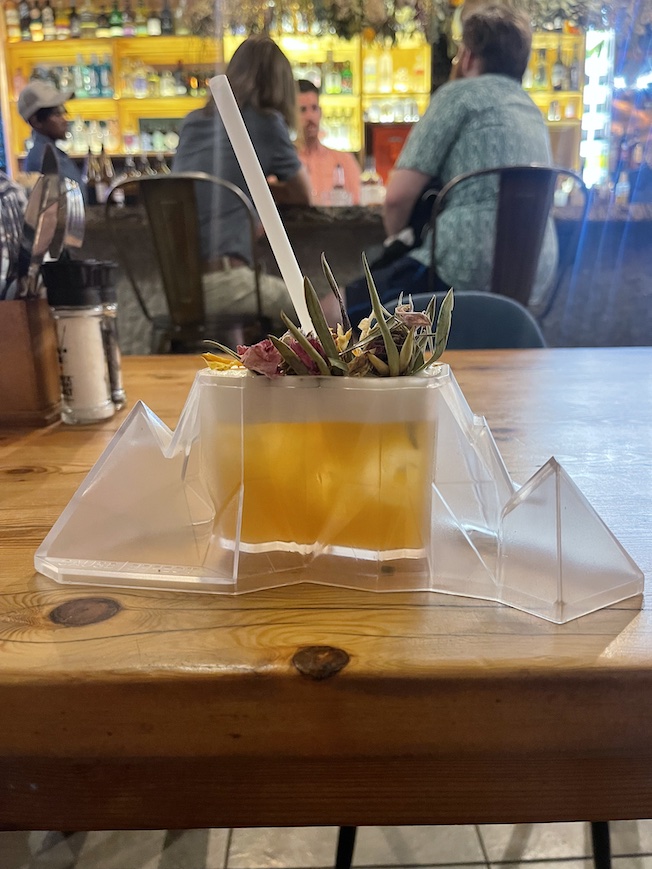 8. Beach picnic
Who doesn't love a good beach picnic? Heading to one of the Clifton Beaches or to Saunders Rock beach with a blanket and a basket full of goodies is a surefire way to enjoy a romantic evening in Cape Town. 
This is a simple, cheap, and easy date idea in Cape Town, and whichever beach you choose the setting is sure to be oh-so romantic.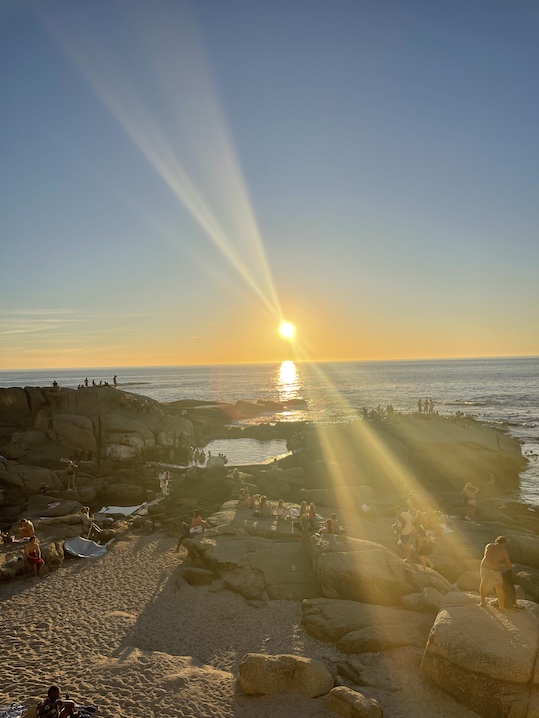 9. Catch a movie at the Labia
The Labia is an old-school cinema in Cape Town city centre. They do cinema the old fashioned way, which perhaps explains why this theatre has stood the test of time – well, that and the fact that they sell wine! 
There's a nice outdoor terrace where you can enjoy a drink before or after your film, and you can even come to watch classic films here.
They also offer a meal-and-movie combo pretty much every day of the week. These offers change regularly so make sure to check the website, but you can usually get some pretty good deals.
10. Enjoy afternoon tea at the Mount Nelson
The pink Mount Nelson hotel is one of Cape Town's finest and most historic hotels. It's been around since 1899 and has welcomed all manner of famous guests, from Winston Churchill to Kate Moss! 
The hotel hosts afternoon tea between 12 and 3 pm from Wednesday to Sunday. For R495 you get a welcome glass of bubbles, lots of teas and specialty coffees, and some very fancy finger sandwiches. You can also add extra champagne and cocktails for an additional charge. 
I think that this would make such a sweet date!
11. Go gin tasting at the Waterfront
If, like me, you get unreasonably anxious about dating, heading out for a full day at the wine farms with someone new is a bit of a daunting prospect. The good news, though, is that you can stay closer to home and head to the Waterfront for a quick gin tasting session instead.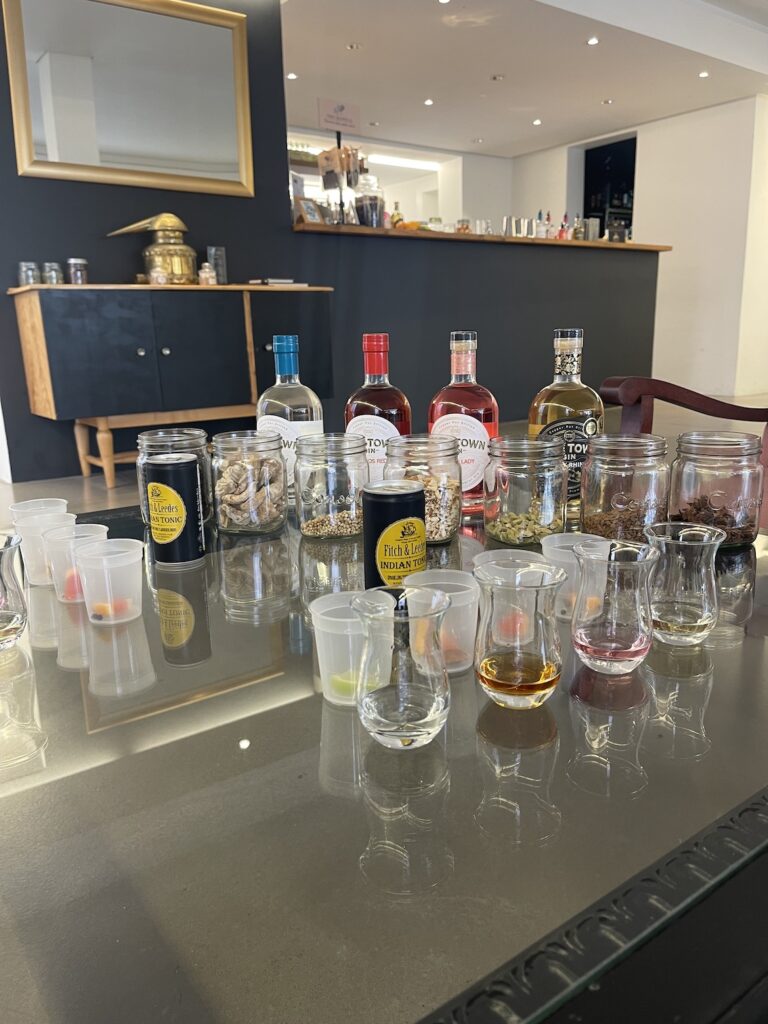 This way, you get to stay pretty central and you can just do one tasting, rather than hitting up multiple spots. But of course, if the gin tasting goes well, you could always head to one of the great restaurants around the Waterfront afterwards!
You've got two choices when it comes to gin tasting at the Waterfront: the Gin Emporium, and Pienaar & Son Distilling Co. 
I think for a date, I would recommend Pienaar & Son. You get more samples, and the tasting room's industrial-chic interior just feels a bit more date-worthy. However, I do prefer the actual gin at the Cape Town Gin Emporium, but every time I've been there it's been super quiet, without much of an atmosphere. 
12. The Constantia Wine Bus
If you're okay with committing to an entire day out with your date, then the Constantia wine bus can be both a really fun and romantic day!
You can catch the hop-on, hop-off bus at the Aquarium. The blue route will take you to the Constantia Valley, where you will change to a smaller bus and visit Groot Constantia and Beau Constantia, which are two of the best wineries around.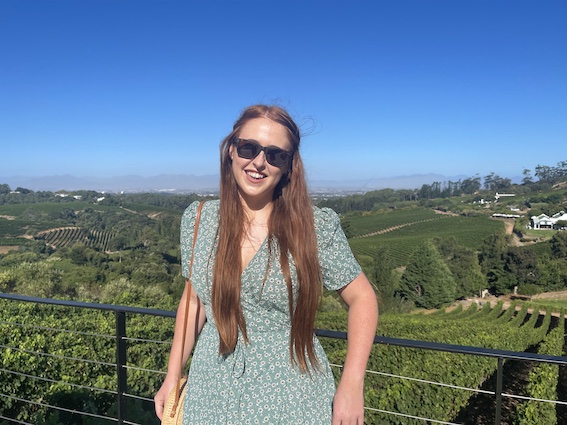 The bus also stops at the Kirstenbosch botanical gardens before it reaches Constantia, so you can always tick that off on the way! 
But for now, back to the wine farms. Groot Constantia is the oldest wine farm in Cape Town and Beau Constantia has the most insane views. It's just beautiful there! 
You can also walk up to Constantia Glen from the Beau Constantia stop, too. 
The wine bus leaves from the Aquarium every 20 minutes from 9 am, and the last bus back to the city leaves from outside Beau Constantia at 5:25 pm. Bus tickets cost R259 per person, and then tastings are priced as follows:
Groot Constantia: R115 for 5 wines
Constnatia Glen: R120 – R180 for 4-7 wines
Beau Constantia: R130 – R160 for 3-4 wines
It's also best to book your tasting at Beau Constantia, especially if you're going at a weekend, as it gets really busy.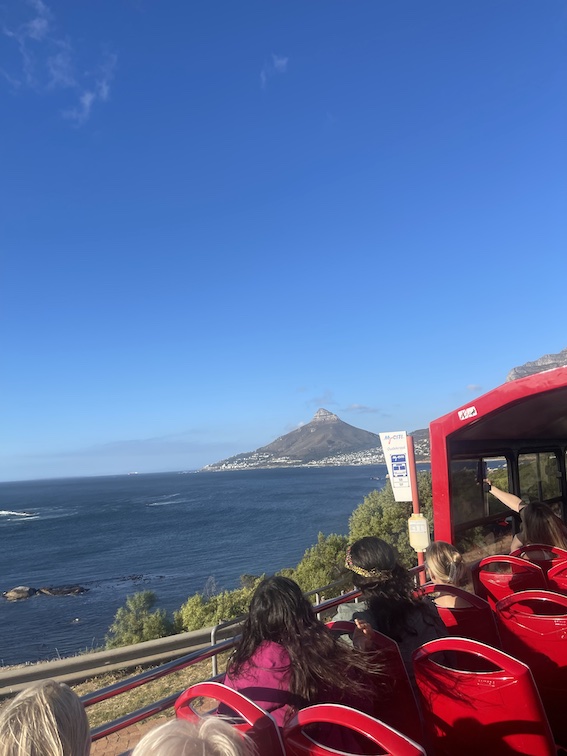 13. Explore Kirstenbosch Botanical Gardens
Kirstenbosch Gardens are world-renowned botanical gardens. They're very beautiful and are home to lots of scenic walking trails, perfect for a romantic stroll! 
You can drive here, or stop off on the hop-on hop-off bus on your way out to Constantia! Admission prices are as follows:
R210 for international adult visitors
R90 for adult South Africans and SADC Nationals
R30 for kids
You can also buy a self-guided audio tour of the gardens if you want to learn more about the flora and fauna! 
14. The Galileo Open Air Cinema
The Galileo Open Air Cinema screens outdoor movies, including lots of romcom faves, which is perfect for a date night!
They only run movies during the summer months, usually from October through April. Often, they host screenings in Kirstenbosch Botanical Gardens, after the official closing time, or at Century City.
You can bring a picnic and make a night of it! I think this is such a romantic thing to do.
Standard tickets cost R129 and you can check the movie schedule here.
15. Have a sunset picnic on Signal Hill
Signal Hill is a really popular spot to catch an amazing sunset in the Mother City. The views from up here are fantastic, and they have ground covers set up so you don't even need to bring a picnic blanket – that's how popular this place is! 
Because it's so popular, I recommend that you get there about an hour before the sunset so that you can get a good spot. The traffic afterwards can get a bit hectic for a while, too, so either stay and continue your date after dark until things have calmed down, or if it hasn't gone well, leave as soon as the sun disappears!
Alternatively, you can join a sunset tour to Signal Hill with City Sightseeing. They handle all the transport stuff, so you can just chill and enjoy your date.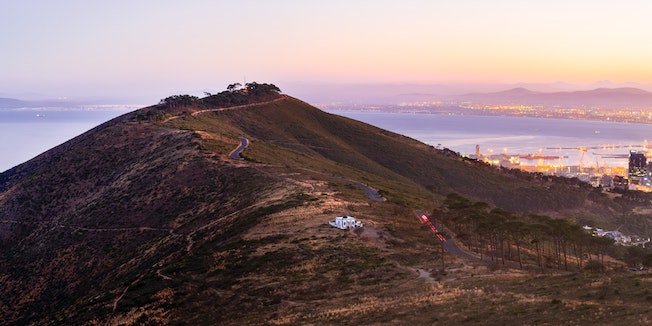 16. Play Putt Putt
For the non-South Africans reading this blog post, putt putt is mini golf, but it's more fun to say!
A game or two of putt putt is such a cute date idea. It's fun, it's affordable, and it's not too much of a time commitment. Basically, it's a good way to get to know someone better without committing yourself to an hours-long activity.
There are a few places to play putt putt in Cape Town. One of the best is the course along the promenade in Mouille Point. It's R40 per person for a round, or you can get 3 rounds for R80. I like this course because it's right next to the sea! 
If the weather isn't great, there's also Cave Golf at the V&A Waterfront, which is an indoor course. A game costs R35 and you have to put a R20 deposit down for your clubs.
For more places to play putt putt in Cape Town, check out this guide! 
17. Hussar Grill Date Night Special
This is one of my personal favourites. I love the steak at the Hussar Grill and the date night special is such good value for money, too!
Date night is every Tuesday night. You pay R425 for two people, which gets you:
Olives and crisps to nibble on when you arrive
A two course meal each (you can choose to have either starter or dessert)
A bottle of red wine to share
A mini chocolate vodka martini (which is just like drinking melted chocolate – it's delicious!)
I usually get steak for my main course, but you can also choose from fish, half a chicken, a burger, or roasted veg and a burger. You can check out the full menu here.
The Hussar Grill sells alcohol but they also permit you to bring your own wine, and they don't charge you corkage. This is such a generous policy and it means going out doesn't have to cost a ton! You can either visit the one in Mouille Point or in Camps Bay.
18. Go beer tasting
Cape Town is well known for wine tasting, but there are also plenty of opportunities to go beer tasting. 
If you want to stay central, head to BeerHouse on Long Street where you can bond with your date over the Beer o'Clock tasting tray. You get twelve 100ml samples for R180, which should help grease the wheels of conversation!
Or if you want to kick the romance up a notch, you could head out to the Aegir Project in Noordhoek to enjoy one of their tasting flights and some yummy bar snacks. The best thing about this plan is that you can drive there via Chapman's Peak Scenic Drive, which is a stunning drive. 
For more on beer tasting in Cape Town, check out this article. 
19. Grab a drink at Rockpool
Rockpool is a casual spot that serves good food and drinks, with views of the Sea Point promenade. It's nothing spectacular, but it's a really good first date spot. You don't need to stay long, it's not too expensive, and it's really easy to get to. I always get really nervous about meeting people from dating apps, so Rockpool is a go-to for me, because it's easy to leave if you want to.
And if you do want to stay, they've got nice food, a pleasant ambience, and you can eat and drink here without racking up a huge bill. Plus, the prom is right across the road, so you can always go for a stroll afterwards.
20. Visit the Penguins at Boulders Beach
I can't think of a cuter date idea in Cape Town than going to check out the adorable African penguins at Boulders Beach!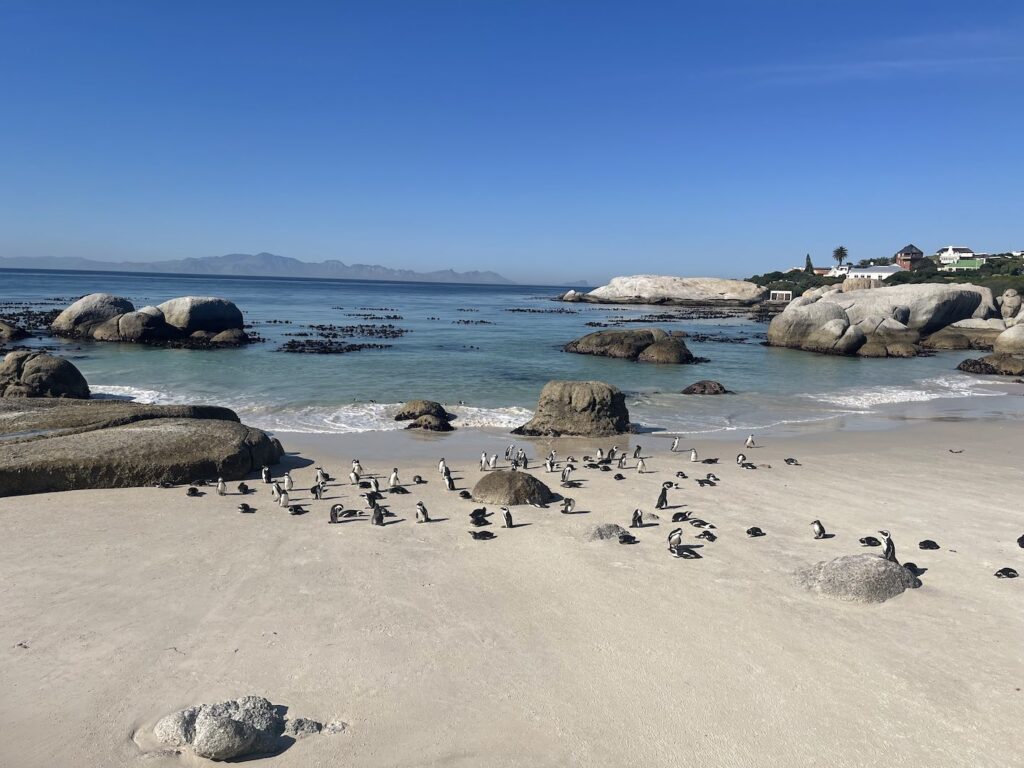 A whole penguin colony lives on this picturesque sandy beach, which is covered in boardwalks so that you can safely view the penguins without disturbing them.
There are also restaurants and cafes nearby so you can grab a drink afterwards, and to make the day even more fun you can drive there via Chapman's Peak! 
You do need to pay to access Boulders Beach, but it's totally worth it. The prices are as follows:
R44 for South Africans
R88 for SADC Nationals
R176 for visitors from other countries
Check out this article for a complete guide on how to visit the penguins at Boulders Beach
21. Take the cable car up Table Mountain
Heading up Table Mountain in the cable car could make for a fun date. At certain times of the year, you can even go at sunset and enjoy a drink up there as the sky does its thing. 
The views from the top of Table Mountain are absolutely insane – you can see for miles in every direction.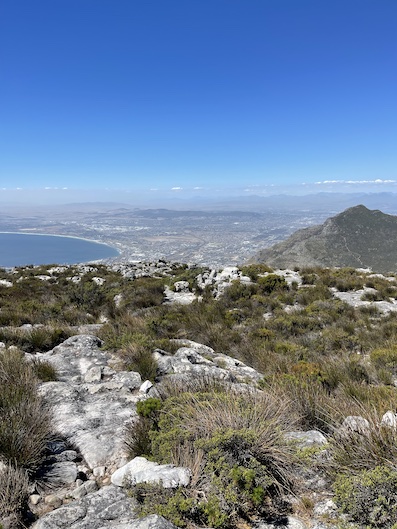 Return tickets cost R395 before 1 pm, or R340 during the afternoon. At the top, you can walk around the edge and admire the views, hike out to Maclear's Beacon, the highest point of the mountain, and enjoy a drink with a serious view.
Open times change throughout the year and it's also possible to hike up one way, and then take the cable car back down if you're looking for an active date.
For more on visiting Table Mountain, check out this complete guide.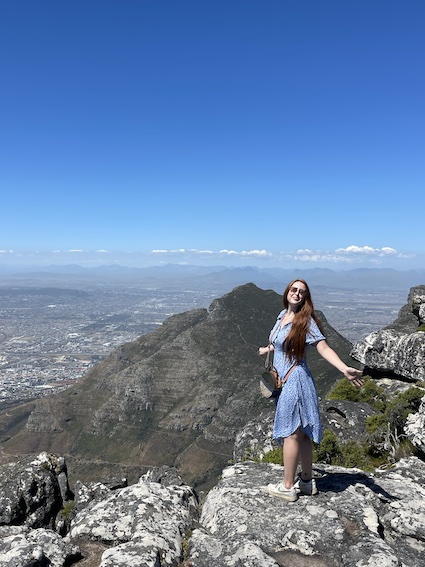 22. Go SUPping in Battery Park
If you're looking for an active Cape Town date idea, I think that SUPping in the canals around Battery Park and the V&A Waterfront is a fantastic thing to do. It only takes around an hour but you get beautiful views and a good workout while you're at it! 
If you head to SUP Cape Town, you can rent a board for R250 for one hour. You can then head out on the 3 kilometre loop around the Waterfront canals and paddle past swanky apartments and gorgeous scenery. 
I didn't actually do this on a date, but I had so much fun and I would definitely do it again on a date.
23. Chapman's Peak Scenic Drive
Chapman's Peak Scenic Drive is one of the most beautiful drives I've ever done. I think it's second to only the Ha Giang Loop in Vietnam, but there was WAY more effort involved with that.
It's a gorgeous stretch of road that winds along the side of Chapman's Peak. As you drive with red cliffs on one side and deep blue sea water on the other, you'll feel like you're in some kind of fancy car commercial (probably because several have been filmed along here!)
The drive starts in Hout Bay so you can stop and take snaps of the beautiful scenery there before winding your way along the cliff's edge. 
You do need to stop and pay a fee along the way, which goes towards the maintenance of the road. It costs R57 per day, so if you keep your receipt you can use it to drive back that way later.
Chapman's Peak Drive only opens during calm weather, so make sure you check the road status before you go. 
And if you want to continue your date, you can head to the Aegir Project for a beer and an insanely good burger, or go for a stroll along the beautiful Noordhoek beach. 
24. Have drinks at a rooftop bar
Drinks with a view are always romantic, and Cape Town has plenty of rooftop bars to choose from. This is basically a bunch of Cape Town date ideas in one!
If you want to pull out all the stops, you can head to the swanky Silo Rooftop for gorgeous views over the Waterfront. 14 Stories at the Sun Square Hotel is another good choice, as they've got an outdoor section and an indoor lounge if you get chilly. 
The RED Roof at the Radisson Hotel is also a popular rooftop spot at the Waterfront, or Chinchilla in Camps Bay is beloved by Cape Town's beautiful people. 
And for something a bit more relaxed, I like Rick's Cafe Americain. It's a Casablanca-themed restaurant with a chilled out atmosphere, and they serve really good espresso martinis. The service here is always really friendly, and it's right on Kloof Street so there are lots of bars to hit afterwards if your date goes well! 
25. Ride the Cape Wheel
Last but not least, a ride on the Cape Wheel could be a super romantic experience.
The Cape Wheel is right out the front of the Victoria Wharf Mall at the V&A Waterfront, and you can ride it from 10 am to 10 pm during the summer, while hours vary slightly during the winter months. Tickets for a standard ride cost R175 per adult if you're South African, or R250 if you're not. 
A regular ride on the Cape Wheel is romantic enough – especially if you go at sunset – but there are a couple of ways you can kick things up a notch.
If you want privacy during your ride, you can rent an entire pod for R2,875. If you book this, you'll be in the VIP gondola which has tinted windows and a glass floor. You also get a complimentary bottle of sparkling wine and music in your pod! This could be a really fun way to celebrate an anniversary, or impress someone you've had your eye on for a while.
If you just want a regular ride on the Cape Wheel, there's no need to book in advance. However, if you want to treat your date to a VIP experience, you'll need to email manager2@capewheel.co.za to make a reservation.
Okay, those are all my Cape Town date ideas, but for more fun things to do in the city, check out…