Last Updated on September 4, 2023 by thecapetownblog
Saunders Rock Beach is a small, scenic beach in Sea Point that's best known for its large rockpool. It's one of the most popular places to watch the sunset in the summer and its convenient location means that lots of locals head here on warm evenings for post-work swims and picnics.
The rockpool is also hugely popular with Wim Hof enthusiasts, who can often be found here suffering through their 20 minutes of controlled breathing.
To be honest, it's not quite spectacular enough to rival the Clifton and Camps Bay beaches, but it's still very pretty, and totally worth a visit. I think that Saunders Rock beach is the perfect beach to spend just a few hours on, especially if you live nearby in Sea Point, Green Point, or Bantry Bay.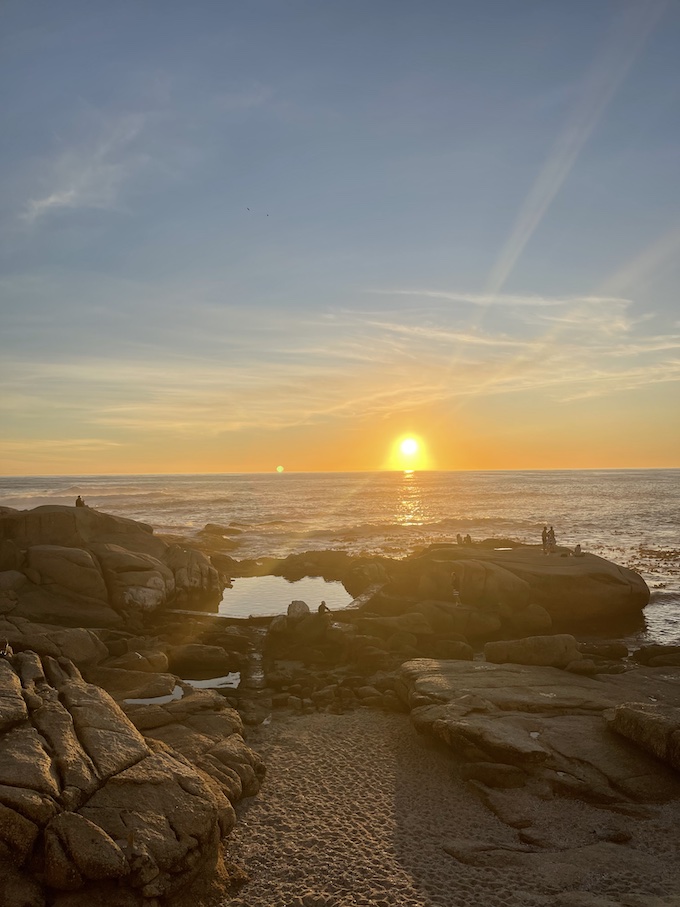 This post may contain affiliate links. When you make purchases through these links, I earn a small commission at no extra cost to you, which helps to keep this blog up and running. Thank you so much!
Where is Saunders Rock Beach?
Saunders Rock Beach sits at the southern end of the promenade, right where Sea Point meets Bantry Bay. It's home to one of Cape Town's most scenic and popular rock pools, and its convenient location means it's a popular spot for beach picnics, after-work swims, and watching the sunset.
Unlike the Clifton Beaches, there aren't tons and tons of steps leading down to Saunders Rock Beach. It's just a single staircase.
Is Saunders Rock Beach dog-friendly?
Sort of.
Dogs are allowed on the beach at any time during the winter months. From November to April, dogs are only officially allowed on Saunders Rock Beach before 9 am and after 6 pm.
However, in reality I don't think I've ever been to Saunders Rock Beach at any time of day and not seen a dog there!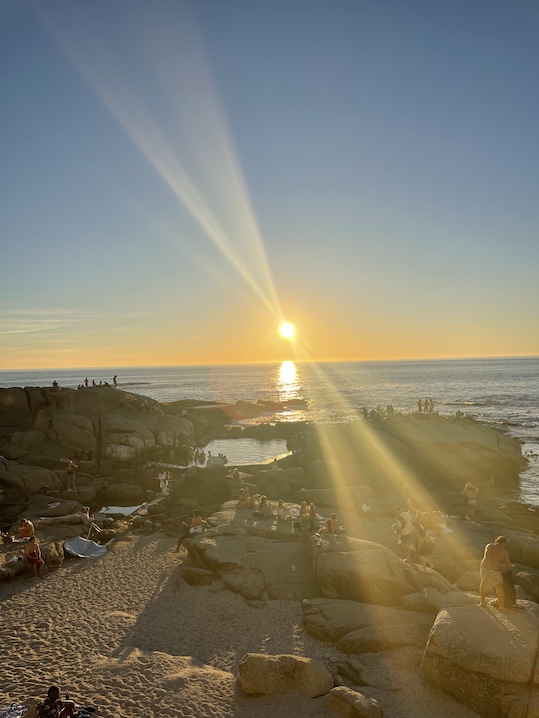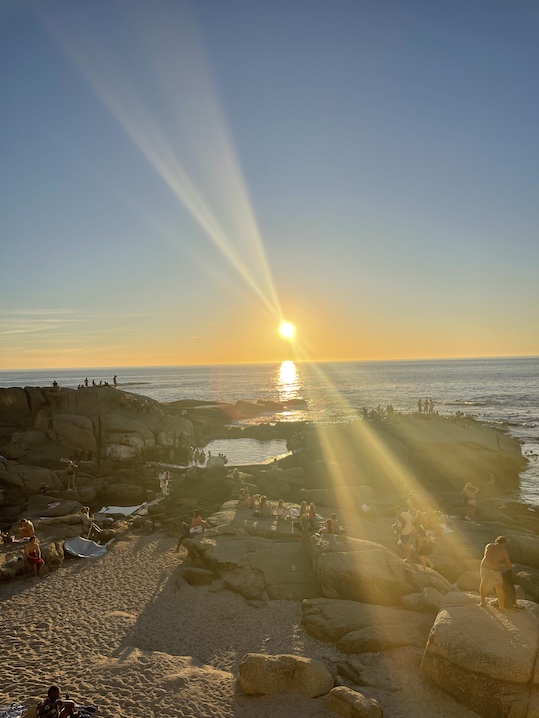 Is there parking at Saunders Rock Beach?
Yes, there is. There's a car park right next to the beach and another one a 5-minute walk away. There's also plenty of street parking along Beach Road. It can get busy during the festive season but you can pretty much always find a spot.
All of the parking around Saunders Rock Beach is free, but there are lots of car guards around who expect to be paid for looking after your car. You don't have to pay them anything but most people tend to bring a few coins with them. It gets quite awkward otherwise.
Do be aware that when the car parks are really busy, the car guards may tell you to park illegally. Don't listen to them if it doesn't feel right to you. One car guard told my friend to park right in the middle of the lot, and she got fined.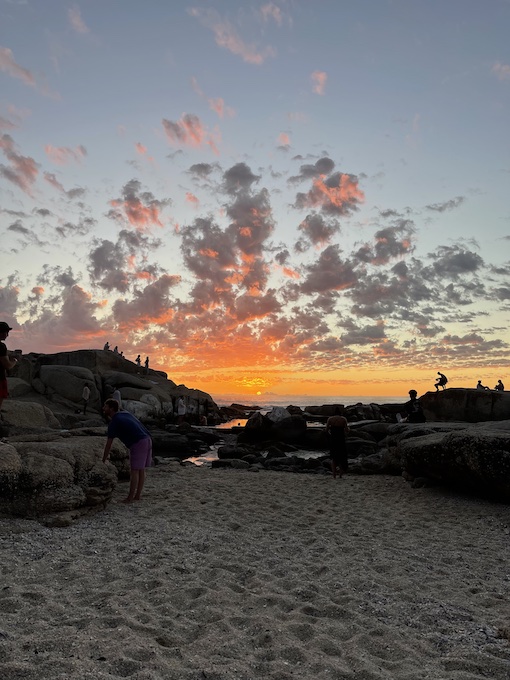 Can you bring food to Saunders Rock Beach?
Yes, tons of people head down to Saunders Rock Beach for a picnic. It's one of my favourite ways to spend an evening in Cape Town, as the sunsets here are just spectacular.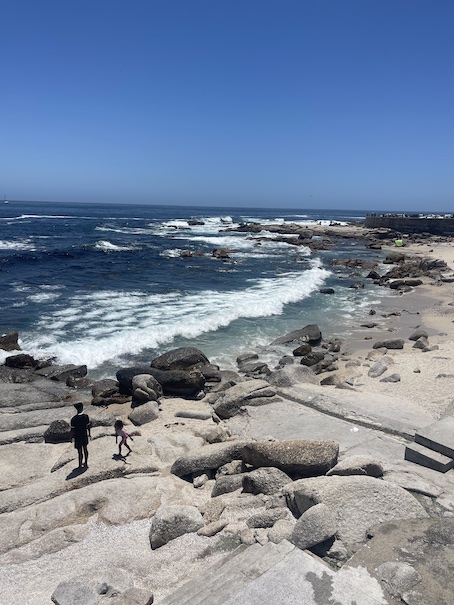 Can you bring alcohol to Saunders Rock Beach?
Nope, that's illegal. People still do it, but the police do come around sometimes. They confiscate alcohol and issue fines, so do it at your own risk.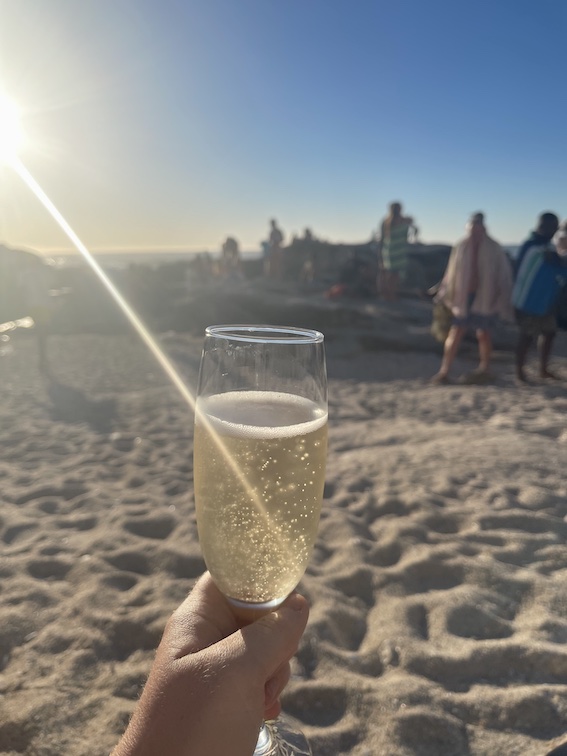 Is Saunders Rock Beach good for swimming?
Yes! The water is really cold and I don't tend to go in the sea here because there's a lot of seaweed and rocks. However, the rock pool is great to swim in despite the icy temperature – you just have to muster up the courage and go for it!
How to get to Saunders Rock beach?
The best way to get to Saunders Rock beach is to drive yourself. There's plenty of parking nearby and it's easy to find.
If you live in Sea Point, you can also walk along the promenade until you get to the beach. It's a really nice walk and one that I often do in the evenings!
You can also take the 104 or 105 MyCiti bus to the Queens Beach stop, which is about a 10-minute walk from Saunders Rock Beach.
For more on exploring the great outdoors in Cape Town, check out…