Last Updated on October 26, 2023 by thecapetownblog
Cape Town is the perfect city for those who love spending time outdoors. It's brimming with natural beauty – pretty much everywhere you go you can see a park, a mountain, a beach, or a nature reserve!
And of course, a picnic is the perfect way to spend time soaking up Cape Town's epic scenery. Sure, the city is home to some awesome hiking routes, but between you and I, I much prefer to chill out on a picnic blanket with chips, dips, and biltong.
So if you're looking for the perfect place to picnic in Cape Town, look no further. I've rounded up my top choices for the best picnic spots in Cape Town. I've only chosen ones that are easy to get to (I'm not going to suggest lugging a picnic basket up Lion's Head!) and close to the city centre. 
1. Green Point Park
Green Point Park is an awesome urban park that really was designed for everyone. There's a playground, a dog park, a golf course, water features, and a little café. It's really pretty and very well kept, and there's plenty of space to enjoy a picnic. I always think that it feels a little bit like a university campus!
Plus, Green Point Park is conveniently close to Giovanni's deli, which is one of the best shops to stock up on picnic goodies. Their dips and salads are to die for!
It's easy to walk to Green Point Park from Sea Point, De Waterkant, and the City Centre (as well as Green Point itself, obviously). There's also plenty of parking nearby, so no worries on that front. 
The Park Café is open from 8 am until 5 pm, so you can grab a coffee or even a milkshake to accompany your picnic if you fancy!
There are two ways to access Green Point Park. You can head in via the East Gate, which is along Helen Suzman Boulevard. This is opposite Main Road which runs through Green Point.
Alternatively, you can get in via the West Gate, which is opposite the Green Point Lighthouse on the Promenade.
This post may contain affiliate links. When you make purchases through these links, I earn a small commission at no extra cost to you, which helps to keep this blog up and running. Thank you so much!
Address: 1 Fritz Sonnenberg Road
Open times: 7 am – 7 pm
2. Oudekraal Nature Reserve
Oudekraal is a fantastic nature reserve situated halfway between Camps Bay and Hout Bay. It's a little bit of a hidden gem, so it doesn't get too crowded. You get fantastic views of the Twelve Apostles and Lion's Head in the distance, and there's a scenic little beach area that's great for swimming.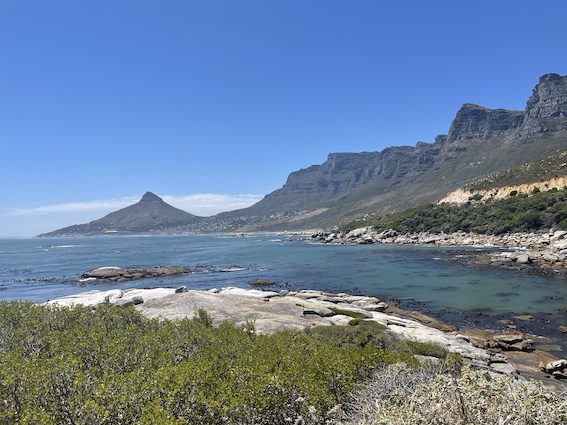 Oudekraal is hands down one of the best picnic spots in Cape Town and it really is the perfect place to while away a summer's day. There are several braai and picnic spots throughout the park, and so you get more privacy here and are less likely to bother others if you're playing music or kids are running around. But of course, you still need to be respectful!
Since Oudekraal is a nature reserve, there are entrance fees. They are as follows:
South African adults: R38
South African kids: R19
SADC adults: R76
SADC kids: R38
Foreign adults: R152
Foreign kids: R76
If you're a foreigner but going with a local friend, I recommend keeping your mouth shut and letting them do the talking. I got away with the local rate via this approach, as the guards were pretty chilled.
Open times: 8 am – 6 pm from October to 31 May. Only open on weekends and public holidays from April to September
3. Kirstenbosch Gardens
Kirstenbosch Gardens are Cape Town's beautiful botanical gardens, nestled at the foot of Table Mountain, near Constantia. They're renowned for their biodiversity and there are lots of gorgeous pathways to explore, including one that leads you to a trail right up Table Mountain! 
You're not allowed to bring picnic furniture, like collapsable chairs and tables, into the Gardens but you're welcome to find a shady spot, spread out a blanket, and dig into your basket of goodies.
And if you don't feel like packing a picnic, or just fancy something more gourmet, you can buy a ready-made one from the Fynkos Tea Room. You can order one online beforehand or just drop in and grab one on the day.
You can check out the full menu here, but picnics cost R320 per person and include tons of goodies including shawarma chicken skewers, hummus, chilli poppers, and 3 petit four cakes for dessert.
You can get to Kirstenbosch by car or take the City Sightseeing bus from the Aquarium – it's on the Blue Route.
Adults need to pay 220 rand to get in, but if you're from South Africa or nearby countries, it's cheaper at 100 rand. Students can get in for R60 and kids for R40.
During the summer, Kirstenbosch Gardens also hosts concerts on Sunday afternoon and lots of talented local acts tend to play. Galileo Open Air Cinema also shows movies at Kirstenbosch Gardens during the summer. You can bring your picnic along to both of these events – happy days!
Open times: 7 am – 8 pm (concert and cinema hours often fall outside of these times, though)
4. Saunders Rocks Beach
Saunders Rocks Beach is a pretty little beach in Sea Point, and it's the place to be on a sunny evening in Cape Town. I've enjoyed many picnics on Saunders Beach, because it's easy to get to and it's a fantastic place to watch the sunset. In fact, during the summer I can be found here most Friday nights!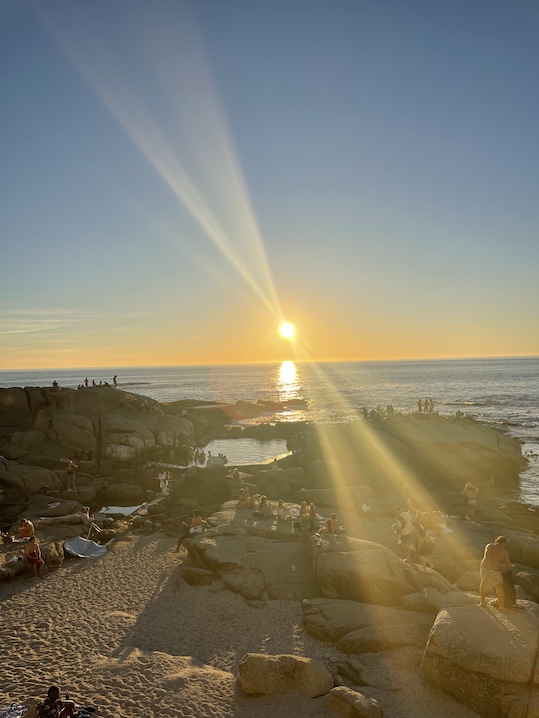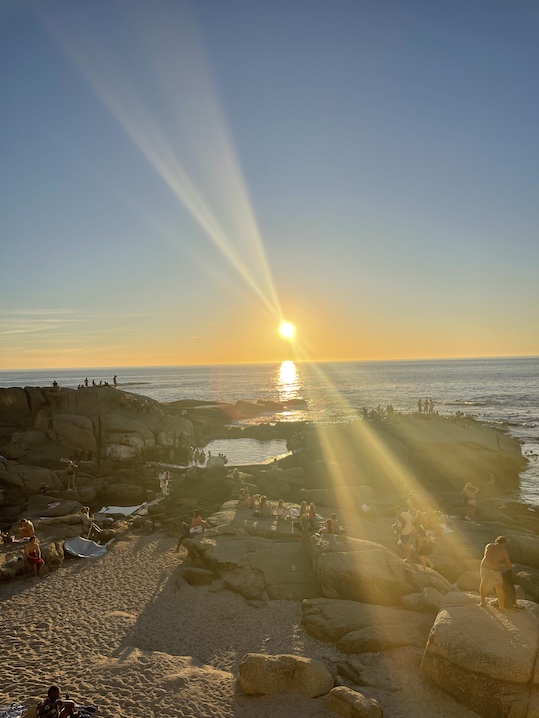 You can go for a swim in the (freezing cold) rock pool here or just stay on the sand and enjoy your picnic. There's plenty of parking nearby and the beach is actually at the end of the Prom, so you can even walk here.
Pretty, vibey, and easy to get to – yup, this is definitely one of the best picnic spots in Cape Town!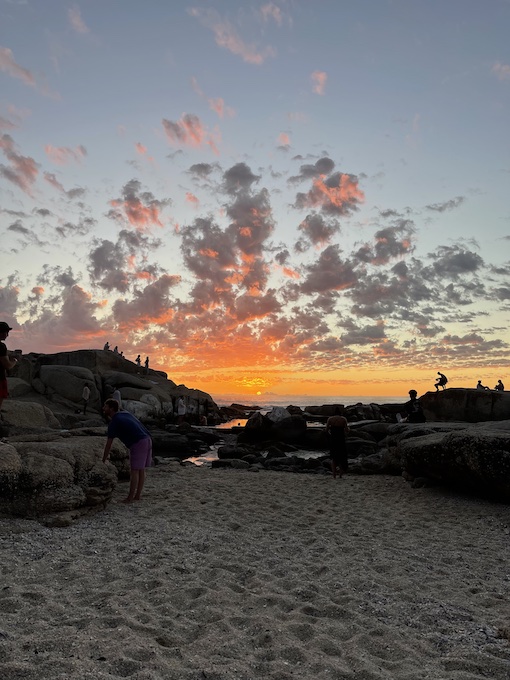 5. The Clifton Beaches
Any one of the four Clifton Beaches is an excellent place for a picnic. Just remember that the first three beaches have a fair amount of steps involved, so make sure your basket isn't too heavy!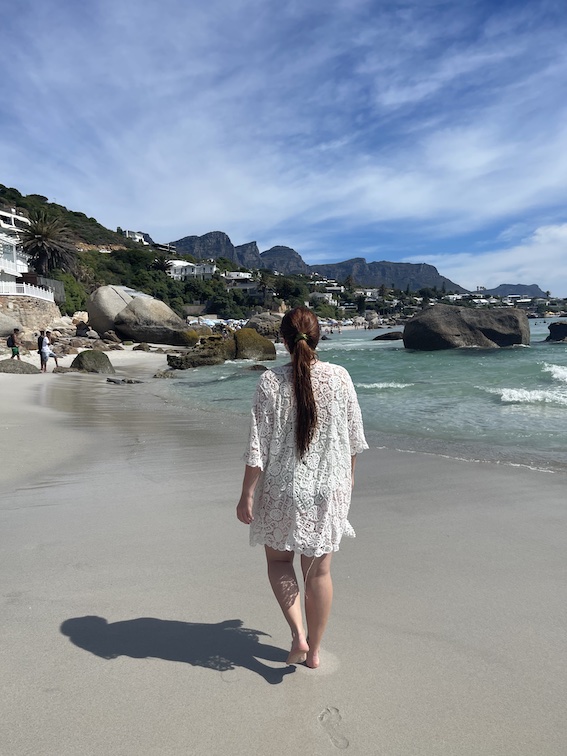 Again, a sunset picnic on the Clifton Beaches is really spectacular, but you can come here at any time of day. We usually bring food to the beach with us anyway and there aren't any cafes or restaurants around. There are, however, usually some guys around selling ice creams, cold drinks, and sometimes beer, depending on how vigilant the police are that day. 
6. Newlands Forest
The Newlands Forest is out in the southern suburbs, about 9 kilometres (5.6 miles) from the city centre. There are some fantastic hikes here – like my favourite route, the Newlands Ravine! – but it's also one of the best picnic spots in Cape Town.
Of course, there are plenty of places in the forest suitable for spreading out a blanket and enjoying a picnic, but there is a designated braai and picnic area. There's lots of shade, which is ideal for summertime, and plenty of tables to sit at. If you want to braai, you need to bring your own grid.
7. Kloof Corner
It's a 15 minute hike up to Kloof Corner, so I wouldn't recommend bringing a super heavy picnic basket with you, but you won't find a more beautiful picnic spot anywhere!
Kloof Corner is a viewpoint on the side of Table Mountain which you can access via the Kloof Corner steps. You get an amazing panoramic view that really showcases the diversity and beauty of Cape Town's landscape, from the city bowl to Lion's Head and the white sand Camps Bay beach.
Personally, I love coming to Kloof Corner at sunset. We usually each bring a backpack and put a few picnic items in each one.
There's a small free parking lot near the entrance to the steps, or it's easy to Uber here, and home again later.
Related post: Complete guide to hiking Kloof Corner!
The Best Places to Buy Picnic Food in Cape Town
Giovanni's Deli
Giovanni's is situated along Main Road in Green Point. It's beloved by locals for its amazing dips, olives, cheeses, and desserts, so it's the perfect place to stock up on picnic goodies. It is a bit pricey but I think it's worth it for the quality. The couscous salad is divine and you can always find something new to try here.
Cape Quarter or Sea Point Spar
I wouldn't normally say that a Spar supermarket is anything to write home about, but the ones in De Waterkant and Sea Point are just amazing. They've got tons of deli counters selling all kinds of foods that are perfect for picnics, from biltong to poke bowls and delicious fresh salads.
The Oranjezicht Market
If you're planning a weekend picnic, make sure to swing by the Oranjezicht Market first. You can find a ton of treats here including delicious pastries, freshly baked breads, bagels, and sandwiches. The produce section also has fantastic seasonal fresh fruit and veggies, as well as spreads and dips, which are perfect for picnicking!