Last Updated on July 31, 2023 by thecapetownblog
The Cape Town city centre may not be as famous and immediately appealing as the gorgeous beaches, iconic mountains, and swanky Waterfront, but don't discount it. The city centre has some of the best nightlife around, and some very cool cultural highlights too.
Whether you want to visit some historic highlights, take high tea, paint pottery, or party all night, you can do it in the CBD. I've put together this guide to 15 cool things to do. A lot of these are also nice things to do on a rainy day in Cape Town, so if the sky looks grey make sure you get down to the CBD, ASAP.
Let's dive in!
This post may contain affiliate links. When you make purchases through these links, I earn a small commission at no extra cost to you, which helps to keep this blog up and running. Thank you so much!
About Cape Town City Centre
Cape Town's city centre is in the lower City Bowl, just south of De Waterkant and the V&A Waterfront, and north of Gardens and District Six.
Its most notable streets include Bree Street, which is a nightlife hub, as well as Buitengracht Street and Adderley Street, which are the main driving streets.
The city centre is not as pretty as areas like the Waterfront, Camps Bay, and Tamboerskloof. It doesn't have the same stunning views and it feels a bit rougher around the edges, but it's got its own unique charm. There are tons of fun bars here and lots of cultural activities, including museums, art galleries, and a historic cinema and hotel.
Top Things to do in Cape Town City Centre
1. Party!
To be honest, the main reason I go to Cape Town's city centre is to party. There are lots of really fun bars here, especially along Bree Street. I'll give you a rundown of some of the best ones, but this is by no means an exhaustive list!
Athletic Club & Social
The Athletic Club & Social does a fantastic job of encapsulating the charm of a bygone era. As soon as you step inside, the warm, dim light, chandeliers, and classy decor takes you right back to the 1920s. It manages to be both sophisticated and lively at the same time, which is why this place is so popular – expect to queue on a Saturday night!
There are three different bars inside, each of which plays a different style of music. The cocktails are also really good – I highly recommend El Diablo!
This place is over 25s only, although they're not super strict if you're the only young'un with an older group.
Address: 35 Buitengracht St, CBD
Open times: 12 pm – 11 pm on weekdays, 12pm – 2 am on Friday and Saturday, closed Sunday
Gin Bar
The Gin Bar is tucked away behind a chocolate cafe, so it feels a lot like a speakeasy. It's also super popular with the local crowd.
They have an extensive selection of gins but you can get wine or beer if you're not a huge fan of spirits. There's also a bubbly bar next door, which is really cute!
The Gin Bar has a laid back atmosphere early on but the place does start to generate a bit of a buzz later on. You don't really go here to dance, but there's lots of lively chatter and laughter, and they play decent music. It's perfect for when you want a fun night, but not a wild night.
Address: 64A Wale Street, City Centre (behind Honest Chocolate)
Open times: 5 pm – 1 am, closed Sunday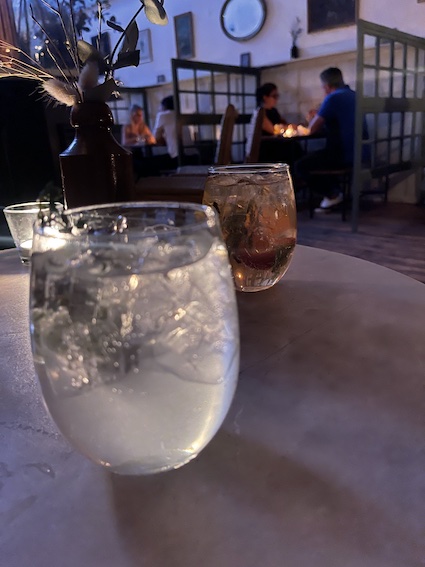 House of Machines
House of Machines is located on Shortmarket Street, just off of buzzing Bree Street. It's a laid back spot where you'll always find good vibes and great Old Fashioneds. There's good music, affordable drinks, and their slogan is "don't be a dick" – what's not to love?
Address: 84 Shortmarket Street, City Centre
Open times: 7 am – 2 am, closed Sunday
Gigi Rooftop
I don't actually rate the cocktails at Gigi Rooftop that highly, but it's still the perfect place to start a classy evening out. It's the bar above the Gorgeous Gorge hotel, and it's a bit of an Instagram hotspot due to its modern, leafy decor and stylish rooftop pool. I would definitely recommend a visit to this place, but I'd say order beer or wine instead of the cocktails.
Address: 118 St George's Mall, Cape Town City Centre
Open times: 12 pm – 11 pm
Village Idiot
Village Idiot is a fun, slightly Bohemian bar with cheap drinks and good vibes. What's not to love? If you're looking for a place that doesn't take itself too seriously and stays open late, this is the place to go.
Address: 32 Loop Street, Cape Town city centre
Open times: closed Sunday to Tuesday; 6 pm – 3 am on Wednesday and Thursday; 6 pm until 4 am Friday and Saturday
Long Street Beer House
This funky yellow beer hall is one of the best places to go beer tasting in Cape Town. They've got 25 beers on tap and 99 bottled beers to choose from, so if you can't find a beer you like here then something has gone wrong!
I like the fact that they support local microbreweries, and their Beer O'Clock tasting tray which allows you to try twelve different beers for R180.
Address: 223 Long Street, Cape Town City Centre
Open times: 11 am – 4 am (10 pm on Sunday)
Station on Bree
The Station on Bree is a London Underground themed bar slash pub. It's a fun and lively place to grab a drink, and it really comes to life on First Thursdays. In fact, during the summer, a section of Bree Street is shut off and the Station throws a huge street party with market stalls and live DJs. It gets pretty busy and it's a really fun time.
Address: 207 Bree Street, Cape Town City Centre
Open times: closed Monday; 11 am – 11 pm on Tuesday and Wednesday; 11 am – 12 am Thursday; 11 am – 4 am on Friday and Saturday
Modular
Right, I'm just going to put this out there: I hate Modular.
It feels like you've stumbled down into the depths of hell. It's dark, dingy, super busy, and they play techno and trance music (I think? I can't really tell the difference) which I HATE.
However, a lot of people love this place so I'm including it. It's open really late (often much later than the "official" times) and half of Cape Town tends to end up here after everything else has closed.
But not me. The last time I got dragged here, my best friend and I made a pact never to return.
Address: 34 Riebeek Street, Cape Town City Centre
Open times: 10 pm – 4 am; closed Sunday, Monday and Wednesday
2. Explore Bo Kaap
Bo Kaap is a vibrant neighbourhood that's famed for its colourful houses and Cape Malay culture.
It was originally built for tradesmen and liberated slaves and is still very much a working class neighbourhood. There are lots of stories about why the houses are painted in such bright colours, but the most likely reason is that it was to help local businesses stand out.
Most of the houses are terraced and would all look quite similar had they not been painted, so the bright colour scheme helped customers find the business they were looking for.
You can explore this neighbourhood by yourself, but free walking tours of Bo Kaap depart daily from Church Square on Parliament Street, so why not take advantage? They leave at 2 pm and 4:20 pm, and all you need to do is sign up online and then look for the green umbrellas!
We learned a lot more about Bo Kaap's history on our tour and our guide gave us some great recommendations for cafes and galleries to check out afterwards. At the end, it's recommended that you leave a tip but there's no pressure. R50-100 is a good guideline to follow and we definitely felt like our tour was worth it!
3. Paint Unique Pottery at Clay Café in the City
Painting pottery at Clay Café is such a fun rainy day activity. I find it really relaxing and at the end of it, you have a new bowl, plate, or mug for your home!
They have tons of different items you can paint, from butter dishes to vases and everything in between. There's a small fee or R45 per person to paint and then you pay for each item individually. They've also got tons of stencils and tools to make your items look great and the staff are on hand to give you tips if you need them.
I also really like the food and drink at Clay Café. You can drink wine while you paint, and I love the chicken and avocado salad.
Each session is capped at 2.5 hours and it takes 3-5 weeks for your items to be fired and finished, then you've got a three-month window to go and pick them up.
Clay Café is really popular, so it's a good idea to book in advance – especially at the weekend!
Address: 199 Bree Street, Cape Town City Centre
Open times: 10 am – 5 pm Monday and Tuesday; 10 am – 10 pm Wednesday to Friday; 9 am – 10 pm on Saturday; 9 am to 6 pm on Sunday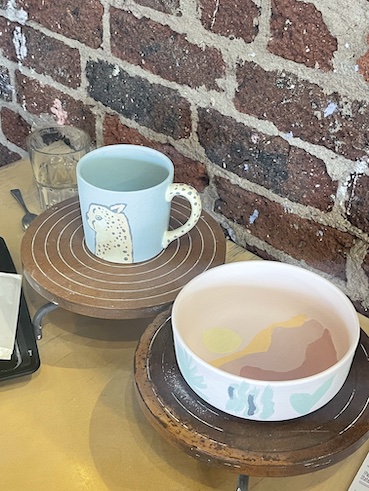 4. Eat and drink at Burger & Lobster
Burger & Lobster is a really fun place to grab a drink and stuff your face at the same time. There's a real party atmosphere here, and they serve up some of the biggest and most indulgent burgers in Cape Town. Plus, as the name suggests, you can also eat fresh lobster here (although personally I'm not a huge seafood fan, so I always stick to the burgers instead).
Burger & Lobster often have DJ nights and they also have a happy hour from 4 – 5:30 pm where you can get half price drinks and bar bites for R69 per plate.
Their drinks menu is pretty creative. I love the sound of the Lobster Martini, which consists of Grey Goose vodka, pineapple juice, passion fruit purée, lime, and Martini Prosecco. Yuuuum.
Address: 105 Bree Street, City Centre
Open times: 12 pm – 10:30 pm
5. Catch a movie at The Labia
The Labia is one of those cool, old-timey cinemas. There's no huge HD screen or 3D effects, but it's a cosy place to watch a movie and they even let you take wine inside. There are fairy lights and a cute outdoor terrace area, and there's a nice, retro feel here. I would much prefer to come here over some huge Chinese cinema anyway!
It's also pretty cheap to watch movies here and they screen classics as well as new releases. It's R70 for a ticket and you can also get meal-and-movie combos for R160. The offers change every day of the week but it's always two meals and two tickets, so it's a really good deal and worth checking out.
6. High tea at the Mount Nelson Hotel
The Mount Nelson may no longer be Cape Town's swankiest hotel, but it's certainly one of the most historic (and iconic).
It opened in 1899, shortly before the Anglo-Boer war broke out, and a young Winston Churchill even stayed here! It was Cape Town's first fine hotel and it quickly became well-known for its exceptional service. Bon Jovi, John Lennon, Bob Geldoff, Arthur Conan Doyle, Alicia Keys, and Kate Moss are just a few of the famous faces who have stayed here.
If you can't swing a stay at the Mount Nelson, it's definitely worth going for their elegant afternoon tea.
It takes place in their timeless and uber-classy dining room between 12 and 3 pm from Wednesday to Sunday. You'll be greeted with a glass of bubbles and the menu includes a huge range of teas and specialty coffees. You can even add a coffee cocktail for an extra R125!
The sandwiches are also seriously fancy. Forget about cucumber on dry white bread, and how about pen-ashed ciabatta, salt hake brandade and salsa verde instead? (I don't even know what half of that means, but it sure sounds good!)
There's also a vegan menu available for plant based pals, and you'll need to book a table. The experience costs R495 per adult and R325 for kids under 12, and you've got the option to add cocktails, champagne, and the like – the prices are listed on the menu.
7. Check out the Pan African Market
The Pan African Market on Long Street is the oldest of its kind in South Africa. It's a 3-storey indoor market and it's a true treasure trove. From jewellery to voodoo dolls and Zulu beads, you can find a ton of fascinating cultural artefacts here. And if you get overwhelmed by it all, there's a cafe on the second floor where you can grab a coffee (or a beer) and enjoy a spot of people-watching.
The Pan African Market is temporarily closed but I'll post the opening hours once it's back in business!
8. Pub quiz at Fireman's Arms
Ironically, the Fireman's Arms did burn down at one point, but now they're back and better than ever. It's a nice pub to grab a drink in on any day of the week, but they do a fantastic pub quiz on Thursday Nights. Make sure to message them on Facebook to grab a reservation as it gets really busy – there were over 30 teams when we went!
9. Company's Garden + Iziko South African Museum
The Iziko South African museum was founded in 1825 and houses over 1.5 million historical artefacts, from fossils and tools to recent fashions. It's a must visit for any history lover and after you've explored the collections, you can stroll through the Company's Garden, which is a gorgeous urban park to relax in, with plenty of flora and fauna to enjoy.
Tickets to the Iziko South African museum cost R60 per adult, or R40 if you have a South African ID. It's open from 9 am – 5 pm every day except for Christmas Day and Worker's Day (1 May).
10. Art Galleries
There are a bunch of cool art galleries in Cape Town City Centre, and checking them out is one of the best things to do here.
I like Youngblood, a 3-storey gallery on Bree Street which provides a platform for young African artists to flourish until they can support themselves with their art. It's so hard for young artists to get a leg up, so I think that their work is really important. Plus, I love the giant sculpture of the man diving between the floors!
The Cape Gallery is also well worth a visit. It showcases the best of South African art in a gorgeous Victorian-era building and it's a must visit for those who are serious about local art.
11. Nelson Mandela Legacy Exhibition
This award-winning exhibition is dedicated to the freedom fighter and former South African president, Nelson Mandela, who famously spent 27 years in prison as part of his fight to end apartheid.
It's a fantastic way to learn about one of the most famous and influential figures in history, as well as the history of South Africa more broadly.
The exhibit is free to visit so there's really no reason not to go.
Address: City Hall, Darling St, Cape Town
Open times: 10 am – 4 pm from Tuesday to Friday
12. Go wine tasting
Okay, so admittedly going wine tasting in Cape Town City Centre isn't as exciting as hopping on the Franschhoek wine tram or the Constantia wine bus. BUT on the upside, it's super central and easy to get to, requires very little planning, and you can do it in the evening, whereas wine farms usually close at 5 pm.
Culture Wine is a super classy wine bar with a huge array of bottles to try. If you come here on a Thursday night, they do a "Thirsty Thursday" where a winemaker comes in and offers a free tasting, so make sure to take advantage of this!
You can also do a tasting at Open Wine, and sometimes they offer these for free on Friday nights.
13. Sky Hi Ride
The Sky Hi ride is a drop tower on top of the Hotel Sky, so you can combine a huge adrenaline rush with awesome views of Cape Town's city centre and surrounds.
It's 35 metres tall but it's on the 28th floor, so when you reach the top, you'll be 146 metres above the ground before you rush back down at speeds of up to 100 kilometres per hour. This is definitely not an experience you'll forget in a hurry!
The ride is closed on Mondays and opens from 12 to 8 pm every other day of the week. You can buy tickets online through Webtickets – they cost R200 each.
14. Swim laps at the Long Street Baths
The Long Street Baths are a tranquil oasis, despite their location on the vibrant (and sometimes chaotic) Long Street. They've been around since 1908, but they've recently been renovated. At one point, Turkish baths and massages were on offer here too but sadly that's no longer the case.
Still, the Long Street Baths are a real community pool and a great place to come for a swim when the weather is less than stellar. I know it's hard to believe, but that does happen from time to time in Cape Town!
A swim costs R32 for adults and R18 for kids, and it's open from 7 am until 5:30 pm. It's also ladies only from 10 am until 2 pm every Tuesday, or 1 pm during the school holidays (which seems to be all the time in South Africa!)
15. Planetarium
The Iziko Planetarium is in the same building as the Iziko South African museum, so you can visit them both on the same day and have a full day of learning! There's an auditorium which digitally recreates the night sky, so some would say that this is the perfect date spot…
They have lots of different exhibits here that teach visitors about everything from the human body to the structure of an atom. Tickets cost R100 for international visitors and also grant you admission to the Iziko South African museum. Meanwhile, South Africans and SADC Nationals only pay R70.
If you enjoyed this post, you might also like…