Last Updated on December 7, 2023 by thecapetownblog
There are plenty of glitzy bars, luxury shops, and super yachts in Cape Town, but it doesn't have to be an expensive city to spend time in. In fact, one of the best things about the Mother City is just how much there is to do for free, or for relatively little money.
I've already covered the best free things to do in Cape Town, so now I've turned my attention to the low-cost activities you can enjoy in the city. From boat cruises (yes, really) to gin tasting and world-class scenic drives, there are lots of cheap activities to keep you entertained in Cape Town. 
This post may contain affiliate links. When you make purchases through these links, I earn a small commission at no extra cost to you, which helps to keep this blog up and running. Thank you so much!
How Much Money is 100 Rand?
Obviously, it depends on the exchange rates, but R100 is roughly £5 or $4.40. However, at the time of writing the rand is very weak, so it's about £4.10 or $5.07.
In many cities, that amount of money might not even buy you a coffee, but fortunately, in Cape Town it can provide you with plenty of fun experiences.
1. Harbour and Seal Cruise
My top choice of activities for under R100 has to be the Harbour Cruise at the V&A Waterfront. For R69, you get to go on a half-hour boat ride around the harbour, with beautiful views of Table Mountain in the background, and say hi to the resident seals. 
It's such a nice thing to do on a sunny afternoon, but do make sure you pick a day that's not too windy.
You can buy tickets online or grab them from the City Sightseeing visitor centre outside the Aquarium.
Boats leave every 30 minutes from 10 am until 5 pm, although there are extended running times during the summer months.
2. Wine Tasting at the Cellar Club Tunnel
For R69, you can go and taste wine in a historic tunnel that was used to move building materials during the construction of the now-famous V&A Waterfront. The tunnel was actually sealed off for many years, but now it's been transformed into a chic wine cellar slash bar.
The tasting here includes 3 wines, which change weekly. We had a white, a rosé, and a red, but if there's a particular type of wine you don't like, you can always swap it out for something else.
The Cellar Club is open from 2 pm until 8 pm from Wednesday to Sunday. I've tried to book before but they're not very responsive to emails, so it's best to just turn up. We went on a Sunday afternoon and it was pretty quiet, so you should be fine! It's along Dock Road, opposite Cause and Effect cocktail bar.
3. Eat Falafel on the Prom
I love nothing more than taking a walk on the prom to clear my head and take in the beauty of Cape Town, except maybe stopping for some falafel on the way. It's so delicious, and although it looks pretty small, you'll be full afterwards.
You'll find the Falafel Guy at the small outdoor food court along the prom, next to the Sea Point Pools. You can get a falafel pita for R50 – so actually, you can get two and still be within your R100 budget!
4. Swim at the Sea Point Pool
Right next to the food trucks, you'll see the Sea Point Pool, an Olympic-sized saltwater pool with a diving board that looks out onto the ocean. It's just R33 for an adult to swim here, so you could go three times for under R100!
There are showers, change rooms, and kids pools here. During summer, it's open from 7 am until 7 pm.
From 2 May until 2 October, it's open from 12 pm until 5 pm on Mondays, or 8 am until 5 pm every other day of the week.
5. Check out some museums
Cape Town has a tumultuous history to say the least, and you can discover more about the city's complex past at one of the many museums around.
Iziko Bo-Kaap Museum
The Iziko Bo-Kaap Museum is housed in one of the neighbourhood's oldest homes and teaches visitors about what life has been like for Bo Kaap residents from the 1800s right up to the present day. Admission costs R60 for foreign visitors, or R40 for residents.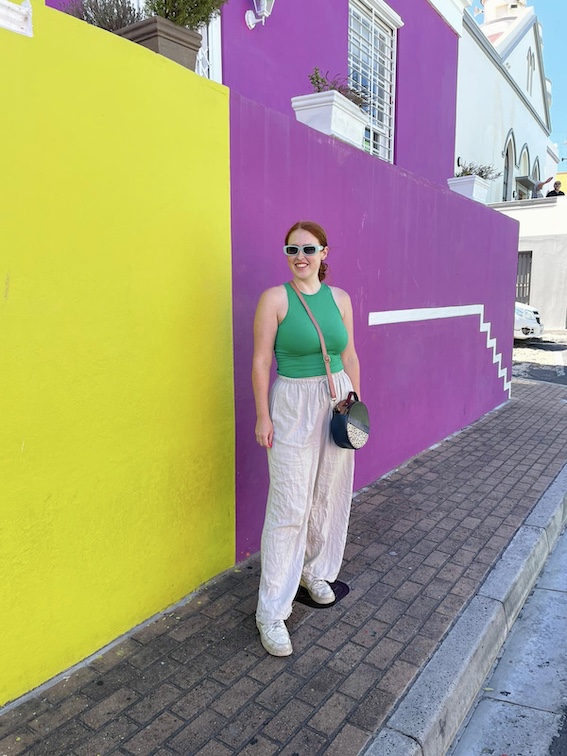 District Six
The District Six Museum is also super interesting. District Six was a diverse, working-class neighbourhood whose community was displaced during apartheid as a result of the Group Areas Act, which decreed that different racial groups could not inhabit the same area.
It's definitely worth taking the time to go and learn more about the area and read personal testimonies from those who were displaced during apartheid. Entry to the District Six Museum costs R60 per person.
Irma Stern
There's also the Irma Stern Museum, which chronicles the life of the eponymous artist, traveller, and collector. After she died, her home was opened to the public, and for R60 you can go and learn all about her life and work.
The museum is open from 10 am until 5 pm on weekdays, and from 10 am until 2 pm on weekends. It's in Rosebank, close to the University of Cape Town and Rondebosch.
6. Play Putt-Putt
If you're not South African, you'll know putt-putt as mini golf instead. But whatever it's called, you can play it along the prom for R40 for one game, or R80 for three. It's pretty good fun, and the course is open 9 am until 9 pm daily. 
Check out this article for a full list of Cape Town's putt putt courses!
7. Get a Pastel de Nata at the Oranjezicht Market
There are so many delicious treats on offer at the Oranjezicht Market that, for a first-timer, it can be difficult to make a decision. But seasoned Capetonians know that it's all about the pasteis de nata from Vadas Bakery.
The classics are always there, but they also have limited edition flavours which change every few weeks, such as chocolate and raspberry or hot cross bun. Since they're just R28 per tart, you can get three for less than R100 and enjoy them as you people-watch at the market. You can tell yourself that you'll save them for later, but that will probably prove to be a lie.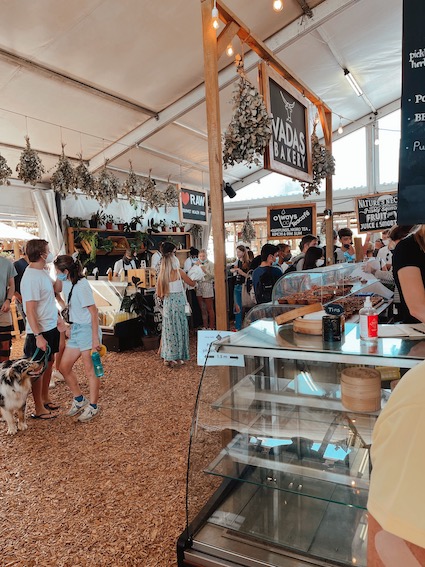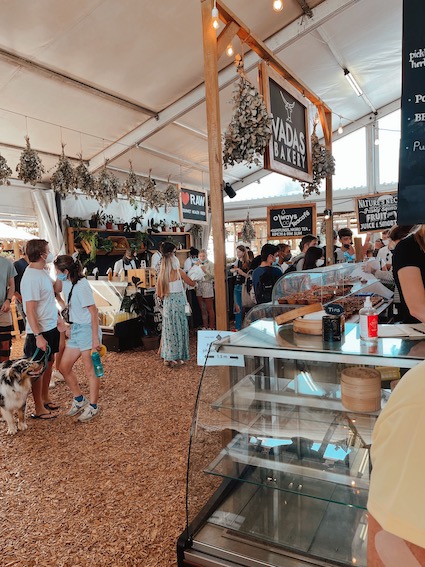 8. Watch live music at Mojo Market
There's always a fun vibe at Mojo Market, which is an indoor food market where you can find everything from bagels to oysters to Nasi Goreng. But what makes it even better is that there's live music there every night at 9 pm!
You'll definitely be able to find a drink at the bar for under R100, and then you can just sit back, enjoy the atmosphere, and listen to some local talent.
9. Go Gin Tasting
There are a couple of great places to go gin tasting in Cape Town, and it's a pretty cheap thing to do.
You can head to the Gin Emporium at the Waterfront and taste 4 gins for R60. The rooibos one was my personal favourite! It's now self-guided which I don't think is as good as before, but you get a pretty generous amount of gin for the price so I can't complain too much.
Meanwhile, a gin tasting at Pienaar & Son costs R80 per person, but you get to try seven different spirits. It's at the Makers Landing market at the V&A Waterfront, and the staff are really nice. If you're interested in the distillery process, you'll love this tasting!
10. Chapman's Peak Scenic Drive
Chapman's Peak Scenic Drive is absolutely stunning. You'll meander along a winding road with gorgeous red cliffs on your left, and the Atlantic Ocean on your fight. Plus, you'll have beautiful views of Hout Bay and The Sentinel peak. It's incredible – and you'll definitely want to pull over and snap some photos.
The journey begins at Hout Bay Harbour and ends in Noordhoek, where you can head to the
Aegir Project for a burger and a beer before you head home.
There's a toll fee or R57 per vehicle, and you'll need to keep your receipt with you if you want to take the same road back again.
Make sure to check the road status before you go, because it shuts during strong winds due to the risk of falling rock.
For more fun activities in Cape Town, check out: