Last Updated on December 7, 2023 by thecapetownblog
If you're thinking about getting a new tattoo, it's important to do your research. After all, it's going to be on your body forever!
Cape Town is home to some amazing tattoo studios and I've also had a tattoo done here in the city. So if you're considering getting inked, there are plenty of great places to choose from. However, I honestly think too many choices can get a bit overwhelming, so I've narrowed it down to the top 5 places to get a tattoo in Cape Town.
Whether you want a hand poked tattoo or a vibrant, colourful design, these studios have got you covered. Let's dive in!
This post may contain affiliate links. When you make purchases through these links, I earn a small commission at no extra cost to you, which helps to keep this blog up and running. Thank you so much!
1. Palm Black
Palm Black is where I got my tattoo done, and I had a great experience.
It was recommended to me by a friend who'd had a ton of tattoos done there, so I felt pretty confident going in.
Palm Black is on Kloof Nek Road in Gardens. It was founded by Raoul Goetze, who's pretty well known locally for his tattoo skills. My tattoo was actually done by Somber Pokes, and he made me feel so comfortable throughout.
My tattoo was handpoked and I didn't find it hurt at all! It also healed really well and didn't get itchy, so I was super impressed with that.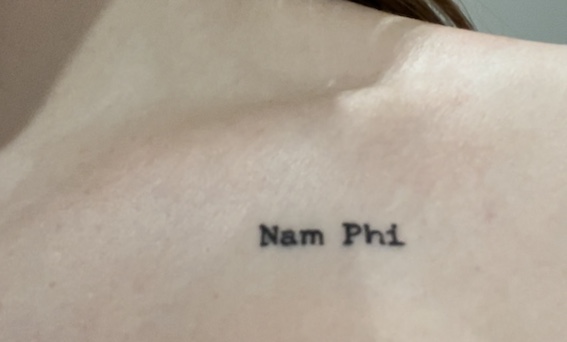 One thing I really liked about Palm Black is that the studio is super light, airy, and welcoming. In fact, it feels more like a coffee shop than a tattoo studio. It wasn't all black vinyl, skulls, and flames!
I booked my tattoo with Palm Black via their website and then we had a quick email exchange where they helped me to figure out what I wanted. I paid an R800 deposit and then another R720 on the day, but I think I rounded that up to include a tip because I was so happy with the results. They also gave me a free pot of healing balm, although I didn't even really need it!
And in case you're wondering, I got "Nam Phi" tattooed underneath my collarbone. It's Vietnamese for "South Africa."
2. Tomb Tattoo
The name "Tomb Tattoo" sounds kind of scary, but this is another kitsch and welcoming studio. The artists here are known for their clean bold lines and they specialise in bold designs. Their pieces make for great tattoo cover ups!
Tomb Tattoo is open from 11 am until 5 pm on weekdays and it's also in Gardens. Gardens seems to be the place to be for Capetonian tattooists!
To book a tattoo here and get a quote you can email the studio at tombtattoocapetown@gmail.com.
3. Cape Electric Tattoo
Cape Electric Tattoo is also in Gardens – what is it about this neighbourhood?!
Cape Electric specialises in black and grey tattoos, Japanese tattoos, portraits, and traditional Western tattoos. It was founded by Waldo del Roca, who does amazing colour tattoos, and has three resident artists although they sometimes host travelling guest artists, too.
One of the resident artists at Cape Electric is Gareth Lloyd, who represented the studio at the 2018 South African International Tattoo Convention, so it's safe to say he's one of the best artists in the country!
You can make an appointment at Cape Electric Tattoo via their website but they do also take walk-ins if you're the spontaneous type.
4. Handpoked Human Canvases
I love handpoked tattoos because they're much gentler and I feel like there's just more human connection behind them, since the hand poking process tends to feel pretty intimate. And clearly, tattoo artist Nicole Ersin agrees, because she founded Handpoked Human Canvases after her graphic design work left her craving more human connection.
Handpoked Human Canvases is Simon's Town (near the penguin beach!) and Ersin focuses on intricate, delicate designs. Her work really is amazing. These are the kinds of pretty tattoos that end up on a million Pinterest mood boards, but they're definitely more skillful and unique. 
Ersin also uses vegan ink for all of her tattoos, and she's tattooed around 400 people in the past few years. According to her website and Instagram page, bookings are on pause right now, but I hope that they resume soon because her portfolio makes me want another tattoo!
5. Hoodoo Tattoos
The artists over at Hoodoo Tattoos can do pretty much everything, from sweet little designs to warrior-style tattoos to AMAZING watercolour pieces. One of their artists, Chanel, creates some of the most beautiful tattoos I've ever seen. It's literally human artwork.
You'll find Hoodoo Tattoos in Bakoven, which is about 5 minutes from Camps Bay. You can book with them via email at hoodootattoos@gmail.com.
Cape Town Tattoo FAQs
Is it safe to get a tattoo in Cape Town?
Yes! You need a licence to tattoo others in South Africa, and Cape Town has many reputable studios with strict hygiene practices. Just make sure you do your research and go to a studio with good reviews and a great reputation, like the ones listed in this blog post.
How much does it cost to get a tattoo in Cape Town?
As is the case anywhere, it depends on the size and complexity of the piece that you want. A small, simple tattoo usually starts at around R800 (£34/$43 USD), and larger pieces cost around R1000 – R1200 (£42 – £50 /$53 – $64) per hour.
Are tattoos common in Cape Town?
Yep, tons of people have them. There's no real stigma about them here, and it's a very young city so people are very accepting of tattoos, piercings, and the like!
How old do you need to be to get a tattoo in South Africa?
There's no real legal age limit for tattoos in South Africa. However, tattooing anyone under 18 is regarded as maltreatment of a minor according to Children's Act 38, so reputable studios will only tattoo legal adults.
In many countries, you can get a tattoo at 16 with parental consent, but there's no specific stipulation for this in South Africa. Plus, not to sound like I'm a million years old, but I don't think getting a tattoo when you're that young is ever a good idea…
If you enjoyed this post, you might also like…