Last Updated on July 15, 2023 by thecapetownblog
Sure, there's a ton to do IN Cape Town, but there are also some amazing day trips on offer. From penguins to wine farms and world-famous scenic drives, Cape Town has a ton to offer visitors beyond its beautiful beaches and bustling centre.
Okay, so technically a few of these day trips I've listed are in Cape Town, but they're a decent drive from the city centre, so I think that they count as day trips!
I always say that Cape Town isn't really a city that you need to escape, but it's always fun to explore a little further afield, so here are my top picks for the best day trips from the Mother City.
This post may contain affiliate links. When you make purchases through these links, I earn a small commission at no extra cost to you, which helps to keep this blog up and running. Thank you so much!
1) See the Penguins at Boulders Beach
Visiting the penguins at Boulders Beach is one of the best things to do in Cape Town, and it really does make a lovely day out.
Boulders Beach is super scenic in its own right, but the adorable penguins waddling on the shore make this a must-visit destination for every visitor to Cape Town. The penguin colony here has actually grown from just 2 breeding pairs in 1982 to over 3,000 birds today, which is pretty impressive if you ask me!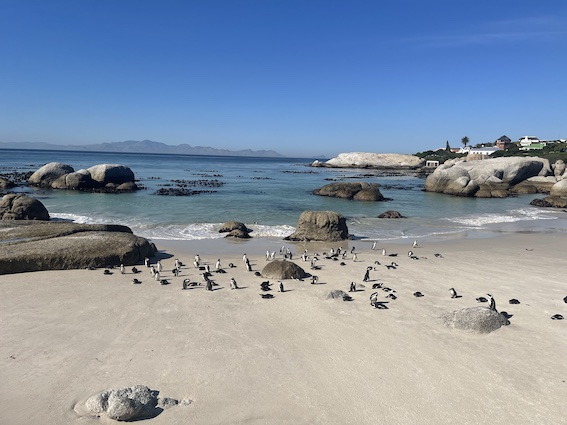 They do live in other parts of the country too, but Boulders Beach's close proximity to Cape Town and great viewpoints make it the ideal destination to spot these adorable birds.
In fact, Boulders Beach is just 41 kilometres (25 miles) from the city centre, so you can drive there in about 45 minutes. If, like me, you're not a South African resident (cue sad music) then you'll need to pay R176 to enter, or it's R88 for kids.
To see the penguins, you can either rent a car and drive there or take a tour. This tour takes you along the scenic Chapman's Peak drive, which is a must-see while you're in Cape Town, and then you have about 2 hours to see the penguins and grab a bite to eat.
If you're keen to make this day trip from Cape Town (and why wouldn't you be?) then check out this detailed guide that contains absolutely everything you need to know about visiting the penguins at Boulders Beach.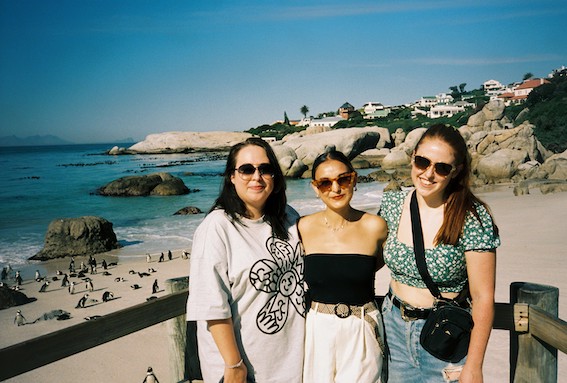 2) Stellenbosch
Stellenbosch (or "Stellies" as it's affectionately known) is a scenic town in the Cape Wineland with beautiful, white Cape Dutch buildings and a ton of wine farms around.
You can visit Simonsig to taste some of South Africa's best bubbly, or the Waterford Estate is one of my favourites. They have a great wine and chocolate pairing, and the staff were happy to give us extra chocolates when ours melted due to the January heat.
The town itself is also incredibly charming, and there are lots of boutique bars where you can grab a crisp glass of Chenin while you watch the world go by. And for dinner, head to Post & Pepper for a gourmet meal in the historic post office building.
Since Stellenbosch is about an hour's drive from Cape Town, it's a good idea to take a tour unless you want to stay overnight or can source a willing designated driver.
I think that this wine tour is fantastic for two main reasons.
One, it's a private tour so it's just you and your group, so you can tailor the experience if you've got a particular Stellenbosch wine farm in mind.
And two, the original itinerary takes you to some of the very best wine farms that Stellenbosch has to offer, including Spier and the Waterford Estate! It promises to be a brilliant day out. When you visit Spier, make sure to head to the Vadas Bakery on site for some INCREDIBLE pastéis de nata.
The tour costs R1,900 per person, or R1,500 per person for groups of 5+. This includes everything except food, and you'll probably want to get a cheese or charcuterie board at one of the wine farms, so you should probably budget an extra R100 – R200 each for this.
Click here to find out more and book
3) Franschhoek
Franschhoek is such a picturesque town that it reminds me of Duloc out of Shrek – you know, it's a perfect place!
This small town is perhaps best known for the wine tram, which takes you on a novel (and boozy) adventure through the gorgeous Franschhoek valley to sample wine from some of the region's best estates.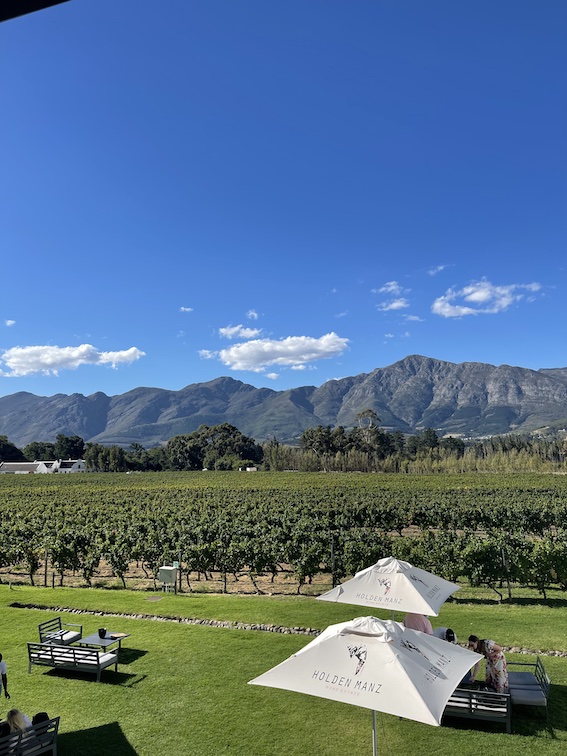 There are a bunch of different routes you can do, but tickets cost R240 per person regardless of which one you choose. Be aware that the ticket price doesn't include any of your tastings or food along the way. Tastings vary between R75 and R200, and food is between R100 and R250 for most menu items.
To decide which route looks best to you, you can check out the map here.
It takes just over an hour to drive from Cape Town to Franschhoek, and obviously you don't want to drive back when you're sloshed. If you want to do the wine tram on a day trip from Cape Town, I recommend booking this tour for R665.
It departs from either the Aquarium at the Waterfront or Long Street between 8:30 and 9 am. The price includes transport to and from Franschhoek and your wine tram ticket, but not your tastings or food. It's a really fun day out so I definitely think it's worth the money!
4) Paarl
Paarl is another winelands town. It's arguably not as famous as Stellenbosch and Franschhoek, but it's the third oldest town in South Africa and there's plenty to do here.
It's perhaps best known for the Paarl Spice Route, which is a big complex that's an absolute paradise for basically anyone with taste buds. You can taste artisanal chocolate, craft beer, biltong, and of course wine along the way, and you can hop on a mountain bike to explore the area further.
I'm actually still yet to do this, but you better believe that it's high up on my Cape Town bucket list.
One thing I have done in Paarl and can highly recommend based on personal experience is visiting Rhebokskloof Wine Estate for a wine and chocolate pairing. It was a lot of fun, super informative, and the grounds are just beautiful. We had a lot of fun taking drunken pictures by the lake.
Paarl is roughly 60 kilometres (37 miles) from Cape Town, and it's about a 45 minute drive. You can easily pair a day trip here with a visit to Stellenbosch or Franschhoek – or both! I did all three on the Cape Winelands sightseeing tour.
On this tour, you start at the Simonsig Estate in Stellenbosch where you get a quick cellar tour followed by a cheese and fruit platter, as well as a wine tasting of course! You do a walking tour of Stellenbosch, then go for a tasting at the Franschhoek Cellar where you can also buy lunch.
You finish the day with a wine and chocolate pairing in Paarl at Rhebokskloof Wine Estate, which is really beautiful, and if the weather's nice you get some time to hang out by the lake afterwards.
I definitely plan to go back to Paarl and explore in more depth, but this stop on the winelands tour was a nice introduction!
The tour costs R665 per person including your transport, cheese board, and tastings, but you have to buy lunch at the Franschhoek Cellar yourself.
Click here to find out more about this tour and reserve your spot!
5) Cape Point and Cape of Good Hope
This one's for nature lovers. Cape Point is a scenic landmark at the tip of the Cape Peninsula, and there's a ton of cool wildlife around, including baboons and ostriches (just keep a safe distance from both).
For the best views, you can walk or take the funicular to the top of the Cape Point lighthouse. From there, you'll see beautiful beaches, rocky outcrops, and a big blue stretch of ocean.
We took the funicular to the top, but had to walk back down due to loadshedding, and once we realised what an easy walk up it was we felt a bit lazy!
The Cape of Good Hope is also nearby, and it's known as the southernmost point of the African continent (although as you'll learn when you visit, this is not actually quite true).
Regardless, it's a breathtaking spot with rocky cliffs, crashing waves, and even more chances to spot local flora and fauna. And it's so close to Cape Point that if you're going to visit one, you may as well see both.
You can even hike from Cape Point to the Cape of Good Hope, which is about 3 kilometres (1.8 miles) each way. Start in the Cape Point car park and then you'll head up to the lighthouse and along a series of boardwalks over the cliffs. It's a fairly straightforward hike, and if you do the City Sightseeing tour you can just do it one-way and then get picked up at the Cape of Good Hope rather than having to go back again.
Cape Point is about 64 kilometres (40 miles) from Cape Town city centre, and then the Cape of Good Hope is a 6-kilometre (3.7-mile) drive away, or 3 kilometre (1.8-mile) hike. You should also be aware that for non-South African citizens, there's a R376 entry fee to the Cape Point Nature Reserve, which you can pay on your way in with either cash or card.
I visited Cape Point and the Cape of Good Hope as part of this tour, which also took us to Boulders Beach to see the penguins! It's R545 per person minus the entry fees, so it ends up being about R1,100 in total.
We had such a good time even though the weather was awful. Our tour guide gave us free rain ponchos to use, but I ended up being nearly suffocated by mine because the wind was so bad!
Click here to find out more about this tour and book your place!
6) Chapman's Peak Scenic Drive
The Chapman's Peak Scenic Drive must just be one of the most beautiful journeys you ever take. As you wind alongside the rocky red cliffs, you'll have beautiful views of the Atlantic Ocean and Hout Bay, and there are plenty of places to pull over and stop for photos.
The 9-kilometre (5.5-mile) drive starts in Hout Bay Harbour, which is about 20 minutes north of Camps Bay, and ends in Noordhoek, where you can head to the Aegir Project for beer tastings and burgers afterwards.
You'll need to pay a R57 toll fee to access the road, and make sure to keep your receipt for the drive back, otherwise you'll have to pay twice. It's also a good idea to check the status of the road before you go, because it closes during high winds.
7) Kalk Bay
Kalk Bay is a quaint seaside suburb that's 30 kilometres (18.6 miles) south of the city centre. It's got a vibrant indie scene with lots of boutiques, art galleries, and cafes to check out, hence its nickname "the Lentil Curtain."
It really is the perfect place to spend a relaxed afternoon exploring, and you can even take a dip in the Dalebrook Pool on a warm day, or head to the Brass Bell for a beautiful ocean view while you enjoy some top notch fish and chips.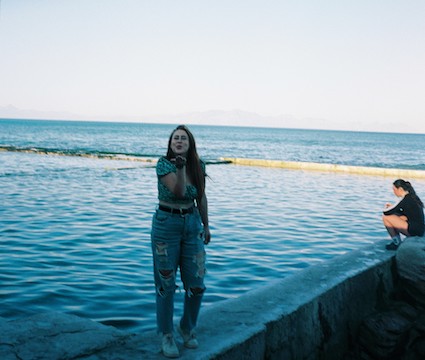 8) Constantia
Constantia is a charming and peaceful suburb that's filled with beautiful old buildings, including some of South Africa's oldest wineries. In fact, it's actually home to THE oldest wine estate in the country: Groot Constantia. 
You can spend a day wine tasting in Constantia without worrying about appointing a designated driver with the hop-on, hop-off bus which includes three of the area's best wine farms on the route. Beau Constantia is especially beautiful.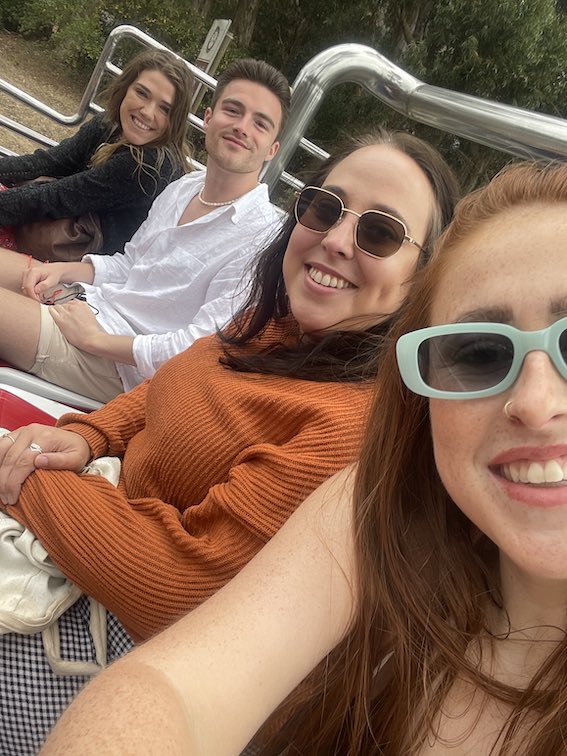 You could also take an Uber, but they can be tricky to get a hold of once you're in Constantia, so the bus is a better bet in terms of transportation between the wine farms and back to the city.
The wine bus leaves from the Aquarium at the V&A Waterfront every 20 minutes from 9 am until 5 pm, although there are extended operating hours during the festive season. It's best to go early as you'd be surprised just how quickly time flies when you're tasting wine!
If you take the bus, go tasting at three wineries, and share a cheese and charcuterie board for lunch, the wine bus experience will cost you about R700 per person in total. It's so much fun and one of my favourite things to do in Cape Town – I take all of my friends when they come to visit!
For more on the best wine farms in Constantia (and how to get to them), check out this guide.
9) Hermanus
Hermanus is a sleepy beach town that's about 122 kilometres (75 miles) southeast of Cape Town, so it takes about two hours to drive there. It's best known for being the ultimate whale-watching spot on the Western Cape; in fact, there's even a whale festival held every year in September!
Winter is the best time to spot whales in Hermanus, but fear not: there's still plenty of natural beauty to enjoy during the summer. There's the famous Cliff Path Walk, a 12-kilometre (7.5-mile) hike along the rugged coastline. What's cool about this route is that the majority of the trail is wheelchair and stroller accessible, so everyone can enjoy the gorgeous ocean views.
And I really can't talk about Hermanus without imploring you to go and get breakfast at The Station. I thought that avocado toast could only be so good, but as it turns out, I was wrong. Pretty much everything on the menu here is just amazing. The tomato eggs benedict actually made me want to lick the plate clean (but we were in public, so I settled for heartily scraping away with my fork.)
I've had the pleasure of hanging out with The Station's owner, Simon, a few times and I don't think I've ever met anyone so passionate about food. So do yourself a favour and try his cheesecake while you're in town!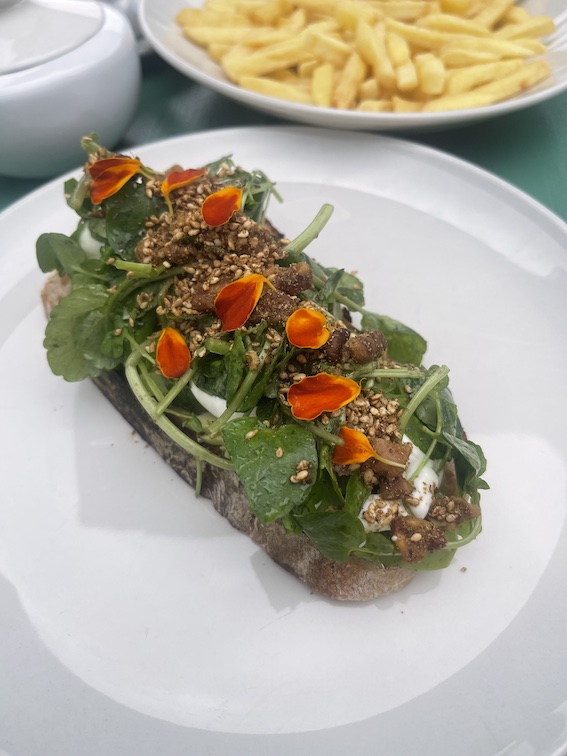 10) Tulbagh
Nestled between three different mountain ranges, Tulbagh is a beautiful old town (the fourth oldest in South Africa, to be precise) where visitors can enjoy gorgeous vistas, visit wine farms, and eat farm-to-table cuisine. It's a 1.5 hour drive from Cape Town but there aren't many tours that go there, so you'll need to drive.
You can even rent a bicycle from Vindoux Guest Farm and cycle around some of the local wine estates. The route includes Krone, which is one of South Africa's best known champagne producers.
(Or, sorry, MCC to be precise – I don't know THAT much about wine but I am well aware of the "only-from-the-Champagne-province" rule).
If you end up buying a ton of wine (which is likely) then there's no need to worry, because you can attach a special carrier on your bike to make sure that none of your bottles get broken in transit.
You should also take a stroll down Church Street while you're in the area. Much of Tulbagh was destroyed by an earthquake in 1969 that killed 12 people.
A massive restoration project was carried out to restore the historic buildings that were damaged during the quake, and as a result every single house on this street is now a national monument. You can admire the pretty facades and read the plagues in front of each one that contains details of the building's history and the story of its restoration after the disaster.
11) Aquila Safari
The Kruger National Park is undoubtedly the best place in South Africa to go on safari, but it's a bit of a trek from Cape Town. If you don't have the time or the budget to go all the way to the Kruger, you can take a day trip to Aquila Game Reserve from Cape Town and see lions, elephants, and giraffes – oh my!
I've done this safari twice and I loved it both times. Each time, I saw a ton of amazing animals including lions, African elephants, black rhinos, giraffes, springboks, hippos, and zebras. Going in the summer was extra special though as we got to swim in the giant infinity pool after our game drive.
The day safari costs between R1,550 – R1,990 (£75-£100) depending on when you go and whether you opt to have one or two buffet meals as part of your experience.
12) Muizenberg
A day trip to Muizenberg is a must if you want to go surfing in Cape Town – but even if you just want to swim, it's much easier to get in the water here than it is at Clifton or Camps Bay, where the waves are often super choppy, meaning you have to dive in head-first or remain ankle deep only.
(It's really not ideal when you need to head into the ocean to pee.)
Anyway, Muizenberg Beach is long and sandy with gentle waves that are still substantial enough to surf, and it's also known for its cute, colourful beach huts. The water here is also warmer than it is at the beaches along the Atlantic Seaboard, so you can stay in for longer without losing feeling in your extremities.
Meanwhile, Sea Point may have the prom but Muizenberg has its own slightly more rustic version on offer: the Muizenberg Catwalk. It's a 3-kilometre (1.9-mile) walk along the coastline that offers beautiful views and takes you past several historic monuments.
Muzienberg is 26 kilometres (16 miles) south of Cape Town city centre and it only takes about half an hour to drive there, as long as you avoid rush hour.
For more great beaches in Cape Town, check out this article.
13) Durbanville
Okay, so this is another one that is actually part of Cape Town but again, it's about half an hour away from the city centre – only this time, it's in the northern direction. Durbanville is home to some of Cape Town's best wine farms, including De Grendel, which offers incredible views of Table Mountain! (And also a very nice merlot.)
Exploring the Durbanville wine farms was one of the very first things I did when I got to Cape Town and it was such a wonderful day. We started with De Grendel and also went to D'Aria and Klein Roosboom, and ate a ton of cheese along the way.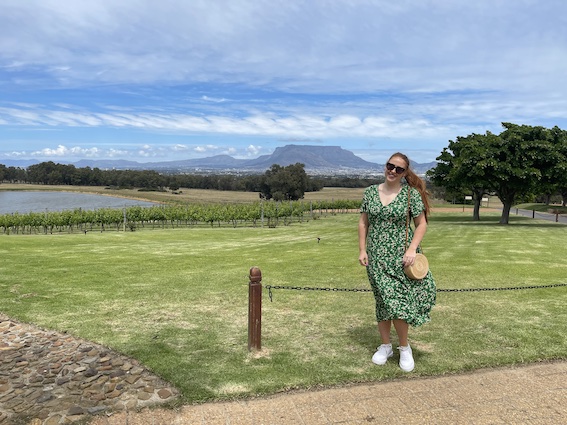 I guess the only problem with doing the Durbanville wine route is that there's no wine bus or tram you can take here, so someone needs to be the designated driver. You can easily take an Uber to and from Durbanville, but getting between the wine farms might be tricky if you're relying on ride hailing.
For more fun things to do in and around Cape Town, check out…