Last Updated on October 23, 2023 by thecapetownblog
One of the best things about Cape Town is that it's located on the Cape Peninsula, close to a ton of beautiful and dramatic landscapes, including the Cape Point and the Cape of Good Hope.
Both of these beautiful land formations are at the southern tip of the Cape Peninsula, so it takes about an hour to drive there from central Cape Town. You can't access them by public transport, so if you haven't got your own wheels, the best way to see them is via the Cape Explorer tour!
I did this tour with my friend Liam when he came to visit me, as I didn't have a car at the time. We had a fantastic day out and also got to visit Boulders Beach, which is home to Cape Town's adorable African penguin colony.
So if you're considering taking the Cape Explorer tour, stay tuned for my full review!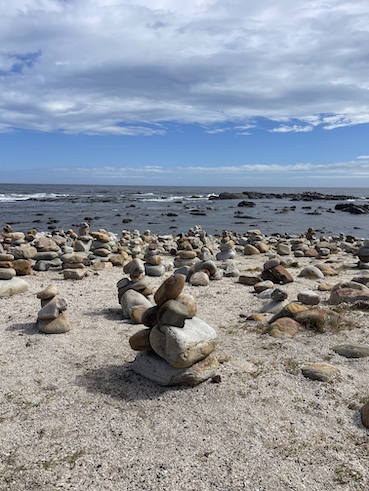 This post may contain affiliate links. When you make purchases through these links, I earn a small commission at no extra cost to you, which helps to keep this blog up and running. Thank you so much!
Who operates the Cape Explorer Tour?
The Cape Explorer Tour is operated by City Sightseeing. They operate tours all over the world, including hop-on, hop-off bus tours in a ton of cities. They also run the Constantia wine bus, which is another favourite of mine. I booked the tour with them as I already knew they're reliable and run a good service.
What will you see on the Cape Point Sightseeing Tour?
Boulders Beach
The tour bus can pick you up from the V&A Waterfront, Long Street, or Camps Bay, and then it's on to Boulders Beach to see the penguins!
Boulders Beach is a protected beach that's covered in boardwalks, so you can get close to the penguins but not touch them. They bite!
It's also a really gorgeous beach in general. You'll need to pay the entrance fee on arrival, which is R176 (£7.50/$9.50) for international visitors, or R80 for kids. If you're South African, then it's R44 for adults and R22 for kids.
Lunch
After you've spent time checking out the cute penguins, the Cape Explorer tour takes you to the Seaforth restaurant for lunch. 
This isn't included in the price of the tour, but it's a great place to eat. Liam and I both ordered fish and chips and a pint, and it cost R210 each.
Cape Point
After lunch, it's back on the bus and you'll head to Cape Point. This is a beautiful landform with rocky cliffs and gorgeous bays, which you can view from the top of the Cape Point lighthouse. 
Cape Point is known as the place where the Indian and Atlantic Oceans meet, but in reality the meeting point fluctuates between here and Cape Agulhas, which is 1.2 kilometers (0.75 miles) east.
Before you arrive, you'll need to pay R360 (£16/$19.60) to enter the Cape Point Nature Reserve. It's R180 for kids, R90 for South African adults, and R90 for South African kids.
We paid this fee on the bus, and our tour guide brought a card machine around. It was super easy!
You can either take the funicular to the top of the Cape Point lighthouse and back down again for R70. We did this but ended up having to walk back down due to loadshedding, which is a scheduled power outage. The walk back down was actually pretty fast, so I kind of wished we had just walked up in the first place!
The views from the lighthouse are stunning. The weather was pretty bad on the day we visited the Cape Point so our tour guide gave us plastic ponchos, but the wind gets really strong at the Cape Point – mine ended up almost suffocating me!
Then, once you head back to the car park, you can either go on a short guided hike to the Cape of Good Hope, or hop back on the tour bus. I would usually recommend hiking but due to the wind and rain, we chose the comfort of the bus. 
Cape of Good Hope
The Cape of Good Hope is often mistakenly referred to as "the southern tip" of Africa, which isn't technically true, but there are very few places further south than here. It does, however, hold the title of the southeasternmost point in Africa, which is pretty cool. 
It doesn't really matter, anyway, because the Cape of Good Hope is known for its stunning scenery. Its name is said to have come from John II of Portugal, who believed that the discovery of the Cape by Europeans was a good sign that they could also reach India. Obviously looking back now, that's horribly ironic, but there we go…
Anyway, the name wasn't entirely truthful because there are estimated to be around 3,000 shipwrecks around the Cape of Good Hope due to the turbulent weather and rough seas here!
On the tour, you can take a walk around, check out the rock formations, and hike a little way up the rocks for more views. We also saw lots of ostriches and baboons! 
How much does the Cape Point Sightseeing Tour cost?
The base price of the tour is R565 (£25/$30), but you also need to pay for entry to Boulders Beach and the Cape Point Nature Reserve on the day.
Here's a breakdown of how much we spent:
R565 for the tour
R176 at Boulders Beach
R210 for lunch
R360 to enter Cape Point Nature Reserve
So it cost R1,311 each, which is £58.66 at today's exchange rate, or $71.27 USD.
It costs slightly less for South Africans, as locals get reduced entry rates to Boulders Beach and Cape Point Nature Reserve. For a local, it might cost:
R565 for the tour
R44 at Boulders Beach
R210 for lunch
R90 to enter Cape Point Nature Reserve
So for locals, it's around R909, or R699 without lunch.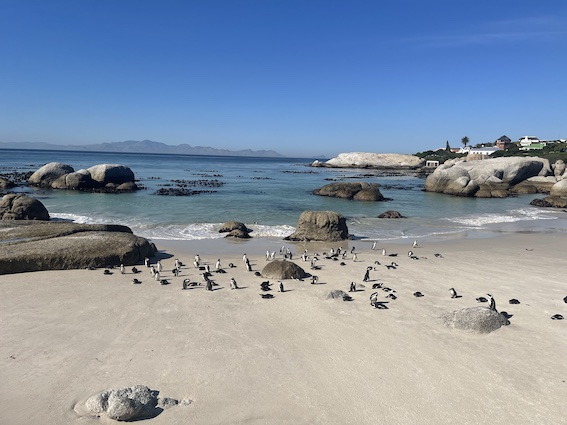 Do you need to book the Cape Point Sightseeing Tour in advance?
In late December or early January, you'll definitely need to book a few days in advance, or more if you can. For the rest of the year, just the day before is probably fine. Liam and I went in February and if memory serves, we booked the tour about 3 days in advance.
When you book through Viator, you can cancel or change the date of your booking up to 24 hours before the tour starts, so this is a safe bet if you're keen to secure your place ahead of time.
You can book the Cape Explorer Tour here!
What time does the tour leave?
It leaves between 8 and 9 am, but it depends on your pickup location. The tour also leaves an hour earlier during the peak tourist season, but you'll be advised of your exact pickup time when you book!
Are gratuities mandatory?
South Africa does have a tipping culture but tipping at the end of a paid tour isn't mandatory, though it is recommended. We loved our guide and were happy to tip after a great day out. I think we tipped about R100 each. 
Can I visit Boulders Beach, Cape Point, and the Cape of Good Hope on my own?
Yes, you certainly can. A tour isn't strictly necessary and if you have a rental car, you can visit these places independently and enjoy going at your own pace. You'll still need to pay the entry fees, though, as the Cape Explorer tour doesn't make any extra off of this.
Discover Cars is great for finding affordable vehicle rentals in Cape Town. You can compare the best suppliers and rank them by price to find a great deal. And if you want to know more about what driving is like here, check out this post! 
Is the Cape Explorer Tour worth it?
Yes! It's an amazing way to see Boulders Beach, Cape Point, and Cape of Good Hope all in one day. Plus, we loved our guide and such a fun day.
The reason that I chose this tour is because I didn't have a car at my disposal when Liam came to visit, and he really wanted to explore the Cape Peninsula. You can't really Uber to Cape Point and Cape of Good Hope as there's very limited phone signal, and it would be way more expensive than doing the tour. So the Cape Explorer tour was there to provide all of our transport and take care of the details, so we could just relax and enjoy our day out.
All in all, I had a great time and am so glad I did this tour. If you don't want to rent a car in Cape Town, I would highly recommend it.