Last Updated on October 10, 2023 by thecapetownblog
It may be famous for its wine, but there are plenty of fantastic places to go beer tasting in Cape Town. So if you prefer the grain to the grape, you're still pretty well catered for in the Mother City.
Beer has been popular for hundreds of years in South Africa, and the beer culture has been heavily influenced by Dutch settlers. And, like so many places around the world, Cape Town has really seen a boom in the craft beer scene over the past 10 years or so.
The first commercial brewery in South Africa was Castle Brewery, which was established in Johannesburg in the 1890s. Castle Brewery is still going strong today; Castle Lager and Castle Lite are both very popular brands and you'll see them pretty much everywhere you go.
However, there are also tons of popular craft brews around, perhaps most notably Devil's Peak Lager. By far the best way to get to know Cape Town's craft beer scene is to go tasting, and this post contains all of the best options!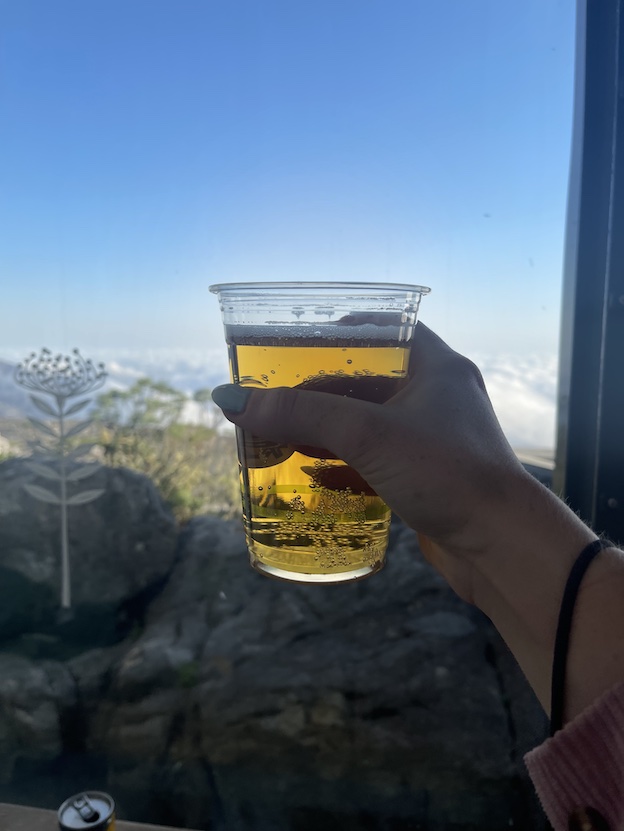 This post may contain affiliate links. When you make purchases through these links, I earn a small commission at no extra cost to you, which helps to keep this blog up and running. Thank you so much!
1. The Aegir Project, Noordhoek
I LOVE The Aegir Project. It's my favourite place to go beer tasting in Cape Town!
It's a big taproom with a great atmosphere, and they offer both amazing beer and burgers.
Noorhoek is about 30 minutes out of Cape Town city centre. I'd say it's worth the journey to get here, but the truth is that the journey is one of the best parts of visiting the Aegir Project. 
Make sure that you head to the Aegir Project via Chapman's Peak scenic drive, which is a stunningly beautiful road that runs along the red cliffs of Chapman's peak, right next to the ocean.
The craft beers here are absolutely delicious, and they like to experiment with flavours. The tasting tray costs R80 and includes 5 beers. The McCloud lager is my personal favourite. You'll definitely want to stick around for a few pints afterwards, too.
I also definitely recommend ordering the smash burger if you're hungry!
You don't always need to book but it can get busy on weekends. You can reserve a table here!
Address: 65 Beach Road, Noordhoek
Open times: 9 am – 10 pm
Price per tasting: R80
2. BeerHouse, Long Street
Long Street is right in the centre of Cape Town, so this one's super easy to get to.
Honestly, I love the style of the yellow BeerHouse building on Long Street – it reminds me of New Orleans! They have over 25 beers on tap and 99 bottled beers, so you've got a ton of choice. It's basically a beer lover's paradise.
BeerHouse supports local microbreweries, so this is an excellent place to come and try something new. You can order the Beer O'Clock Tasting Tray for R180 and get twelve 100 ml samples!
Or, if twelve samples sounds like a bit much, or there's something specific you want to try, you can always just order single samples of any of the on-tap beers for around R12.
One thing I will say is that Long Street is well known for pickpocketing and mugging at night, so I'd recommend going to do this tasting during the day or in the early evening. If you want to continue afterwards, go to Kloof Street or Bree Street instead, as these are much safer nightlife hubs. 
Address: 223 Long Street, Cape Town City Center
Open times: 11 am – 4 am (10 pm on Sunday)
Price per tasting: R180
3. Devil's Peak Brewing Company Taproom, Salt River
The Devil's Peak Brewing Company is a 10-15 minute drive from the centre of Cape Town, so you can easily get an Uber here for between R50 – R100. It's one of the most recognisable beer brands in Cape Town, and I really like their First Light Golden Ale.
The beer tasting platter here costs R60 and includes four different beers, so I think that it's pretty good value for money.
They also do a lot of good specials here, like Taproom Tuesday, when you can get a cheeseburger and a 340 ml lager for R95. On Thursdays, you can also get two pizzas and two 500ml lagers for R300, which is a pretty good deal!
The taproom is definitely a nice place to hang out, with its industrial vibes and prime location in one of Cape Town's edgiest neighbourhoods. Salt River isn't as celebrated for its grungy, artsy vibe as much as Woodstock is, but I don't think it'll be too long until that becomes the case.
Address: 150 Cecil Road, Salt River
Open times: 12 – 9:30 pm, closed Sunday
Price per tasting: R60
4. Woodstock Brewery, Woodstock
Woodstock is one of Cape Town's coolest neighbourhoods, so it makes sense that you can find great craft beer here. I mean, it's not a hipster hotspot without at least one brewery, am I right?
The Woodstock Brewery's beer hall is a modern take on a traditional Bavarian beer hall. There's a nice balcony area which overlooks the working brewery, and you can even request a brewery tour, so this is a great place for true beer lovers.
Woodstock Brewery offers a tasting mat and you can try up to 9 beers. You can do them all or just pick the ones that appeal the most to you. Each 100ml taster costs R10, so you could try all nine beers for R90. I really like the flexibility of this approach.
Address: 252 Albert Road, Woodstock
Open times: 11 am – 10 pm, or 12 – 6 pm on Sunday
Price per tasting: R10 – R90
5. Newlands Brewery
I mentioned earlier that Castle Brewery is the oldest commercial brewery in South Africa, but the oldest operating brewery is right here in Cape Town! The Newlands Brewery has been making beer since the 1820s, and shows no signs of stopping anytime soon.
Newlands is a leafy neighbourhood in the southern suburbs of Cape Town, at the foot of table mountain. It's known for its forest and high quality spring water, as well as the awesome Newlands Brewery.
Beer tasting at the Newlands Brewery is about more than just trying different beers – it's a whole experience.
The Beer Experience involves an hour-long guided tour of the brewery. During the tour, you get to learn about the history of Newlands Brewery, how the beer is made, and even see some old vehicles that were used to transport their products back in the day.
After the tour, you get to do a beer tasting and then enjoy a further two beers in the historic brewpub. The tour costs R150, and I think you get quite a lot for your money!
This is definitely one of the best places to go beer tasting in Cape Town, and so if you want to do it you'll need to book in advance. Beer tours run at the following times:
12 pm on Tuesdays, Wednesdays, and Thursdays
12 pm and 3 pm on Fridays
10 am and 12 pm on Saturdays
To book your tour, you can email Newlands Brewery at newlandstours@za.ab-inbev.com. You'll need to pay with a card as they don't accept cash.
Address: 3 Main Road, Newlands
Open times: see above for Beer Experience times
Price per tasting: R150
6. Ukhamba Beerworx Brewery Waterfront
Right now, Ukhamba Beerwork Brewery is a bit of a hidden gem. Like so many places inside the Makers Landing market, it's super cool and very underrated.
Ukhamba is a proudly South African brewery that was started by a local bartender, Lethu Tshabangu, who wanted to make an African beer. He says that he wanted to make a beer that resonated with his culture and heritage, which is what makes Ukhamba Beerworx so unique. It's also the first black-owned brewery in Cape Town.
The taproom here is super friendly and welcoming, and it's right on the water so you get great views, too. They also often have live music and local DJs, so there's a really fun vibe here. Plus, they also serve delicious southern African cuisine for you to enjoy post-tasting!
Address: Makers Landing, The Cruise Terminal, V&A Waterfront
Open times: 10 am – 10 pm Wednesday to Friday, 10 am – 1 am Saturday
I hope you enjoyed this rundown of the best beer tasting experiences in Cape Town! For more alcoholic experiences in the city, check out: