Last Updated on November 22, 2023 by thecapetownblog
Constantia is a leafy suburb of Cape Town that's known for its natural beauty, world-class wine farms, and Cape Dutch architecture. It's actually one of the oldest wine producing regions in the whole of the Southern Hemisphere, and it's super easy to go wine-tasting here from central Cape Town!
Although towns like Stellenbosch and Franschhoek are more popular for wine tasting, they're both at least an hour's drive from Cape Town, whereas Constantia is a mere 25-minute drive from the city centre. And there's even a hop-on hop-off wine bus you can take to explore, so you don't need a designated driver! 
Constantia is home to some of the best wine farms in South Africa, and I highly recommend exploring this historic wine region. So without further ado, I'm going to give you a rundown of the best wine farms in Constantia in 2023.
This post may contain affiliate links. When you make purchases through these links, I earn a small commission at no extra cost to you, which helps to keep this blog up and running. Thank you so much!
1. Beau Constantia
Beau Constantia is undoubtedly one of the most beautiful wine farms in the whole of South Africa.
It offers insane views of the Constantia wine valley from its outdoor terrace, stylish Chef's Warehouse, and even from the toilets! (Don't worry, the glass is mirrored so no-one can see you doing your business.)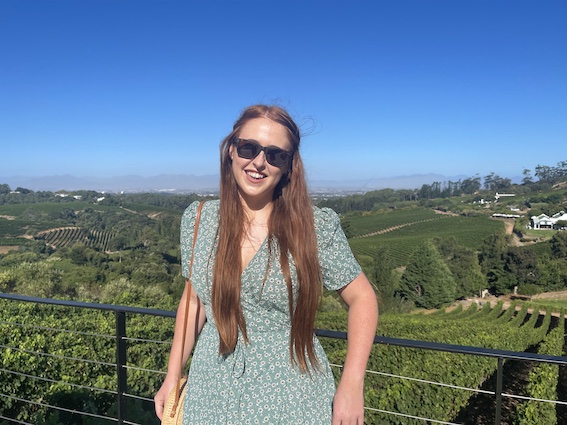 There's a glossy, modern feel to Beau Constantia. It's nice to sit outside here, but on a cold or windy day, you can sit inside the tasting room and enjoy the views through the floor-to-ceiling windows.
Another thing I like about Beau Constantia is that they're quite experimental with their wines. They have a few different tasting options.
You can do the Pas de Nom tasting menu for R85, which includes 3 wines or the premium tasting for R160, which includes 4 wines.
There's also a mixed tasting where you get the best of both worlds for R130.
These prices are on the higher end of the scale for wine tasting, but the staff here are super informative and the views are just beautiful, so it's worth it.
Beau Constantia is probably the most popular wine farm in Constantia, so you should book in advance. Fortunately, you can do it via their website.
The tasting room is open from 11 am until 6 pm on Tuesday, Wednesday, and Thursday.
From Friday to Sunday, it stays open until 7 pm.
The last tastings begin at 4:30 pm, regardless of what day it is.
2. Groot Constantia
Groot Constantia is the oldest wine farm in the area and I also think it has the nicest wine. It doesn't have the same epic views as Beau Constantia from the tasting garden, but the pretty Cape Dutch buildings and resident ducks make up for it.
The tasting here costs R115 and it includes 5 wines. You get to choose from a pretty generous list with plenty of reds and whites available. Plus, you get to keep your glass at the end!
You don't usually need to book a tasting at Groot Constantia, and if you visit on the hop-on hop-off wine bus (which I highly recommend, by the way!) then this will be your first stop.
Groot Constantia is open 7 days a week for tasting, from 10 am until 5 pm. The last tastings start at 4 pm.
3. Klein Constantia
Klein Constantia is another beautiful and elegant wine estate where you can spend a happy afternoon sipping wine. It's one of the most historic wine farms in South Africa, dating all the way back to 1685.
I haven't actually been here for a tasting, but my friends and I went to a Wade Bales bottomless bubbly event one Friday night and we had a great time. (Well, until certain people started hitting the floor…)
If you want to come here for a tasting, you're pretty spoilt for choice as they've got four different options available:
The Signature Tasting, with five estate wines for R150
Anwilka Signature Tasting, which features red wines from the Stellenbosch estate for R150
The Sauvignon Blanc Story – three glasses for R150. This is probably the one I'd choose because I love white wine!
Vin de Constance – two glasses of vintage for R200
Klein Constantia is open from 10 am until 5 pm, and the last tastings are at 4 pm. It's open 7 days a week, including public holidays. It only closes on Christmas Day and Good Friday.
If you want to do a tasting, it's best to book, especially during the summer. You can do so easily via the Klein Constantia website.
4. Buitenverwachting
Buitenverwachting is another beautiful wine farm with mountain views and Cape Dutch architecture – you know, the standard Cape Town fare.
I really like their Buiten Blanc wine, and my friends and I often order it when we see it on a menu. It's really clean and easy to drink, which is basically all I'm looking for in a white wine.
The tasting room here is sleek yet cosy, and it's open from 10 am until 3 pm every day except Sunday. The tasting here is very well priced at R70 for 5 wines, and there are tons of options to choose from. You can check out the current tasting menu here.
5. Constantia Glen
Constantia Glen is next to Beau Constantia, and it's often overlooked in favour of its more famous neighbour. It's a bit of an uphill walk to get to Constantia Glen, but the gorgeous views are worth it!
There are five different wine tasting options to choose from at Constantia Glen. They are:
Flagship tasting – 4 signature wines for R130
Full house tasting – 7 wines for R180
Van Wyk Family Wines tasting – 5 wines for R120
White wine tasting – 6 wines for R130
Red wine tasting – 5 wines for R155
As I said, it does require a bit of extra effort to get to Constantia Glen, especially if you're doing the hop-on hop-off wine bus because you'll need to walk up. However, since the popular Eagles' Nest has closed, you can always replace it with a visit to Constantia Glen.
Officially, Eagles' Nest has been replaced with Silvermist, but the latter is closed on Monday and Tuesday. However, you can walk to Constantia Glen from Beau Constantia in about 20 minutes – just keep an eye on the time so you don't miss the bus home!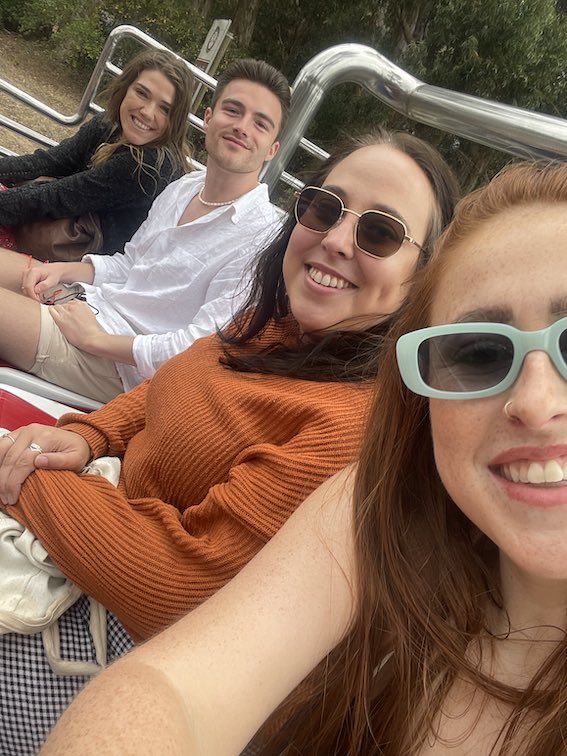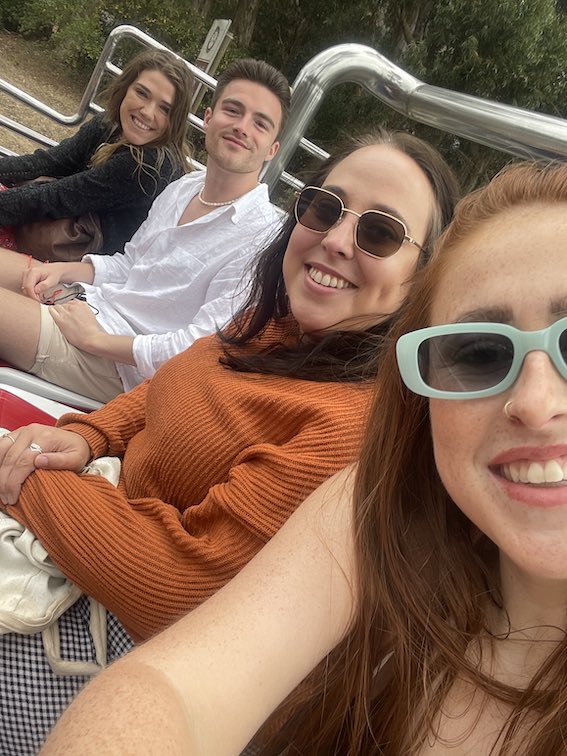 6. Constantia Uitsig
Constantia Uitsig may be a historic wine estate, but its wine cellar is super modern. It's made of glass, so you can see the barrels (and snippets of the winemaking process) through the walls!
This is a good wine farm to have lunch at if you're not in the mood for the classic cheese board or charcuterie. I personally can't imagine being tired of either of those choices, but there's a sushi restaurant on site if you want something a bit healthier.
The wine tasting takes place in the on-site wine shop, which is housed inside a pretty Cape Dutch cottage.
There's also a bike park here so you can rent a bike and explore the trails on the estate, or use the bikes to explore other wine farms. Both Klein and Groot Constantia are a fairly quick bike ride away from Constantia Uitsig, so you could hire a bicycle and visit these three wine farms.
7. Steenberg
Steenberg is another idyllic wine farm in Constantia with a first-class view of Table Mountain, beautiful gardens, a chic tasting room, and a hotel with a gorgeous infinity pool. Sadly, I haven't stayed here, but one day I plan to take a dip!
They don't accept walk-ins at the tasting room here, so you do have to make a reservation. They have a bubbly tasting, which I love, where you get to try four different types of MCC.
As a side note, I recommend drinking as much MCC as you can while you're in South Africa. MCC Stands for "methode cap classique", which is the same method they use to make champagne. The only difference between South African MCC and bona-fide champagne is where the grapes are grown, because as we all know, real champagne only comes from Champagne… yada yada yada.
Whatever, technicalities aside, when you drink MCC you're basically getting champagne for a fraction of the price.
And if bubbly isn't your thing, you can also choose from:
The classic tasting, which includes one glass of MCC and four different wines for R120
Red wine tasting, where you get to try four different cool climate reds for R185
The flagship tasting, which includes a glass of Pinot Noir cap classique (pink champagne, in laymans' terms) and Steenberg's four flagship wines for R200
If you've got a group of 11-20 people, you can also book a private tasting in the wine cellar. You'll get the Steenberg Lady R Cap Classique and the four flagship wines for R250 apiece. This could be such a cool idea for a birthday or Christmas party!
8. Silvermist
Last but CERTAINLY not least, we have Silvermist. 
It's the only certified organic wine farm in Constantia, and it's a little bit out of the way, but it's definitely worth it to make the trip. You could actually spend the entire day here because as well as wine tasting, they have a zipline that offers INSANE views and La Colombe, which is one of the top-rated restaurants in the whole of South Africa.
In fact, La Colombe is actually in TripAdvisor's top 20 restaurants in the world. So if you're a foodie, you'd better get yourself here, stat.
Silvermist is now on the Constantia wine bus route. You can walk to Silvermist from the Constantia Nek bus stop, which is right outside La Parada restaurant in 5 minutes. You can also walk there from Beau Constantia in 10 minutes. It's super easy!
You can do a regular tasting here or, for something special during the summer, you can book the Drumstruck show, which combines wine tasting with a 2-hour long African drumming show. You'll need to book in advance, which you can do online.
The show takes place at 11 am and 5 pm from Wednesday to Sunday, so you can incorporate it into a day out on the wine bus if you catch the earlier showing.
Drumstruck costs R450 for foreigners and R350 for South Africans and takes place at 11 am from Wednesday – Sunday during the summer, or 5 to 7 pm,
Important note: Eagles Nest is closed!
Eagles Nest was one of the most beloved wine farms in Constantia but they have permanently closed their tasting rooms. They will still make wines (including their amazing viognier!) but you can't go tasting there anymore. This is a real shame, but there are plenty of other amazing wine farms in Constantia instead.
This was also one of the stops on the hop-on, hop-off wine valley bus, but you can go to Silvermist instead. Check out my guide to the wine bus for more details!
How to visit the wine farms in Constantia
Okay, so obviously drinking and driving is a no-no. Fortunately, since Constantia is close to the city centre, it's fairly cheap and easy to get around the wine farms without making someone in your group abstain from all of the delicious wine so that they can chauffeur you around.
You've got four options here:
Hire a driver
You can Uber to Constantia and back, but that isn't the best way to do it in my opinion (I'll talk more about why in a moment). However, you can hire a driver to take you Constantia, drive you between the wine estates, and wait for you.
I haven't done this myself, but Howie's Transport is very highly rated. You can contact them for a quote and they should get back to you pretty quickly!
This option is nice because it gives you a lot of flexibility and you can pick and choose your wine farms. So if there are one or two specific ones that you're dying to visit, you can make it happen.
Uber and bike rental
You won't struggle to get an Uber from the city centre to Constantia, but it will probably take quite a while for you to find one that will take you back. Phone signal is not great in Constantia and it's a pretty quiet, out-of-the-way suburb so there aren't that many drivers around here.
I have Ubered back from Constantia a few times and we have always managed to get a car eventually, but it's just a little frustrating sometimes.
Also, ubering from wine farm to wine is difficult because of the aforementioned issues. If you want to Uber to Constantia and visit multiple wine farms, I recommend heading to Constantia Uitsig and renting bikes from them.
From Constantia Uitisg, it's easy to cycle to both Klein and Groot Constantia, so you could have a great day visiting these three wine farms. (Three wine farms is probably the most you should attempt to visit in one day in Constantia).
Take a private wine tour
A private wine tour takes all of the hassle of driving and navigation out of your day, so you can just sit back and enjoy Constantia's great wine and glorious scenery.
This premium half-day tour takes you to two or three wine farms, which will be selected on the day. To be honest, they're all gorgeous so I don't think it matters too much which ones you end up visiting.
The tour also includes an a la carte lunch (with wine, of course) at one of the wineries, and two tastings. You'll also learn lots of history about both Constantia's wine estates and the area more generally from your guide.
It costs R3,380 (£147/$193) per person, so it's not cheap but it's a nice day out if you want a super classy and well-rounded wine farm experience.
The wine bus (best option!)
I've saved the best one for last!
City Sightseeing runs a hop-on, hop-off wine bus that takes you to several wine farms in Constantia and it is SO. MUCH. FUN.
You can board the bus at the City Sightseeing office at either the Aquarium at the V&A Waterfront, or at the one on Long Street. It's the blue route, and buses leave every 20 minutes from 9 am onwards (or 8 am during the festive season). We like to start early so that we don't have to rush and can really enjoy our tastings.
There's commentary on the bus along the way so you get some nice background information about Cape Town, too. There's a stop at Kirstenbosch Botanical Gardens so you can explore those if you want but to be honest, we always head straight to Constantia to maximise our time on the wine farms.
When you get to the Constantia Nek stop, you can change to a single decker bus to visit Groot Constantia. It can also bring you back to Beau Constantia afterwards. You can choose the order you visit the wine farms in, but here's what I recommend:
Walk from Constantia Nek bus stop to Silvermist for a tasting (5 minute walk)
Catch the single-decker "purple" bus to Groot Constantia (10 minute ride)
Get the bus back to Beau Constantia for your final tasting of the day (10 minute ride)
Catch the bus back from Cape Town from outside Beau Constantia
The last bus back to Cape Town leaves from the stop outside Beau Constantia at 5:22 pm.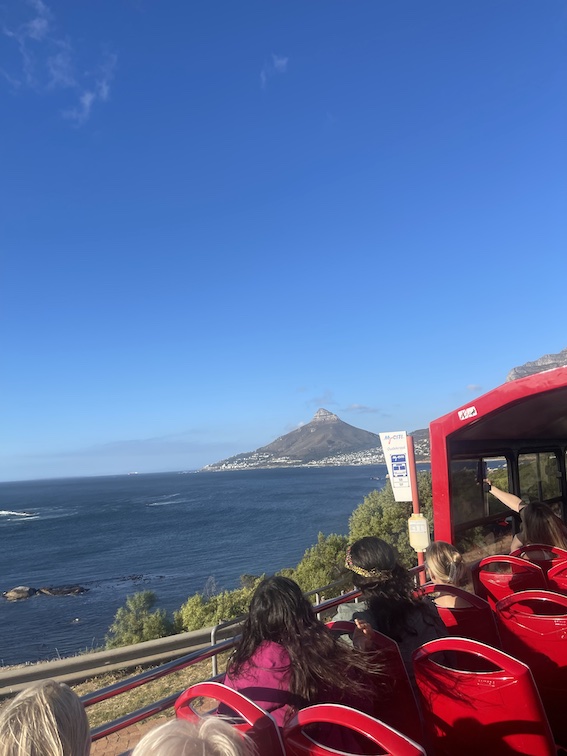 You can buy tickets for the wine valley bus online or just do it on the day at the ticket office outside the Aquarium. Tickets cost R259 per person and then you'll also need to pay for your tastings and food at the wine farms you visit.
Your ticket comes with a QR code which you can scan to check live bus times, so that you know when the next bus is on its way.
I LOVE doing the wine valley bus and I always do it with friends who come to visit. It's a great day out and it's so easy. Plus, no-one has to be the designated driver and you still get lots of freedom and flexibility.
For a complete guide to the Constantia wine bus, check out this post!
To be honest, I think Constantia is often overshadowed by the more famous wine region of Stellenbosch and Franschhoek, but I think it's just as good, if not better. The Franschhoek wine tram is fun and certainly a novelty, but I actually enjoy doing the Constantia wine valley bus more, and I think the wine is better, too!
If you liked this post, you might also want to check out: