Last Updated on July 12, 2023 by thecapetownblog
Sea Point is one of the best neighbourhoods in Cape Town. Not only does it have the promenade and fantastic ocean views, it's also got a great restaurant scene.
In the past few years, more and more restaurants and bars have been popping up all over Sea Point. Most of them are pretty casual, but we're also seeing a few fancier places start to appear, too.
So if you're looking for a place to eat in this neck of the woods, look no further because I've got a list of the best restaurants in Sea Point. I lived in Sea Point when I first moved to Cape Town and so I've spent a fair bit of time eating in all of its best restaurants.
Whether you want brunch, bagels, sushi, or Indian food, you can definitely find it here. Let's dive in!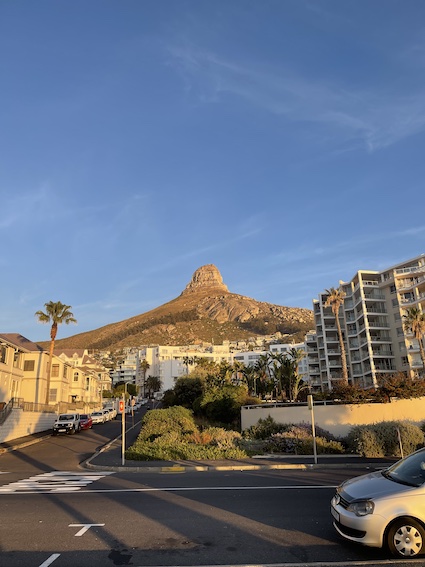 This post may contain affiliate links. When you make purchases through these links, I earn a small commission at no extra cost to you, which helps to keep this blog up and running. Thank you so much!
1. Jarryds Brunch and Bistro
Jarrdys is famous for its amazing brunch, and it was actually featured on the Cape Town episode of Netflix's Somebody Feed Phil. 
It's an all-day brunch restaurant that's best known for its decadent pancakes, which are served with mascarpone, honeycomb, strawberries, and maple syrup. I recommend sharing though because these pancakes are a lot for one person to eat!
I also love the huevos rancheros here, and they serve mimosas, too. In fact, you can even add bottomless mimosas to your meal for R385.
Jarrdys used to be brunch-only but they now have a dinner menu, too, so you can go in the evening for a big meal. The dinner menu still has lots of brunch favourites though, like burgers, bacon eggs benedict, and the famous pancake stack. 
This place is first come, first served, so you can't book. It's usually busy but I've never failed to get a table.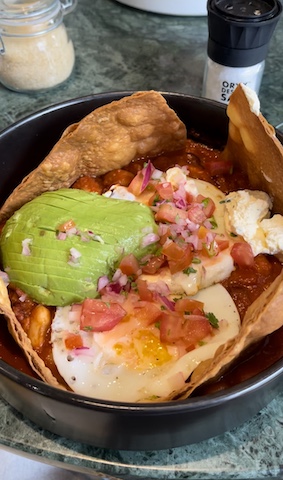 Address: 90 Regent Road, Sea Point 
Open times: 7:30 am – 10 pm
Booking required? No, it's first come, first served here
2. Kleinsky's Delicatessen
Kleinsky's have some of the best bagels in Cape Town, but don't overlook their sweet treats. The cinnamon rolls here are absolutely delicious!
I pretty much always go for a smoked salmon bagel here, but they have really good pastrami bagels too. You can also buy a jar of their everything bagel mix which is great for adding to salads and seasoning your chips.
I also like that there's an American candy section of Kleinsky's where you can buy imported goodies like pop tarts. The staff here are always really friendly and the whole place feels light, bright, and airy. It's the perfect lunch stop! 
Address: 92 Regent Road, Sea Point
Open times: 8 am – 5 pm
Booking required? No
3. Rockpool
Rockpool is easy, affordable, and it's located right opposite the promenade so you get a sea view. I often end up here after a prom walk, and because my best friend lives right around the corner.
You can also find something to please everyone on the menu here, from delicious and healthy salads to pizzas, burgers, and fish and chips. Rockpool is kind of like a hybrid between a beach bar, a cafe, and a restaurant. It's always a nice place to come and chill out, whether you're slamming back tequila shots or just having a quiet coffee.
Address: 205 Beach Road, Sea Point 
Open times: 11 am – 11 pm on weekdays, opens at 9 am on weekends for breakfast
Booking required? No
4. Only Fools
"Why do only fools and horses work?"
I can't resist cracking that joke every time I walk (or past) this place, but only my fellow Brits really get it. (Only Fools and Horses is an iconic British sitcom.)
Trivia aside, Only Fools is a cool place for after work drinks and burgers. It's got a laid back, casual vibe and a good selection of wines, but my favourite thing about it is the Britney Spears bathroom – it's an early 2000s dream.
All in all, Only Fools definitely has a fun, young vibe and it's a good place to start your night.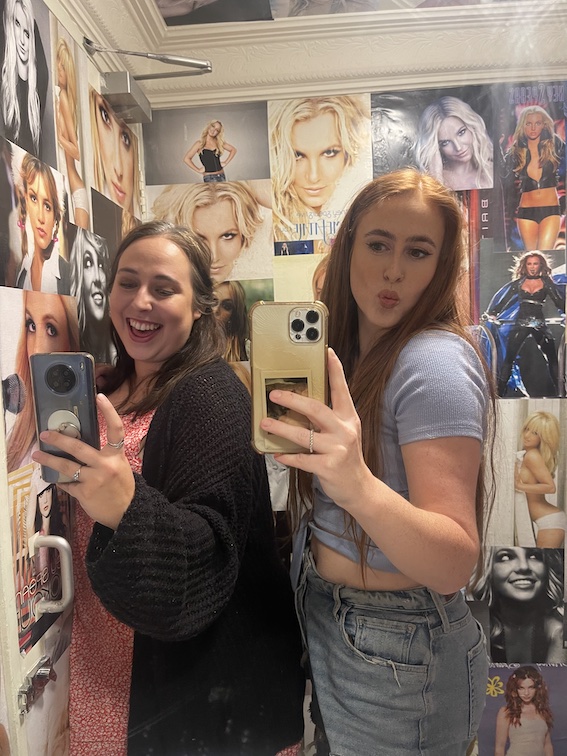 Address: 82 Regent Rd, Sea Point, Cape Town
Open times: 12 pm – 12 am (10 pm on Sunday)
Booking required? No – walk ins only
5. The Poke Co
The Poke Co is a small little lunch spot tucked away in The Point mall along Regent Road. It's a cute little cafe but to be honest I've never actually dined in here. With so many great restaurants in Sea Point, I have no desire to eat in the middle of a mall (I know, I'm a snob).
With that being said, I've included on my list of the best restaurants in Sea Point because I'm a total poke fanatic and this place serves the best bowl in Cape Town.
My favourite is the Leeward bowl, but they've got tons of options and you can always build your own. They're on UberEats, too. Regular bowls cost around R89, while maxi bowls can go up to R185.
Address: Shop 3, ground floor of The Point, 76 Regent Road
Open times: 8 am – 8:30 pm
Booking required? No
6. Sundoo
I think that Sundoo is the best Indian restaurant in Cape Town. It's a small and friendly spot and the curries here are absolutely delicious.
The first time I went, my friends and I shared a huge vegetarian platter that fed all four of us for R184. I think we added a couple of extra side dishes, but the whole meal still worked out super cheap, and it was soooo good.
There's also a lunch menu here which includes bunny chow, which is curry inside hollowed out bread. It's a South African classic!
Address: 77 Regent Road, Sea Point
Open times: 12 – 10:45 pm
Booking required? Yes, there's not much space inside
7. Vagabond Kitchens
Vagabond Kitchens is a stylish cafe and it's one of my favourite places to grab lunch in Sea Point. They serve fresh, healthy food (and a few decadent treats like mimosas and waffles). The Vietnamese style salad is really good and I absolutely cannot get enough of their flatbread pizzas, either.
I also just love the interior of this place. It's warm, cosy, and welcoming, and it's got an open kitchen so you can see your meal being made fresh right before your eyes!
Address: 21 Regent Road, Sea Point
Open times: 8 am – 8:30 pm
Booking required? No
8. Posticino
Positicino is where you'll find the best pizza in Sea Point. It's a casual Italian restaurant that smells phenomenal every time you walk past, and they also do great pastas as well.
Posticino was founded by two brothers, Jack and Eric, and it's a very family-friendly place to grab dinner. It's relaxed, unpretentious, and it feels authentically Italian so really, what more could you want?
Address: 323 Main Road, Sea Point
Open times: 12:30 pm – 10 pm
Booking required? It's a good idea during the summer
9. Duchess of Wisbeach
Okay, if you're ever seen Vanderpump Rules then I'll just say this: you could probably film a Cape Town version of the show here.
The Duchess of Wisbeach is a restaurant where gourmet pub classics are served by unreasonably attractive staff. The food is delicious, but no-one actually comes here for the food. After everyone has finished eating, the whole restaurant gets up and starts singing Sweet Caroline, and both the waiters and the guests start dancing on the tables. After that, it's just a big old party.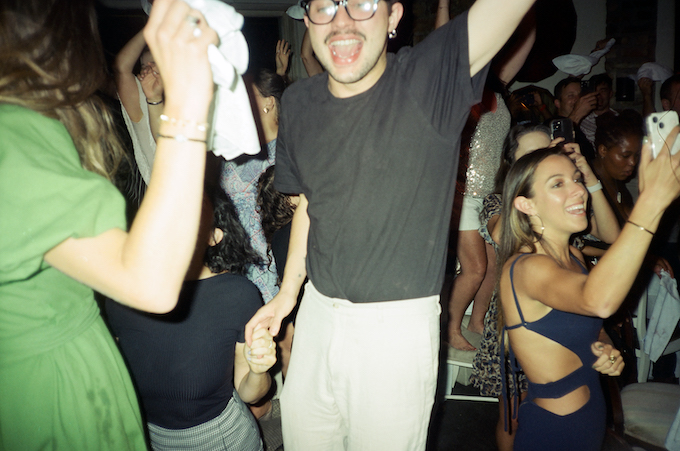 The Duchess of Wisbeach is SO much fun and it's perfect for a birthday celebration or any time you just want a fantastic meal before you dance the night away. Coming here is definitely an experience in itself. Thursday nights here are notorious, but it goes off all weekend! 
(Side note – ignore the bad Google reviews. They used to require proof of vaccination and so lots of angry people left negative reviews accusing the restaurant of discrimination. It's no reflection on the experience itself.)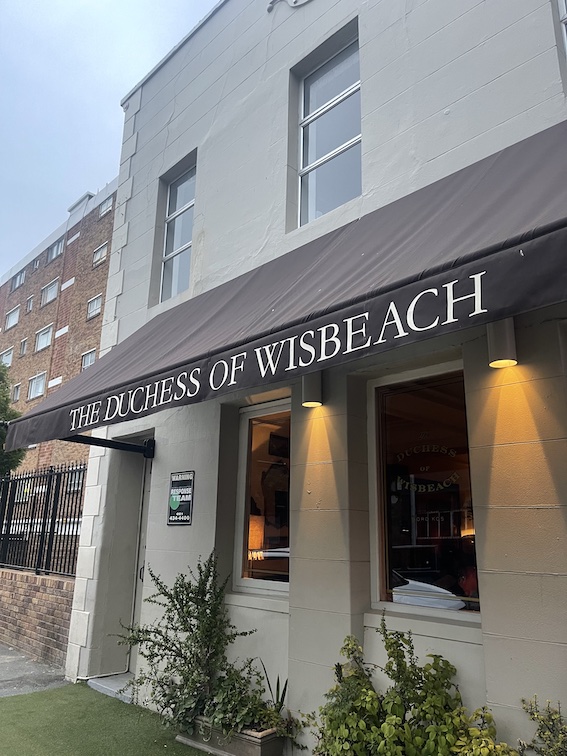 Address: 3 Wisbeach Road, Sea Point
Open times: 6:30 pm – late
Booking required? Yes, and they're strict on this!
10. Mykonos Taverna
The Mykonos Taverna is a bit of a Sea Point institution. It's been open since the 1980s, so it has really earned its reputation as one of the best restaurants in Sea Point.
You can't beat fresh, healthy Greek food, and this light and airy taverna is the perfect place to enjoy Greek salads, tender skewers, and the restaurant's signature dish, the Kleftiko Lamb, which is roasted for 6 hours so that it falls right off the bone.
I love that this place is family-owned. It has been passed down a generation, but the same family who founded it still runs it today. You always get a warm welcome here and you can even join one of their Greek nights on the last Saturday of the month, where you get to smash plates and dance Zorba.  
Address: 267 Main Road, Sea Point
Open times: 12 – 10 pm
Booking required? Yes, on weekends. You can book via their website.
11. Wonderful Sushi
Wonderful Sushi is one of Cape Town's best hidden gems.
Seriously, from the outside it looks like a risky place to eat raw fish, but I promise you it's actually a must for any sushi lover.
The sushi is super fresh and it's ridiculously cheap. They have lots of different deals, so for example you can get 10 pieces of sushi, 12 dumplings, and a drink for R129.
Meanwhile, at lunchtime you can get 8 pieces of sushi and a drink for R50, as long as you dine in. It's crazy cheap and everything is so yummy.
My friends and I eat here all the time now!
Address: 305 Main Rd, Sea Point
Open times: 11:30 am – 9 pm
Booking required? No
12. Three Wise Monkeys
This New York-inspired ramen bar is definitely one of the most popular restaurants in Sea Point. With its reasonably priced ramen bowls, yummy buttermilk chicken buns, and edgy Japanese art on the walls, it's easy to see why this place is popular.
I like that this place is small and doesn't take bookings, so it definitely feels like a "proper" ramen restaurant. It's perfect for when you need some comfort food, although I do prefer Bodega Ramen, which is one of Cape Town's best hidden spots.
Address: 77 Regent Road, Cape Town
Open times: 12 – 10 pm
Booking required? No, they don't take bookings
13. Sonny and Irene
Sonny and Irene is Sea Point's new breakfast hotspot, although it's yet to topple Jarrdys' crown (as far as I'm aware, anyway).
It's a cafe-slash-bakery and its clean, cool-girl aesthetic makes it the kind of place Tik Tok creators dream of. They've got a small but well-thought-out menu that changes seasonally, but usually includes a falafel bowl, hotcakes, poached eggs, and a yummy buttermilk chicken burger.
You can also come here for dinner. They've got a 2-course set menu for R325 or a 3-course version for R395, and then they also serve cocktails, too. I haven't tried the cocktails here myself but you can tell that they've been designed with Instagram in mind! 
Address: Station House, 19 Kloof Road, Sea Point
Open times: 8 am to 10 pm
Booking required?
14. The Nines
Last but CERTAINLY not least, we have The Nines!
The Nines is new, but it has quickly earned a reputation as one of the best restaurants in Sea Point. This is thanks in part to its awesome views! I haven't actually been here for dinner myself yet, but I have to imagine it would be absolutely beautiful at sunset.
The Nines is on the ninth floor and has floor-to-ceiling windows, so you can see out over the whole neighbourhood and out to the ocean.
Here, you'll find fancy food like Patagonian squid, Alaskan crab, braised beef ribs, and lots of decadent desserts (chocolate bomb, anyone?)
There's also a range of cocktails on offer, from all of the classics to The Nines' signature "Masterpieces." I'm not going to lie, I'm dying to try the white chocolate and chai margarita. 
Address: 9th Floor, Station House, 19 Kloof Road, Sea Point
Open times: 12 – 11 pm
Booking required? Yes – you can book online
If you enjoyed this post, you might also like: