Last Updated on July 11, 2023 by thecapetownblog
I've said it before and I'll say it again: it's pretty hard to get bored in Cape Town.
This city is home to lots of super famous attractions including Table Mountain, Lion's Head, the V&A Waterfront, and the beautiful beaches. 
All of those places are totally worth exploring, but if you're anything like me then you probably get a kick out of discovering a city's hidden gems.
And if that's the case then you're in luck, because little by little I sniffed out some fantastic hidden gems in Cape Town (with a little help from my local friends.)
From stunning hidden beaches to surprisingly good sushi, I've rounded up my top 15 picks for the lesser-known spots to visit in the Mother City. I definitely would have missed out on a lot of these hidden gems in Cape Town had I stuck to my original plan of just visiting… So thank goodness I changed my mind and decided to live here!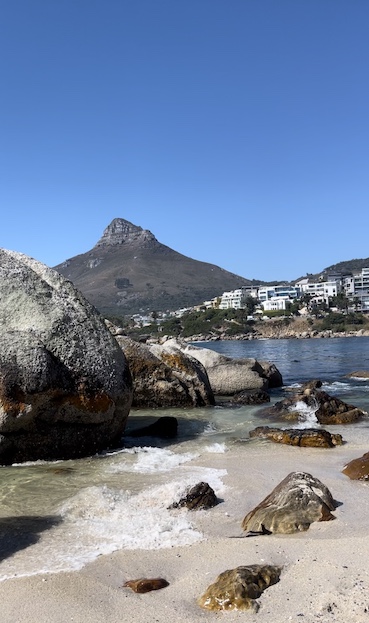 This post may contain affiliate links. When you make purchases through these links, I earn a small commission at no extra cost to you, which helps to keep this blog up and running. Thank you so much!
1. Beta Beach
In many ways, beaches are the best type of hidden gems in Cape Town. Don't get me wrong, I love the Clifton Beaches but they can get really busy during the summer and sometimes it's nice to go to a quieter, lesser-known beach. 
Beta Beach is in Bakoven, which is just south of Camps Bay. It's a small little beach with a fantastic view of Lion's Head across the water. It's also one of the best beaches in Cape Town for swimming, because it's a protected bay and so the water tends to be calmer. 
You can park on one of the residential side streets near Beta Beach or if you're taking an Uber, it's best to get dropped off at the playground. From there, you can walk down a narrow alley that leads right to the beach. 
Do check the tide times when visiting Beta Beach, though, as it's a tidal beach so the sand completely disappears at certain times of day! But if you get your timings right, it's a fantastic place to spend several hours lounging in the sun. It's definitely one of my favourite hidden gems in Cape Town, and I do wish I'd discovered it earlier. 
2. Chapman's Peak Scenic Drive
My friends took me for a drive along Chapman's Peak road one Easter, and I couldn't believe I hadn't driven along this road before. It's absolutely stunning!
Chapman's Peak Drive winds along the side of Chapman's Peak mountain, so you get gorgeous views of the red cliffs and the Atlantic Ocean. 
It begins in Hout Bay Harbour, which is also absolutely gorgeous, and ends in Noordhoek, where you'll find another of the best hidden gems in Cape Town!
There is a toll fee of R57 per car, and it's best to pay in cash. If you plan to drive back this way, keep your receipt or you'll have to pay again. And make sure to check the road is open before you go!
3. Aegir Project, Noordhoek
After you complete Chapman's Peak Scenic Drive, I highly recommend a visit to The Aegir Project.
The Aegir Project is a taproom in Noordhoek. It's an upbeat, family-friendly place and their craft beers are really good – I recommend getting a tasting flight! 
You'll also find amazing bar food and burgers here. In fact, I think they've got one of the best burgers in Cape Town. You can also come in the morning for fluffy pancakes and coffee if you prefer, but I usually get here in the afternoon.
The Aegir Project feels like it's in the middle of nowhere, and there's just a really friendly and wholesome vibe here, so it's a great place to come for a relaxed afternoon outside of the city.
Good vibes, good beer, and good food – what more could you want?
4. Bali Beach
Bali Beach is definitely one of Cape Town's best kept secrets. Even some of my friends who grew up here had no idea it existed! 
It's a small pebbled beach with sheltered waters that are super calm, so it's a great swimming spot.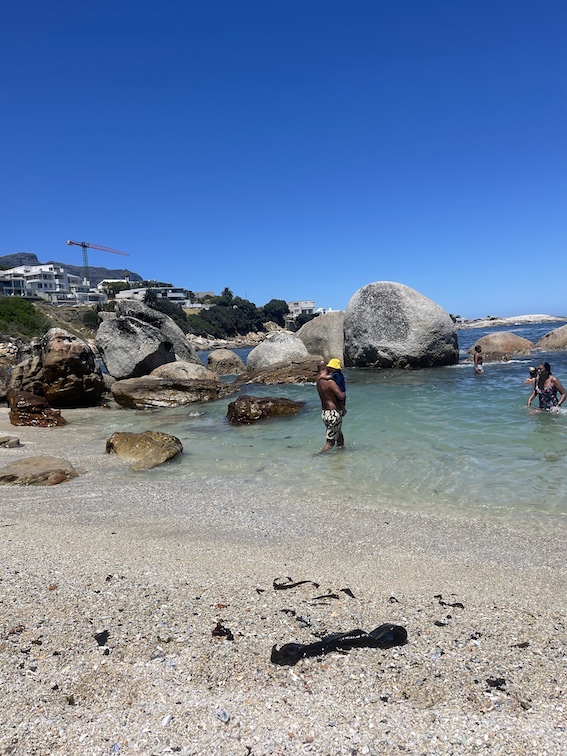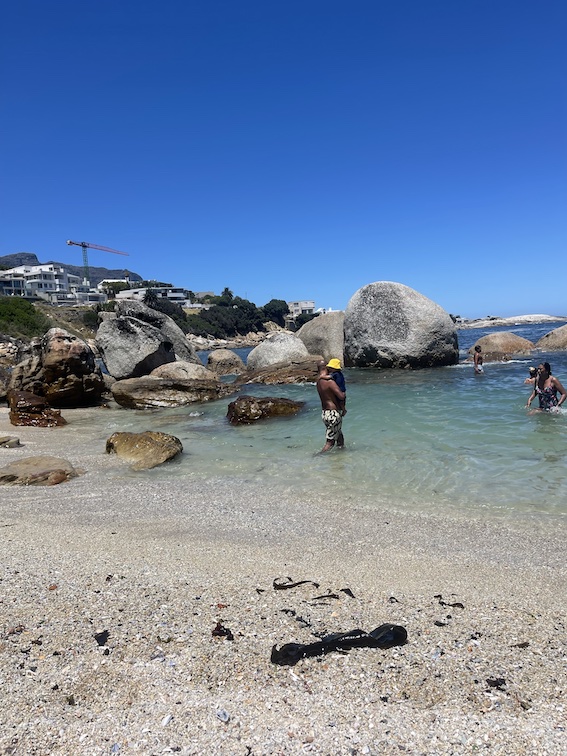 You can find Bali Beach in Bakoven, along Victoria Road. It's so much easier to get parking here than it is in Clifton or Camps Bay! We even managed to get parking right next to the beach on New Year's Day, which is usually impossible in Cape Town. 
Once you've parked up near the beach, there's a small sign on the fence and some steps leading down to it. You'll have to walk through some pretty long grass on your way down – this beach really is well hidden.
5. Secret Gin Bar
The Secret Gin Bar is more of an open secret these days, but you can't write a list of the best hidden gems in Cape Town without mentioning this beloved bar. 
The Gin Bar is hidden behind the Honest Chocolate Cafe on Wale Street, which can be a bit confusing! It's a dimly lit bar serving the best local gins, and there's always a fun but chilled out vibe here. They usually have a couple of gin cocktail specials, which are always worth trying. 
And if you don't like gin, don't fret – there's a bubbly bar here too.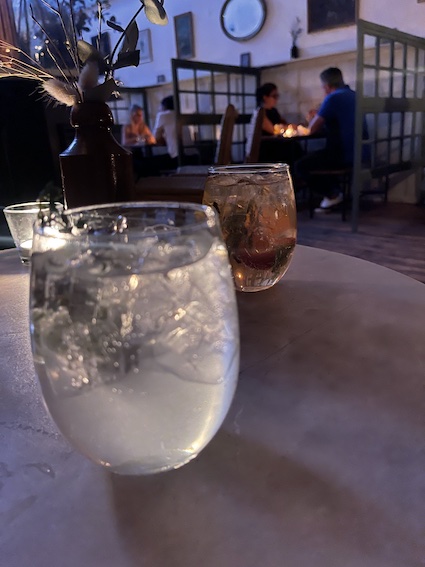 6. Bodega Ramen
Bodega Ramen is upstairs from the Secret Gin Bar, so it's hidden behind two other businesses! Personally, I think that it's the best place in Cape Town for a bowl of ramen. 
Again, it's got a fun, relaxed, and unpretentious atmosphere. You can bring gin or bubbles from downstairs, but they have their own drinks menu, too.
I recommend the beef kimchi ramen, and it's always nice to get some sharing plates. The menu does change pretty often but the burned cabbage is really good (it sounds gross, but trust me on this one) or the Korean fried cauliflower is also delicious.
7. Newlands Ravine
Cape Town is a hiker's paradise. While there are some very popular trails up Table Mountain and Lion's Head, there are also lesser-known trails to explore.
Unlike its more famous counterparts, the Newlands Ravine trail isn't super popular, but it does offer amazing views. You'll have fantastic views of the False Bay coast as you climb up, and when you get to the top you can look down the other side at the city bowl.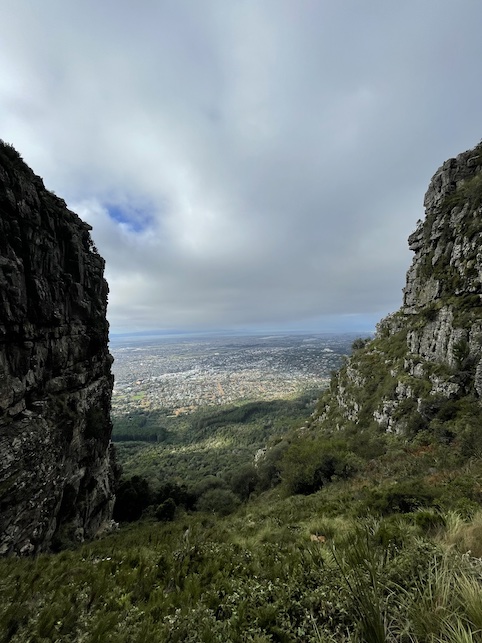 You'll start by walking through the Newlands Forest, which is nice and shady. You can even stop at the streams to fill up your water bottle, because the water is so clean and pure. It's probably better than the stuff that comes out of the tap!
Once you get to the foot of the ravine, you begin climbing up a fairly steep ascent. It's a pretty good workout but the footing is easy and anyone who's decently fit should be able to manage it without any problems.
The trail is 5.5 kilometres out and back, but you can also choose to hike back down the other side of the mountain towards the city bowl. My friend and I actually wished we had Ubered, rather than driven, to the Newlands Forest because we could have walked all the way home! 
8. Durbanville Wine Route
You hear a lot about the wine farms in Stellenbosch and Franschhoek, but there's actually a wine route much closer to home in Durbanville, one of the northern suburbs of Cape Town.
I'm counting this wine route as one of the top hidden gems in Cape Town because so many people eschew it in favour of a visit to the Cape Winelands, and I think they're missing out!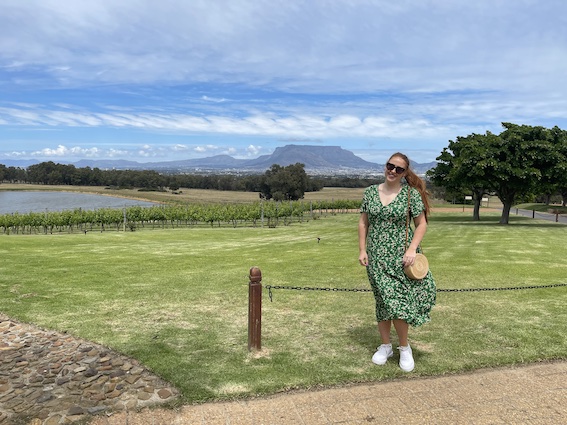 Durbanville is 31 kilometres (19 miles) from the city centre, and it's an easy drive to get there. It's home to some beautiful wine farms, including De Grendel, which is a gorgeous estate with a perfect view of Table Mountain's silhouette.There's also D'Aria, which has a beautiful garden, and Durbanville Hills also has stunning views of Table Mountain. 
You don't usually need to book, as these wine farms are some of the top hidden gems in Cape Town. But they're beautiful and definitely worth visiting because you get to explore wine farms without even leaving the city! The only downside is that you'll need a designated driver because there's no public transport out here and it's hard to get an Uber. 
9. Bloubergstrand Beach
Bloubergstrand Beach is a little out of the city centre, so lots of people miss out on it, but it's actually one of the best beaches in Cape Town. It's a long stretch of white sand and you get amazing views of Table Mountain across the water, so it's a pretty scenic place to spend a day at the beach if you don't mind the drive. 
It takes around 25 minutes to drive from the city centre to Bloubergstrand Beach, which isn't too bad. Plus, it's not a tidal beach, so you can stay all day! It can get pretty windy though as it's not as sheltered as the Clifton Beaches, so try to pick a calm day.
Definitely stay here for the sunset if you've got time, because watching the sky turn red behind Table Mountain is an epic sight to see. If you're hungry, you can drive just down the road watch this with a burger in hand at Bossa Woodbridge Island, which is right on the beachfront.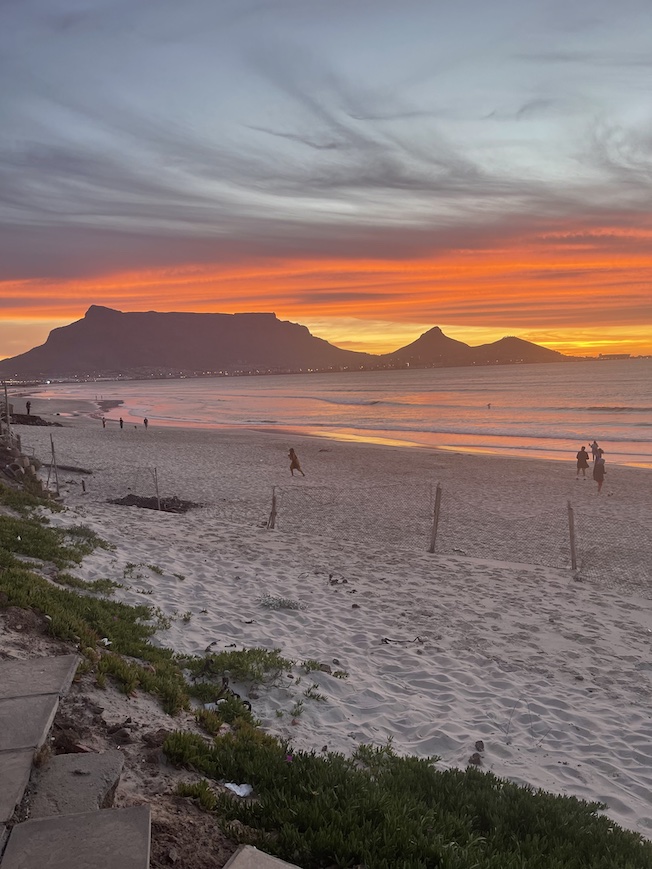 10. Oudekraal Nature Reserve
Tucked between Llandudno and Bakoven, Oudekraal Nature Reserve is one of the best hidden gems in Cape Town. 
It's a nature reserve with a braai area, picnic spots, and a little beach, so it's a fantastic place to spend a day during the summer. It's gorgeous and the perfect place to kick back and relax with friends.
The beach here is great for swimming because it's protected by rocks, so the water is calm, but there is some seaweed to contend with.
Keep in mind that Oudekraal is part of Table Mountain National Park, so there's an entry fee to access this hidden gem. South Africans pay R40, while visitors from SADC countries pay R70, and international guests are required to pay R140. But if you go with a local and keep your mouth shut, you just might get away with the local price!
There's plenty of parking around here, and the reserve is only open during the summer from 8 am until 6 pm in the summer months (October – March).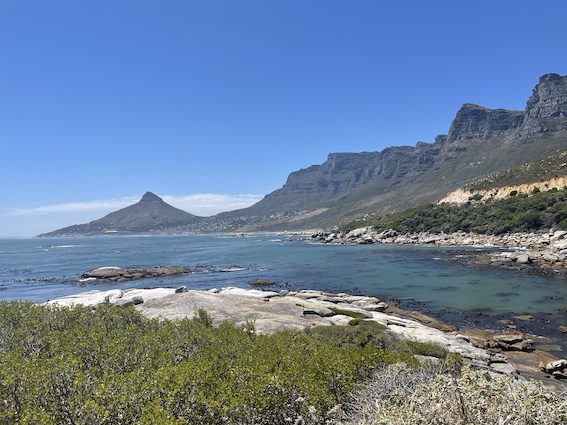 11. 12 Apostles Hotel & Spa
The 12 Apostles Hotel & Spa is a luxury hotel in Oudekraal. It's home to the Leopard Bar, which has a balcony with fantastic views of the ocean and mountains. The sunsets from here are absolutely epic!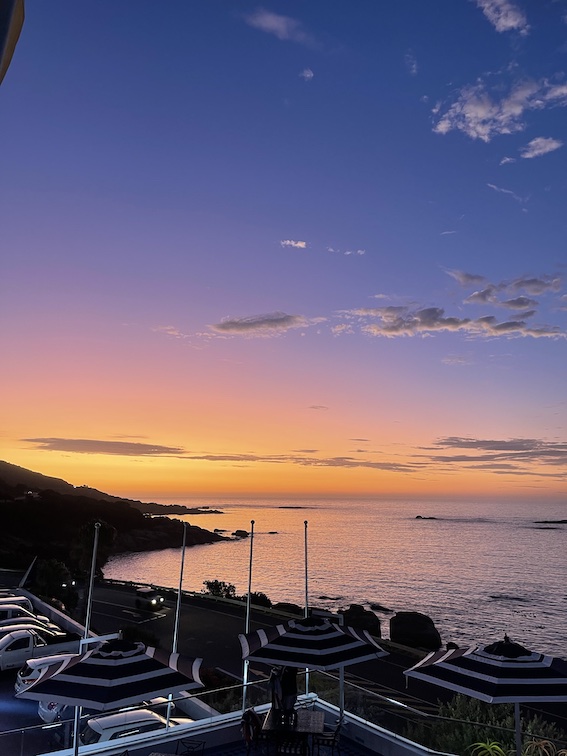 However, since the 12 Apostles Hotel is pretty isolated, lots of people miss it!
As well as enjoying cocktails here, you can also make your own gin, enjoy afternoon tea, and visit the spa. It's such a lovely place to kick back, relax, and treat yourself. I always bring friends here when they come to visit me!
You don't really need to book here since it is such a hidden gem. You could definitely stop here for a drink after spending the day at Oudekraal nature reserve and tick off two hidden gems in Cape Town in one day. 
12. Wonderful Sushi
From the outside, Wonderful Sushi doesn't look like much. In fact, I used to live right near it and never even considered eating there. Getting sushi from a place with a clipart sign just feels like playing fast and loose with your stomach. 
However, as it turns out, appearances can be deceiving.
Not only does Wonderful Sushi offer super fresh, tasty sushi, it's also insanely cheap. The sushi here is cheaper than the stuff you find in the supermarket!
At lunch time, you can get 8 pieces of sushi and a drink for R50, which is around £2.10 or $2.65 at the time of writing.
Or if you want a bigger meal, it's R129 for 10 pieces of sushi, 12 dumplings, and a drink. And yes, that drink can be a glass of wine!
Of course, you do need to add 10% to this as tipping is basically mandatory in Cape Town. But still, that's still a very good deal for sushi!
13. Woodstock Street Art
Woodstock is the creative hub of Cape Town. It's your classic industrial area turned hipster hotspot, and it's home to some fantastic street art which addresses social and environmental issues. 
It's possible to explore Woodstock's street art independently. There are lots of murals in the area between Albert Road and Victoria Road. However, I think the best way to explore is to take a street art tour with a local guide. 
This tour takes you to see all of the best murals in Woodstock, and your guide will give you lots of context to the pieces you see. I really think that this makes a difference, because it gives you an insight into many of Cape Town's most pressing social, political, and environmental issues, and how the artistic community is responding to them.
Click here to find out more and book! 
14. Battery Park
Battery Park is an underrated park with pretty canals, a skateboard area, and plenty of cute cafes around. It's basically the gateway from the CBD to the V&A Waterfront, and it's a nice place to spend time. 
There's a Shift coffee shop here, which is my favourite cafe in Cape Town to work from, and you can also find SUP Cape Town here. There are also picnic areas, shops, and a playpark, so there's something for everyone here. 
15. Kloof Corner
Kloof Corner is one of the most stunning viewpoints in Cape Town, but lots of tourists miss it. 
It's around a 20-minute hike up the Kloof Corner steps to the viewpoint, and you get incredible panoramic views of Cape Town. You can see Table Mountain, False Bay, the City Bowl, Lion's Head, Camps Bay, and the Twelve Apostles. It's absolutely breathtaking, especially at sunset.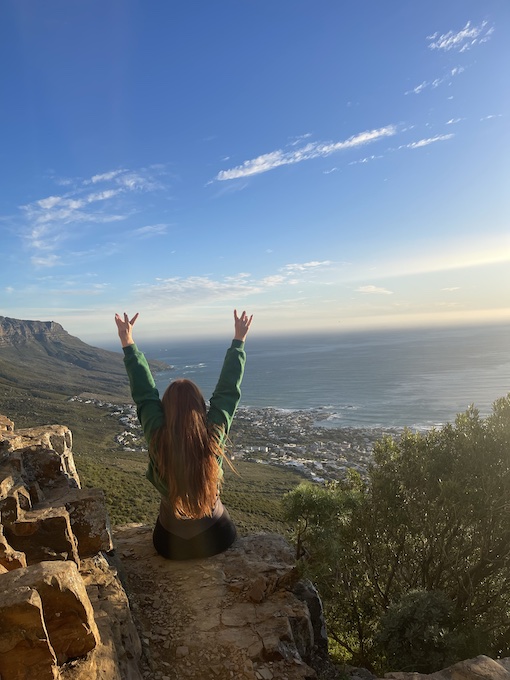 Kloof Corner is one of the best hidden gems in Cape Town because it's free to hike, it doesn't take long to get up there, and the views are unparalleled. In fact, I think it's the best view in Cape Town.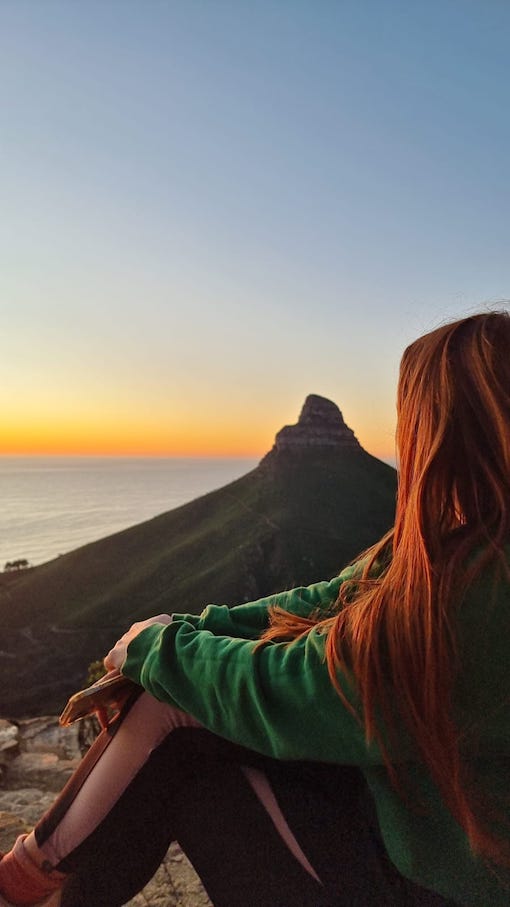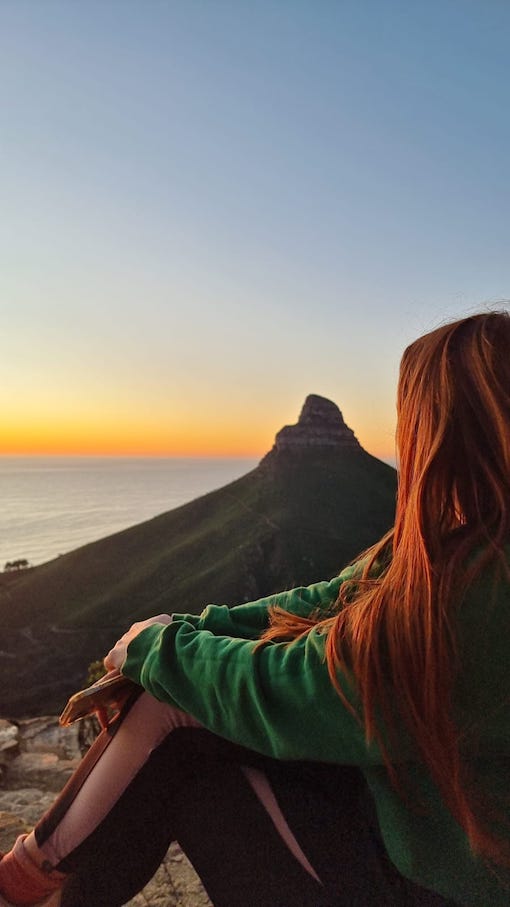 You can find the trailhead for Kloof Corner along Tafelberg Road, before you get to the Table Mountain cableway. There's free parking nearby, or you can Uber here. You could also take the MyCiti bus to Kloof Nek and then it's a 15 minute walk to the trailhead.
For more on hiking Kloof Corner, check out this complete guide! 
16. Saunders Rocks Beach
This is another local favourite, and it can get pretty busy during the summer. However, lots of tourists miss Saunders Rock Beach in favour of the Clifton and Camps Bay beaches.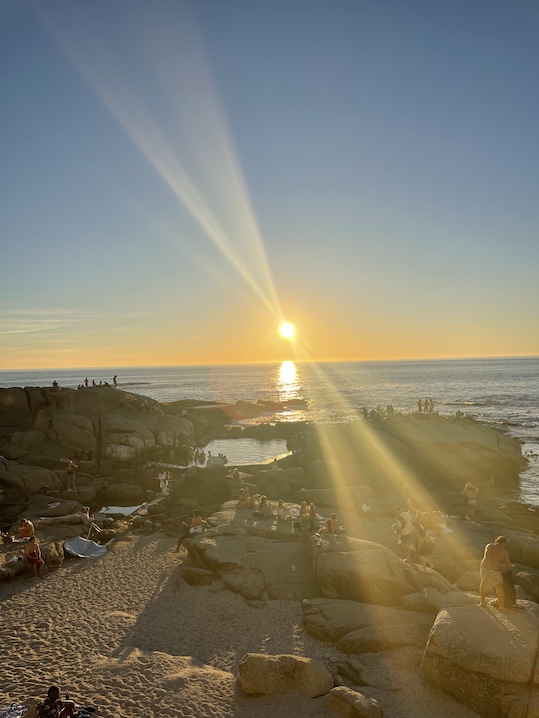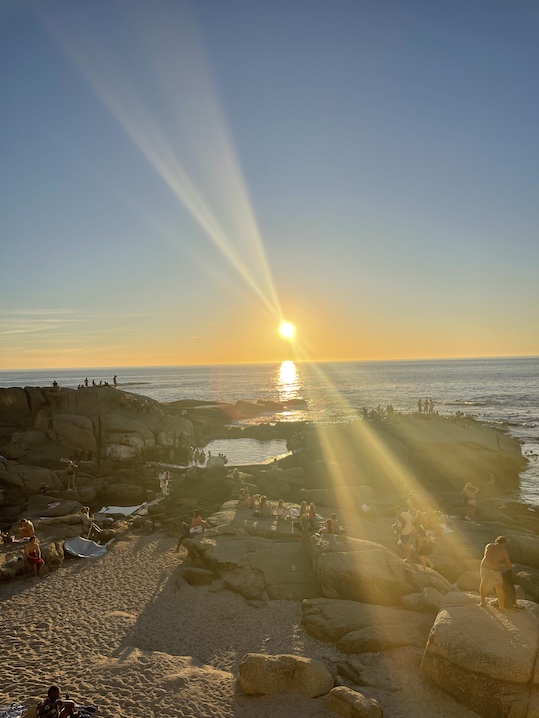 Admittedly, the Clifton and Camps Bay beaches are prettier, but Saunders tends to be easier to get to (although of course, it depends where you live).
Plus, the rockpool here is great for swimming whereas it can be difficult to get in the water at Clifton and Camps Bay when the waves are high.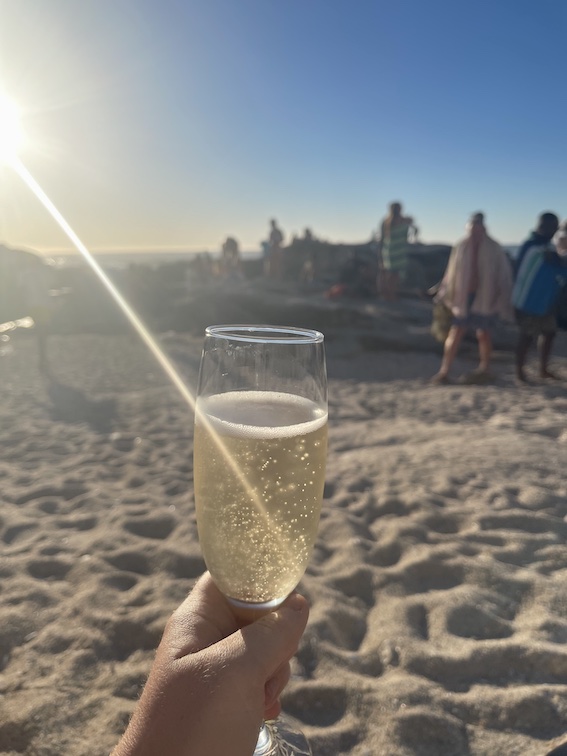 Saunders is a super popular sunset spot and lots of Capetonians head here after work for a swim and a picnic on the beach. It's a nice, chilled out beach and it's not commercial at all. I love it!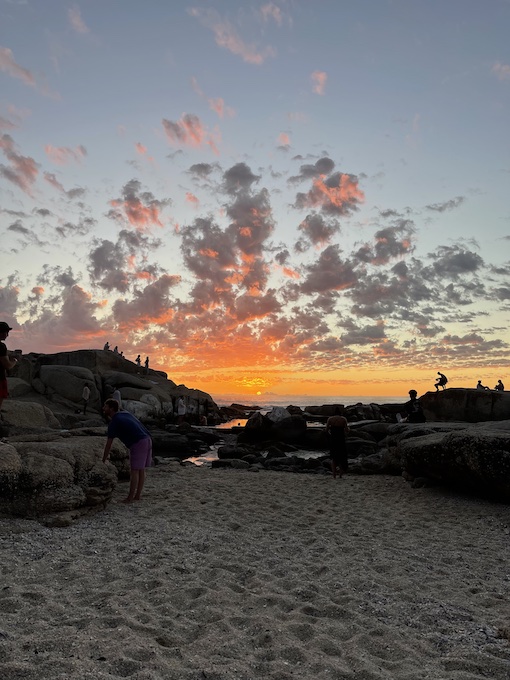 17. The Sky-HI Ride
When most people think of hidden gems, I'm fairly sure that a terrifying drop tower amusement ride is the first thing that comes to mind.
Be that as it may, the Sky-HI ride on the 28 floor of the Hotel Sky offers visitors a chance to mix fantastic aerial views of the City Bowl with a mighty dose of adrenaline. 
The ride is 35 metres tall, but it towers 146 metres (479 ft) above the city in total. It reaches speeds of up to 100 km per hour (62 mph) and is open to the public, so you don't have to be a Hotel Sky guest to ride.
Sky-HI costs R200 (£8.30/$10.65) to ride and is open from 12 am until 8 pm from Tuesday to Sunday. You can buy tickets via Webtickets. 
18. Una Más Mezcaleria
This small bar along Sea Point's Regent Road is easy to walk past, but trust me, once you've stopped here for a drink you'll come back time and time again. 
I mean "una más" is Spanish for "one more", which is fitting because that's what you'll find yourself saying time and time again when you come here for a drink. They've got a huge range of tequila and mezcal to try, but the cocktails are also really good.
I highly recommend the spicy palomas – they're probably the best cocktails I've ever had in Cape Town. 
19. The Gin Emporium
The Gin Emporium at the V&A Waterfront is a fantastic place to go gin tasting. It's hidden away at the Waterfront, close to the aquarium and right next to the Bascule Bridge.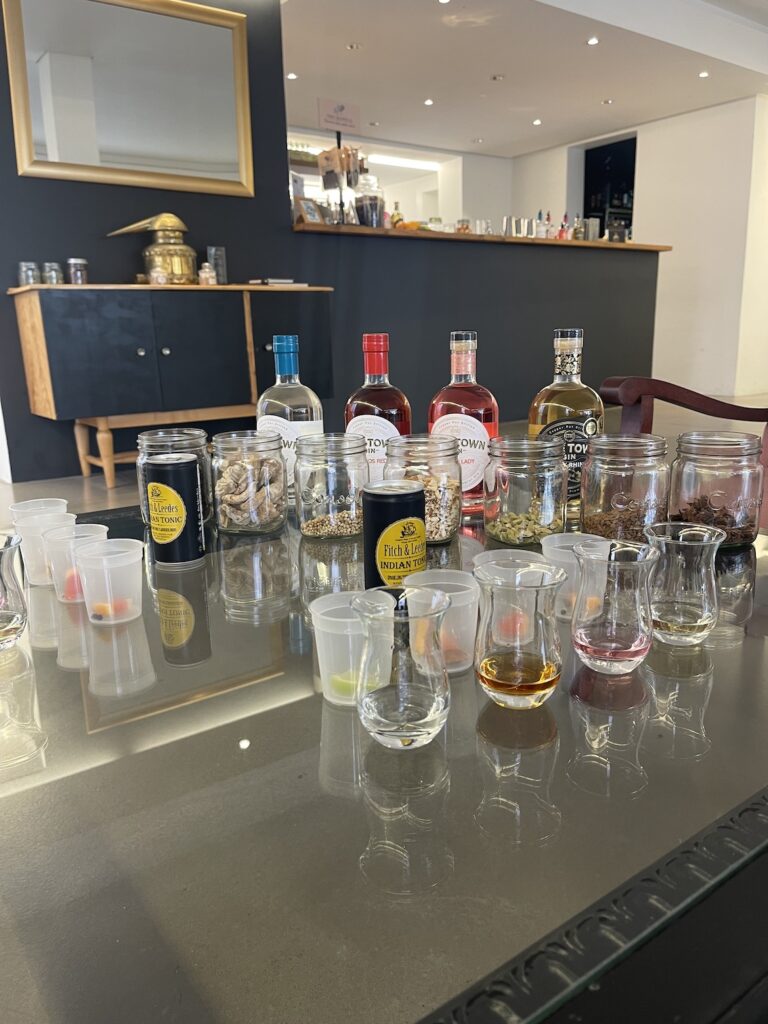 A tasting costs just R60 per person here, which is around £2.50 or $3.20 at the time of writing. You can just turn up but it's better to book online so that you can do the guided tasting, which is way better. You'll need to book two days in advance but you can just pay on the day, and if you end up buying a bottle of gin then your tasting fee is often waived. 
There are four versions of gin to dry here: classic dry gin, pink gin, Rooibos gin, and fynbos gin. The latter two are pretty unique to South Africa, so I definitely think this is a cool thing to do while you're in Cape Town. Plus, you get a pretty generous amount of gin so it's a fairly cheap way to get a buzz on, and the gin is actually really nice! 
For more on the best gin tastings in Cape Town, check out this post. 
If you enjoyed this blog post, you might also like…