Last Updated on November 12, 2023 by thecapetownblog
The V&A Waterfront is one of Cape Town's swankiest areas, but you don't have to spend an arm and a leg to enjoy yourself here. In fact, there are plenty of affordable restaurants at the Waterfront where you can get a great meal for a great price.
Don't get me wrong, there are some super fancy restaurants here, but I think that there are quite a few places that offer really good value for money.
Whether you've got a hankering for steak, seafood, or something else entirely, I promise you that you don't have to spend a lot to eat well at Cape Town's waterfront. So if you're visiting Cape Town on a budget, I've got 10 affordable restaurants at the V&A Waterfront for you to eat at!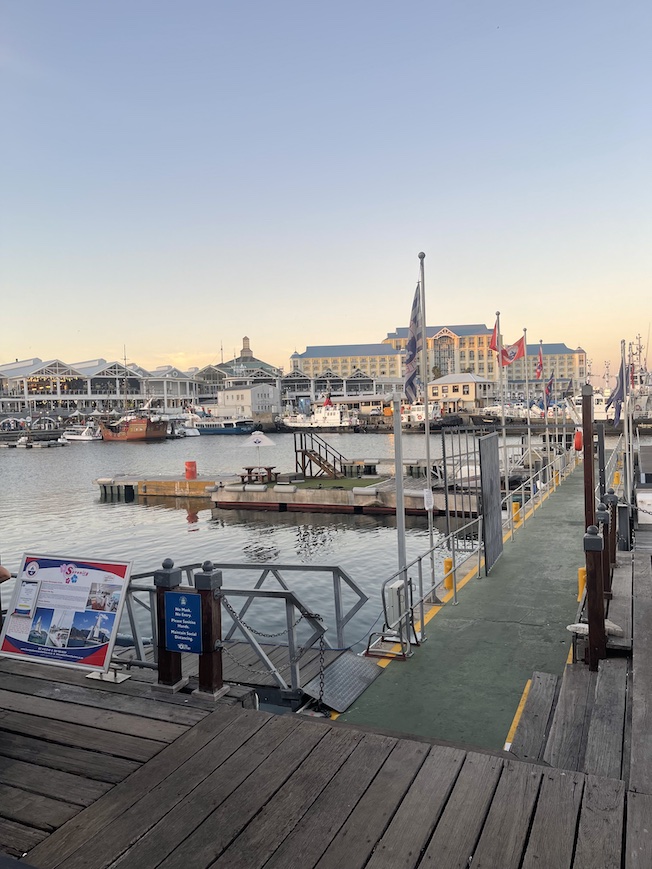 This post may contain affiliate links. When you make purchases through these links, I earn a small commission at no extra cost to you, which helps to keep this blog up and running. Thank you so much!
1) Grand Life Cafe
The Grand Life Cafe also featured on my list of the best restaurants in Cape Town. I love this place!
It's perched right on the harbour's edge so you get a great view as you dine. It's a plush restaurant with a stylish interior and a nice veranda right next to the water. Not everything on the menu is cheap, but it's definitely possible to dine here on a budget.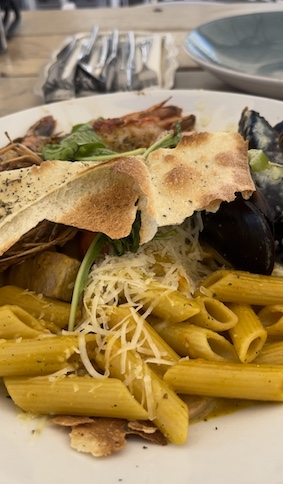 For example, I usually get the creamy pomodoro linguine, which is R128 for a HUGE meal. You could probably share this, but I'm greedy.
You can also get oysters for R70, a salad for R80, or a whole spatchcock chicken with potatoes and vegetables for R185.
Wine is also cheap here at R50 for a large glass of Franschhoek Cellar white – and I MEAN a large glass. There was about half a bottle in there.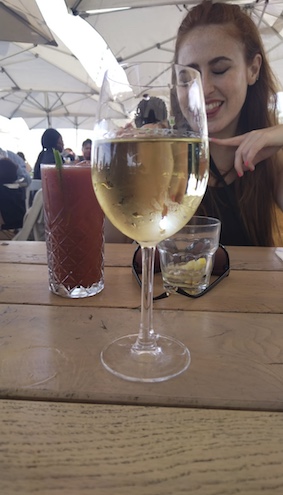 Address: 2 Pierhead Road
Open time: 11 am – 10:30 pm
Booking needed? No
2) Primi
Primi is a casual urban themed restaurant that serves great steak, burgers, pastas, and pizzas. I like their Waterfront location because you can get a nice view of Granger Bay and Robben Island in the distance.
The Waterfront Primi is in the Victoria Wharf Mall, on the first floor. You'll probably smell it before you see it!
To give you an idea of the prices, a Tuscan chicken flatbread will set you back R95, a Carbonara costs R78, or the Primi Beef Burger costs about R98.
Address: Shop 7226, Lower Level, Victoria Wharf Shopping Centre
Open time: 12 pm – 10 pm
Booking needed? No
3) Mozambik
Mozambik is a vibrant restaurant that brings Mozam flavour to Cape Town! And with delicious dishes like fish cooked in Zambeziana (an amazing coconut, chilli, and lime sauce), pregos, or Mozambique's famous peri-peri chicken on the menu, the affordability of Mozambik really becomes a secondary reason to eat here.
Hake Zambeziana will set you back R119, or you can get a deboned half chicken for R145. There are also mild Mozambican curries on the menu for R135 to R159.
Mozambik is one of the most popular affordable restaurants at the Waterfront because it has great food and a buzzing atmosphere at a very attractive price! It's a great way to try Afro Porto cuisine while you're in Cape Town, and maybe treat yourself to a few cocktails while you're at it.
Address: Shop 8, Quay 5
Open time: 11:30 am – 9:30 pm Sunday – Wednesday; 11 am – 10 pm Thursday – Saturday
Booking needed? No
4) Tasha's
Tasha's is doing so well that they've even opened up a branch in the UK!
It's an affordable South African chain that's perfect for lunch or dinner. It's a Mediterranean-inspired restaurant and I love the light and airy feel inside the Waterfront branch. Actually, this is the only branch of Tasha's I've been to so I can't tell you what the other ones are like!
If you fancy tapas, prices range between R42 and R66 per item. The beer battered cauliflower is cheap and especially good!
If your fridge is empty and you want some leftovers, go for the whole peri peri chicken and chips. I ordered this once and because it was so cheap (around R120), I assumed it was a quarter or a half chicken, at most. However, I got a whole chicken for my lunch and had leftovers for days!
From fresh salads to avo toast and yummy wraps, the food at Tasha's is simple, tasty, and cheap, and it's a fantastic place to dine on a budget in Cape Town.
Address: Shop 7117, Victoria Wharf Mall (near the entrance on Breakwater Boulevard)
Open time: 8 am – 9 pm Sunday and Monday; closes 10 pm Tuesday – Saturday
Booking needed? No, but it's a good idea during the festive season – call them on +27 21 421 4350
5) Spur Santa Ana
My South African friends tell me that Spur is where everyone has their birthday parties when they're little. It's a casual, family friendly steakhouse where you can get a 300 gram New York sirloin for R180, or a 350 gram T-bone for R195.
They've also got huge burgers for around R150, or an 800 gram rack of ribs for just shy of R300. There are usually some pretty good combo deals available, as well, like a 200g rump or sirloin steak with onion rings and chips for R110.
If you're looking for a cheap cheat meal, Spur is definitely a good shout – and the Waterfront one is actually pretty nice! It's inside the Victoria Wharf Mall and it has nice views over the harbour and Table Mountain. You can even sit out on the terrace if you want, although it was too cold for this when we went.
Address: Shop 280, Victoria Wharf
Open time: 9 am – 9 pm, closes at 10 pm on Friday and Saturday
Booking needed? No
6) Den Anker
Den Anker is a popular Belgian restaurant on the quayside, where you can indulge in Belgian beers, fries, and of course waffles!
Basically, if you're looking for deep fried goodness, this is the place to be. I also really like the vibe at this place. It's super light and airy with big windows, and you have great views of Table Mountain if you sit outside.
In terms of price, you can get a bucket of Belgian mussels for R195, fish and chips for R175, or the house peppercorn steak and chips for R295. Desserts range between R65 and R85 – try the Speculoos waffle if you're a biscoff fan like me!
Meanwhile, you can get a glass of white wine for as little as R55 here, or bottles start at R180.
The Belgian beers cost between R50 and R75 for a 330ml glass, which is definitely more than your average Castle Light but this is craft Belgian beer, so it's always more expensive.
Address: the Pierhead, V&A Waterfront
Open time: 10 am – midnight
Booking needed? During the summer it's a good idea to book a table – you can do it online
7) Nando's
Oh come on, I had to put Nando's on this list.
Nando's is a fast casual peri-peri chicken restaurant and naturally, as a Brit, I am obsessed with it.
Even though the food is Portuguese, any South African will tell you that Nando's is South African. The first one opened in Johannesburg in 1987.
The great thing about eating Nando's is that it is SO MUCH CHEAPER here than it is in England. The menu is bigger, too.
You can get a boujee bowl (chicken breast strips, spicy rice, sweetcorn, and grilled red pepper) for R79, a burger for R65, or a wrap for R69. You really can't go wrong.
To be fair, Nando's doesn't have as great views as some of the other affordable restaurants at the Waterfront. In terms of experience, I do prefer to eat at the Grand Life Cafe or Tasha's. But if you want a cheap, fairly healthy meal at a great price, Nando's is the one to beat.
Address: Shop FC01, Dock Rd
Open time: 10 am – midnight
Booking needed? No
8) Tiger's Milk
Tiger's Milk is a local bar-restaurant chain and there are lots of branches around Cape Town. They serve "dude food" which basically means burgers, nachos, pizzas, and the like. The cocktails here are decent, but nothing show stopping.
If you want a decent meal and a drink that won't break the bank, the Waterfront location has a nice vibe. It's got exposed brick walls, a couple of neon signs, and best of all, views over the quay with Table Mountain in the background.
Burgers range between R127 and R231, depending on how extravagant your tastes are, or you can get surf and turf plus a size for R270. Pizzas cost between R110 and R198 and the tacos are around R150, but it depends on what filling you get. 
Meanwhile, cocktails range between R77 and R143, and there's a ton of choice. You can also get a light beer for R40 – R50, or 500ml of the house draft beer for R49. 
Plus, you can take advantage of the specials here, like 2-4-1 burgers on a Monday or pizza and beer on a Thursday.
Address: Shop 261, Victoria Wharf
Open time: 10:30 am – 9 pm Sunday – Thursday, 10 am – 10 pm Friday and Saturday
Booking needed? For dinner, it's a good idea – you can book online
9) The Oranjezicht Market
The Oranjezicht Market isn't a restaurant, but a weekend farmer's market where you can find a ton of stalls from Cape Town's best home grown eateries. So for that reason, I still think it deserves a place in my list of the top affordable restaurants at the Waterfront!
Whether you want bagels from Kleinsky's, bao buns, Cape Malay curry, or yummy Vietnamese food, you'll definitely be able to fill up on something affordable here. Most dishes cost between R100 to R150, although drinks can be a bit expensive!
The Oranjezicht Market is in Granger Bay and it's open on Saturday and Sunday mornings, as well as Wednesday evenings during the summer months. It gets busy, so try to arrive fairly early if you want a table.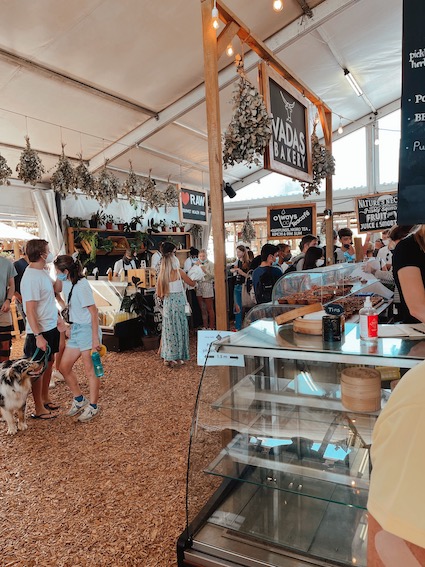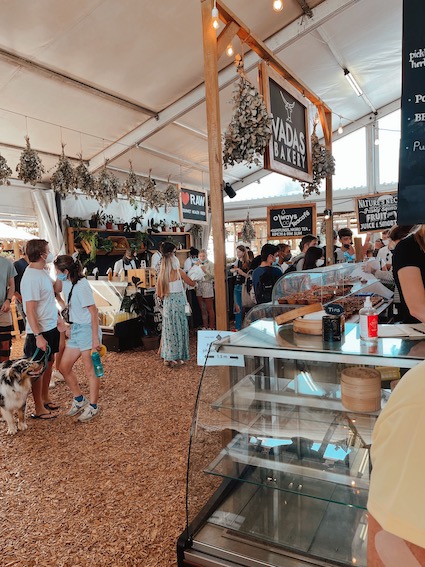 To find out more about the Oranjezicht Market, check out this guide!
Address: Oranjezicht City Farm Market, Haul Road, Granger Bay Blvd
Open time: 8:15 am – 2 pm Saturday and 9 am – 2 pm on Sunday. During summer the night market opens from 5 pm – 9 pm from November to March
Booking needed? No
10) Quay Four Tavern
Quay Four is a harbourside seafood restaurant. I like the laid back but fun atmosphere, and the fact that they sometimes host live bands.
There are two parts to Quay Four. The Tavern downstairs is more affordable, whereas the Tavern Upstairs is more elegant. You definitely pay a bit more for those beautiful harbour views! However, if you're looking for a cheap meal, then you can find some fantastic food deals at the Tavern.
For example, you can get sirloin steak and chips, fish and chips, or a spatchcock chicken for R129, which is pretty hard to beat. In fact, I think you'd struggle to cook those meals at home for much less!
You can also get an entire kilogram of prawns for R299, a HUGE seafood platter for R295, or 6 oysters and a glass of bubbles for R149. These prices are so reasonable, especially at the waterfront!
Address: Quay, 4 Dock Road, V&A Waterfront
Open time: 8 am – 11 pm
Booking needed: Not for the Tavern!
Thanks for reading! For more things to do at the Waterfront, check out this guide, or this article has the lowdown on the 20 best restaurants in Cape Town.