Last Updated on October 16, 2023 by thecapetownblog
In the beautiful city of Cape Town, there are a ton of fantastic ways to spend a Sunday.
Whether you want to hit the beach, have brunch at a farmer's market, or go for a nice long walk, there are lots of wholesome ways to ease the Sunday scaries. 
Cape Town is a very outdoorsy city, but there are also plenty of things you can do indoors, too, so bad weather won't hold you back.
So if you're searching for the perfect Sunday activity, look no further because I've got a super detailed list of 21 things to do in Cape Town on Sunday.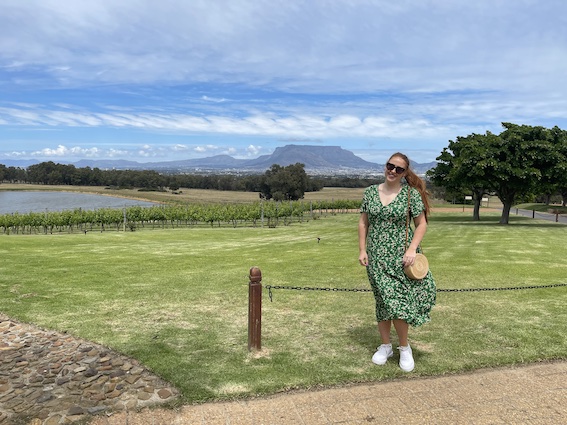 This post may contain affiliate links. When you make purchases through these links, I earn a small commission at no extra cost to you, which helps to keep this blog up and running. Thank you so much!
1. Go to the Oranjezicht Market
I loooove the Oranjezicht Market.
I'm not alone in this either. It's probably the most popular thing to do in Cape Town on Sunday.
It's an excellent farmer's market that takes place in Granger Bay at the Waterfront every weekend. It's open from 9 am until 2 pm on Sunday, and you can enjoy food from tons of local restaurants here, as well as treat yourself to some locally made artisan goodies.
I've said it before and I'll say it again: the Vadas Bakery are hands down the stars of the show at the Oranjezicht Market. Their pastéis de nata always sell out well before closing time, so I recommend making a beeline for that stall when you arrive!
You can find food from all over the world here, whether you want Cape Malay Cuisine, flammekueche (German flatbread pizza), avocado toast, or barbecue. Plus, I love checking out the handmade soaps, lotions, and knitwear.
A visit to the Oranjezicht Market is a very solid way to start your Sunday. If you want to find out more about visiting, check out this guide.
2. Have a beach day
During the summer months, hitting the beach is easily one of the best things do to in Cape Town on Sunday. It's also an awesome thing you can do for free!
There are tons of gorgeous beaches, from hotspots like Camps Bay and Clifton to the lesser-known sands of Beta Beach and Oudekraal. Or, you can head over to Muizenberg and learn how to surf. 
As far as I'm concerned, there's nothing better than whiling away a Sunday on the sand.
For more on the best beaches in Cape Town, check out this guide.
3. Take the cable car up Table Mountain
Taking the Cable Car to the top of Table Mountain is always a fun experience, and the views really are second-to-none.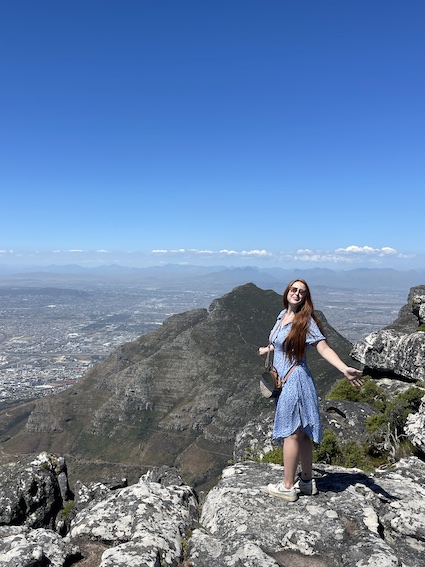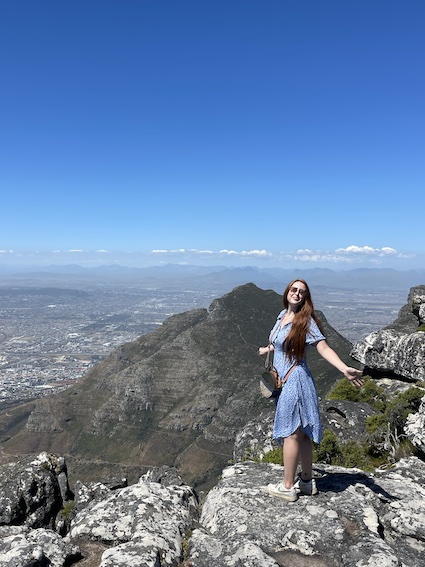 You can drive to the Cableway and park for free, or Uber if you haven't got your own wheels. Tickets cost R395 for adults before 1 pm, or R340 afterwards, and you can buy them on the day.
The opening times are as follows, and the last download is always an hour after the official closing time.
16 December – 15 January (peak season): 8 am – 8 pm
16 – 31 January: 8 am – 7:30 pm
1 February – 30 April: 8 am – 6:30 pm
1 May – 31 August: 8:30 am – 4 pm
1 September – 15 December: 8:30 am – 6 pm
Once you're at the top, you can walk around and soak up the views. There are plaques around with lots of information about Table Mountain and the Cape Floral Kingdom. You can even hike all the way to Maclear's Beacon, which is the highest point on Table Mountain. It takes about 45 minutes each way and you can only do it on a clear day, otherwise it's too dangerous.
After you've finished exploring, you can head to the cafe for a coffee (or a beer) and relax a little before you catch the cable car back down again.
For more on visiting Table Mountain, check out this guide. It contains everything you need to know!
4. Go hiking
There are a ton of amazing hikes to enjoy in Cape Town. You can hike iconic peaks like Lion's Head and Table Mountain, or explore some lesser known routes like the Newlands Ravine.
Table Mountain trails
I suggested taking the cable car to the top of Table Mountain above, but it's also possible to hike. If you take the Platteklip route, you can hike up and take the cable car down.
My favourite route, though, is Kasteelspoort. It starts in Camps Bay and doesn't end anywhere near the cableway, so you have to hike both ways. The views are totally worth it, though, and it tends to be far less busy than Platteklip Gorge.
The Kasteelspoort route is 3.9 miles/6.3 kilometres long and is moderate in difficulty. I got sweaty, but I wasn't absolutely exhausted afterwards or anything like that.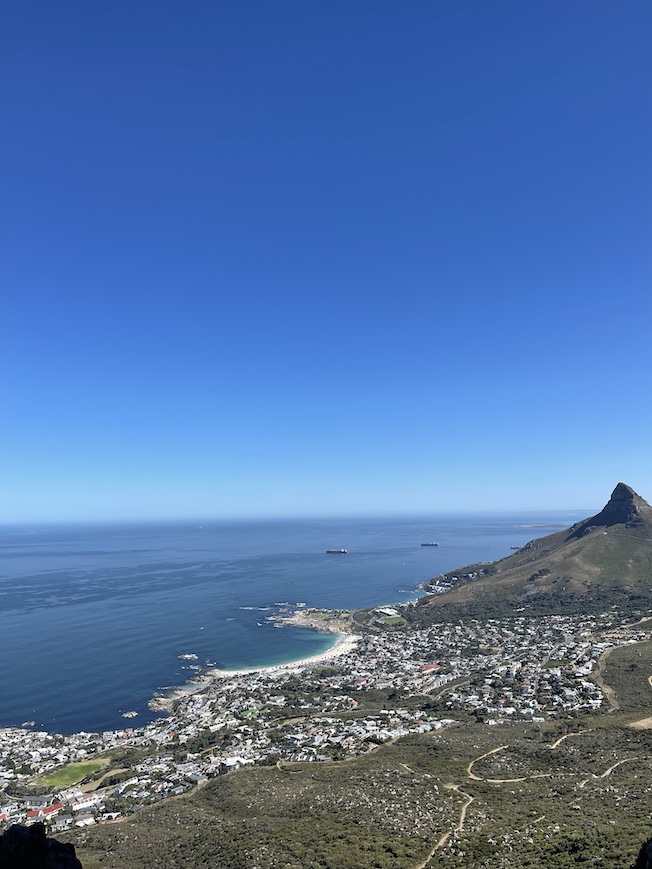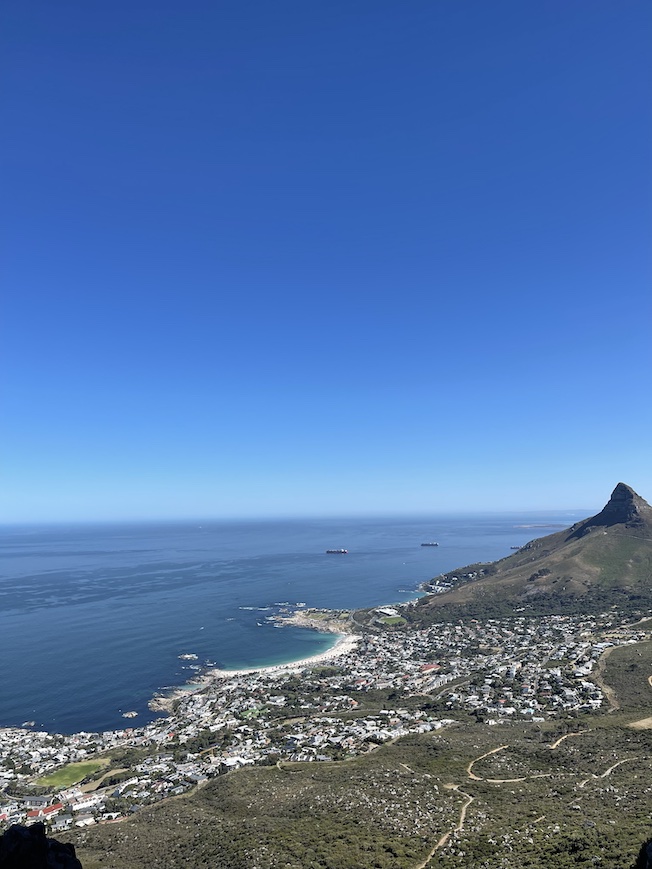 Lion's Head
You can also hike Lion's Head which is a fun, moderate hike with excellent views the entire way. Even the views from the parking lot are amazing!
It takes about 3 hours to get up and down Lion's Head, give or take half an hour depending on your pace. You don't have to go all the way to the top, although the views from the summit are fantastic.
The only thing to bear in mind is that Lion's Head does get pretty busy on weekends, so you need to go early on a Sunday! For more on hiking Lion's Head, check out this blog post.
Newlands Ravine
If you're not in the mood to see a ton of people, the Newlands Ravine trail tends to be pretty quiet since it's not super famous, but you get amazing views of the city on both sides at the top.
You start off by making your way through the forest, and then when you find the trailhead it's a simple, albeit fairly steep, walk to the top. The entire walk took us about 2.5 hours in total, and I definitely needed a nap afterwards.
We actually wished we had Ubered to Newlands because we realised we could walk all the way back to Green Point from the summit!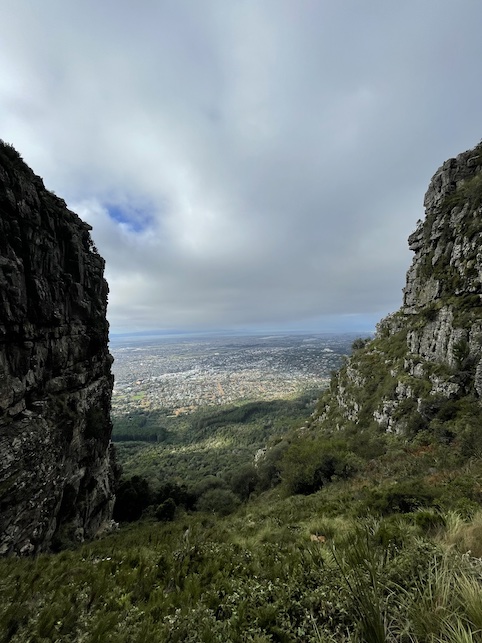 Kloof Corner
Last but not least, Kloof Corner is a short hike to an amazing viewpoint where you can enjoy an epic Cape Town sunset. 
Well, it's beautiful at any time of day, but watching the sunset here really is something else.
There's a small parking lot around the corner from the entrance to the Kloof Corner steps. From there, it takes 15-20 minutes to get to the top. The route is quite steep in places but it's easy to follow and there's no scrambling required. The steps are pretty even, too.
It's best to head up about 60-90 minutes before sunset, and then you should bring a head torch to head back down again. A phone torch works as well!
For more on how to hike Kloof Corner, check out this guide!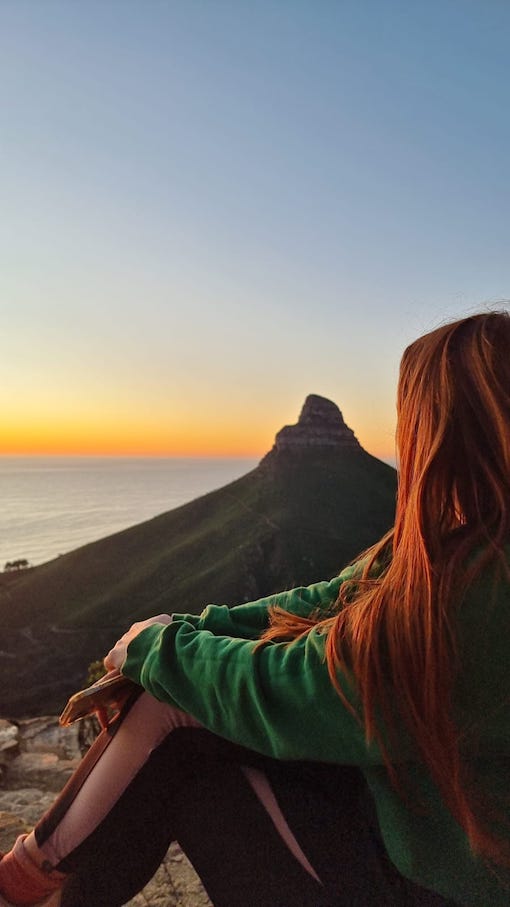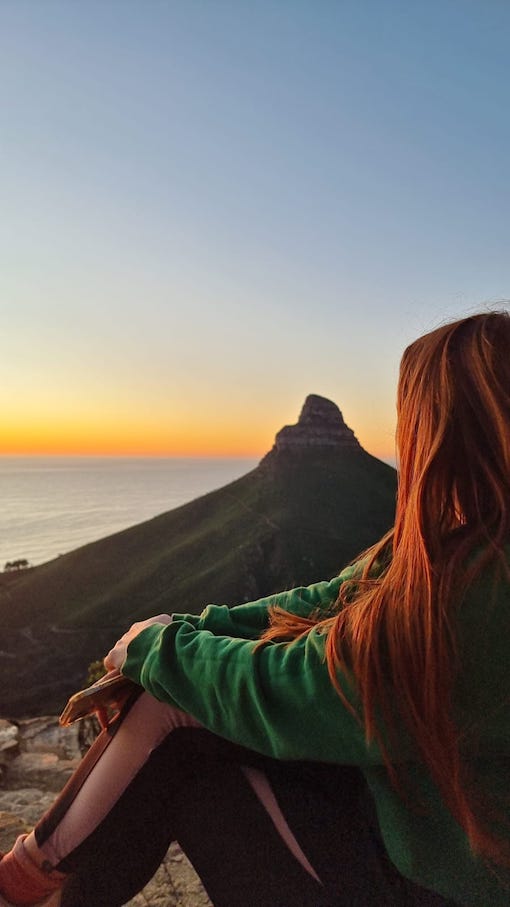 5. Enjoy an affordable meal at the Waterfront
If you want to eat out without breaking the bank this Sunday, you can always head to one of the affordable eateries at the Waterfront for a meal.
The Waterfront is such a nice area to explore and you can easily enjoy a meal with a view (and maybe a cheeky glass of wine) for under R200 here.
Personally, I'm partial to the Life Grand Cafe because it's perched right on the Harbour and does an amazing seafood pasta, but there are plenty of other great choices.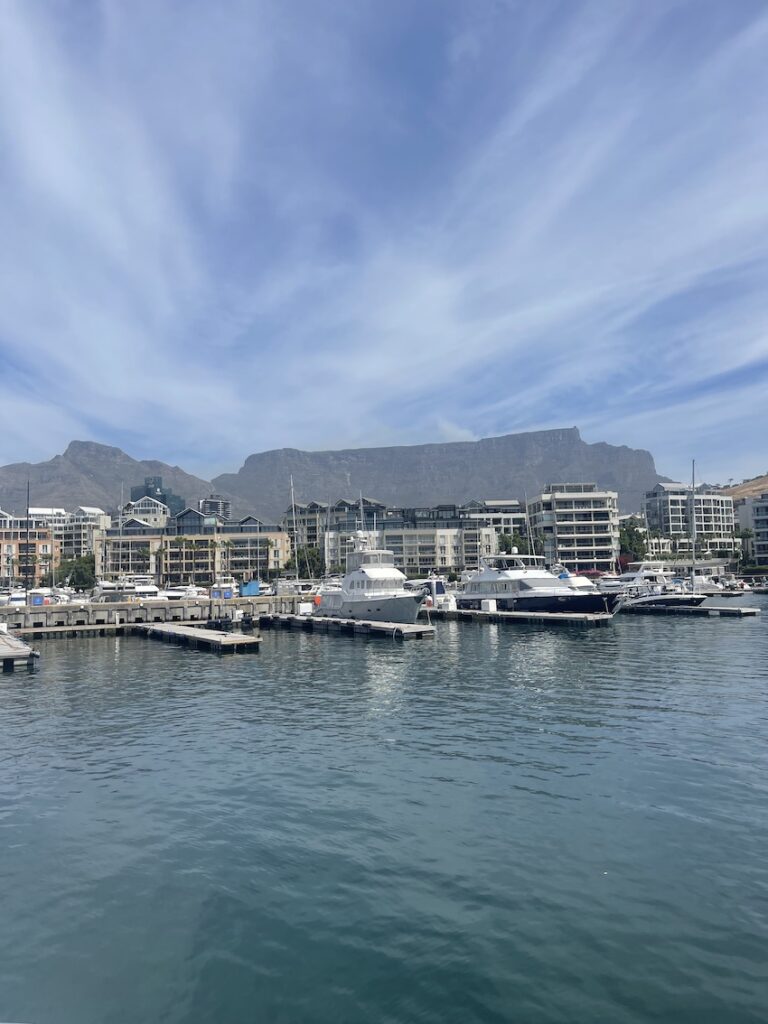 6. Walk on the prom
The Sea Point promenade is probably the most popular place to go for a walk in Cape Town, and with good reason. It's super easy to access and it runs right along the oceanfront. There's also a swimming pool, several rock pools, beaches, and food stalls to stop at along the way. 
If you're in the mood for a really long walk, you can keep walking past Saunders Rocks Beach to Bantry Bay. Victoria Road runs all the way past the Clifton Beaches and through Camps Bay, and you'll have amazing views of the Twelve Apostles along the way, too. I love this route!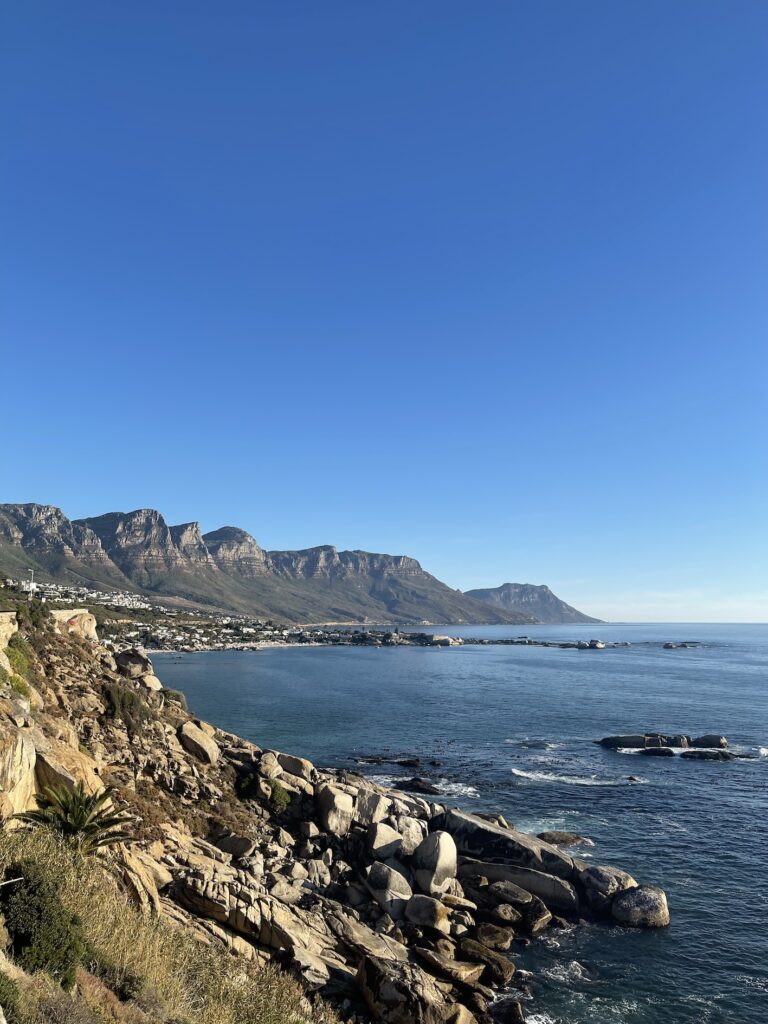 7. Visit the penguins at Boulders Beach
Whether you've lived in Cape Town for years or are just here for a couple of days, visiting the penguins at Boulders Beach is always a great day out.
It should take you about 45 minutes to drive from central Cape Town to Boulders Beach on a Sunday, and if you don't have a car at your disposal you can always join this tour.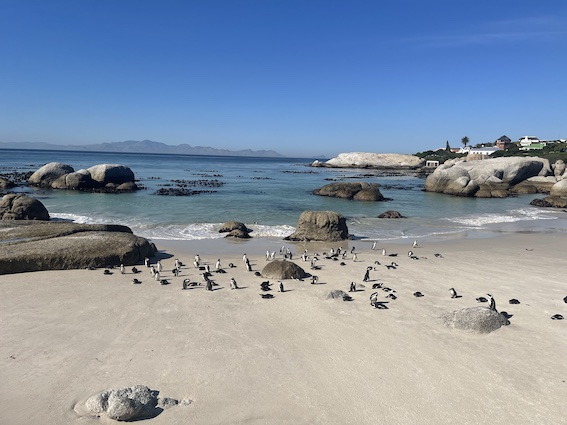 Once you arrive, it costs R44 for adults and R22 for South African adults, or R176 and R88 for internationals.
Visiting the penguins is one of the very best things to do in Cape Town on any day of the week. Boulders Beach itself is so beautiful and it's so cool to see African penguins up close.
After you've said hi to the adorable penguins (and dassies), you can sunbathe on Foxy Beach next door, where you'll probably see even more penguins.
There are also some nice cafes and restaurants around. The Seaforth Restaurant has great fish and chips!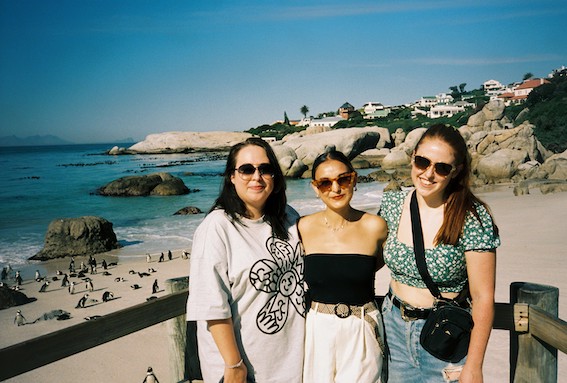 8. Take a Woodstock street art tour
Woodstock used to be an industrial hub, but now it's one of Cape Town's coolest neighbourhoods where all of the artists and hipsters hang out. So unsurprisingly, it's one of the best places in Cape Town to see street art!
This 90-minute walking tour is an excellent way to not only find all of the neighbourhood's best street art, but also to learn about the deeper meaning behind it.
Woodstock's street murals tackle important issues from climate change and conservation to racism and social justice, so this tour is a really thought-provoking experience.
And on a more superficial level, it's great for your Instagram feed!
The tour also takes you to the Old Biscuit Mill market, which is one of the coolest markets in the city with lots of great food and crafts from talented local designers.
You can choose to leave at 8:30 am or 10 am, so it might cut your Sunday lay in slightly short, but I think it's worth it! It costs R550 per person, including tea and coffee along the way.
Click here to find out more and book!
9. Paint Ceramics at Clay Café
Painting plates, bowls, and mugs at Clay Café is such a fun and therapeutic thing to do. I always feel so calm and relaxed while I'm painting, even though I'm terrible at it!
There's a R45 fee per person to paint, and this stays the same if you paint one mug or a whole set of plates.
You choose your item(s) first, and then select three paints. You can swap the paints around, they just ask you to only use three at a time when it's busy so that no-one ends up hogging all of the colours.
I usually start with one or two items and then sometimes paint another one if I have time. . The items are priced individually
Then, you get to painting. They have stencils and lots of different tools to help you make patterns, and the staff are on hand to help.
You can also order food and drink along the way, whether you want coffee, wine, salad, or a pizza. The chicken and avocado salad is really good!
Once you've finished painting your items, you paint your order number on the bottom and your server will collect your items from you. You'll get an email once your items are ready for you to collect; it usually takes between 3 – 5 weeks.
There are two branches of Clay Café in Cape Town. One is on Bree Street and the other is in Hout Bay. I've only been to the Bree Street one myself, but I always have such a great time there.
Clay Café in the City (the Bree Street branch) is open from 10 am until 5 pm on Monday and Tuesday, 10 am until 10 pm from Wednesday to Friday, 9 am until 10 pm on Saturday, and 9 am until 6 pm on Sunday.
The Hout Bay one, meanwhile, is open from 9 am until 7 pm daily.
12. Chapman's Peak Scenic Drive
Chapman's Peak Scenic Drive is regarded as one of the most beautiful roads in the world. Driving along this winding road past Hout Bay Harbour and alongside the red cliffs of Chapman's Peak mountain is certainly a wholesome thing to do on a Sunday. 
The drive begins in Hout Bay, and you should definitely pull over to take some snaps of the harbour. Then, you follow the road along all the way to Noordhoek, where there are beautiful beaches and the Aegir Project, where you'll find great burgers and beers.
This road isn't free to drive along; you'll need to pay R57. I find it's best to bring cash as the card machine is often slow due to the lack of reception along this road.
You can drive to the starting point through the city, but I definitely recommend going via Camps Bay. This way, you'll get to drive along the beautiful Victoria Road before you begin the main portion of the drive, so you get even more great views.
13. Watch a movie at the Labia Theatre
The Labia is the oldest independent cinema in South Africa. It's a great place to catch a movie because it has a nice, old-timey cinema vibe and tickets are cheap! 
I also think part of the reason this place is so popular is that you can take alcoholic drinks into the theatre with you. They even serve slushie cocktails!
You can catch new releases here as well as old movies and independent films. It's R70 for a ticket and they also partner with the Wolf House bar and restaurant on Kloof Street, so there are different meal-and-movie combos every day of the week. Right now, on a Sunday, you can get two waffles and two movie tickets for R160. Not bad!
14. Take a seal harbour cruise
Spotting seals is one of the best things to do at the Waterfront, but you can also take a seal harbour cruise to see them swimming and playing up close. This is such a nice, fun, and relaxing way to spend a Sunday, and I think it's such a great activity for families!
You'll also get great views of the Waterfront as you cruise around the harbour and your guide will teach you more about the history of the area and the marine life that inhabits its waters.
A seal harbour cruise costs R130 for adults and R65 for kids. That's about £5.50 or $7 USD for adults, and £2.75 or $3.50 for kids at the time of writing.
Cruises depart once an hour, on the hour, from 11 am until 4 pm. To make a day of it, you could even grab a meal at the Waterfront before or after your boat ride.
Click here to book your seal cruise!
15. Catch a concert at Kirstenbosch
During the summer months, there are concerts pretty much every Sunday afternoon at the beautiful Kirstenbosch botanical gardens. The lineup for summer 2023/24 hasn't been announced yet, but it usually consists of popular South African musicians, like Jeremy Loops, Sean Kock, Goodluck, and Will Linley.
16. Go surfing in Muizenberg
Surfers in Cape Town flock to Muizenberg for its warmer waters and rideable swell. So if you like surfing, or want to learn how, Muizenberg Beach is the best place to go.
There are lots of surf rental places here, such as Lifestyle Surf Shop, and you can take lessons from Gary's Surf School. I don't surf myself but I've had lessons before and it is a ton of fun, so if you want to try something new this Sunday, why not give it a go?
17. Enjoy some live music at Mojo Market
Mojo Market is a fantastic indoor food market in Sea Point. You can find everything here from barbecue to bagels and shawarma to poké bowls, but they also have live music 365 days a year! It usually starts in the evening, around 8 or 9 pm, so it's a nice way to end your weekend in Cape Town. 
18. Go for brunch
Who doesn't love a good Sunday brunch?
There are a ton of amazing restaurants in Cape Town where you can go and grab a fantastic brunch. Jarryd's in Sea Point is one of the best places. Their pancake stacks are incredibly delicious and decadent, and I really love their huevos rancheros, too. 
Jason's Bakery in Green Point is the perfect place for a Sunday carboload. Everything is freshly baked and they don't use any preservatives or enzymes. From their savoury green pancakes to bacon chilli pepper toasties, everything here is decadent and delicious; perfect for a Sunday morning.
19. Go for a swim at Sea Point Pool
If you're in the mood for a Sunday swim, the Sea Point Pool is the perfect place to go. It's an Olympic-sized saltwater infinity pool that overlooks the Atlantic Ocean, and it only costs R33 to swim. 
There are also two kids pools and a diving pool, so coming here is a great thing for families to do on Sunday. And after your swim, you can head to one of the food carts right next door to grab some falafel, a pizza, or a Cape Malay curry. I don't know about you, but swimming always makes me hungry!
The Sea Point Pool is open from 7 am until 7 pm during the summer and from 8 am until 5 pm during winter.
20. Get sweaty at Spinhaus
If you prefer to use the day of rest as a day to workout, then head to Spinhaus in De Waterkant for a workout that will knock your socks off.
Spinhaus is a boutique spinning studio that offers all kinds of rides. From meditative rides to sing along sessions, these are definitely not boring workouts! The schedule changes from week-to-week so I can't tell you exactly what kind of ride will be available this Sunday, but I promise you you'll feel very proud of yourself by the end of the class.
21. Take a free class at Yoga Life
If you want a more zen kind of workout, there's a free beginners yoga class every Sunday at 5 pm at Yoga Life in De Waterkant. It's great for learning the basics of yoga and you'll definitely feel good afterwards. It really is free – they don't ask for tips or donations, so what have you got to lose?
If you want to go, you'll need to book a place via the Mind Body app and bring your own mat.
For more on the best things to do in Cape Town, check out: