Last Updated on December 7, 2023 by thecapetownblog
Thanks to South Africa's diverse cultural heritage, high quality meat, and Mediterranean climate, the food scene in Cape Town is pretty damn good.
In fact, scratch that. It's excellent.
You'll be hard pressed to find a bad meal in the city, but if you need some inspiration on where to dine, fear not, because I've narrowed it down to a top 20.
This list includes places for breakfast, lunch, and dinner. Most are pretty casual, but there are some fancier options on there, too.
Also, all of these options are in central Cape Town, not far out in Constantia, Stellenbosch, and Franschhoek. If you're living or staying centrally, you should be able to easily take an Uber to any of them, or even walk. 
So grab your knife and fork, and let's tuck in.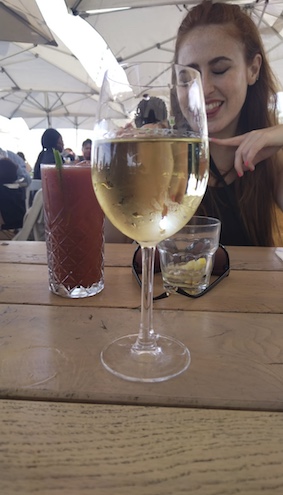 This post may contain affiliate links. When you make purchases through these links, I earn a small commission at no extra cost to you, which helps to keep this blog up and running. Thank you so much!
1) Life Grand Cafe
Life Grand Cafe might just be my favourite restaurant in Cape Town! It's perched right on the harbour's edge at the V&A Waterfront, and you can even sit right out on the dock and watch the cruises depart. The inside area is just as nice, though, with floor to ceiling windows and a plush yet down to earth feel.
They've got a pretty wide menu here, and there's lots of seafood on offer. I'm actually not the biggest seafood pasta but I often get the seafood linguine when I come here because it's just so fresh and yummy.
Despite its prime location, the Life Grand Cafe really won't break the bank, either. There are pricey bottles of bubbles available, but you can also get a nice glass of local wine for R50 (£2.50), and the staff have a fantastically heavy-handed pour. It's definitely one of the best affordable restaurants at the Waterfront!
The only negative thing I could really say about the Life Grand Cafe is that service can sometimes be a little slow when it gets busy, but I still highly recommend coming here for a meal.
Address: 2 Pierhead Road, V&A Waterfront (opposite La Parada)
Open times: 11 am – 10:30 pm
Go for: Cheap wine and delicious seafood with a view
Booking required? No
2) Yen's Vietnamese Street Food
Yen's Vietnamese Street Food started out as a stall at the Oranjezicht Market but it proved to be such a success that Yen opened a brick-and-mortar restaurant in Dewaterkant in 2021.
Yen's has a really special place in my heart because it's the best Vietnamese food I've ever had outside of Vietnam itself. In fact, it's the ONLY place to get authentic Vietnamese food in Cape Town. There are a few other restaurants that claim to be Vietnamese, but they actually serve up Asian fusion that's nothing like the food you actually find on the streets of Saigon.
I lived in Vietnam for 2.5 years, and I promise you that Yen's is the real deal. A few of the dishes are tweaked slightly for the western palette, but only by adding chicken or vegan options, or better quality meat, for example.
The decor will also induce a strong wave of nostalgia in anyone who's ever been to Vietnam. The walls are painted a cheerful shade of Hoi An yellow, there are vintage beer labels stuck to the walls, and the lampshades are in the shape of non la (the conical hats that are traditionally worn by Vietnamese people).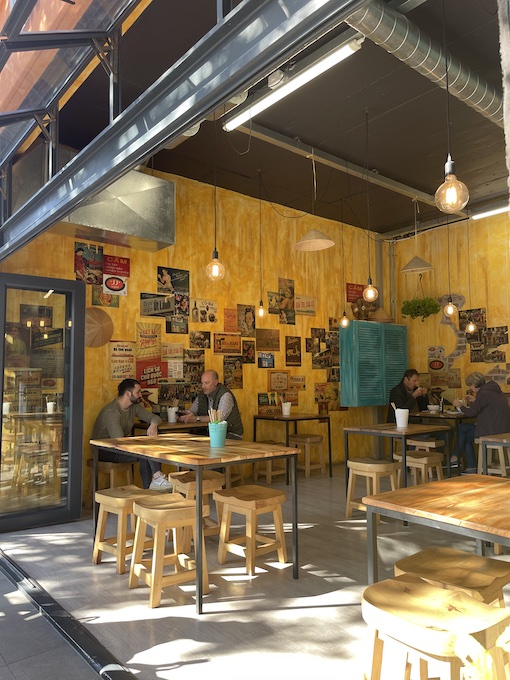 Yen's is a casual restaurant with limited seating, so book a table if you want to come here for dinner on a Friday or Saturday night. You order and pay at the counter, and then the staff bring your food over to you.
If you want some booze to wash your meal down with, you can bring your own wine and pay R50 corkage.
Address: 19 Dixon St, De Waterkant
Open times: 10 am – 6pm on Monday, 10 am – 9 pm from Tuesday to Saturday, closed Sunday
Go for: the best Vietnamese food outside of Vietnam
Booking required? On Friday and Saturday nights
3) Cousins Trattoria
Pasta lovers should make a beeline for Cousins Trattoria, a sought-after spot that's hidden down a sketchy-looking street. This place is probably best known for their signature cheesy pasta dish, which is mixed right in front of you inside a wheel of parmesan.
It's a small, slightly poky restaurant but that only makes this place feel more authentic. Bookings are required, especially at weekends, and don't try and squeeze extra people onto your table, because I've been a rejected fifth wheel here before.
Address: 3b Barrack St, Cape Town City Centre
Open times: 6 pm – 10 pm
Go for: The Cousins Pasta
Booking required? Yes
4) Hussar Grill
South Africa is renowned for its high quality meat, so it would be rude not to enjoy a good steak or two while you're in the city, and the Hussar Grill is one of the best places to do it.
There are actually two Hussar Grill restaurants in Cape Town: one in Camps Bay and another in Mouille Point. They're both great, so just pick which one is more convenient for you. The Camps Bay one does stay open a bit later.
Both locations feel very sophisticated inside, with dim lighting, dark wood, and walls that are lined with books. But despite this, prices here are really reasonable – I'm talking about R205 (£10) for a 600 gram T-bone.
Hussar Grill does serve wine, beers, and cocktails, but you're also welcome to bring your own wine to the Hussar Grill, totally free of charge! This is a fantastic way to save money, and it's ideal if you've got a nice bottle that would pair perfectly with steak.
I recommend going to the Hussar Grill on a Tuesday evening if you can because Tuesday night is date night. You can get a two course meal, a bottle of house red, and a decadent chocolate vodka martini EACH for just R400 (£20) per couple.
The martini is more just like a really rich chocolate sauce than a cocktail, but it's still delicious.
Address: 163 Beach Road, New Cumberland Building, Mouille Point OR Shop 2, 108 Camps Bay Dr, Camps Bay
Open times: 12 pm – 10 pm at Mouille Point, 5:30 pm – 11 pm at Camps Bay
Go for: Delicious steak at a reasonable price
Booking required? Yes, especially for date night. You can book online.
5) Rick's Americain
This fun, Casablanca-themed cafe-bar-restaurant is the perfect spot for dinner and cocktails before you hit Kloof Street, which is THE street for nightlife in Cape Town. It's got a relaxed, classy vibe, and the staff are super friendly. It's also got a nice rooftop area, which is great for summertime.
Rick's often has lunch specials on different days of the week. The menu changes, but last time I came here for lunch I had delicious Moroccan fish skewers for R89 (£4.50). They've also got great burgers and sharing platters for dinner.
Address: 103 Kloof Street, Gardens
Open times: 11 am – 2 am
Go for: the feeling that you're in a vintage movie
Booking required? No
6) Wonderful Sushi
Wonderful Sushi is the ULTIMATE hidden gem in terms of Cape Town restaurants.
Located along the main road in the more rundown end of Sea Point, this place looks dodgy from the outside. I'm talking about clip art signs, menus made on Microsoft Word, and few customers.
Now, I'm not a food snob. In fact, I love a good hole in the wall. But when you're dealing with raw fish, I do think it pays to be careful.
I lived close to Wonderful Sushi for a year and I never ventured inside, but my friend gave it a try one day and our entire group quickly became obsessed. It's so fresh and SO cheap.
Seriously. You can get 10 pieces of sushi, 12 dumplings, and a drink for R129 (£6.50).
If you go at lunch time, you can also get 8 pieces of sushi and a drink for R50 (£2.50). To put this into context, an 8-piece platter from my local supermarket costs R120.
I have no idea how they're making money, but long may it continue!
Address: 305 Main Rd, Sea Point
Open times: 11:30 am – 9 pm
Go for: the cheapest sushi in town
Booking required? No
7) Between Us
Between Us is probably the coolest breakfast spot in town, with funky, minimalist decor and very hipster branding. If you want to drink coffee with Cape Town's cool kids, this is where you should do it.
It's got a small menu that includes lots of fancy iterations of porridge and a really yummy salmon and spinach frittata. They also serve great coffee and chai lattes.
You can go for dinner here, too, but I've only ever been for breakfast or brunch.
Address: 176 Bree St, Cape Town City Centre
Open times: 8 am – 4 pm on Monday, 8 am – 11 pm from Tuesday to Saturday, closed Sunday
Go for: an aesthetic breakfast
Booking required? No
8) Rockpool
This place is popular in large part due to its location right opposite the Sea Point promenade. It's a great place to grab a fresh, healthy lunch on a nice day or have dinner at sunset and then stay for drinks.
They've got a pretty wide menu with pizzas, delicious salads, and tapas. Prices here are very reasonable; you're looking at about R90 – R150 (£4.50 – £7.50) for a pizza. I don't particularly rate the cocktails, but they've got a decent wine list.
Address: 205 Beach Road, Sea Point
Open times: 11 am – 11 pm on weekdays, opens at 9 am on weekends
Go for: a yummy and reasonably meal by the ocean
Booking required? No
9) Jarryd's Brunch and Bistro
Personally, I think that Jarryd's offers the best breakfast in Cape Town, and I'm not alone in this. In fact, it was even featured as one of Cape Town's best restaurants on Somebody Feed Phil!
The pancakes here have gone viral on TikTok and believe me, they're just as tasty as they are pretty. You might want to share a stack between two people, though, because it's a LOT of food to get through on your own.
The huevos rancheros here are also really good, and they do nice mimosas, which you can make bottomless for R385 (£19.25).
You can't make a booking here, but although it's usually busy I've never struggled to get a table.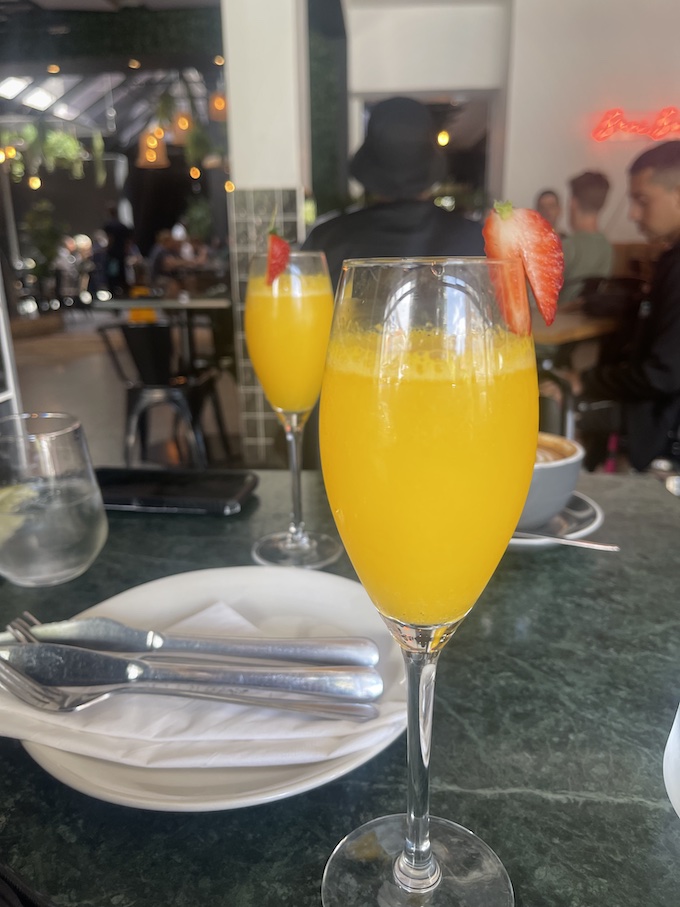 Address: 90 Regent Road, Sea Point
Open times: 7:30 am – 10 pm
Go for: the best all day brunch in Cape Town
Booking required? No – you can't book
10) Faeza's Home Kitchen
Bo Kaap is one of the most vibrant and interesting neighbourhoods to explore in Cape Town, and sampling some Cape Malay cuisine is a must while you're in the area.
Cape Malay cooking is a unique fusion of African, European, and Asian culinary traditions. Popular dishes include:
Bobotie: a sweet and savory dish made with minced meat, bread, and a variety of spices, topped with a custard topping and baked until golden.
Samoosas
Koeksisters – fried twisted dough that's soaked in syrup.
Cape Malay curry (my favourite!)
At Faeza's Home Kitchen, you can get a 3-course meal for R200 (£10). I split this with a friend at lunchtime and we were both stuffed! We had samoosas to start, a delicious bowl of Cape Malay curry, and then a koeksister to finish, although there were other options to choose from.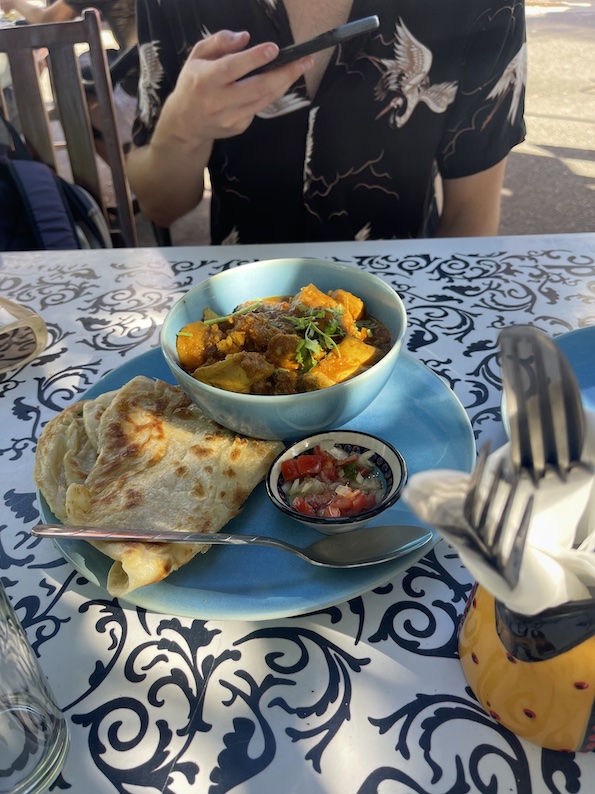 Address: Chiappini Lane, Schotsche Kloof, Bo Kaap
Open times: 9 am – 5 pm
Go for: authentic Cape Malay food
Booking required? No
11) Scarpetta
Scarpetta is an authentic Italian trattoria that has generated quite a buzz among the foodies of Cape Town. It's located in the edgy Woodstock neighbourhood and you'll definitely need to book a table, because this place is in demand.
The restaurant is a small, family-owned spot that serves up an ever-changing menu. You don't even get a physical menu, you just choose from the chalkboard. But whatever you get, it will be fresh, comforting, and delicious. We couldn't choose so we got a few different dishes to share, which proved to be an excellent choice.
You can also bring your own booze here, since the restaurant isn't licensed, and there's no corkage fee – happy days.
Address: 85 Roodebloem Rd, Woodstock
Open times: 6:30 pm – 10:30 pm, closed Sunday
Go for: amazing Italian food made with fresh local ingredients
Booking required? Yes – call +27832510730
12) The Duchess of Wisbeach
The Duchess of Wisbeach is a pub-restaurant that also just happens to be one of Cape Town's best party spots. In fact, it's notorious for its wild Thursday nights.
When you go to the Duchess, you start with a sit-down meal and then around 9:30 pm, the staff hand out sparklers and everyone gets up on the tables and starts dancing to Sweet Caroline. From then on, it's an all-out party until 2 am.
So given that this place is known for parties, you might think that the food comes second to all of that… but you would be mistaken.
At Duchess, there's a small menu with gourmet dishes like tuna tartare, fillet steak, and a rack of roasted lamb. I highly recommend the truffle mac 'n' cheese – it's the best I've ever had! There are also lots of fresh salads to start with and a really nice wine menu.
You'll definitely need to book in advance to eat here, and at least a couple of weeks beforehand during the summer. It's super popular on Thursdays, Fridays, and Saturdays! You might be asked to pay a deposit, as well.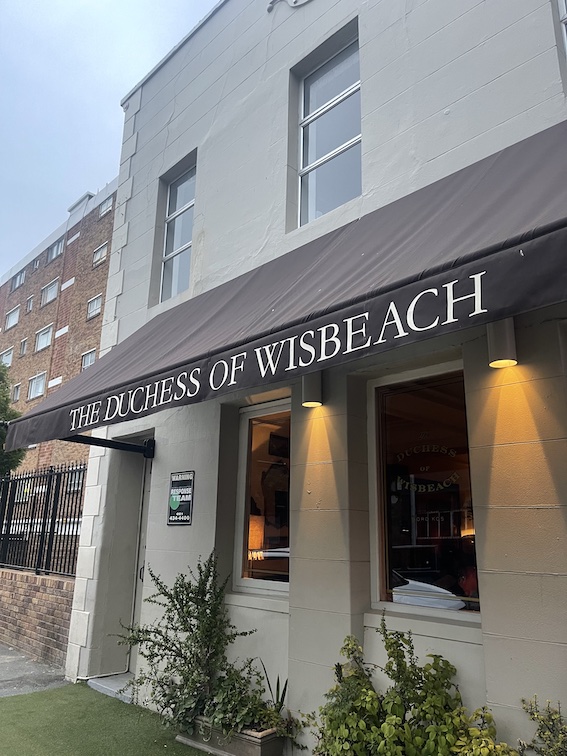 Address: 3 Wisbeach Road, Sea Point
Open times: 6:30 pm – late
Go for: a big fat party
Booking required? Yes. Phone +27 21 434 1525
13) Bodega Ramen
There's nothing as comforting as a big hearty bowl of ramen, and Bodega Ramen serves the best in town!
It's a hidden spot upstairs from the secret gin bar, and you can get a G&T downstairs and take it up with you if you like. It's small and cosy upstairs, and they've got a limited menu with a few different flavours of ramen, but personally I think that the beef short rib and kimchi is the one to go for.
The sharing plates are also really good. Both the burnt cabbage and the spicy cauliflower bites are delicious.
Address: 64A Wale Street, Cape Town City Centre (behind Honest Chocolate Cafe, upstairs from the Gin Bar)
Open times: 6 – 10 pm, closed Sunday and Monday
Go for: the best ramen in Cape Town
Booking required? Yes – you can book here
14) Fat Cactus
Fat Cactus is a casual Mexican restaurant that doesn't take itself too seriously. There are a few locations in Cape Town but the most central branches are in Gardens or Sea Point. It's great for a Friday night dinner with friends (especially because they do an amazing gingerbread tequila).
I really like the quesadillas here, and the tacos are really nice and fresh, too. But the best thing about Fat Cactus is definitely the vibe!
Address: 5 Park Road, Gardens OR 315 Main Road, Sea Point
Open times: 12 pm – 11 pm
Go for: a fun, boozy dinner
Booking required? No, but it's a good idea if you're going as a large group
15) Clarke's Dining Room
Clarke's is a somewhat hipster spot that serves good, honest comfort food. The smoked tomato soup and cheese toastie is the kind of food that just soothes your soul. They also do great burgers, salads, and Bloody Marys here.
Plus, it's right on Bree Street, so it's close to lots of Cape Town's best nightlife. It's a particularly great place to come for dinner on a First Thursday, because there's a great atmosphere and then you can hit the bars afterwards.
Address: 133 Bree Street, City Centre
Open times: 7 am – 10 pm, closes at 3 pm on Sunday and 4 pm on Monday
Go for: the best tomato soup you've ever had
Booking required? No
16) Posticino's
Posticino's is quite possibly the best pizza in Cape Town, although they also do really good stuffed pasta. They serve authentic Italian pizzas for reasonable prices and it's definitely a firm favourite amongst Capetonians.
Address: 323 Main Road, Sea Point
Open times: 12:30 pm – 10 pm
Go for: delicious pizza and pasta
Booking required? During summer. Give them a call at +27 21 439 4014
17) Sundoo
If you're a fan of Indian food, then you'll love Sundoo. It serves massive portions of really rich, flavoursome curry, but if you're going with friends I'd recommend the vegetarian sharing platter. It's super cheap, and we were all stuffed! It's the kind of place you'd probably just walk past if you didn't know, but once you find it you'll definitely keep coming back.
Address: 77 Regent Road, Sea Point
Open times: 12 pm – 10:45 pm
Go for: amazing Indian sharing platters
Booking required? Yes. Call them on +27214330542
18) Burger & Lobster
Burger & Lobster is the perfect place to pig out but feel cool while doing it. With its dim lighting, red neon signs, and mouth-watering menu, it's always a treat to come here. You can go for an incredibly juicy burger, fresh lobster, or enjoy both with a signature Burger & Lobster roll.
With a lively vibe and great cocktails, I think Burger & Lobster is the perfect place to start a night out – although, saying that, you might be too full to continue on afterwards!
Address: 105 Bree Street, City Centre
Open times: 12 pm – 10:30 pm
Go for: excellent meat and seafood
Booking required? Yes. You can book via their website.
19) Vagabond Kitchen
This cosy, stylish cafe has great coffee and an excellent menu. Their flatbreads are incredible, and they have really nice Vietnamese salad or some great, healthy wraps. It's the perfect spot for a nice lunch date!
Address: 21 Regent Road, Sea Point
Open times: 8 am – 8:30 pm
Go for: lunch!
Booking required? No
20) Kleinsky's
Last, but CERTAINLY not least, we have Kleinsky's.
Kleinskys is a Cape Town institution. Their bagels are nothing short of spectacular and if you've got a sweet tooth then you'll love their cinnamon rolls. Plus, the cafe itself is super cute, and you can buy American imported goods here, like all of the different flavours of pop tarts that the rest of the world doesn't get.
I'm usually partial to a smoked salmon bagel, but if you want something a bit different, the pastrami one is also really good. You can also find them at the Oranjezicht Market on weekends.
Address: 92 Regent Road, Sea Point
Open times: 8 am – 5 pm
Go for: the best bagels in Cape Town
Booking required? No
If you enjoyed this blog, you might also like…