Last Updated on November 1, 2023 by thecapetownblog
They say that breakfast is the most important meal of the day, and whether or not you believe that, there are certainly some great spots to kick off the day in Cape Town.
Whether you want to eat delicious French toast on a rooftop or grab some treats at a farmer's market, there are a ton of amazing places to grab breakfast in Cape Town.
Personally, I LOVE going out for breakfast. I love trying out new spots with friends, and so I've discovered some fantastic breakfast restaurants over the years.
So if you're looking for the perfect place to enjoy breakfast in Cape Town, keep on reading because I've rounded up the top 15 spots. 
This post may contain affiliate links. When you make purchases through these links, I earn a small commission at no extra cost to you, which helps to keep this blog up and running. Thank you so much!
1. Jarryds Brunch and Bistro
Jarryds is easily one of the best places to have breakfast in Cape Town, and I think pretty much anyone who's ever been there will agree. They have mimosas, incredible huevos rancheros, and pancakes to die for. The pancakes are definitely sharing size – my friend and I ordered a stack each, which was definitely not necessary. 
Jarryds is in Sea Point and they don't take reservations. It's usually pretty busy here, which is testament to how good it is. 
The menu is unreal. From a Reuben benedict with pastrami to quinoa and halloumi bowls and those famous pancakes (which did go viral on TikTok, just FYI), you will definitely find something to satisfy your appetite here.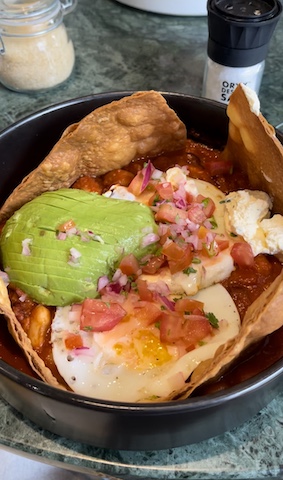 Address: 90 Regent Road, Sea Point
Breakfast time: All day!
2. The Charles
The Charles is a café and bnb where you can enjoy an amazing breakfast. Since it was right down the road from my house, I came here for breakfast fairly often – especially after a night out on the town! 
I pretty much always get the same thing when I come here for breakfast: the croissant French toast. It's delicious and comes with plenty of syrup, berries, and bacon, and I never get tired of it. 
However, if French toast isn't your vibe they've also got shakshuka, eggs benedict, smashed avo toast, and protein porridge. The menu is varied but still fairly small because it's all made from fresh, free-range, locally-sourced produce. It's about quality, not quantity! 
Address: 137 Waterkant Street, De Waterkant
Breakfast time: 7 am – 11:45 am
3. Between Us
I feel like Between Us is where Cape Town's cool kids go for breakfast. It's got a stylish, minimalist interior with a few kooky touches – like a big pair of glittery lips behind the bar. 
The menu is decidedly posh, with polenta pancakes and mascarpone butter, poached pear and honey granola, and rhubarb carraway compote porridge as some of the highlights.
I've also had the Persian herb salmon frittata and it was incredibly good! 
Address: 176 Bree Street, Cape Town City Centre
Breakfast time: Mornings – they're not that strict about it
4. Kleinsky's
Kleinsky's are known for having some of the best bagels in Cape Town. It's also a bright, fun spot that's always busy, and the staff are really nice. 
I love the smoked salmon bagels here but the pastrami one is really good too. And if you've got room left after you've devoured your bagel, you can enjoy one of their amazing cinnamon rolls. To be honest, I think that these might be even better than the bagels. They're soft with lots of delicious creamy icing, and I reckon I could eat them all day long. 
Address: 92 Regent Road, Sea Point
Breakfast time: Bagels all day, baby!
5. Oranjezicht Market
The Oranjezicht Market is the perfect place to grab breakfast on the weekends. 
It's a farmer's market at the V&A Waterfront that happens every Saturday and Sunday, and they have so many amazing breakfast and brunch options.
From avocado toast and bagels to decadent grilled cheese sandwiches and amazing pasteis de nata from Vadas Bakery, you're really spoilt for choice here.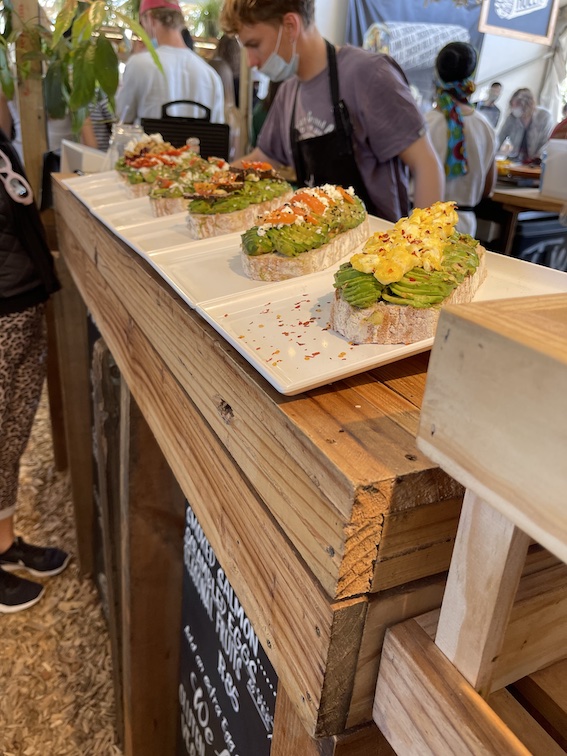 It's also right next to the sea so you can enjoy nice views while you eat, and you can also find a lot of fresh produce and local artisan goods here. It's the perfect place to kick off your weekend. Plus, there's a ton to do around the Waterfront afterwards.
To find out more about the Oranjezicht Market, check out this article. 
Address: Haul Road, Granger Bay Boulevard, V&A Waterfront
Breakfast time: 8:15 am – 2 pm on Saturday, 9 am – 2 pm on Sunday
6. New York Bagel
Okay, I have to confess something: I have never actually been to New York Bagel.
Before you hit the backspace key in disgust, I have eaten their bagels (and their exceptional cheesecake) many times, but I usually order them on Uber Eats when I'm hungover.
I tend to go to Kleinsky's because it's a lot closer to where I live, but I think that New York's smoked salmon bagel is impossible to eat. It's so delicious, I could honestly eat it every single day.
Address: 44 Harrington Street, District Six
Breakfast time: 7 am – 4 pm from Monday to Friday; 7 am – 2 pm on weekends
7. Jason's Bakery
Jason's Bakery is a Cape Town institution, even though it's only been open for a few years. They're known for their insane pastries and crossover creations, which include doughssants. Not only are the doughssants amazing, they also come up with a new flavour every single week – to my knowledge, they've never done a repeat! 
I also absolutely love the iced coffee at Jason's Bakery, which is like a frappuccino, but a million times better. They also have amazing pies and sourdough bread. Basically, everything here is just delicious, and it really does stand out as one of the best breakfast spots in Cape Town.
Address: 83 Main Road, Green Point
Breakfast time: 7 am – 3 pm from Tuesday to Friday; 7 am – 2 pm on Saturday, 8 am – 2 pm on Sundays and public holidays
8. Egghead Diner
This sunny Kloof Street diner does amazing French toast with fried banana and ample amounts of syrup. For me, it doesn't quite beat the French toast at The Charles, but it's a close call. And if you want something savoury, they've got great grilled cheeses and breakfast burritos.
I like the vibe of this place – it's fun, upbeat, and the prices are reasonable. Plus, their egg rolls are the perfect hangover cure if you went too hard on Kloof Street the night before.
Address: 83 Main Road, Green Point
Breakfast time: All day! It's open 7:30 am – 10 pm every day except Sunday, when it closes at 4 pm
9. The Blue Cafe
The Blue Cafe is an adorable little sidewalk cafe in Tamboerskloof, which is already a pretty quaint and charming neighbourhood to stroll around. It's been open since 1903, so it's also quite a historic place to enjoy breakfast in Cape Town!
As well as yummy breakfast dishes, they also have lots of store cupboard goodies that you can buy and take home, like homemade mayonnaise, chutney, and lamb broth.
There's such a nice, friendly vibe here. It's a nice place to sit on the sidewalk, eat breakfast, and kick off a leisurely day in Cape Town.
Address: 13 Brownlow Road, Tamboerskloof
Breakfast time: 7:30 am – 12 pm, but they will try to accommodate you if you fancy breakfast at lunch time
10. Clarkes
Clarkes Dining Room is a super cool, minimalist eatery on Bree Street. It's a great place to grab a burger or kick off a night out with some cocktails, but they also do an excellent breakfast.
They've actually got some pretty good breakfast specials here. On weekdays, you can get eggs on toast with coffee or a glass or orange juice for R45 between 8 and 9 am, so it's perfect for grabbing a bite before work.
They also have a little breakfast menu if you like light bites in the morning, as well as some more substantial options if you're like me and need plenty of fuel! I recommend the Egg Sandwich. 
Address: 133 Bree Street, Cape Town City Centre
Breakfast time: 8 am – 10 pm
11. Sonny and Irene
Sonny and Irene is the new kid on the block in terms of Cape Town's breakfast scene. It's a chic, art-deco style eatery with lots of powder pink and gold. Basically, it was made for Instagram! 
They've got lots of healthy options on the menu, like the house granola and the fruit bowl, but there are some more decadent options too. They also serve some very elegant cocktails, in case you want to turn your breakfast into a boozy brunch.
Plus, Sonny & Irene is just a few blocks away from the Sea Point promenade, so you can always go and walk off your meal afterwards.
Address: Ground Floor, Station House, 19 Kloof Road, Sea Point
Breakfast time: 8 am – 12 pm
12) Butter
Butter is a small daytime restaurant that's centred around one key ingredient. Yep, you guessed it, it's butter!
Their all-day menu includes butter-based goodies like butter scones and burned butter ravioli. I also love the fact that they serve Vietnamese-style coffee with condensed milk. I lived in Vietnam for 2.5 years, and the coffee there is like nowhere else on Earth.
So if you fancy breakfast with a buttery twist, this cool little spot on Loop Street is a fantastic place to try out. 
Address: 70 Loop Street, Cape Town City Centre
Breakfast time: 8 am – 3pm from Tuesday to Friday, 9 am – 3 pm Saturday, 9 am – 2:30 pm Sunday
13) Our Local
With a name like "Our Local", you'd expect this place to make you feel at home – and that's exactly what it does!
Our Local is like an eclectic greenhouse that someone turned into the perfect breakfast spot. With garden chairs hanging from the ceiling, tons of plants, and lots of chintzy furniture, you can't help but feel content and relaxed here.
With anchovy toast and creamy chicken livers on toast on the menu, this place definitely does  more traditional breakfast – but don't worry, there are goodies like green shakshuka and bacon toasties available, too. 
Address: 117 Kloof Street, Gardens
Breakfast time: 9 am – 2 pm
14) Coco Safar
Buckle up and prepare to experience the best croissant you've ever had in your entire life. Pastries at Coco Safar are on the pricey side, but I PROMISE you that they are oh-so-worth-it.
Coco Safar is a luxurious cafe with chic decor and cosy, dim lighting, but the food is what makes this place stand out. As I mentioned, the croissants are out of this world. I especially love the churro-flavoured one, which is covered with cinnamon sugar and an amazing caramel sauce inside. 
But you don't have to eat pastries at Coco Safar! They've got plenty of other breakfast options, including a French toast and croissant benedict, amazing salads, and huge bowls of granola. Basically, in the words of Roy Orbison, anything you want, you got it.
There are two different branches of Coco Safar in Cape Town. One is at the V&A Waterfront and the other is in St. John's Piazza in Sea Point.
Address: St John's Piazza, 395 Main Road, Sea Point OR Alfred Mall, Dock Road, V&A Waterfront
Breakfast time: from 7 am onwards
15) Bootleggers
Last but not least, we've got Bootleggers.
Now, Bootleggers may not be an especially original choice for breakfast in Cape Town, but it's popular for a reason. You can get a tasty, hearty, and very reasonably-priced breakfast in pretty much any Bootleggers in Cape Town. They've got a fairly extensive menu with all of the classics, and they also allow you to build your own brekkie.
I also love their almond milk cappuccinos!
Bootleggers have locations all over Cape Town. You'll see them absolutely everywhere.
I personally like the one inside the Aquarium at the Waterfront, as that's normally where my friends and I grab a bite to eat before we board the Constantia wine bus.
Address: There are around 30 Bootleggers in Cape Town!
Breakfast time: they usually open at around 7 am 
For more on dining out in Cape Town, make sure to check out: