Last Updated on August 5, 2023 by thecapetownblog
One of the best things about Cape Town is that it's a coastal city, which means that there are plenty of opportunities to take a boat trip and sail along the gorgeous coastline.
Yup, as if there weren't already enough amazing things to do in the Mother City, you can also admire it from out on the water as you cruise around feeling like a VIP on a boat.
Boat trips in Cape Town don't have to be expensive, either – in fact, they cost as little as R140, which is around £6 or $7.70.
Whether you want to take a sunset champagne cruise, go snorkelling with seals, or embark upon a marine safari, there are lots of boat trips in Cape Town to choose from. In this blog post, I'm going to break them down for you so that you can choose the right trip for your interests and budget.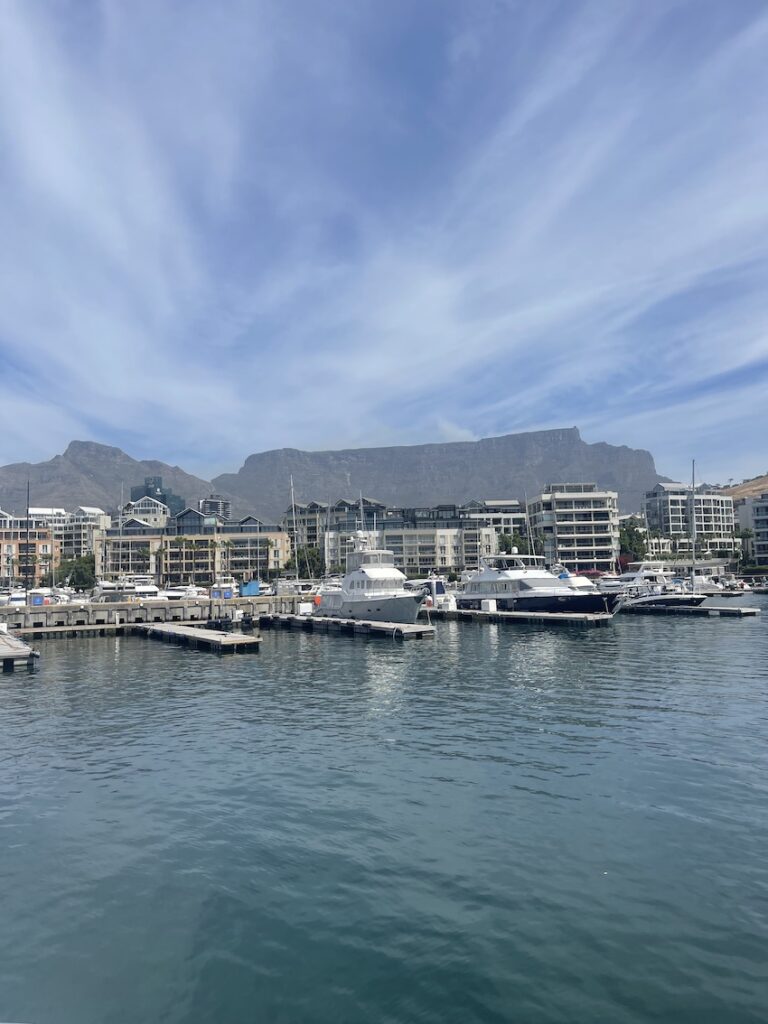 This post may contain affiliate links. When you make purchases through these links, I earn a small commission at no extra cost to you, which helps to keep this blog up and running. Thank you so much!
Sightseeing Boat Trips in Cape Town
Sightseeing boat trips in Cape Town usually last from 30 to 90 minutes, and they're usually inexpensive. They can also be romantic and some of them include a glass of champagne as you set sail!
Most sightseeing boat trips leave from the V&A Waterfront, which is nice and convenient. 
Catamaran Cruise
This hour long Catamaran cruise departs from the V&A Waterfront and sails towards the gorgeous Clifton beaches, giving you amazing views of Table Mountain and Robben Island as you go.
You'll be on a comfy catamaran that can seat up to 60 people, and there's a bar on board where you can buy both soft drinks and alcoholic beverages at pretty reasonable prices – for example, you can get an Amstel for R35, which is what I'd expect to pay in a restaurant.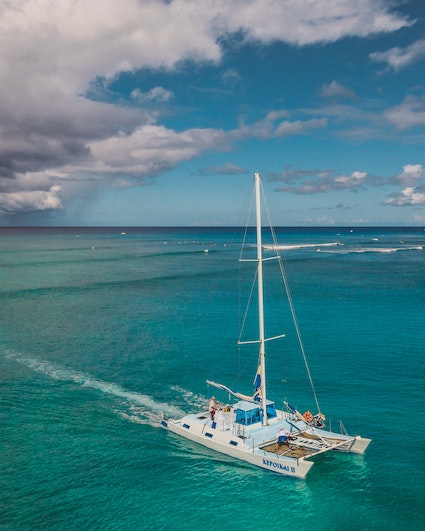 The cruise costs R300 (£13/$16.50), so it's pretty budget-friendly and an awesome way to do a bit of sightseeing. You can choose to depart at 11 am, 1 pm, or 3 pm, so it's easy to fit into your schedule, and there's plenty of shade on the boat, which is a huge bonus if you're a redhead like me!
Click here to find out more and book this experience!
Harbour Boat Cruise
This 30-minute boat cruise is the perfect option for those who are on a tight schedule and/or budget!
You'll cruise around the beloved Waterfront area and enjoy fantastic views of Table Mountain, Lion's Head, and Signal Hill from out on the water. You'll also cruise past lots of the Waterfront's highlights, including the Table Bay Hotel and the famous Clock Tower.
You get a free soft drink to enjoy on the cruise and there are beers available for purchase on board. Cruises depart once an hour from 11:30 am until 4:30 pm, and since it's a short and sweet cruise, it should be easy to fit into even the most jam-packed of itineraries!
This boat trip costs R140 per person, which is around £6 or $7.70, so it's a great budget activity, too.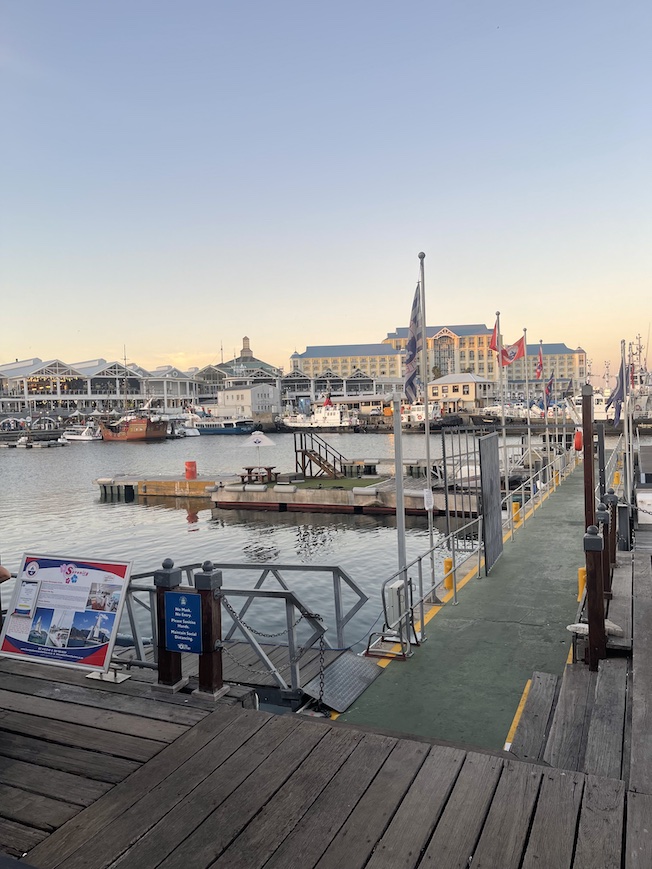 Pre-sunset Champagne Cruise
What's better than heading out on the Atlantic Ocean on a sunny day and taking in gorgeous views of Cape Town as you sail around?
Nothing really – except doing it with a glass of champagne in your hand!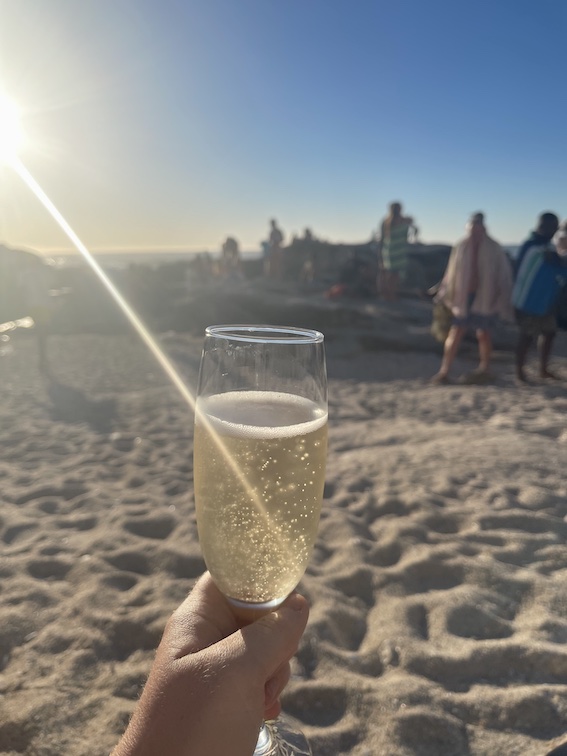 This pre-sunset champagne cruise is a cheaper alternative to the sunset version, so it's great if you're on a budget. Plus, it departs an hour before the sun begins to set which means that you get that amazing golden hour lighting, so it's perfect for taking photos!
You're welcomed on board with a complimentary glass of bubbly and then there's more available to buy. The views of the coastline at golden hour are just spectacular, and the staff are super friendly and really do make you feel like a VIP – not bad for R290 (£12.50/$16) per person!
They also play music on board and there's commentary from the crew as well, so you'll get to learn a bit more about Cape Town and its stunning landscape.
The tour lasts for about 1.5 hours and ends back at the Waterfront, just in time for dinner at one of the area's affordable restaurants!
Click here to book your boat trip! 
Catamaran Sunset Champagne Cruise
Cape Town's sunsets really are spectacular, so a sunset cruise is a very special experience. You can't help but ooh and aah as the sky shifts between a range of vibrant hues and the water looks almost metallic as it reflects the fading light.
There are lots of amazing places to watch the sunset in Cape Town, from Kloof Corner to the Cape Wheel, but I will say that seeing it from a boat while you drink champagne is pretty hard to beat. 
This sunset champagne cruise not only gives you gorgeous views of Table Mountain as the sun sets, you also get a bottle of bubbles to share between two people as you go. So if you're looking for a romantic experience in Cape Town, look no further, my friend. 
The cruise costs R580 (£25/$32) and lasts for 1.5 hours. I think this is an amazing thing to do because honestly, watching the sunset over Table Mountain truly is a jaw-dropping experience (and the champagne doesn't hurt, either).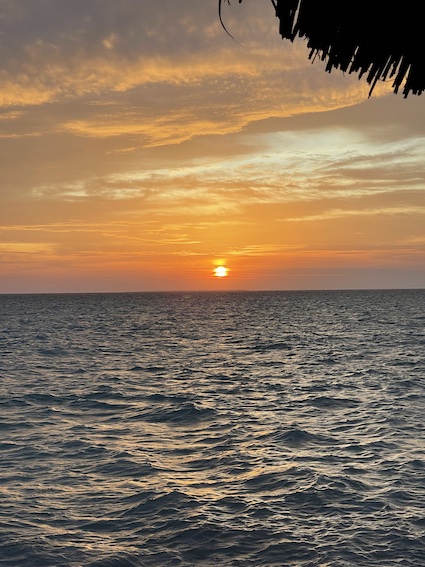 Wildlife Boat Trips in Cape Town
Shark Cage Diving
It's far too scary for me personally, but shark cage diving is a popular thing to do when visiting Cape Town! 
This shark cage diving boat trip takes place in Gansbaai, which is roughly a 2-hour drive from Cape Town, but it includes pick up and drop off from your accommodation in Cape Town. You can choose to be picked up at 7 am or 11 am, which is good news if you like to sleep in!
After being driven to Gansbaai, you'll have breakfast before being kitted out in a clean, dry wetsuit and climbing on board the purpose-built diving boat. You'll stay out on the water for 2-3 hours in total, and there are soft drinks and snacks on board for you to enjoy.
The maximum group size is 35 people and once you reach the shark spot, you'll take it in turns being lowered into the water in the cage to see the fearsome Great Whites. There's also a marine biologist on board who'll tell you more about these incredible creatures.
I like that this tour has a shark sighting guarantee, so if you don't see any then you'll get a repeat experience free of charge.
The whole tour lasts for about 10 hours from pickup to drop-off, so it's a pretty long day but it's bound to be an unforgettable one!
This boat trip costs R3,655 in total (£158/$202) which is pretty reasonable given all of the inclusions. It's an awesome way to get your adrenaline pumping and see some incredible marine life.
Click here to book your experience! 
Marine Big 5 Safari
The expression "the big five" typically refers to five of Africa's most famous game animals. These are: the lion, the leopard, the black rhino, the elephant, and the African buffalo. You probably don't need me to tell you that these are all land animals.
However, there's also a marine version of the big five, which comprises whales, seals, penguins, sharks, and dolphins – and you can see them all on this marine big 5 safari boat trip! 
Again, this tour picks you up from central Cape Town and you'll head to Gansbaai. When you arrive, you'll visit the Great White House restaurant and enjoy complimentary tea, coffee, and muffins while you listen to a safety and conservation briefing. 
Then, you'll board the boat and head out on your marine safari, spotting lots of dolphins and seals as you go. You're also likely to spot Great White Sharks in the famous Shark Alley spot, which is where the above tour takes you for cage diving!
If you go between June and December, you're likely to see some Southern Right whales. Your chances of spotting whales aren't quite as high for the rest of the year but you may well see Humpback or Bryde's whales!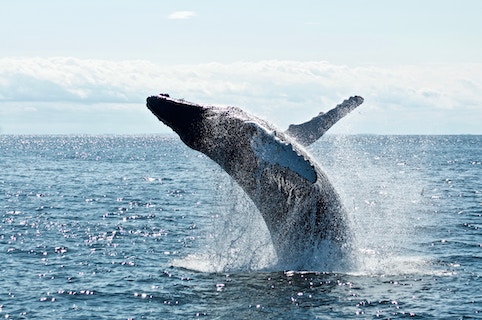 You're also likely to spot some African penguins along the way but if not, there's no need to fret as the tour also includes a visit to the African Penguin & Seabird Sanctuary, so you're guaranteed to see these adorable little guys at some point during your day.
After the tour ends, you head back to the Great White House for a bowl of hot soup and then you'll head back to Cape Town. The entire experience takes about 10 hours in total and costs R2,700 (£117/$149). It's a fantastic way to appreciate South Africa's exciting and diverse marine life!
Click here to book this boat trip now
Seal Snorkelling
Getting up close and personal with adorable Cape Fur Seals is a real bucket list experience if you ask me, and you can do it on this amazing seal snorkelling tour!
The experience starts in Hout Bay, where you'll get a safety briefing and a lesson from your guide on how to safely interact with the seals. Then, you'll don your wetsuit and head out on a boat to swim alongside these gorgeous animals.
There are hot drinks available on the boat, which is a necessity given how cold the waters around Cape Town are, and you can purchase souvenir photos after your trip. I mean, you're probably going to want a seal selfie, right?!
This seal snorkelling cruise costs R900 (£41/$53) per person, so it's also a pretty budget friendly way to do a wildlife boat trip in Cape Town!
You can click here to find out more and book!
Ocean Wildlife Encounter
This 2-hour boat trip is a nice mix of a sightseeing and a wildlife cruise. The route is chosen on the day according to the weather conditions and wildlife sightings, but you depart from near the Waterfront so you'll have excellent views of Table Mountain and Robben Island as you set sail. 
The skipper will teach you all about the fascinating marine life that inhabits Cape Town's waters and take you to see penguins, seals, whales, and dolphins – although of course what you see varies from day to day.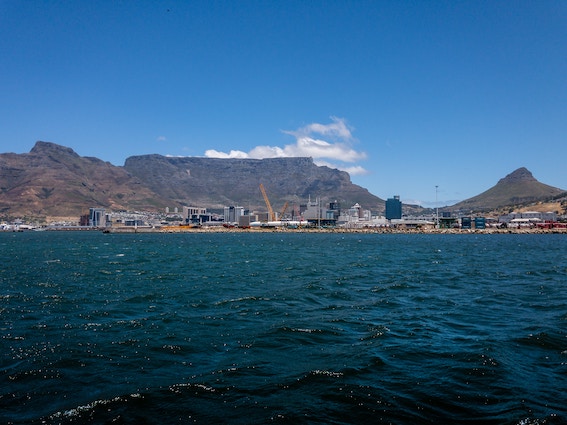 What I really like about this boat tour is that there's a maximum of seven people per group, so it's a close-knit and personal experience. You get plenty of opportunities to ask questions about Cape Town's marine life and things don't feel too crowded and touristy.
This ocean wildlife boat trip costs R1,250 (£54/$69) and runs from late August to May. Hotel pickup isn't included but the meeting point is at the Oceana Power Boat Club at the Waterfront, so it's super central and easy to get to. Depending on where you're staying, you may even be able to walk there!  
Click here to book your Ocean Wildlife Encounter now
FAQs About Cape Town Boat Trips
What if my cruise is cancelled due to bad weather?
You'll either get a refund or be able to reschedule your boat trip for another day. When I tried to do a harbour cruise it was cancelled due to strong winds and I got a cash refund on the spot – it was super easy!
Are boat trips in Cape Town safe?
Yes, they're very safe. The cruises don't go out when the sea gets too rough, and the boats are tightly regulated. You're just as safe on a boat trip here as you would be in Europe or the US!
Are Cape Town boat trips wheelchair friendly?
Some of them are, but not all. The 30-minute harbour cruise, shark cage diving tour, and marine big 5 safari are all wheelchair accessible. 
Are Cape Town boat trips suitable for kids?
Mostly, yes.
The shark cage diving tour requires children to be at least 8 years old, and is probably too scary for some kids.
Meanwhile, the seal snorkelling tour welcomes infants on laps, but kids need to be at least 10 years old to snorkel.
However, children of all ages are welcome on most of the other boats and can often travel for a reduced rate. I would say that the catamaran cruise, harbour boat cruise, and ocean wildlife encounter are probably the most family friendly boat trips in Cape Town! They're not too long and you just stay on the boat rather than interacting with wildlife. 
Should I book my boat trip in advance?
Yes, boat trips in Cape Town are really popular so I definitely recommend booking them in advance, especially during the summer time. I had friends come out to visit in January and we wanted to do the Marine Big 5 Safari, but it was all booked out! If you're going to be in Cape Town between December and February, I would definitely recommend booking your spot at least a few weeks in advance. 
During the winter, you can probably get away with booking nearer to the date itself. You can book just a few days in advance, especially with the sightseeing cruises as there are multiple departures per day. Tourism is much quieter at this time so there's no need to stress, but do keep an eye on the boat trip you want to do, just in case! 
If you enjoyed this post, you might also like…