Last Updated on September 7, 2023 by thecapetownblog
The rumours are true: there are dolphins in Cape Town!
However, it's definitely not as common to spot dolphins in Cape Town as it is whales. But with that being said, you can spot these friendly and intelligent animals playing in the waters around the Mother City – you just need to know where to look.
There are several different species of dolphin that you can spot in different places around Cape Town. The best way to spot them is to get out to sea on a boat trip, but it is possible to see them from the land as well.
So, without further ado, let's dive into when, where, and how to see dolphins in Cape Town!
This post may contain affiliate links. When you make purchases through these links, I earn a small commission at no extra cost to you, which helps to keep this blog up and running. Thank you so much!
What species of dolphin live in Cape Town?
Heaviside's dolphins
Heaviside's dolphins – also known as Haviside's dolphins or Benguela dolphins – were first discovered off of the Cape of Good Hope! They're about 1.8 metres long and weigh around 75 kilograms, and are only found in cool, Southern hemisphere waters.
It's estimated that around 6,345 Heaviside's dolphins live between Table Bay and Lamberts Bay.
Dusky dolphins
Dusky dolphins are among the most commonly spotted dolphins in Cape Town. Dusky dolphins are known for their distinctive patterns and white bellies, and for being very acrobatic. Part of their charm is the fact that they perform seemingly gravity defying leaps and spins out of the water!
Dusky dolphins are most commonly found in False Bay. The False Bay coast includes the eastern side of the Cape Peninsula, so towns like Simon's Town, Muizenberg, Kalk Bay, and Fish Hoek are all along the False Bay coast.
Bottlenose dolphins
There are actually two kinds of Bottlenose dolphins in Cape Town: common Bottlenose dolphins and Indo-Pacific bottlenose dolphins. Again, these are often found in False Bay!
Bottlenose dolphins are one of the most famous types of dolphins. The famous dolphin 'Flipper' was a common bottlenose!
The Indo-Pacific bottlenose is slimmer and lighter than the common bottlenose, but don't be fooled – they can still weigh up to 230 kilograms!
Humpback dolphins
Humpback dolphins can be found between Cape Town and Mozambique. Their name comes from the fact that they have a hump in front of their dorsal fin. They tend to be quite a shy type of dolphin, and so they're harder to spot than Heaviside's, dusky, and bottlenose dolphins.
When is the best time to see dolphins in Cape Town?
It's actually possible to spot dolphins at any time of year in Cape Town. Dusky, Heaviside, and Bottlenose dolphins can be found in the waters of False Bay all year round. However, generally speaking, summer is the best time to see dolphins in Cape Town, according to the International Whaling Commission.
Where is the best place to see dolphins in Cape Town?
Dyer Island
Dyer Island is a protected nature reserve off the coast of Gansbaai, which is about 2 hours from Cape Town. The reserve consists of 3 different islands and is a great place to spot fur seals, sharks, and African penguins.
Since Dyer Island is protected, it's not open to the general public. The only way to visit is via a boat tour, such as this awesome Marine Safari!
False Bay
Dolphins live in False Bay all year round, although it can be difficult to spot them from the shore. Still, if you venture out on a boat trip or kayaking adventure from somewhere like Simon's Town or Muizenberg, then you have a chance of spotting some dolphins! For example, you may spot them on this kayaking adventure from Simon's Town to Boulder's Beach.
Western Coast of Cape Town
You can also spot dolphins along the western coast of the Cape Peninsula. My best friend even saw some dolphins at the Waterfront once, although I've never been quite that lucky. But if you head out on one of the many awesome boat trips available or head out on this Atlantic ocean kayaking tour, you've got a decent chance of seeing some dolphins!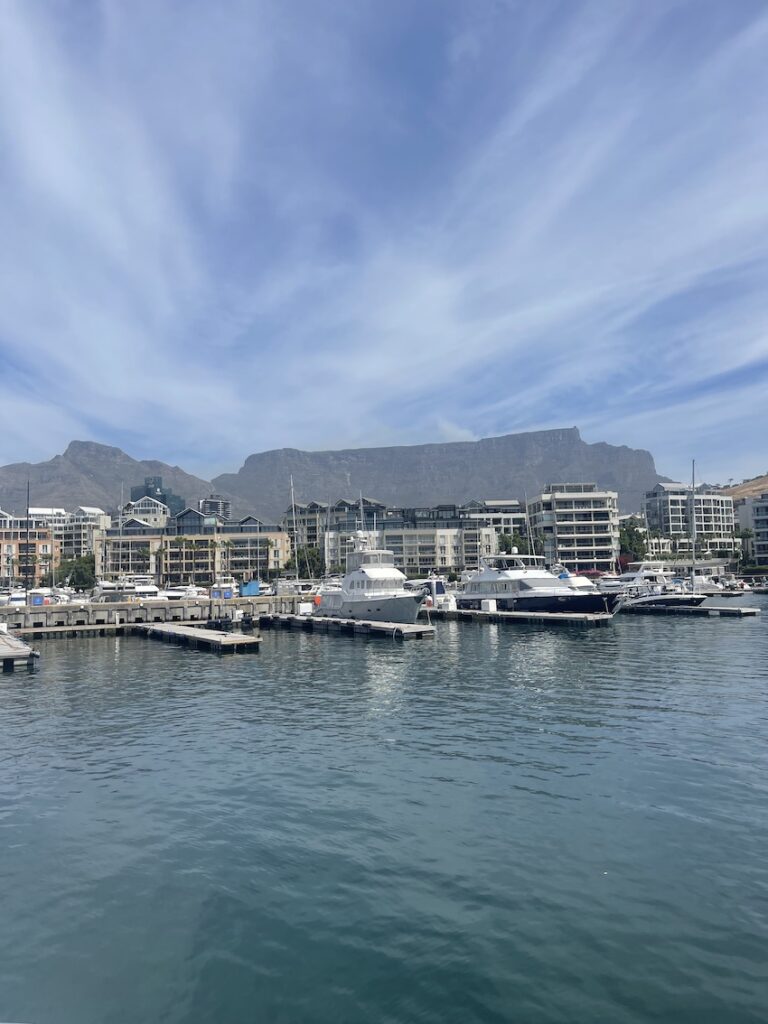 How to see dolphins in Cape Town?
A sunset cruise
Sunset is the perfect time of day for dolphin spotting, so a sunset boat cruise is the perfect opportunity to spot some friendly dolphins. They might even end up tailing your boat for a while!
This sunset catamaran cruise departs from the V&A Waterfront and gives you gorgeous views of Table Mountain at sunset and you and your companion get a bottle of champagne to share! It lasts for 90 minutes and costs R580 (£25/$32), which I think is a reasonable price for such a lovely experience.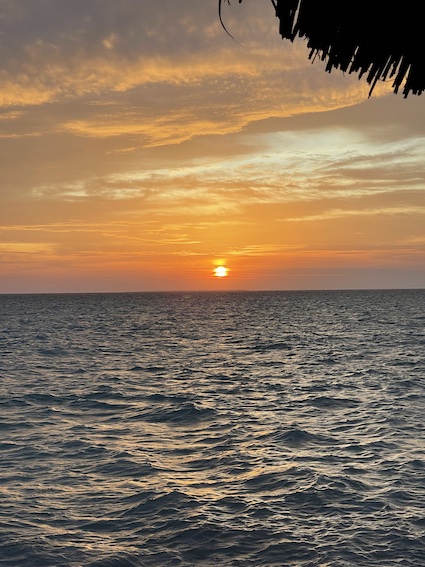 Big 5 marine safari
In South Africa, there's the land "big five" and then the Marine Big Five. The marine big five animals are:
Whales
Seals
Penguins
Sharks
Dolphins
Therefore, this marine big 5 safari is one of the best ways to see dolphins in Cape Town.
You get picked up from central Cape Town and driven for just over 2 hours to Gansbaai. You'll have breakfast at a local restaurant and then head out on a marine safari that takes you to the famous Dyer Island to see the marine big 5. This is one of the best places on the Western Cape for seeing marine life, so I think that this is a fantastic, bucket-list-worthy thing to do!
Then, you'll head back to the Great White House restaurant for a warm bowl of soup (which you'll probably need after being out on the water for so long!) and then driven back to Cape Town.
The experience costs R2,700 (£117/$149) including transport, food, and your expert-led marine safari. Click here to find out more and book!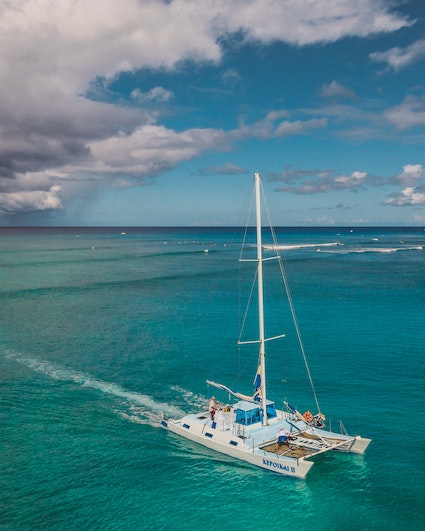 Kayaking
You can also sometimes spot dolphins while kayaking in Cape Town – I know people this has happened to, although sadly I'm yet to experience it myself!
My friend saw a pod of Heaviside's dolphins on this kayaking tour which leaves from Mouille Point. It's a small group tour and you'll get beautiful views of Cape Town's dramatic and mountainous landscape from the water. Click here to find out more and book!
Ocean Wildlife Encounter
This small group ocean wildlife encounter is another amazing way to spot dolphins in Cape Town. The reason I think this tour is such a great option is that there's no fixed route. Instead, your guide will tailor your itinerary according to conditions and recent wildlife sightings to maximise your chances of seeing dolphins, seals, and whales!
There will be a maximum of 7 participants on board, so it's a personal experience and you'll be able to ask your guide lots of questions. I always think that you learn more on a small group tour!
The boat departs from Green Point, which is nice and convenient. There's a reason it's so highly rated!