Last Updated on October 20, 2023 by thecapetownblog
Cape Town is home to some seriously fun nightlife.
From pubs and late-night dive bars to clubs and cocktail hot spots, there's no shortage of places to spend an evening in the Mother City.
I absolutely love going out in Cape Town, and after living there for quite some time, I think I've got a fairly good handle on the city's nightlife scene.
Of course, everyone has different preferences when it comes to nightlife, but I've tried to give a fairly balanced overview of Cape Town's top bars and clubs.
So without further ado, let's get into the nitty gritty of where to go when you fancy a night out in Cape Town!
This post may contain affiliate links. When you make purchases through these links, I earn a small commission at no extra cost to you, which helps to keep this blog up and running. Thank you so much!
Kloof Street
Kloof Street is one of the most popular places to go out in Cape Town. It runs through Gardens, which is a very central neighbourhood, and there are tons of great bars to check out along here.
I would also add that Kloof Street is one of the only places in Cape Town where I'd say it's okay to walk at night. It's well lit and there are always lots of people around, so there's no need to be scared when walking from bar to bar. But of course, it's always best to walk with friends rather than by yourself if you can help it!
Blondie
Blondie currently reigns supreme as the coolest bar in the Mother City. It's like the jewel in the crown of Cape Town nightlife. There's a queue outside pretty much every night and the whole place has a perfectly offbeat attitude.
There's actually a pretty good food menu here – burned cheesecake? Yes please! – and the cocktails are top notch.
The bar is decorated to look a bit like a bathroom, and it's the kind of place I feel like I'm not really cool enough to go to.
Things get pretty lively late at night and they often blare cheesy tunes, proving that the hipster crowd are really not above singing along to Smash Mouth.
Address: 71 Kloof Street, Gardens
Open times: 12 pm – 12 am, closed Monday
Van Hunks
Van Hunks is an old school bar with cheap drinks, cheesy tunes, and friendly staff. It's hands down my favourite place to go out in Cape Town and I have so many great memories here (although some of them are a bit blurry).
This place is popular so if you live in Cape Town, you'll often see people you know here. There's a big outdoor area where you can eat, and the food is really good.
Technically, Van Hunks closes at 11 pm every night except Friday, but in reality it stays open until about 2:30 am if there are plenty of people drinking!
Van Hunks is just off of Kloof Street on Union Street. There's always a good atmosphere and it just feels like home to me. Long live Van Hunks!
Address: 1 Upper Union Street, Gardens
Open times: 10 am – late
Kloof Street House
Kloof Street House oozes old world opulence. Having a drink here feels a bit like going back to the 1920s to engage in some debauchery, and I love it. It gets pretty busy though, so you might want to book a table!
Address: 30 Kloof Street, Gardens
Open times: 10 am – 2 pm (opens 12 pm on Monday)
Asoka
Asoka is a glamorous, low-lit cocktail lounge that often has DJs playing dance beats. The cocktails here are really good, especially the pornstar martinis! If you feel like dressing up and going out for drinks somewhere lively, Asoka is the perfect place to go.
Address: 68 Kloof Street, Gardens
Open times: 5:30 pm – 2 am (12 am on Sundays)
Yours Truly
Yours Truly is a fun Kloof Street bar with lots of leafy decorations. It's nice and airy with a fun vibe, and they often have DJs playing here on weekends. It's a great spot for day drinking!
Address: 73 Kloof Street, Gardens
Open times: 7 am – 12 am
Tiger's Milk
Tiger's Milk is a local chain of bars with reasonably priced drinks and a fun atmosphere. The food can be a bit hit-and-miss but the pizzas, burgers, and flatbreads are usually a safe bet. I also really like the Bloody Marys and coronaritas here!
The Kloof Street branch of Tiger's Milk is one of the biggest around, and it gets pretty lively.
Address: 55 Kloof Street, Gardens
Open times: 11 am – 12 am
The Power & the Glory / The Moveable Feast
The Power & the Glory (or P&G, as it's often called) is actually off of Kloof Street at the Kloof Nek Road intersection. However, P&G is so often a part of a night out in Kloof Street that I decided to include it in this section.
P&G is a cute, old-timey bar. It's got limited seating but it gets really busy and patrons often spill out onto the pavement. It feels like a cross between a boutique bar and a dive bar, which is probably why it's so popular. Cape Town nightlife just wouldn't be the same without it somehow!
Meanwhile, the Moveable Feast is a bar-slash-club upstairs that's more about blaring music and dancing, so you can head up if that's more your vibe.
Address: 13d Kloof Nek Road, Tamboerskloof
Open times: 7:30 am – 12 am Monday – Wednesday, closes 2 am Thursday to Sunday
Bree Street
Bree Street runs through Cape Town city centre and you can find many of the city's best bars along – or just off of – here. It's a lively street with plenty of bars, great places to eat, tons of culture, and a great energy overall.
Plus, Bree Street is definitely the best place to go on Cape Town's infamous First Thursdays. It began as a way to support local art galleries but pretty soon bars and restaurants quickly caught on. Now, everyone and their mama takes to the streets on First Thursday and the party goes on until the wee hours of the morning.
Station on Bree
The Station on Bree is a London underground themed pub (well, as close to one as you can get outside of the British Isles, anyway). They always hold a huge party on First Thursdays and during the summer they even close off a section of Bree Street for the festivities.
Outside of First Thursday, the Station is a nice place to go and grab a drink and it can make for a fun night out.
Address: 207 Bree Street, City Centre
Open times: closed Monday; 11 am – 11 pm Tuesday and Wednesday; 11 am – 12 am Thursday; 11 am – 4 am Friday and Saturday; 11 am – 8 pm Sunday
Leo's Wine Bar
Leo's Wine Bar is a fun open-air spot that's perfect for sipping wine and watching the world go by.
And by the world, I mean Bree Street, but you get my drift.
I love the lively atmosphere at Leo's and it's a great place to try new local wines and catch up with friends.
They quite often have food pop ups but if not, there's an adjoining bagel shop – and what's better than bagels and wine?
Address: 120 Bree Street, City Centre
Open times: 5 pm – 11 pm, closed Sunday and Monday
Clarke's Dining Room
Clarke's is home to one of the best burgers in Cape Town, but they also offer great cocktails here and I can only describe its feel as retro-clinical-chic. It's very trendy and popular with the younger crowd. It's a good place to start your night with food and cocktails before heading elsewhere on Bree Street.
Address: 133 Bree Street, City Centre
Open times: 7 am – 4 pm Monday; 7 am – 10 pm Tuesday to Friday; 8 am – 10 pm Saturday; 8 am – 3 pm Sunday
House of Machines
Located on Shortmarket Street, which is just off of Bree Street, House of Machines is an elevated dive bar with a memorable motto ("Don't be a dick", in case you were wondering.)
They have good music, cheap drinks, and they're known for making the best Old Fashioned cocktails in Cape Town. They play fun music you can sing along to and the bar staff are always really nice. I always have such a great time here!
Address: 84 Shortmarket Street, City Centre
Open times: 7 am – 2 am Monday – Friday; opens 9 am Saturday; closed Sunday
Arcade
I have personally never been to Arcade, but it's super popular and always pumping on a First Thursday, when it stays open extra late. It's all blaring music and neon lights, so if you're looking for a rager then this is a good place to go. They play house, hip hop, and R&B.
Address: 152 Bree Street, City Centre
Open times: 8 am – 11 pm Thursday; 8 am – 2 am Friday and Saturday
Gin Bar
The Gin Bar is a speakeasy hidden behind Honest Chocolate Cafe on Wale Street, which is just off of Bree Street. Despite its concealed entrance, it's super popular thanks to its cool vibe and excellent gin concoctions. It's a Cape Town nightlife staple!
This is a great place to be on a Friday night and there's always a buzz here later in the evening. There's also a bubbly bar next door and a ramen restaurant upstairs, so you're well catered for here!
I always have a great time when I come to the Gin Bar. It's such a lovely place to relax with a G&T and catch up with friends, and I always end up staying a lot later than I planned.
Address: 64A Wale Street, City Centre
Open times: 5 pm – 1 am Monday to Wednesday; 3 pm to 1 am Thuesday to Saturday; closed Sunday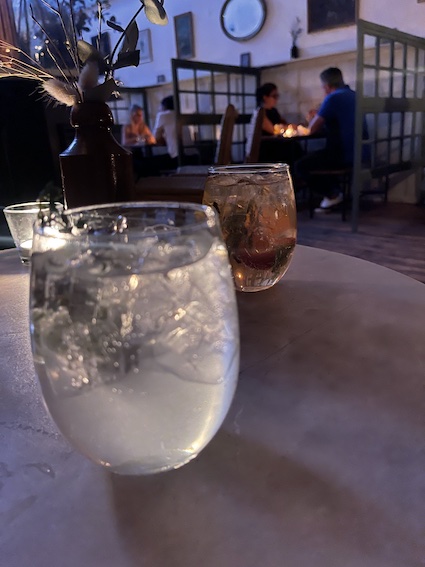 Camps Bay Strip
The Camps Bay Strip runs parallel to the beach and it's a gorgeous place to spend a summer evening out on the town. There are lots of nice restaurants along here, like Zenzero, where you can have a great meal before heading to one of the vibey bars.
Café Caprice
Café Caprice is probably the best known bar along the Camps Bay Strip. With its pink interior and tropical theme, it really does make you feel like you're on holiday, even if you're just stopping in for a quick drink.
Café Caprice is known as "the place to be" on Sunday nights during the long, hot Cape Town summers. I've never actually been here on a Sunday, but it's always pretty fun to come and have drinks here.
They serve food earlier on in the evening and then play dance music later on in the night, when the bar really starts pumping.
I should also mention that I LOVE the cocktails here – try a granadilla lolly and you won't be disappointed!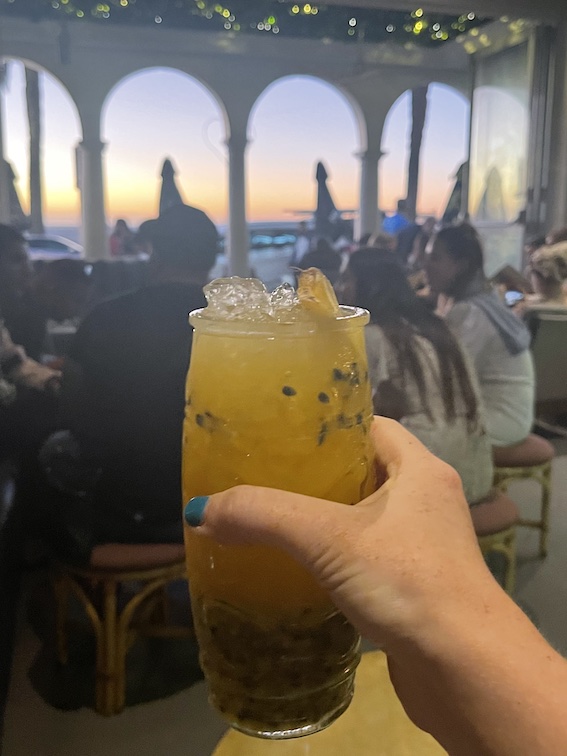 Address: 37 Victoria Road, Camps Bay
Open times: 12 pm – 12 am on Monday; 9 am – 12 am on Tuesday to Thursday; 9 am – 1 am Friday to Sunday
Tiger's Milk
There's yet another Tiger's Milk on the Camps Bay Strip – they're all over the city, to be honest. It's pretty casual during the day but at night they often have DJs and it gets pretty lively! The balcony is a great spot for watching the sunset over Camps Bay Beach.
Address: 33 Victoria Road, Camps Bay
Open times: 11 am – 12 am Monday to Thursday; Friday to Sunday 9 am to 12 am
Chinchilla
Chinchilla is a bougie rooftop bar that wouldn't be amiss in Mykonos. It's super stylish and offers gorgeous views of Camps Bay Beach. It's probably the most desirable place to have drinks on the Camps Bay Strip, and the prices definitely reflect that, but their Tropical Waves cocktail really is something special.
Address: 2nd Floor, Shop 120, Victoria Road, Camps Bay
Open times: 4 pm – 11 pm Wednesday to Friday; 12 pm – 11 pm Saturday and Sunday
Long Street
Long Street has some seriously lively and unpretentious nightlife, and there are hidden clubs where the party goes on until well after the sun comes up (don't ask me how I know this.)
It's also really not the safest place to go out. I feel pretty safe going out in all the other parts of Cape Town that I just mentioned, but I hardly ever head to Long Street after dark. It's well known for being a pickpocketing hotspot, and sometimes violent muggings go down here, too.
However, it can be a ton of fun and if you feel comfortable going out here, then that's totally your choice.
Beer House
Beer House is awesome. It's a bright yellow building which offers over 25 craft beers on tap and 99 bottled varieties, so you can try almost every South African beer going in this place. I love their Beer o' Clock tasting tray and the fact that it's such good value for money.
I haven't been to Beer House after dark, but it's open until 4 am, so I reckon it would probably be a good time.
Address: 223 Long Street, City Centre
Open times: 11 am – 4 am Monday to Saturday, closes 10 pm on Sunday
The Dubliner
As I'm sure you can guess from the name, The Dubliner is an Irish pub. It's an old pub that definitely stands out on Long Street, and there's nowhere better in Cape Town to satisfy your craving for a Guinness (if you're prone to such an affliction). In true Irish style, there's often live music here from a variety of genres, and a great atmosphere.
Address: 251 Long Street, City Centre
Open times: 12 pm – 11 pm Monday to Thursday; 12 pm – 4 am Friday to Sunday
Village Idiot
As you can tell from the name, Village Idiot is the very definition of a bar that doesn't take itself too seriously.
In short, it's my kind of place.
With cheap shots, cheesy music, and a slightly Bohemian feel, Village Idiot is a great place to get silly and keep going until the wee hours, as it stays open later than most other bars around.
It's not actually on Long Street, it's on Loop Street, but it's so close to Long Street that I felt like I had to include it, especially as it's a true staple of Capetonian nightlife.
Address: 32 Loop Street, City Centre
Open times: 6 pm – 3 am Wednesday and Thursday; closes at 4 am Friday and Saturday
Cape Town Nightclubs
Cape Town is home to several nightclubs but there's no one area where you can find them all. They're all over the city, so I thought I'd put them in a separate category.
Modular
Ugh. I'm not going to lie, I've been to Modular once and I thought it was hell on Earth. Dark, dingy, and sweaty with a never-ending techno beat.
I know that I sound like I'm about 100 years old, but it's just really not my thing.
With that being said, if you love techno and raves and all that jazz, you'll probably love Modular.
There's an entry fee of R150 on the way in, and they stop letting people in after around 3 am, but the party continues way past that. I left at 5 am, and it was still going.
Never again.
Address: Riebeek Street, City Centre
Open times: 10 pm – 4 am on Tuesday and Thursday; 10 pm – 6 am Friday and Saturday; closed Sunday, Monday, and Wednesday
Pink Candy
Pink Candy (formerly known as Pink Panther) is an LGBTQ+ nightclub and it's probably the only club I actually enjoy going to. Granted, they play the same cheesy playlist every single night, but when it's Cher and Beyoncé, who cares?!
Address: 120 Strand Street, De Waterkant
Open times: 9 pm – 4 am Saturday and Sunday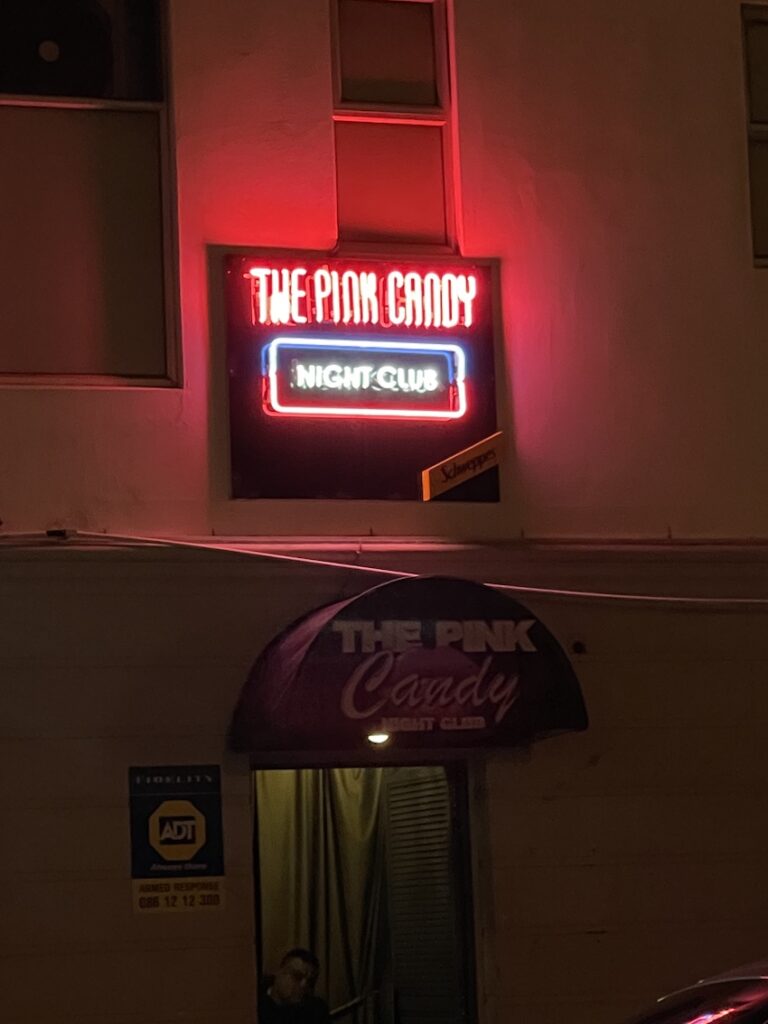 Club Paradise
Club Paradise is very much a young person's club – as in, if you're 25, you'll probably feel old. It's known for attracting up-and-coming DJ talent and having huge neon light displays, which admittedly look pretty cool. If I were 18, I'd probably be here every weekend.
Address: 9 Albertus Street, District Six
Open times: 8 pm – 2 am Thursday to Saturday
LA Lounge
The LA Lounge – or Lost Angels Lounge, to use its full name – has only really made this list because I walk past it every day on my way to the gym.
I'm sort of kidding. It probably is one of Cape Town's most popular clubs. If you're into cheap drinks, fronting with faux-designer gear, and taking a million photos of the #bestnightever then you'll probably love the LA Lounge.
Address: 15 Regent Road, Sea Point
Open times: 10 pm – 2 am
Nightlife Tours in Cape Town
If you're nervous about heading out in Cape Town or just overwhelmed by all of the choices, then this small group cocktail tour will ensure you have a great night.
You start off on a more sophisticated footing by visiting four of the city's best cocktail bars, and then end up at Village Idiot where you can well and truly let loose. And hey, they shouldn't be too difficult after four cocktails, right?
The tour costs R1,450 (£61/$78) which is pretty good value for money given that it includes a cocktail at each of the bars, none of which are known for being cheap spots!
If you want to carry on partying at Village Idiot, where the tour ends, then you'll need to pay extra, but that's totally optional and Village Idiot is pretty cheap.
There's a maximum of 5 participants on the tour so it's a great way to meet new people without feeling overwhelmed. Plus, you'll get to chat with your guides, learn more about Cape Town, and get a more personal experience rather than feeling like you're being shepherded around. I think it's a fantastic way to get acquainted with Cape Town's nightlife.
You can find out more and book this nightlife tour here!