Last Updated on December 7, 2023 by thecapetownblog
Let's face it, Mondays can often feel a little blue – even when you live somewhere as beautiful as Cape Town! So if you're looking to jazz up your start to the week, I suggest checking out some of the Monday specials available in the city's restaurants.
Restaurants are always trying to get customers through the door on Mondays, so there are lots of specials to take advantage of.
From bottomless sushi to pizzas, burgers, and sirloin steak, you can definitely find a meal to brighten up your Monday in Cape Town.
As I've mentioned in my other posts about Cape Town weekday specials, lots of blogs out there list 100s of options and half of them are out of date. I keep this list fairly small and only include what I genuinely think are the best options, and I update it every single month to make sure it stays relevant, because deals change all the time!
Okay, now that we've got that out of the way, let's dive in.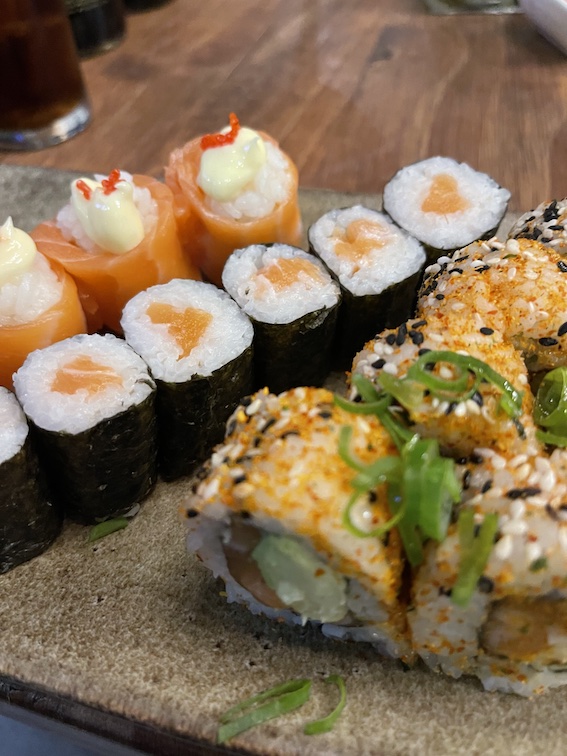 This post may contain affiliate links. When you make purchases through these links, I earn a small commission at no extra cost to you, which helps to keep this blog up and running. Thank you so much!
1. Bottomless Sushi at Aiko Sushi
Aiko Sushi (formerly Active Sushi) on Bree Street is here to brighten up your Monday with all-you-can-eat sushi for R249. For 1.5 hours, you can eat as much sushi as you want, but you do get billed R8 for every piece left on your plate, so do try not to over-order. (I know that's difficult when it comes to sushi!)
Not everything on the menu is included in the bottomless sushi deal, but you can get:
California rolls
Makis
Nigiri
Fashion sandwiches
Deep fried sushi
2 portions of roses per person
Futomaki
This deal is available all day, so if you come at lunchtime you can also get some of their lunch combos included in your bottomless sushi session. It's also on every day of the week, but vegan sushi is only part of the deal from Monday to Wednesday.
Address: 4 Bree St, Cape Town City Centre
2. Cheap Pizza at Lupa Osteria
Lupa Osteria is a traditional Roman-style Italian joint out in Durbanville, and they've got great Monday specials. It's an airy and elegant space and is perfect for a leisurely glass of wine, and their pasta is made fresh on-site daily, so it's absolutely delicious.
However, on Monday, it's all about pizza over here.
You can order a pizza and a beer for R129 until 9 pm, which is a nice way to congratulate yourself for surviving another Monday.
Or, if you're coming before 4 pm, you can order any lunch dish for R99. This special is actually available every weekday, but Monday is as good a day as any to take advantage of it.
Address: The Village Square, Queen St, Durbanville
3. 2-4-1 Burgers at Tiger's Milk
Tiger's Milk has great specials on at their many locations in Cape Town pretty much every day of the week. On Mondays, it's all about 2-4-1 burgers.
You can get two chicken or beef burgers topped with either mushrooms or cheese for R200. The burgers here are really good, so I recommend grabbing a mate (or a date) and taking advantage of this deal!
I usually got to Tiger's Milk in Green Point or Camps Bay, but if you're at the one on Long Street they usually have a lot of drink specials available too. For example, you can get two double gin & tonics for R80, two Jose Cuevo gold tequila shots for R40, or four jagerbombs for R100. To be honest this might be a bit much for a Monday, but Long Street is party central, after all!
Address: multiple locations in Cape Town!
4. 3-course dinner deal at Asoka
Glamorous Asoka is the place to be on Tuesday nights, if you go there on a Monday instead you can take advantage of their 3-course dinner deal.
For R265 per person, you can enjoy three courses of their modern Asian fusion cuisine. Asoka is generally a pretty pricey place, so this is a really good deal. You don't have to dress up to the nines but this is the kind of place you make a bit of an effort for, so if you feel like getting a little dolled up this Monday, you know where to go.
Address: 68 Kloof Street, Gardens
5. Dinner and a movie at the Labia
The Labia is Cape Town's old school cinema. It's an independent movie theatre with a cute outdoor terrace and a bar so you can even take a drink into the cinema with you if you like! They show old and new movies, and plenty of independent flicks – you can check the timetable here.
Meanwhile, the Wolf House is a restaurant on Kloof Street that serves great burgers, pizzas, and nachos. They've also got a cool rooftop bar section, and they're right opposite my favourite place in Cape Town, Van Hunks.
If you head to the Wolf House on Monday, you can get two beef, chicken or veggie burgers for R200 PLUS two tickets to the Labia.
Basically, you each pay R100 and get a burger and a movie ticket, so I think this has to be one of the best Monday specials in Cape Town.
To redeem this deal head to The Wolf House first and get your burgers. Then when you pay at the restaurant you can get your cinema vouchers there and head over to the Labia to catch a movie. Not such a bad way to spend a Monday night!
Address: 68 Orange Street, Gardens (The Labia), 62 Kloof Street, Gardens (The Wolf House)
6. R65 Burger at the Wolf House
If you don't feel like watching a movie but are still in the mood for one of The Wolf House's yummy burgers, then you can get one for R65 on a Monday – and it comes with chips!
This burger deal is pretty hard to beat and this month the Wolf House are also offering a 1.5 litre pitcher of Kapstaad lager for R99, which is perfect if you're craving some beer to wash it down with.
Address: 62 Kloof Street, Gardens
7. Van Hunks – 2 Pizzas for R150
I love the pizza at Van Hunks (and just everything about Van Hunks), and you can get two for R150 for their Monday special. You can also get two bottles of Tafel lager for R50 at the same time, so if you feel like pizza and beer this Monday, Van Hunks is clearly the place to go.
And in my opinion, it's always the place to go.
Address: 1 Upper Union Street, Gardens
8. Cafe Extrablatt – Takeaway Deal!
Most Monday specials in Cape Town are sit down only, but if you feel like pigging out at home then Cafe Extrablatt have actually got a pretty good pizza deal.
For R190, you can get two cheese pizzas, and you can either eat them in house or take them home to enjoy them with your favourite Netflix series. Not bad!
Address: Exhibition Building, Green Point
9. Specials Galore at Quay Four Tavern
The Quay Four Tavern is one of the best affordable restaurants at the waterfront. With its laid back atmosphere and excellent harbour views, it's a great place to come and enjoy some seafood when the sun's out, but they also have a ton of great specials.
Personally, I love the fact that you can get sirloin steak and chips for R129 – I mean, that's just what you need on a Monday! But you can also get fish and chips or a spatchcock chicken for the same price, and if you've had a really great Monday you can even order 6 oysters and a glass of bubbly for R149.
Just remember that these specials only apply when you sit downstairs in the Tavern!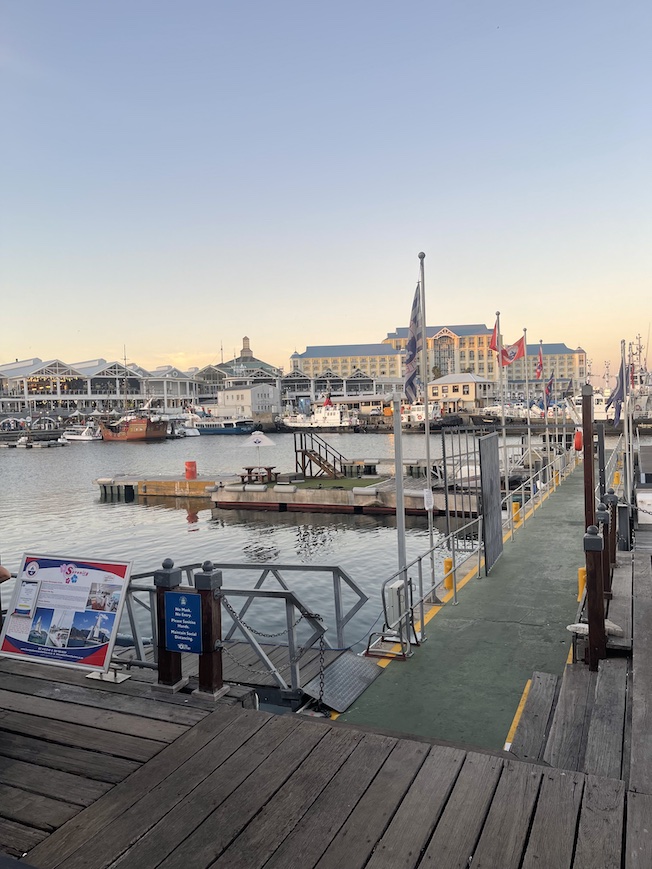 Address: Quay, 4 Dock Road, V&A Waterfront
10. Half price vegan burgers at Hudsons
They say it pays to be kind, and Hudsons are proving that to be true with their Monday specials. Hudsons have some of the best burgers in Cape Town, and you can get a half price vegan burger all day on a Monday.
And since Hudsons is such a good burger spot, they don't just have one plant-based option, either. You can choose from:
The Frontline Worker, which is pea protein burger served with roasted garlic aioli and homemade pickles
The Scheckter's Raw, which is like a local version of a Beyond Meat patty
The Seoul, which comes with Korean BBQ sauce and spring onion
The San Fran – a mushroom and lentil patty served with vegan cheese
These options range between R95 – R115, so on Monday you'll only have to pay between R47.5 and R57.5. Not bad!
There's a Hudsons along Main Road in Green Point, which is my preferred location, or there's one on Kloof Street and one in Claremont as well.
Address: 22 Kloof Street, Gardens OR 1A Portside Mall, Main Road Green Point OR 25 Protea Road, Claremont
For more on food deals in Cape Town, check out: